Best National Parks in Canada: See The Most Recommended
When I conducted my research about Canadian National parks, I was not surprised by how many national parks I will find. Canada is a massive country with almost 10 million square kilometers of land area – the second largest globally. With that size, there are just so many places to explore and see.
After days of studying these parks, I can conclude that it is impossible to determine which of these national parks is the best or which of these would give me the most extraordinary experience. That is because the definition of enjoyment, fun, or learning that they tell is relative and subjective.
To be objective in ranking the best Canadian national park, I surveyed my top 10 websites from my Google search results for Canada's best national park. Each of the websites has more than eight recommended national parks. By consolidating their recommendations, I found out the best national parks in Canada are: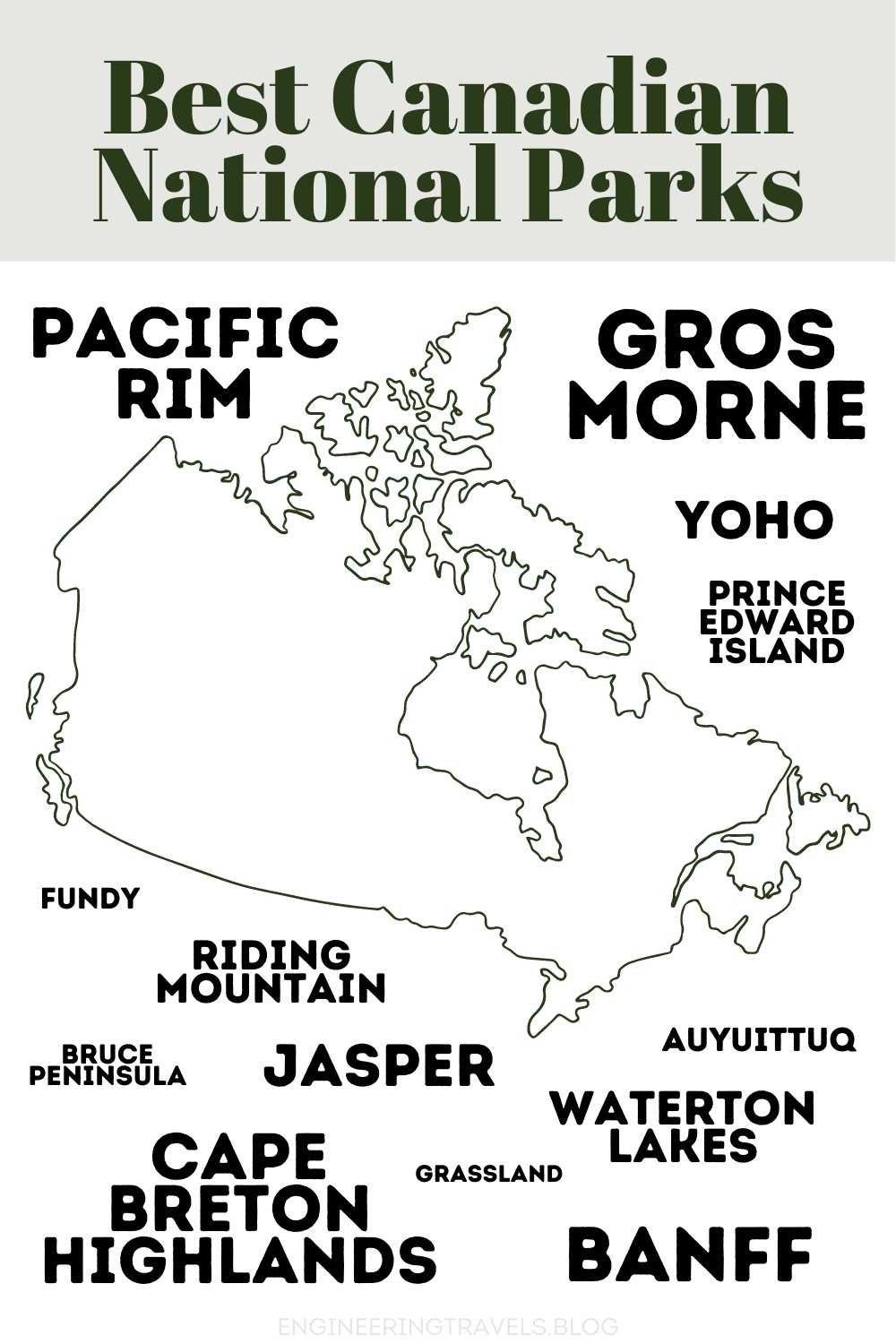 Initially, I was only looking for a bucket-list of ten National Parks in Canada to visit, but some got equal votes, so I shall include them all. Among the 48 National Parks of Canada, Gros Morne became the most recommended national park in Canada by travel bloggers and internet writers.
I based my research mostly on Parks Canada. They are the Canadian governing body that protects and preserve Canadian natural and cultural heritage.
Gros Morne National Park
It is a world heritage site that spans 9700 square kilometers located on the west coast of Newfoundland. Gros Morne national park is home to the most diverse landscapes in Canada. Visitors going here enjoy Gros Morne national park's towering cliffs, long and narrow valleys, spectacular glacial lakes, and highland plateaus.
The featured activities in Gros Morne are (1) Exploration of the Tablelands, where visitors see the appearance of Earth's mantle pushed up to the surface. (2) Cruise the Western Brook Pond. (3) Seaside walks, coastal adventure, and picnic exploration of Lobster Cove Headlight house exhibit. (4) Trekking at the top of Gros Mountain's summit.
Among the four featured activities, the exploration of the Tablelands caught most of my attention. It is a unique experience I can get if I visit Gros Morne National park. I would also see the Lobster Cove Headlight house, where I can spot whales while watching the sunset.
Visitors also enjoy watching the mountains' stunning views while camping, cycling, fishing, kayaking, hiking, snowmobiling, and doing many other Gros Morne activities.
Banff National Park
Banff is the oldest national park in Canada. This national park has an icy mountainous terrain and alpine landscapes with dense coniferous forest. As a person who loves being with the mountains, I would not leave this place once I arrive here!
I was fascinated by how many activities are possible and allowed in Banff. There are more than 30 unique things to try here. It seems a seven-day trip is not enough when we visit this national park.
Some of the activities visitors try here are geocaching, horseback riding, hiking, camping, ice skating, cycling, and biking. The most exciting activity that I found is dog sledding! It shall make me feel that I'm in a fictional movie.
On Parks Canada's website, there is a list of the top things to explore in Banff national park. One of the fantastic destinations on the list is the interactive exhibit and bubbling thermal waters inside an underground cave. Maybe after a fun and tiring adventure in Banff, I could try Banff upper hot springs where I can relax to prepare my body for another day of escapade.
Pacific Rim National Park Reserve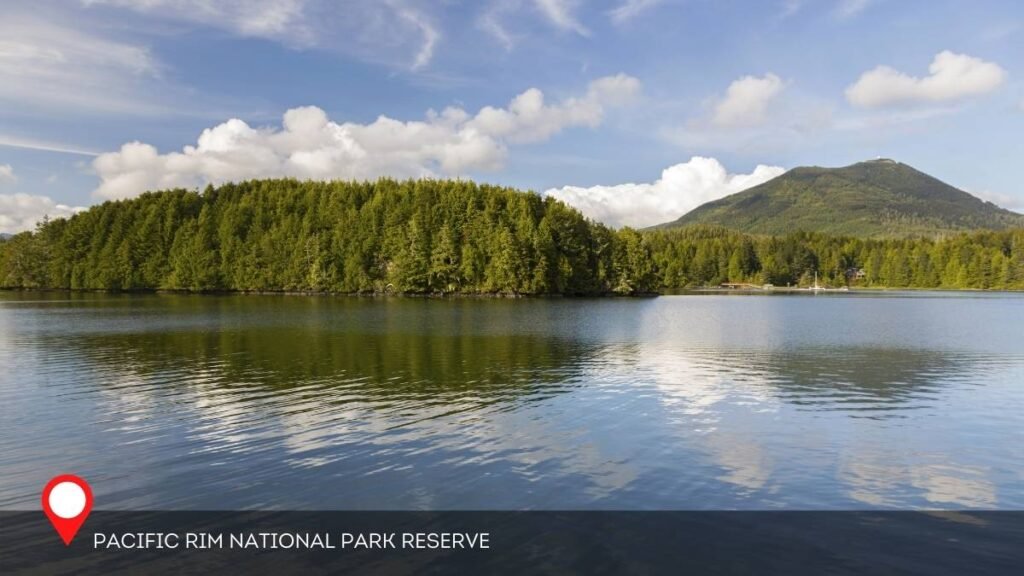 Being on British Columbia, the Pacific Rim National Park reserve displays the vast pacific coast mountain landscape, characterized by temperate rainforests and rugged coasts. Pacific Rim national park offers the kind of adventure that some of us might be looking for in Canada.
Parks Canada says that Pacific Rim National park is home to the iconic backpacking trail that brings many hikers, even those who are mentally and physically prepared, to their knees. They call it West Coast Trail. Parks Canada also says that an expedition in the West Coast Trail would take 6 to 8 days of trekking in rugged, uneven ground, muddy, slippery wooden surfaces, and boulders.
Another adventure why people come here is to get a variety of surfing experiences.
Besides intensive action and adventure, getting the park's First Nations cultural experiences is another activity visitors should try when they are in the Pacific Rim National Park Reserve. In this activity, visitors will be involved in the age-long practice of welcoming and sharing the Nuu-chah-nulth tradition with the locals and other visitors.
Cape Breton Highlands National Park
This national park is the first national park on the Atlantic side of Canada. This park has 26 scenic trails with difficulty ranging from a leisurely walk in the forest to thigh stretching coastal hikes. The Canadian website, Parks Canada, says people enjoy the canyon, highlands, and beaches' incredible sights as they traverse the national park.
People follow the Cabot Trail, where they see the following landmarks: La Bloc, Cap Rough exhibit (an opportunity to check different rock types), Veteran's Monument, MacKenzie & North Mountain look-offs, Lone Shieling (a Scottish crofter's hut pitched at the middle of the forest), and so much more.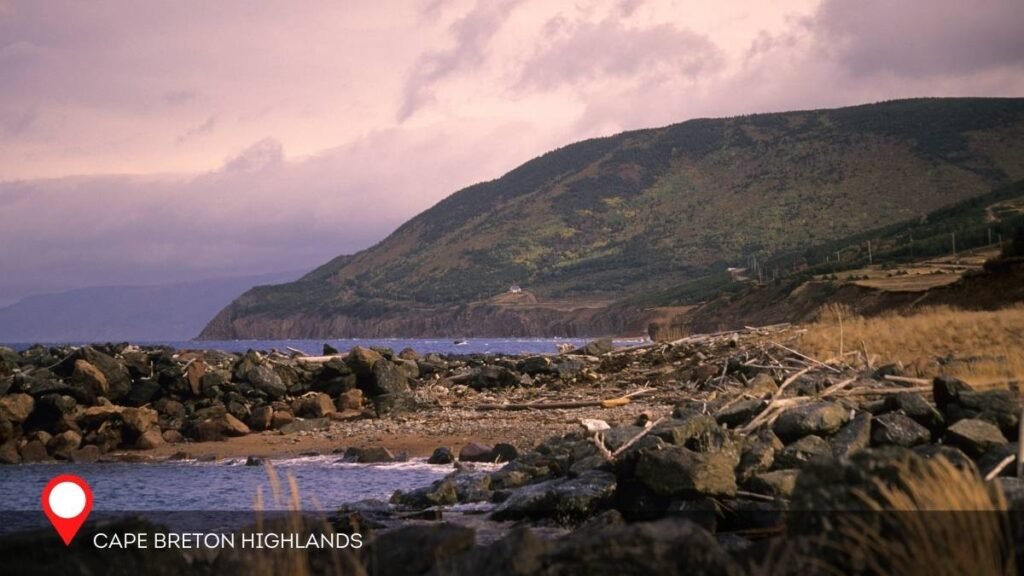 Visitors coming to Cape Breton Highlands national park are allowed a wide range of activities like camping, hiking, playing golf, or even having wedding celebrations! What's unique in visiting this place are the tales, games, and spiritual cleansing ceremonies of the Mi'kmaw culture.
To learn about this culture, we must visit an elder, named Mary Louise Bernard, who waits at her campsite in the forest. She shares the indigenous stories of her people down through several generations.
Jasper National Park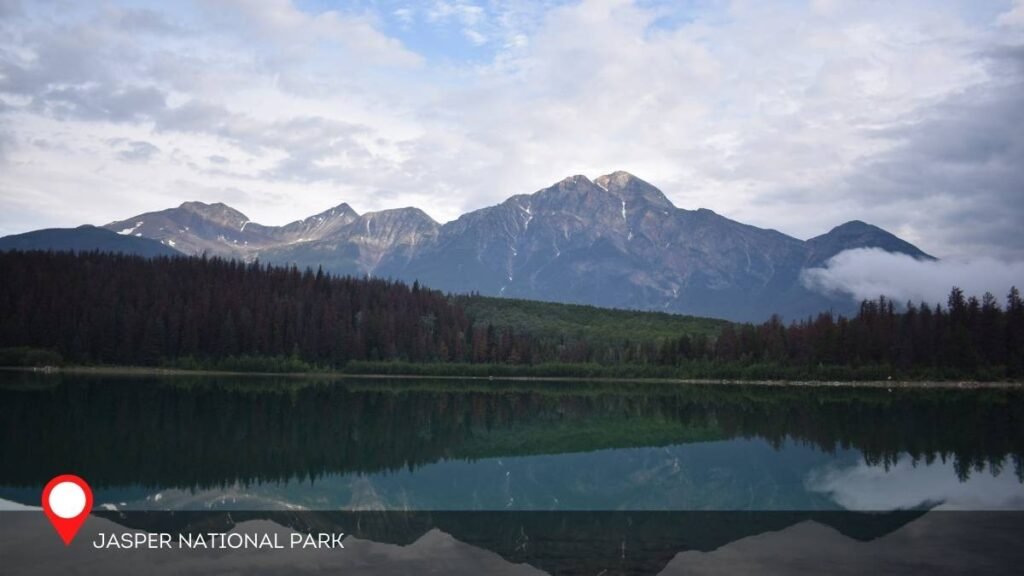 Like Banff, Jasper national park offer tons of activities that seem would not fit in one week! As mentioned by Parks Canada, this place astonishes the visitors with jaw-dropping scenic views of the lakes, waterfalls, glaciers, and mountains.
It's funny when I was writing this; I did more than 10 minutes of just staring at the photos from this park. I caught myself daydreaming.
Going back, I learned that Jasper National Park is the largest park in the Canadian Rockies and a UNESCO World Heritage site. It is also the world's second-largest dark sky preserve, where visitors can see more stars in the sky than anywhere else in the world. That's fantastic to every photographer who enjoys photographing the universe!
Though Jasper national park offers tens of activities to do in all seasons, authorities from the website say that it is better to visit Jasper during winter.
To see the wildlife would be my most compelling reason why I would go to Jasper national park. They say that there are 53 species of mammals in the park. Some are sheep, elk, moose, mountain goats, deers, and foxes – animals that don't exist in my country. I am excited to see them in person.
Yoho National Park
People say that sights from Yoho national park reveal the secret of ancient life. When I watched the YouTube video about Yoho, I realized that it really reveals history. The lines marked at the majestic mountains' sides are the tale of evidence of different natural forces that carved it for millions of years.
Because of the park's historical characteristics, authorities established several interpretative programs that engage the visitors to the park's unique interests. People could join programs that let them be paleontologists or biologists for a day. Unearthing real burgess shale fossils would be one of the exciting parts of the program.
Yoho national park also houses Lake O'Hara – it is an alpine area of gorgeous sceneries and a collection of exquisite lakes and hanging valleys. Besides this attraction, visitors enjoy other points of interest—first, the Village of Field, where tourists enjoy the community's culinary delights. The remarkable Wapta Falls follows. It is a gorgeous body of water 30 meters high and 150 meters wide.
Waterton Lakes National Park
It is a national park located in Alberta's southwest corner, jam-packed with beautiful mountain vistas, colorful rocks, and clear lakes. Parks Canada boasts this place as a photographer's paradise. I could not deny it after seeing the photos of the parks.
RELATED: How to take beautiful photos with an iPhone
In my travels, I found that mountain lakes have a special place in my heart. It somehow helps me internally mimic its calmness. That's why Waterton lakes will also be on my priority list when I visit Canada.
The steady wind here makes some activities in the lake more delightful, like windsurfing and sailboarding. While I look for other activities to do, I am surprised by the discovery I found. People could actually dive here and explore the wreckage of a sunken ship!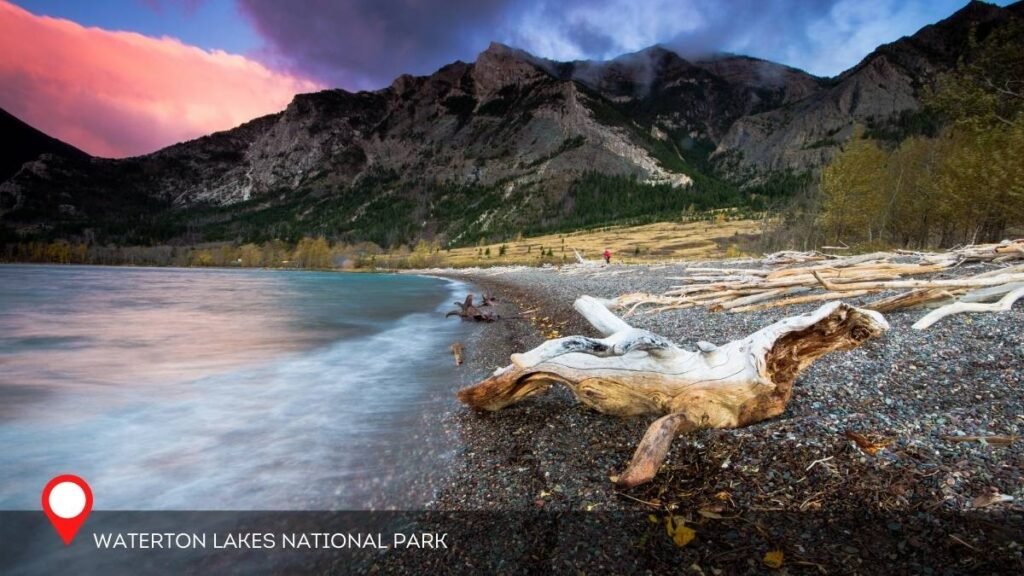 That made me very curious how it was able to come there in the first place, thinking that Waterton Lakes are miles away from the ocean.
Riding Mountain National Park
It is one of the places in Canada where the northern lights shimmer. In the night, people are thrilled with the wolves' howling – something I only heard in movies.
The authorities designated Riding Mountain as a national park because of the different ecosystems that meet in the area. Most of the people visit this place to go camping, have a picnic and explore the wilds.
Parks Canada says Riding Mountains national park showcases a lot of places to explore, mostly wildlife. Driving along the park would let visitors meet different animals like moose, elk, bears, and beavers. This park includes the protected grasslands where people find wild bison.
If I were to visit this national park, I would try an extraordinary camping experience called oTENTik after a day of fun adventure.
Prince Edward Island National Park
It is the best national park in Canada is a perfect place to visit if you need a break from the mountains and want to get some fresh ocean breeze. Prince Edward Island national park exhibits sandy beaches alongside wind-sculptured dunes and red cliffs.
Visitors come here mostly to go camping, have a picnic, explore the park through geocaching and many beach activities. There are several scenic trails in Prince Edward Island national park. People trek to discover archaeological sites, play along with interactive panels, and watch different birds and wildlife.
Auyuittuq National Park
The name of this national park came from the Inuktitut phrase "Land that Never Melts"
If it is a spectacular arctic experience that we want, we should go here, Auyuittuq national park. It is a picture-perfect park highlighted by polar terrains, glaciers, ice fields, and fjords. The sight in this national park would mostly be towering zigzag granite peaks with glittering glaciers.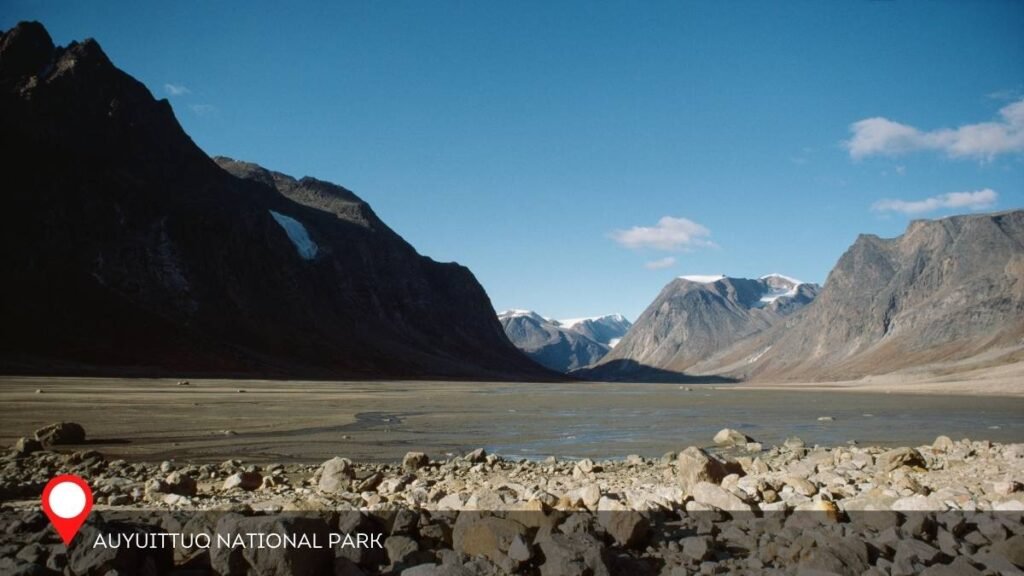 The Auyuittuq national park activities are mostly icy adventure and sports like mountaineering, bouldering, hiking, and skiing. Most people go to the Akshayuk Pass, the most popular hiking destination in Auyuittuq. Traversing the pass would take up around ten days to finish, but some who are more experienced can shorten it to around four days.
What makes Auyuittuq national park unique among other national parks is the Inuit cultural activities visitors can experience. Inuits are the nomadic and indigenous population of Alaska, Canada, and Greenland.
Fundy National Park
So far, this is the national park of Canada that has left me with intrigue and wonder. In Fundy national park, the tides make visitors scratch their heads. It is wondering how the seawater level could differ by 12 meters during high tide and low tide. Here's the explainer.
Visitors can also learn more about this wondrous occurrence in one of the best national parks in Canada by joining Fundy discovery tours. Storytellers will guide them around the park to know more about the tides while enjoying the walks through the Arcadian forests and the sight of the breathtaking vistas.
As I read several pages about this national park, I learned that it has more exciting activities other than camping and nature adventure. In Fundy national park, visitors enjoy the kitchen parties – a unique Atlantic Canadian tradition. At these parties, people and friends get together for music, food, and good cheer. The party lasts for an hour and gives a 1930's vibe to the party-goers. A unique experience we must all try.
Bruce Peninsula National Park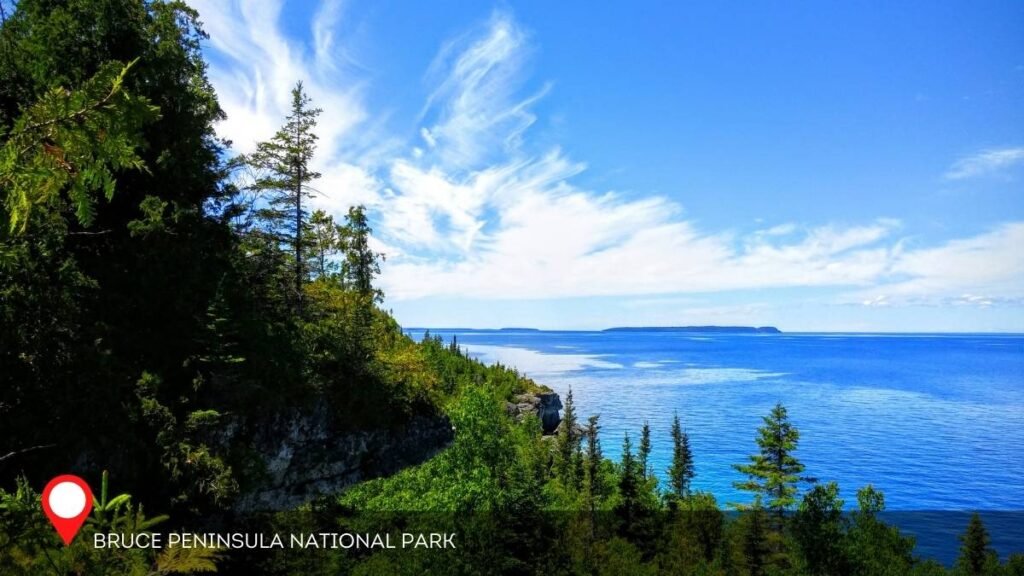 Parks Canada says that this is the national park in Canada that suits explorers of all ages. In Bruce Peninsula National park, visitors observe in awe the splashes of blue turquoise water to the cliffs in Georgian Bay.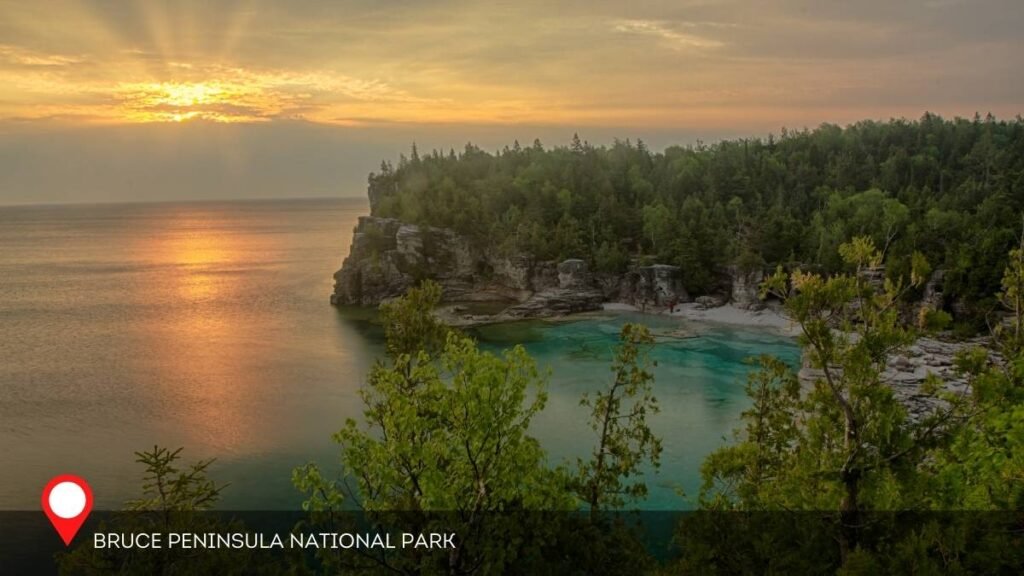 Visitors going to this national park are allowed to hike, swim, canoe, and swim. Some do bouldering at the scenic Georgian Bay shoreline. What's unique here, also in the Georgian Bay shoreline, is the Grotto. It is a spot where people go to explore a scenic cave containing a pool of blue water. During the sunny days, the pool inside the cave glows – a fascinating scene to watch.
Grasslands National Park
Among the best national parks in Canada listed here, Grasslands National Park is the park which I found most different. Instead of mountains, valleys, and beaches, this national park gives an experience of a wide-open undisturbed dry mixed-grass/shortgrass prairie grassland rather.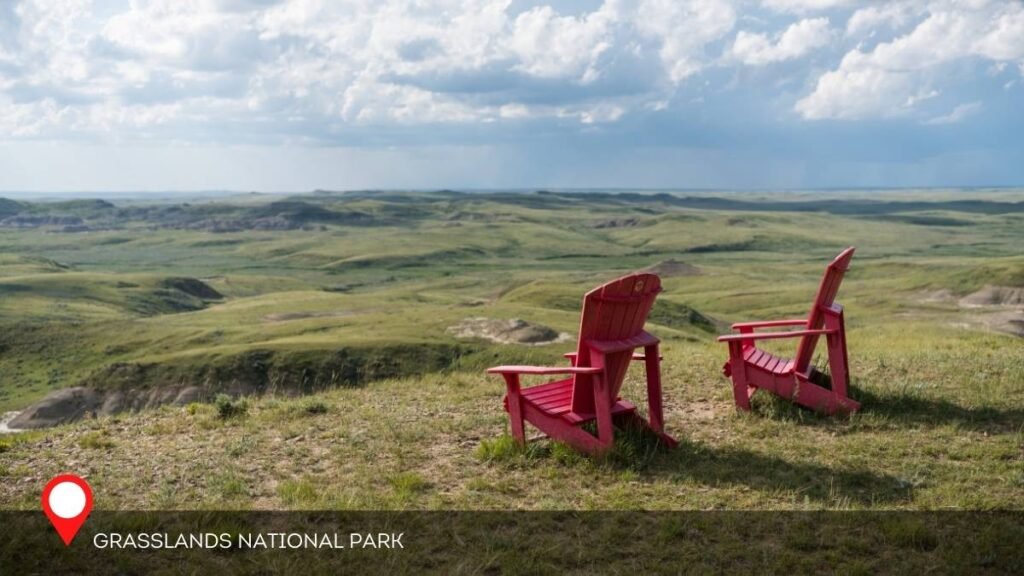 Visitors come here to do classic park activities like hiking, photography, cycling, and wildlife viewing. But there are also exclusive programs that everyone might want to check, like the Ecotour Driving Adventure and the Badlands Parkway guided experiences. Here, visitors discover some of Canada's rarest wildlife, thousands of tipi rings, and fantastic dinosaur fossils.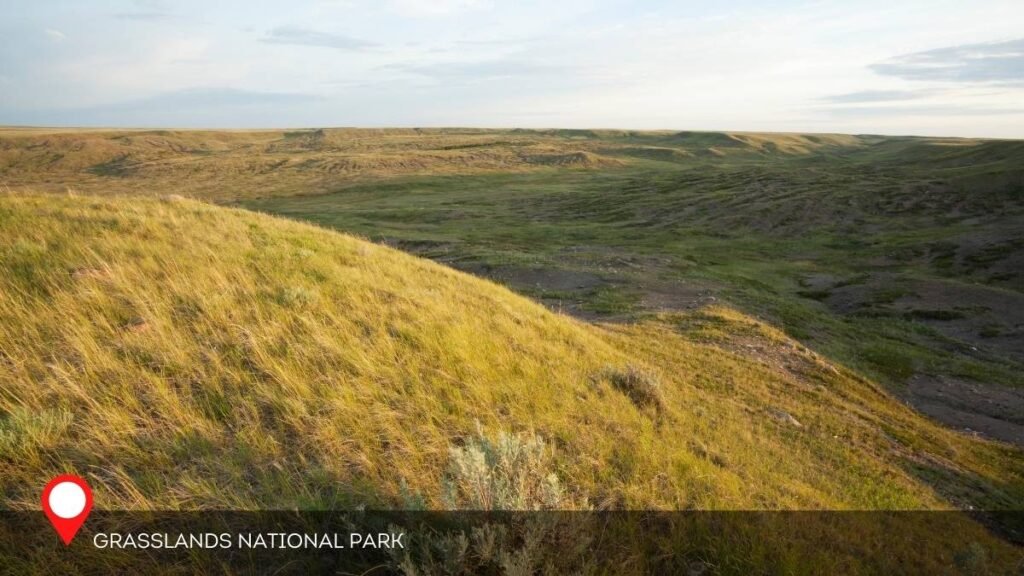 Hiking in Grasslands national park would be an incredible experience for people who find beauty in plains and solitude.
Conclusion
Going through each national park online left me in pure excitement! I learned so much about the Canadian terrains, wildlife, and culture – those fueled up my evermore burning passion for traveling the world and visiting the most stunning nature in the world, of course, including Canada. I can't wait for the day when I visit Canada. This place is like the ones I see in movies and read in books. Going here will surely make my dreams come true.
RELATED: Sources of Travel Inspiration
To my readers, I hope that I helped you decide what's the best national park in Canada is for you by stating all the unique features of each park.
References
https://www.canadiansky.co.uk/wildlife-holidays/top-10-national-parks-in-canada
https://www.planetware.com/canada/best-national-parks-in-canada-cdn-1-214.htm
https://travel.usnews.com/rankings/best-national-parks-in-canada/
https://handluggageonly.co.uk/2018/05/24/17-beautiful-national-parks-in-canada-you-have-to-visit/
https://www.touropia.com/national-parks-in-canada/
https://www.roadaffair.com/best-national-parks-in-canada/
https://seeker.io/canada-national-parks/
https://www.jetsetter.com/magazine/best-national-parks-in-canada/
https://theculturetrip.com/north-america/canada/articles/9-must-see-national-parks-in-canada/
https://darlingescapes.com/the-best-national-parks-in-canada/
Inspiration
Growing up in an archipelago in the Asia-Pacific Region, I have seen many beautiful beaches, thick mossy forests, and lush green rice fields. I grew up surrounded by mango, coconut, and palm trees. Though I've been to some places with four seasons, like Northern Vietnam, China, Taiwan, and Japan, I still have not experienced snowfall in my entire life.
My mother, who has been to Japan many times, told me that snow is just like the shaved ice we eat in our halo-halo, and there is nothing special about it. She said to me that winter is not fun because the snow makes walking outside impossible.
In our country, I've never seen the sun slide down the horizon later than seven in the evening or watch it peak up from the horizon earlier than five. I always wonder how it is to see the sun stay up in the sky twenty-four hours a day. It is a tale in the Philippines told by some of our family members who work in Canada and go home every year.
The idea of experiencing a midnight sun sparked some curiosity in me about Canada. Thanks to the internet, I was able to explore Canada virtually and learn cool things about it. I watched youtube videos during my commute to work. Through them, I discovered other exciting points of interest in this arctic country – those are the beautiful and gorgeous snow-capped mountains and turquoise blue waters found in Canadian National Parks.
Save it on Pinterest.