Reasons Why Visit Vietnam: The 30 Pictures To Inspire You
Years ago, I did not have any real idea of what it was like in Vietnam. I even have no interest in going to Vietnam before! I thought it was just like the Philippines. A typical tropical country where beaches, rain forests, and houses with galvanized iron sheets roofs are everywhere.
My short visit to Vietnam proved me wrong, however. Vietnam was more than what I expected. Vietnam has a beautiful landscape, especially Ninh Binh. Hanoi has a very enticing culture too, and the mountains in Sapa are just incredible.
That quick stay in Vietnam taught me that I should never underestimate any destination. Now, all I want is to go back to Vietnam and spend a month there to see everything it has.
In this blog post, I share the beautiful pictures of places and things in Vietnam that I want to see once I return to Vietnam. Hopefully, these incredible photos of Vietnam motivate you as well to travel to Vietnam. Because I guarantee you, Vietnam is not just a place to do sightseeing. It is more than that! You will love the culture, I'm sure!
Traveling in Vietnam? Check these out: 5 Best Things To Do In Ninh Binh Vietnam (Best Experiences) | 5 Best Things To Do In Sa Pa Vietnam (Relaxing Activities) | 15 Best Things To Do Hanoi Old Quarter (With Walking Route) | Landscapes in Vietnam: 7 Most Spectacular Places to Visit – Click to open in a new tab and read later.
Tell me what you feel in the comment section after seeing every photo of Vietnam, alright? Let's now begin checking each picture:
Halong Bay
Let's start with the photos of Vietnam's most famous destination, Halong bay. It is an incredible destination located in Quang Ninh province, east of Hanoi, with millions of visitors coming every year.
According to NatGeo and Brinkmann, Halong bay and its towering karsts have inspired many geologists, artists, and even painters wondering to understand the landscape.
Believe it or not, approximately 1600 people are living in Halong bay. They settled in the fishing villages called Cua Van, Ba Hang, Cong Tau, and Vung Vieng.
As magnificent as what we can see from outside, Halong bay has caves that can drop anyone's jaw instantly. The caves in Halong bay are well lighted, making them more wondrous to see.
Ninh Binh
One of the best places that I totally recommend is Ninh Binh, the Halong Bay on Land. It is one of the most Instagrammable places in Vietnam.
Like in Halong bay, you can see magnificent towering limestone karsts in Ninh Binh. It is located south of Hanoi, just an hour and a half away from the Vietnamese capital. 
You can either hike to the top of a viewpoint called Ha Mua Peak or ride on a boat in Trang An/Tam Coc to see Ninh Binh's best views. If you want to cruise on a boat with rowers who paddle the boat using their feet, you must choose Tam Coc.
Ninh Binh is not only about limestone mountains and rivers. Here you can also find the biggest Buddhist temple in entire Southeast Asia called Chua Bai Dinh Pagoda. Here is the photo of the corridor of Bai Dinh Pagoda, where the 500 statues of Buddhas are located.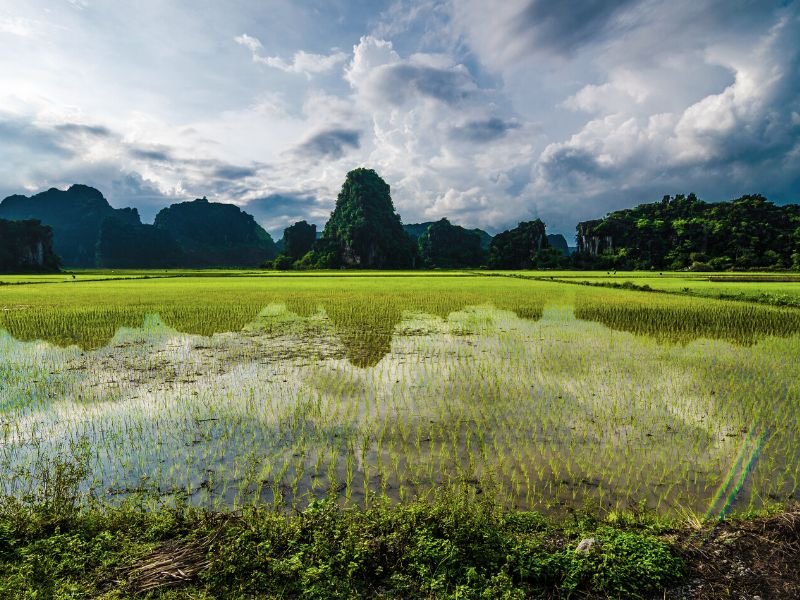 Trivia, Ninh Binh was the place where the first capital of Vietnam was established. You can expect to discover more about Vietnam here.
Hoi An
I've never been to Hoi An, but my friend's stories have transported me to Hoi An during our conversation about Vietnam. His stories inspired me so much that visiting central Vietnam now comes on top of my priority.
Here are the photos of Vietnam captured from Hoi An:
In Hoi An, you can see many colorful lanterns hung at the structures along the river. Together with the aged look of these structures, they make a very nostalgic vibe to help you imagine life a hundred years ago in Hoi An.
This picture of Hoi An shot with the view of Thu Bon River is kinda a version of Amsterdam in Europe, with buildings built side by side.
One part of the story of my friend's travel to Hoi An is his lovely stroll under the colorful glowing lanterns hung above Hoi An's streets. If I have a partner who can go with me wherever I want, I will surely bring her to this place. So beautiful.
Terraced Rice Fields
East Asians and Southeast Asians love rice more than any carbs-providing meal. That's why, along with Indonesia, the Philippines, and some parts of China, you can find Vietnamese people planting rice wherever they are. That includes mountains!
The following photos of Vietnam showing its rice terraces will truly inspire you to visit Vietnam.
The picture above shows the terraced rice fields in northwest Vietnam in Mu Cang Chai, Yen Bai province. Here are another terraced rice fields that will surely put us in awe when we finally get our eyeballs on it.
There are numerous rice terraces in Vietnam. You can also find them in Sapa in Lao Cai Province (See image below). Sapa is the premier destination for adventurers in Vietnam. If you are an adventurous traveler, take note of this place!
I've seen one of their rice terraces, and they're majestic! What's more fantastic is I've seen them from above, in a cable car in Sapa. You can check my list of relaxing activities in Sapa to know more. 
Non-La
You can really feel that you are in Vietnam when you see their iconic hat, called Non-La. In English, it means Leaf Hat. 
It is one of the things that you'll see in Vietnam that will really make you feel that you are in Vietnam. In my case, I first saw it worn by a Vietnamese woman in Hanoi while she was carrying her bike loaded with flowers and leaves.
Vietnamese wear Non-La to protect themselves from both sun and rain. They also use it as a basket when shopping in the market. It is made from palm leaves, usually woven by hand.
According to Culture Trip, you can find the best Non-La in Vietnam in the Chuong Village near Hanoi and Hue, the old imperial capital.
Vietnamese Temples
I'd say the temples in Vietnam have a beauty that our eyes need to perceive. Vietnamese temples are full of colors and details, and it tells a lot about their culture. The photos of Vietnam below show Vietnamese creativity embedded in their awe-inspiring temples: 
Linh Phuoc pagoda (see above) is one of the temples I discovered in Vietnam that contains an overflowing amount of grandeur and details. The pillars, the balconies, and even the roof of the Linh Phuoc pagoda are a manifestation of the excellent craft of the Vietnamese people that will blow your mind away.
Vietnamese temples are Instagrammable too. Look at the Cao Dai Temple in Long Hoa province (see image above). The detailed and symmetric columns are just something that camera will never leave uncaptured.
By the way, I once mentioned the Bai Dinh pagoda (see image above) in the Ninh Binh section. I have to tell you that it also has a 10-meter Buddha made of bronze! I've seen this in person, and all I can say is it is true, one magnificent piece of wonder.
Caves in Vietnam
I was not a fan of caves until I discovered the largest cave in the world! It is so large that a 40 story building could fit inside. It is called Hang Son Doong Cavern in Quang Binh province. You better see this 360-degree tour of Son Doong cave from NatGeo. Here are the photos of Vietnam showing its spectacular caves:
I was so impressed by it. Now, I could not wait the day I stepped foot inside that enormous cave, thinking it was just one sea apart from the Philippines where I live. You must see the rest of the stunning landscapes of Vietnam too. 
Another compelling reason why you should come to Vietnam is to see another cave called Paradise Cavern. Just look at the rock formations inside this cave! It is just insane. It does not only have this magnificence, but it is actually the longest dry cave in Asia! It is also located in Quang Binh province. So, right after Hang Son Doong Cave, go straight to Paradise cavern to fulfill the best cave expedition of your life.
Somehow, I've got a taste of this awe-inspiring cave in Vietnam. In Ninh Binh, I saw a remarkable cave, and it is called Making Wine Cave. Inside, you can see hundreds of jars used to contain wine, which is the reminiscent practice of the centuries-old tradition of the locals.
Vietnamese Mountains
Vietnam has an enormous amount of magnificence to show us, from the caves down inside the earth up to the mountains. One of them is the roof of Indochina, Mount Fansipan, sitting on the borders of Vietnam. 
With an elevation that's more than 3000 meters above sea level, this mountain can show wonders that can make you feel like physically you're on the top of the world.
See photos of Vietnam depicting its glorious mountains below:
The awe-inspiring phenomenon called a sea of clouds appears on the summit of Mount Fansipan. It is the scene that I'm always dying to see whenever I climb a mountain. You must see it too! It will totally put you in total awe.
Unlike most of the mountains in the world, where you need to take hours of hiking just to reach the summit, Mount Fansipan would not require you to. There is a cable car from Sapa going straight to the peak of the roof of Indochina. From an old trail that takes days to finish, you can now travel to the top of Fansipan in just 15 minutes. Awesome, right?
The enormous structures on the summit will surprise you when you climb mount Fansipan. It is totally unbelievable how structures were constructed in the middle of nowhere up in the mountains.
People in Vietnam
If something totally distinguishes Vietnam from any other place in the world, that would be its people. Though they might look like any other Southeast Asian, Vietnamese people show sharp qualities that make them who they are.
First of all, the hat. Everywhere you go, you can see Vietnamese wearing Non-La. For me, who grew up in a society where people always try to look like westerners, seeing people wearing their traditional stuff is really admirable. Vietnamese are proud of themselves, and they keep their identity.
When I arrived in Hanoi, one of the scenes that I was enticed by was the motorbikes. They are everywhere! I was once on the third floor of a building in Dong Kinh Nghia Thuc Square, and there I watched in fascination how the Vietnamese use their streets. There are hundreds of Vietnamese on their motorbikes coming from all sides, shuffling in an open intersection, and are not colliding with each other!
Ultimately, the locals from the countryside most inspired me on my trip to Vietnam. Their simple life reminded me of humility and how I should apply it to myself every day of my life.
Hanoi
The place where it all started, ended, and where I'm coming back, Hanoi. I really love Hanoi because it made my whole Vietnam journey complete right away on the first day! It has the charm of my ideal city.
Hoan Kiem Lake was the first thing that excited me about Hanoi when I arrived at the airport. For me, a lake in the heart of a city with trees, flowers, and seats around is so perfect! Lakes help people relax and have a calm mind, and it is what I totally need to see. Hanoi just gave me a stone to hit two birds at the same time. To relieve my stress and to experience a new city.
What's fantastic about Hanoi is that it is a walkable city full of things to discover on foot. I have written a complete guide to explore Hanoi on foot, be sure to check it! 🙂 There are just endless things to do in Hanoi, especially if you like learning history and culture. You can spend a whole day in Hanoi seeing discoveries. However, you should save your energy for the evening in Hanoi, especially if it's the weekend.
Because you can see the most real spirit of Hanoi, and why it is called "The City Where Old Meets New" just every weekend night. It is when you can see so many people coming together in the street to relive the old and welcome the future.
At that time, everyone was either performing, playing games, or singing! Locals play Vietnamese musical instruments, sing, and play traditional and contemporary songs. Foreigners and a few locals are playing puzzles and mini-games. Kids are playing, and adults are dancing.
It felt like I'd found a utopia for the first time in my life. It will forever inspire me to travel to Vietnam and to other places over and over again. To find and feel that bliss one more time.
Save it on Pinterest.