Hiking Mount Pulag Guide: How To Visit & What To Expect
If the ocean is beautiful, then you have to check the sea of clouds on Mount Pulag.
I can still remember when we were almost at the top of Mount Pulag when the dawn broke the darkness of the sky. The horizon still looked purplish-red at that time, and at that moment, I had my first sight of the sea of clouds.
I almost cried with awe and happiness. Hiking on Mount Pulag gave me an experience that I would not forget all my life. Mount Pulag is my mother mountain; I've been at its peak twice, and going back for the third time is definitely a YES!
In this blog post, I will share everything you need to know about Mount Pulag, like what to expect, requirements, what to bring, the best time to go, and other tips. (A checklist of things to bring when going for a hike in Mount Pulag is included in this post)
Before anything else, let me introduce Mount Pulag first (you need to know this).
Disclaimer: I based every piece of information about Mount Pulag in this post on a document (Mount Pulag National Park General Management Plan) from the Philippines' Department of Environment and Natural Resources (DENR). My hiking experiences and shared knowledge from my fellow hikers and research are the basis of my tips and recommendation. If you have any questions, please send me a message here.
Where is Mount Pulag?
Mount Pulag lies in the Philippines' northern regions on Luzon Island. It is the third highest mountain in the Philippines and was declared a National Park in 1987. It has a peak of 2,926 meters above sea level.
Mount Pulag national park is 85 Kilometers north of Baguio City, the nearest city to the park.
The fascinating fact about climbing Mount Pulag is when you reach the summit. When you are standing at its peak, you stand where the borders of the three provinces of the Philippines meet. Technically, you can visit Ifugao, Benguet, and Nueva Vizcaya in under one minute by just walking around the summit.
What can I expect to see in Mount Pulag?
Hiking mount Pulag, you will traverse three different areas: pine forest, mossy forest, and grasslands. It is on the grasslands of Mount Pulag that you can witness the stunning sea of clouds.
Let's talk first about the things that are always visible regardless of the weather and season.
Landscape and Vegetation: not a regular tropical rainforest
Like any mountain that stands almost three thousand meters tall, it is not surprising that it would have varying vegetation for different altitudes. The vegetation in Mount Pulag is dissimilar to the typical rainforest in a tropical country.
From around the altitude of 1100 masl (the elevation where Mount Pulag national park was established) to the summit, we see different vegetation covering the mountain's land area.
Mount Pulag Pine Forest
On the lowest parts of the national park, we will find pine forests covering 18% of the park. Most Filipinos feel they are not in the Philippines because of the pines trees that aren't typically seen in the lowlands. DENR said in their document that the Pine forest occupies the slopes of the mountain up to about 2300 meters above sea level.
Mount Pulag Mossy Forest
The forest view transcends from pines to woods covered with moss as we climb further. When you notice that you seem to be in a magical place, you're already inside the Mossy Forest. Here, the mosses cover the trunk and branches of the trees. When sunlight hits these mosses, they glow, giving a stunning rim light effect to parts of the trees.
Mossy forest covers around 50% of the total land area of Mount Pulag national park. Ambulalakaw lake, a mystic lake believed to be the Kalayunga ancestors' home, lies in the heart of the mossy forest.
Mount Pulag Grasslands
The Grasslands after the mossy forest indicate that we are almost at the summit. Grasslands cover 7% of Mount Pulag national park. We would notice the drastic change in vegetation, especially in the Ambangeg trail after camp 2. Sights of endless rolling hills and slopes patched with dwarf bamboo trees shall fill our eyes when we reach this part of Mount Pulag.
The Grasslands is the best place to catch the sunrise or wait for sunset. The low-angle light coming from the sun creates a stunning light effect with the plants on the rolling hills. It is also where we witness the sea of clouds – a phenomenon that every hiker in the Philippines desire to see.
Sea of Clouds: Spectacular phenomenon witnessed in good chances
A sea of Clouds is the occurrence or formation of overcast clouds at an elevation lower than the mountains' peak. The view from the top gives every person who sees it immense awe because of the spectacular wonder it shows. Below is the photo of the sea of clouds I saw during my second hike to Mount Pulag.
Weather could be unpredictable. I recommend that you do not expect to witness a sea of clouds so you won't be disappointed. At the same time, if you're not hoping for it to happen, you'd feel 10x happier when you got blessed to see one. You have to trust me on this. Check out my Mount Pulag Story.
In the Philippines, you can find other places where the sea of clouds can occur. One of them is Sagada – the mystic and scenic destination in the northern Philippines. Then another is Maligcong, which has the most beautiful Rice Terraces in the Philippines. You MUST see them now. 😉
Wildlife: unique but rarely seen in familiar trails
About the exploration done years ago, scientists and environmentalists found at least half a thousand different species on Mount Pulag. Plants and animals like Pitcher plant, Philippine Brown Deer, Northern Luzon Giant Ground Rat, and Luzon Pygmy Fruit Bat live around Mount Pulag.
However, I haven't seen any of these plants and animals yet. Maybe because I'm too focused on the trail or they only exist in parts not commonly visited by people.
Requirements before hiking Mount Pulag
Before going to Mount Pulag, be sure you comply with the only requirement: A prepared and healthy body + health certificate.
TIP: You could join a travel group that has an organizer. They often assist you in everything you need before hiking Mount Pulag, including the health certificate.
TIP: If you are making DIY trips, it's better that you already have your health certificate before going to Mount Pulag.
We must be sure that we are in good shape before we hike. I want to share an experience with this.
On my second hike to Mount Pulag, I had a fellow who got her knee injured on our way up. Dude, her injury was a bummer to all of us in the group. Personally, I felt worried when I heard one of the members of our group got injured, and it was even sadder when I learned that it was my friend who was hurt.
RELATED: The Story How I Conquered Mount Pulag Twice
I do not know how it happened exactly, but it's a good thing that she still managed to reach the summit. I admire her for that. It's pure determination. At the peak, she could barely move her leg, so our guide radioed two more guides for help to pick her up.
When we got back to the ranger station, she showed me her photo being carried by two guides. It's pitiful and hilarious how she was transported back to the ranger station.
The backup men carried her through an improvised stretcher in the photo she showed me. It's funny how she looked like an animal captured from a hunt. LOL. Ugh, I should not be laughing. But in fairness, the stretcher seemed to be durable and safe.
I just thanked God; she made her way to safety.
She was just an acquaintance, but we turned into friends in only two days! We shared many stories while we were in the homestay and the trail, including the craziest and scariest ones.
To my friend, if you are reading this now, please leave me a comment and tell us your experience. I miss you!
How to Go to Mount Pulag?
You can make your way to Mount Pulag by car, commute, or a travel group.
Either of the three, the roads would mostly be zigzag once you enter the highlands. So prepare your neck pillows and lock that seatbelt!
Go to Mount Pulag by Car
If you have the money, a car powerful enough to climb hours of stiff uphill roads, and you are an experienced driver, then this is a fun way to travel to Mount Pulag. It's your chance to take that road trip of a lifetime to enjoy the relaxing view along the 325-kilometer road from Manila to Mount Pulag's Ranger station.
It's easy; just set up Waze or Google Maps to lead you to the ranger station, and it's good to go.
Commute to Mount Pulag
If you are planning to have a DIY trip and save money, here is the way you can commute:
From Metro Manila, you can book an overnight bus headed to Baguio City. The trip lasts only 4 to 5 hours (depending on season and traffic).
When you arrive in Baguio City, rent a taxi going to the Terminal of Kabayan (Near the Old Slaughterhouse)
Take a bus or van to Kabayan and tell the driver to drop you off at the DENR office. Use the Google Map tip below so you can still arrive at the DENR office even if the driver forgets your request.
At the DENR office, sign up your details for safety purposes and complete your payments and requirements.
You will be required to attend an orientation about hiking in Mount Pulag.
After the orientation, move out of the office and hire motorcycles / habal-habal to bring you to the ranger station of Mount Pulag.
Request a guide on your arrival at Mount Pulag's ranger station or jump-off area.
TIP: To have a comfortable and less hassle commute, I suggest you don't bring too many snacks and trail food until you reach Baguio City.
TIP: Before starting your commute, mark the significant locations on your Google maps. Google Maps pinpoints you on your spot on the map through GPS – by this, you can know if you are close to your marked destination.
TIP: If you are traveling in a group, be sure to have a homestay where you can prepare and rest before and after the hike! Here's where we slept, and I really recommend this place (Mt. Pulag Summit VIEW- Baban's Homestay)
Join a Tour of Mount Pulag
In the Philippines, travel agencies aren't that popular. But there's an alternative to that, and those are travel groups from Facebook.
They're similar to travel agencies, but they're less official. Some of them are organized groups looking for people to complete the seats to save money. Others are just doing sideline business with their family vans, and only a few are accredited.
Convenience is the best thing you could get from joining a Facebook travel group.
When you join them, you won't have to worry about calling Mount Pulag Authorities for reservations, booking accommodation, registration with DENR, getting a guide, and sometimes food preparation.
Besides, you'll meet new acquaintances and new friends when you join a group! It is an essential part of traveling that should not be taken away. It makes the trip memorable and more fun. When you are with a fellow hiker, it seems easier to connect because you both have the same passion or a similar reason you decided to hike.
Have a look at my story and check if you have a similar reason why we love hiking.
TIP: Make sure to join the travel groups with travel organizers accredited by the Department of Trade and Industry. I'm sure they'll give you the best service as they are already doing business. They care about your experience because they also care about their business.
TIP: Travel groups use a van restricted to travel to Mount Pulag and other tourist attractions. I had an experience before when we got stuck on Bokod, Benguet, for almost a day because our van had issues with its passes with the local authorities. So, to avoid inconveniences like that, it's better to check their permits first before partially paying for seat reservations.
TIP: Most travel groups have Facebook pages. Spend some time reading reviews and comments so you can determine what to expect from the travel group.
Reserve Your Mount Pulag Hike
With the rise of Instagram and Facebook, Mount Pulag's popularity skyrocketed like crazy. It led to the surge in visitor influx to the national park. Reservations are DENR's method of controlling the number of visitors so they can protect Mount Pulag from over-tourism and destruction of the mountain.
Phone Numbers:
Emerita Albas +639196315402
Herson +639106412678
Daisy +639103010423
Email address:
ambangeg@gmail.com
It is best to make a call during weekdays office hours. Let us respect the personal time of the officers. So no early morning or late evening calls, please.
TIP: Call to make reservations a month ahead of your hiking date. The slots deplete fast, especially during peak seasons.
When is the best time to Visit Mount Pulag?
The best time to visit Mount Pulag is during the dry season. However, there is no exact date or month when it starts. PAGASA (Philippine Atmospheric, Geophysical, and Astronomical Services Administration) determines the dry season's beginning and end. So it's much better to stay-in tune with the news.
The dry season is also the peak season. For a better hiking experience, try visiting Mount Pulag on weekdays. Fewer people go to the mountains during those days of the week.
A weekday hike is your opportunity to have a more peaceful time with Mount Pulag and shoot beautiful photos without the crowd.
I downloaded the charts below from meteoblue.com, and they show how the weather is going every month on Mount Pulag.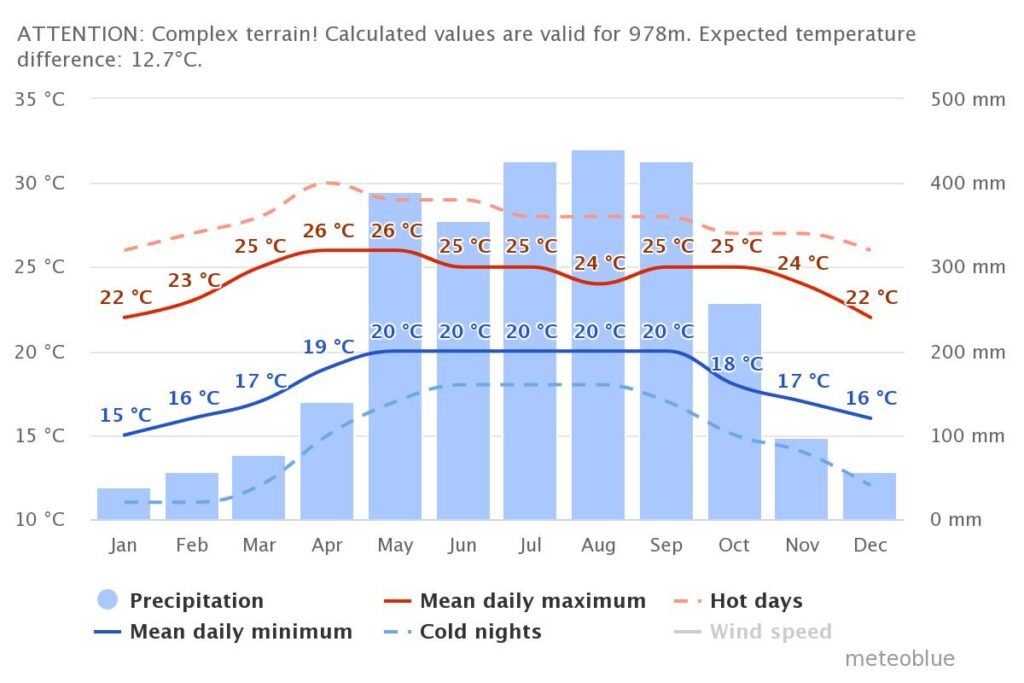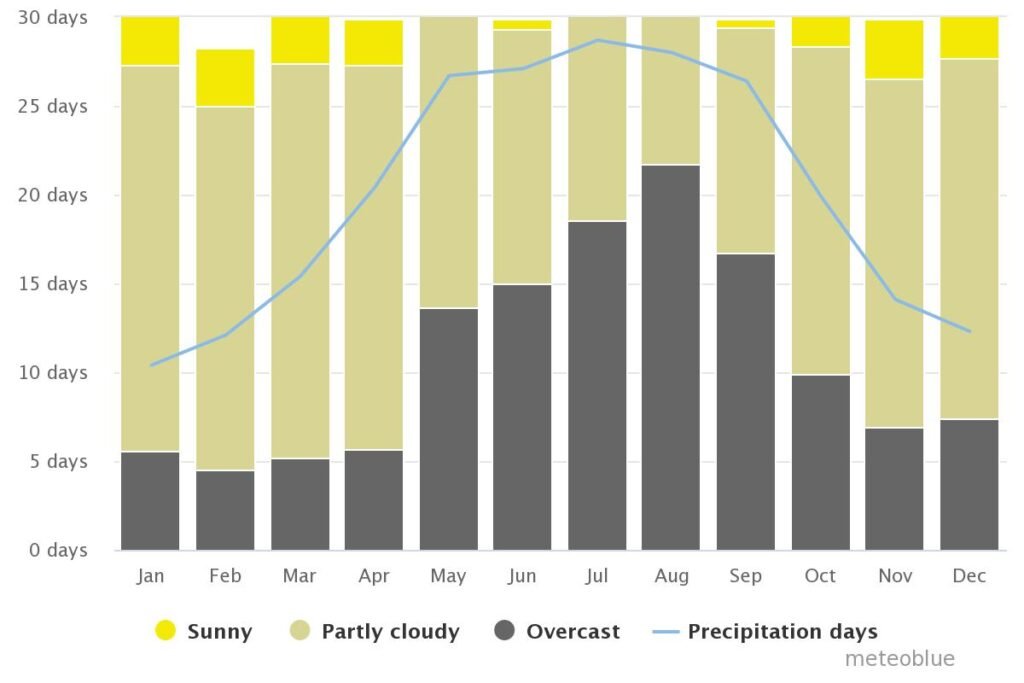 If I would take a hike, I'd probably choose the months with the lowest precipitation and cooler climate. I want to see a clear sky when I hike, probably from December to April. We all hate fogs covering all the jaw-dropping scenic views of the mountain, right?
Though these graphs hint at when we should be hiking, they do not guarantee that we'll experience clearing. Even the chart that shows the odds of getting overcast clouds does not ensure the formation of a sea of clouds.
My first hike in Mount Pulag was in January, yet winds and rain battered us from midway to the peak. We failed to see the sea of clouds then. Thankfully, I got blessed on my revenge hike in March, and I finally witnessed the sea of clouds.
What to Bring for Hiking in Mount Pulag?
The things you bring to Mount Pulag depend on how long you plan to hike.
If you plan to have an overnight camp, you must carry extra stuff like tents, cooking gear, sleeping bags, etc. I'll list them all here to serve as your checklist. However, if it is only a day hike, you'd probably stay and sleep in a homestay. You won't have to bring additional outdoor gear, just the things I listed below.
| Item | Overnight Camp | Day Hike |
| --- | --- | --- |
| 3L bottles of water or Water bladder | NEED | NEED |
| Snacks | NEED | NEED |
| Pre-cooked food | NEED | OPTIONAL |
| Jacket | NEED | NEED |
| Hiking Pants | NEED | NEED |
| Wind Breaker/Cap/Bonnet | NEED | NEED |
| Gloves | OPTIONAL | OPTIONAL |
| Clothes of Layering | OPTIONAL | OPTIONAL |
| Extra Clothes (after hiking) | OPTIONAL | OPTIONAL |
| Rain Coat | NEED | NEED |
| Emergency Blanket | NEED | NEED |
| Thick socks | NEED | NEED |
| Hiking Shoes | NEED | NEED |
| Slippers | NOT NEEDED | OPTIONAL |
| Trekking Pole | OPTIONAL | OPTIONAL |
| Plastics and Garbage bag | REQUIRED | REQUIRED |
| First Aid and Medicines | NEED | NEED |
| Toiletries | NEED | NEED |
| Camera | OPTIONAL | OPTIONAL |
| High capacity power bank | NEED | OPTIONAL |
| Headlight | NEED | NEED |
| Waterproof bag or bag with waterproof cover | OPTIONAL | OPTIONAL |
| Sleeping bag | OPTIONAL | NOT NEEDED |
| Sleeping mat | OPTIONAL | NOT NEEDED |
| Camping tent | NEED | NOT NEEDED |
| Cooking Gear and Eating Utensils | OPTIONAL | NOT NEEDED |
| Portable fire extinguisher | REQUIRED | NOT NEEDED |
| Safety whistle | REQUIRED | REQUIRED |
IMPORTANT: DENR imposed hikers to bring portable fire extinguishers and safety whistles if they will be camping overnight. The authorities do not want another fire to spread in the mountains like what happened last 2018. See the article about this rule here.
IMPORTANT: Bringing garbage bags is required as we should be responsible for making Mount Pulag national park clean. We must bring down the food wrappers and plastic bottles we used.
I remember back in my first hike (January 2019), when we arrived at camp 2 of the Ambangeg trail, freezing wind and fog gusted on us badly. It seemed impossible to continue climbing due to the fiercely cold weather. Some of us were already shivering. My hands are numb already. But thanks to the emergency blanket we bought before climbing, we were able to continue hiking.
TIP: From December to February (cold season), the temperature could drop to 0 degrees celsius, especially when it is raining and windy. Bring enough protection from the weather.
TIP: During the dry and hot season, Mount Pulag averages around 15 to 20 degrees celsius. Wearing a thick jacket isn't necessary. The weather isn't that cold until you stop moving.

What are the available hiking trails in Mount Pulag?
Mount Pulag has four trails that hikers follow on their hike to the summit. They are Ambangeg, Akiki, Tawangan, and Ambaguio Trail. The officer who conducted the orientation introduced each track to us.
Since I haven't tried all of them, I could only state what I heard from the orientation officer.
Ambangeg is the easiest trail. They said hiking through this track is like walking in the park. But don't let it fool you—that phrase only suits experienced hikers. It could be challenging for beginners, but anyone with good body stats could definitely ace it without any question.
Ambaguio is the longest of all the four, and Akiki is the toughest.
If you want to see the four lakes around mount Pulag, take the Tawangan trail. You will not only see Abeo, Ambulalakao, Iculus, and Detanapco lakes, but you will also have a glimpse of Luzon's second-highest peak, Mount Tabayoc.
You must also check other hiking destinations in the Philippines. In my blog post about the Most Beautiful Mountains in the Philippines, you will see other mountains worth walking or visiting. 
Actually, it was a mini-study that determined which of the mountains in the Philippines are the best. It turned out that Mount Pulag was the best, then came Mount Mayon.
Osmena Peak, the highest mountain in Cebu, did not make it to the list, though. Yet you must see Cebu because it's the Adventure Capital of the Philippines! There I had several unforgettable moments that I am really grateful for. Common, check my post 😀
Other Few Reminders and Tips While You are in Mount Pulag
For overnight campers, camp only on designated sites.
Walk only along the trails to avoid damaging the vegetation and soil erosion.
Take nothing but photographs, leave nothing but footprints, and keep nothing but memories.
Do not ask the guides how long it is left before reaching the summit
When you make noise the night before you hike, Mount Pulag won't be happy to show you the sea of clouds. Just kidding! Let's make the mountain peaceful.
Is Mount Pulag Recommended For Beginners?
Absolutely! With the Ambangeg trail, anybody with a strong will can make it to the summit even if they aren't that fit. The view from the top is priceless, especially when you witness the sea of clouds! It is something that you will remember all your life. Honestly, when I was at the top, I wished that I could stay there forever. Sadly, we all need to go back to our daily lives and continue with whatever we left behind.
There are so many reasons why you should hike. Check this out: 19 Reasons why you should hike. If you're not inspired, try looking at some quotes about the mountains here.
Actually, I was a total beginner when I reached the summit of Mount Pulag. If I can, everybody else could. ?
Conclusion
Mount Pulag is a fascinating mountain, and it is exciting to climb because of the sea of clouds that appears at its peak. It has three main parts, the pine forest, the mossy forest, and the grasslands. The best visit to Mount Pulag is during the dry season; however, climbing during those months does not guarantee good weather. I recommend that you pray or hope for a good outcome but never expect the best. It is better to be surprised than to be disappointed.
Save it on Pinterest.