10 Scenic Spots in Zermatt: How & When To Visit, Tips & More
What was the Swiss Mountain I saw first? Matterhorn – on the box of Toblerone Chocolate. LOL. That's the truth for some of us, right?
Well, actually, Matterhorn is not pure Swiss; it's a half-Swiss and half-Italian mountain, as it lies on the Swiss-Italian borders. Yet, in Zermatt in Switzerland, people often go to visit Matterhorn. Why? Because, first, there is better transportation, and most importantly, here in Zermatt, the best views of the Matterhorn are found. 
Zermatt is a town of 5000 people in the Swiss' southwestmost canton, Canton of Valais. It's one of the most famous towns in the Swiss Alps, with a population that reaches five folds of its local population during peak season as the influx of visitors. The numbers will say that there's really interesting found in Zermatt, but is it really worth visiting?
Affiliate Disclaimer: This post contains affiliate links. I recommend products and services that I think can help you make a successful and memorable trip. I may receive a tiny commission if you purchase them with no additional cost to you. These will support me in maintaining, creating more articles, and fulfilling the mission of this blog.
In this blog post, you will discover different viewpoints of Matterhorn, the scenic spots in Zermatt, and other things that make Zermatt worth visiting. This post should benefit you when you are already in Zermatt or still planning to travel. If you are into hiking or love hanging in the great outdoors, this post is perfect for you!
You will also find practical information about traveling to Zermatt if you include it in your itinerary. Yet, I'm sure you will!
Facts and information (i.e., opening hours, etc.) are based on the official website of Zermatt unless stated.
So without further ado, let's go checkin' Zermatt!
The Glorious Matterhorn in Zermatt
Let's be honest. Without Matterhorn, Zermatt would be just like other typical charming towns in the Swiss Alps. It's the main reason why Zermatt is unique, don't you agree?
That's why many people also ask what's so special about Matterhorn. Is Matterhorn really worth seeing? 
The answer is yes, of course; Matterhorn is worth seeing! It is not only "iconic" that your photo with Matterhorn will let people know that you've been to Switzerland, but simply, it is a spectacle to behold. Most importantly, a pyramid-shaped mountain isn't easy to find or visit. With Matterhorn, you can consider Zermatt a destination of a lifetime.
That's only my opinion. However, suppose you are like me, obsessed with mountains but were born in an archipelago deprived of such sceneries. In that case, I'm sure you'll understand my point.
The thing is, we all have our likes and preferences. If it's a one-of-a-kind mountain you want to see, then Zermatt and Matterhorn is the place to visit.
Nevertheless, Zermatt isn't only about Matterhorn. As mentioned earlier, you will also discover other things besides Matterhorn that make Zermatt worth visiting in this post.
10 Scenic Spots in Zermatt (Best Views of Matterhorn)
Everyone, especially the full-blooded wanderers and hikers, will love Zermatt. It is the gateway to some of the most epic sceneries in the Swiss Alps, made even more spectacular by Matterhorn.
Are you wondering where are these epic sceneries in Zermatt, I'm telling? Whether you're still planning to visit or already there in Zermatt, worry no more. Because here are the Zermatt's scenic spots all are eager to see:
Kirchbrucke
Sunnegga
Riffelalp Resort
Riffelsee
Schwarzsee
Gornergrat
Arbenbachfall
Bench on Höhbalmen
Matterhorn Glacier Paradise 
Viewpoint Le Petit Village at Mürini
Note: See the map I created to find their exact locations.
For these 10 scenic spots in Zermatt, you shall know the following:
What you can expect to see during clear weather (why you will visit)
How you can visit each
Other tips, either of the following:

When is the best time to see
Photography tips
Next scenic spot to visit next
Let's go!
Need help in planning your trip to Switzerland? I prepared a 3-day, 7-day, 10-day, 14-day Switzerland Itinerary to guide you. I discussed each destination to visit (things to do, how long to stay, map, and other tips). Check it out!
Scenic Spot #1: Kirchbrucke
Let's kick off the list of the scenic spots in Zermatt with Kirchbrücke, the easiest to visit, located in the heart of the town. It connects two parts of Zermatt, halved by the valley's main river, Matter Vispa.
Standing in Zermatt's Kirchbrücke, facing south and perpendicular to the bridge, you see a picturesque view of Matterhorn together with the pine trees and flower-embellished chalets. 
The best time to visit Kirchbrücke? The most desirable time to go to Kirchbrücke is before sunrise, a few minutes before the first golden hour of the day. It is when you shall witness the sun slowly brush the face of Matterhorn from its pinnacle to base with warm, bright colors. Since Kirchbrücke could probably be the nearest scenic spot to your hotel, I recommend making Kirchbrücke one of your options for your first itinerary for the day. 
A better option for watching the sunrise in Zermatt is on Riffelsee. You will know why later in the following sections.
It's just a short spectacle that lasts only for a few minutes. Don't be late and waste that sunrise opportunity for awe! 🙂
Scenic Spot #2: Sunnegga
A few-minute walk going north from Kirchbrücke, you can find the Sunnegga-Rothorn Valley Station, our way to Zermatt's second scenic spot. 
From the valley station, ride on a 5-minute funicular trip to Sunnegga, the closest elevated scenic location from the town center of Zermatt. Sunnegga is the most accessible place to visit from the town center, where you can get a wide-open view of the Alps and Matterhorn.
Rotate the 360-image above to see Matterhorn at the back.
At an elevation of 2,288 meters above sea level, visitors at Sunnegga can now see Matterhorn closer to eye level together with the rugged skyline of the Pennine Alps.
Some people eat their breakfast in the Buffet Bar Sunnegga located just beside the funicular station. It's a lovely place where you can energize your day while staring at Matterhorn. That will be the case if you don't mind the high price, which, for a simple fries meal, you'd be charged 9.9 CHF or 10 USD.
In Sunnegga, you can find the Buffet Bar Sunnegga to eat breakfast after watching the sunrise in Kirchbrücke. That is if you don't mind the price. A simple fries meal is priced at 9.9 CHF, approximately 10 USD. 
With that, after watching the sunrise in Kirchbrücke, I'd instead go back to my hotel and claim a complimentary breakfast and then proceed to Sunnegga after or see other views in Zermatt. 
During summer, you can start a Five-Lakes hike from Sunnegga or visit the cute marmots located in the marmots-watching station, a few walks from Sunnega. Also, there is a hiking trail located west of Sunegga Jumptrail to get a bird's eye view of the town of Zermatt 500 meters below.
A small lake called Leisee lies just 7-minutes away on foot from Sunnegga. You should be able to spot the lake from Sunnegga; just follow the muddy trail going southeast. The lake has a tiny beach with a couple of benches you can sit for a while to enjoy the scenery.
Lake Leisee is one of the lakes in Zermatt where you can photograph Matterhorn with reflections on the water's surface. I mentioned two others in this post that you would really want to discover!
Scenic Spot #3: Riffelalp Resort
I haven't heard anyone swim in Lake Leisee in Sunnegga yet. But in the third scenic spot in Zermatt I found, you definitely will! Especially if you have the luxury to give. 
Located at the 2000-meter-ish mountains south of Zermatt, we can find Riffelalp Resort 2222m – the place where an absolute heaven-on-earth mountain relaxation awaits. Based on their Riffelalp Resort's website, they are the highest spa in Europe, where you can access a pool with views of the Pennine Alps and Matterhorn.
Imagine you're on a heated pool staring at Matterhorn, admiring the wonders of the Pennine Alps in complete relaxation. That's the dream, right!? 
Below is a sample of the view from the Riffelalp Resort's Pool. Try to swipe the 360-image to the left to see the Matterhorn and the rest of the mountains nearby.
Here is the link to the Riffelalp Resort arrivals page to guide you to reach the hotel. You can book accommodation at that link as well. 
Scenic Spot #4: Riffelsee
Since I cannot afford the accommodation and service in Riffelalp Resort yet, I guess I have no choice but to enjoy and embrace the fun adventures in nature first. Who's with me?!
So, let's now move on and talk about Riffelsee, the most picturesque lake for Matterhorn reflection shots – our next scenic spot in Zermatt.
Riffelsee, situated at an elevation of 2757 meters above sea level, is the most accessible lake from Zermatt that is ideal for taking excellent photos of the Matterhorn. The lake's distance to Matterhorn, size, reflectivity, and stillness allows photographers to capture Matterhorn in an absolutely stunning way.
Going to Riffelsee
How do you get to Riffelsee? Rotenboden is the closest train station to Riffelsee and is only one train ride away from the valley station. It usually takes 30 minutes to reach Rotenboden from the Zermatt valley station.
However, it will be more practical and efficient if you go straight to Gornergrat to see more views and then hike down to Riffelsee. That way, you will no longer need to hike upwards or get another train ride if you want to visit Gornergrat, which is another Zermatt scenic spot. 
Rotenboden and Gornergrat are serviced by a single train line, Gornergrat Bahn.
When to Visit Riffelsee
Is it possible to visit Riffelsee to watch the sunrise? Yes, it is possible! Actually, Riffelsee is one of the best places to watch the sunrise with the best views of the Matterhorn. Gornergrat Bahn from Zermatt offers a Sunrise Trip to Rotenboden early in the morning. The Sunrise Trip costs 99 CHF for adults at regular prices. 
When to visit Riffelsee? There is no specific time of the day best to visit Riffelsee not unless you're an enthusiast wanting to see the Matterhorn in a spectacular sunrise or sunset. However, Riffelsee is usually frozen during winter. You would not see Matterhorn's image inverted on the water when it's frozen; thus better to skip it during the chilly months.
Why Visit Riffelsee
Just imagine the clear skies slowly turning brighter and brighter, and the peak of Matterhorn is finally hit by the first ray of light from the sun! Minutes passed, and half of the Matterhorn was painted golden. What's even better? You see Matterhorn reflected over the calm Riffelsee! It's the most spectacular thing you could ever witness in Zermatt!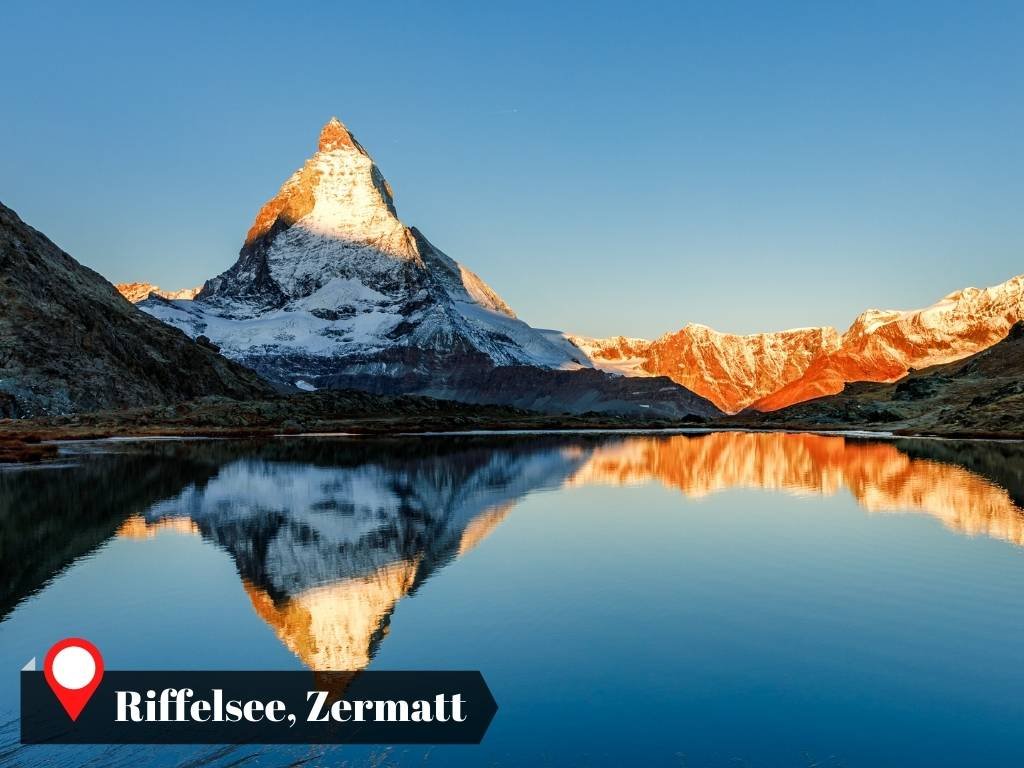 How long will I stay in Riffelsee? If it's not the sunrise, Riffelsee could only be a quick stop if you arrive at the site with clear skies, seeing Matterhorn at its full glory right away. Probably, I would stay for a while in Riffelsee and wait for the sky to clear up when Matterhorn is hiding behind the clouds. Of course, only if there's a possibility for a clearing.
Around Riffelsee, you shall see the image of Matterhorn very similar to what's printed on a Toblerone box.
Scenic Spot #5: Gornergrat
Gornergrat is a scenic spot in Zermatt and Switzerland's most visited excursion destination since 1898. It is an observation deck perched on a rocky ridge of the Pennine Alps, directly located in the East of Matterhorn and overlooking the Gorner Glacier southeast. It's a two-in-one-package destination that will absolutely take your breath away.
Going to Gornergrat
How do you get to Gornergrat? From Zermatt, take the cogwheel train heading to Gornergrat. The train ride should last for 30 to 35 minutes, with stops at Findelbach, Riffelalp, Riffelberg, and Rotenboden.
Book in advance your tickets to Gornergrat Cogwheel Train on getyourguide.com to skip the lines (My Matterhorn Movie with Photopoint included.)
Why Visit Gornergrat
Why should you not miss Gornergrat? Because you'll be checking another two items on your travel bucket list if you visit Gornergrat. The Gorner Glacier you'll see in Gornergrat is the second-largest glacier in the alps. At the same time, you will be riding Europe's highest open-air cogwheel train going to Gornergrat. 
Besides, if you are looking for the best scenic spot to visit from Zermatt, Gornergrat is the place to be. It may not be the best spot to see Matterhorn, but a trip to Gornergrat will always be a win situation. If Matterhorn gets shrouded with clouds, you still get a view of the beautiful Gorner Glacier on the other side of the observation deck.
People visiting Gornergrat are made speechless by the scenery, even when they haven't arrived at the site. The views along the train tracks are already stunning, and the mountain breeze is just so refreshing.
When to visit Gornergrat
When to visit Gornergrat? Don't go to Gornergrat if you know that the weather will not allow you to see any views. Zermatt tourism website has a webcam you can watch to check if the sights above are worth a trip. You can have this Gornergrat live camera as an example.
You might not recognize Gorner Glacier very well during winter as it can be covered with thick snow. But sometime during late spring to autumn, you should be able to spot the glacier right away from Gornergrat. 
Scenic Spot #6: Schwarzsee
To the west of Gornergrat, over the Gorner Glacier valley, we can find Schwarzsee. It is a lake in an area located midpoint of Matterhorn and the town of Zermatt, where ascents of the Matterhorn begin. Schwarzsee is the head trail of the Matterhorn Glacier Trail.
Why Visit Schwarzsee
It is impossible to see an inverted Matterhorn in Schwarzsee because of its deep location. However, Schwarzsee has a chapel by its shores that's often reflected on its calm surface. This chapel is called "Maria zum Schnee," and Matterhorn climbers come here after a successful climb to thank God for a safe hike and legendary experience.
The best view of Schwarzsee is along the Matterhorn Glacier Trail, located south of the lake. In calm and pleasant weather, you shall see Maria zum Schnee reflected in Schwarzsee and the peaks Zinalrothorn, Wellenkuppe, and Ober Gabelhorn.
But before you go to the best view of Schwarzsee or start the hike to Matterhorn, you might like to view the town of Zermatt from the vantage points located east of the Hotel Schwarzsee. The area near Schwarzsee is definitely one of the best vantage points you can easily visit to observe Zermatt from above.
When to visit Schwarzsee
Best time to go to Schwarzsee? If you don't plan to hike Matterhorn, you must go to Schwarzsee before sunset. The dusk will be the time when you get to see the town of Zermatt in the valley start to glitter with the night light. Just be mindful of the last cable car ride back to the valley if you plan not to hike down from Schwarzsee.
Going to Schwarzee
Cable cars are servicing Schwarzsee, and the cable car trips from Zermatt to Schwarzee have two segments: Zermatt to Furi, then Furi to Schwarzsee. Coming from Zermatt, the total travel time would be around 14 minutes.
Scenic Spot #7: Matterhorn Glacier Paradise (Klein Matterhorn)
The scenic spots bucket list destinations in Zermatt will not be complete without going to Klein Matterhorn (Little Matterhorn), the highest peak reachable by aerial tramway. This is the climax of this list of scenic spots in Zermatt since this is the highest that we can go. Of course, unless you want to climb Matterhorn. 
Why visit Klein Matterhorn
The cable car ride to Klein Matterhorn is undeniably costly at 104 CHF because the scenes up there are absolutely worth it, particularly during clear sunny days. So far, Klein Matterhorn is the only place you can conveniently visit from Zermatt, where you see the highest points of three countries at once spot. If it's that kind of incredible experience you seek, then you must visit Klein Matterhorn.
If the weather permits, the entire Pennine Alps, together with Mont Blanc (4,810 masl) in France and the Gran Paradiso (4,061 masl) in Italy, will all be within your sight. Most importantly, Klein Matterhorn is also the place you can quickly go to see the south face of Matterhorn. It's something unique among all the scenic spots in Zermatt.
Other experiences await you in Klein Matterhorn, too, not only the scenic views. You can go inside the mountain, try Glacier Paradise, or even watch a film in a Cinema Lounge.
Going to Klein Matterhorn
Klein Matterhorn is serviced by the world's highest 3S cableway called Matterhorn Glacier ride, linked to another station connected to Zermatt. Go to Klein Matterhorn from Zermatt, follow these cable car segments:
Zermatt – Furi (Matterhorn-Express)
Furi – Trockener Steg (cable car)
Trockener Steg – Matterhorn glacier paradise
You can book your tickets in advance for Matterhorn Glacier Paradise Cable Car from getyourguide.com (the package includes all entrance fees to all activities).
When to visit Klein Matterhorn
Visiting Klein Matterhorn is worth it if the skies are clear and sunny. But, at an altitude slightly lower than 4000 meters, the weather at Klein Matterhorn's summit could be very different from the town. Before you go, check first the live cameras on Zermatt's website (click here to see).
Scenic Spot #8: Arbenbachfall
Suppose you are looking for a unique scenic spot destination you can visit from Zermatt. In that case, Arbenbachfall is what you need to see. 
Arbenbachfall is a 60-meter tall waterfall located midway through the Eidelweiss Path at the farthest point from Zermatt (others refer to it as the Zmutt area). This waterfall has vantage points wherein the background will be the glorious northern face of the Matterhorn. It's a scenic spot we can consider the hidden gem of Zermatt.
How to visit Arbenbachfall? The only way you can go to Arbenbachfall is through hiking 7.5 kilometers from Zermatt on an unpaved mountain trail. It will probably take you 2 hours and 45 minutes to 3 hours of a hike to reach Arbenbachfall. Here are the exact details of the path you'll be following:
Click the box above the zoom (plus and minus) buttons to recenter the map.
When should I visit Arbenbachfall? It's best to see Arbenbachfall during late spring when Arbenbachfall has an enormous amount of falling water. This is due to the melting snow on top of the mountains. It looks most majestic on a sunny day when a rainbow is created by the small water particles produced by the cascade.
Scenic Spot #9: Höhbalmen
Eidelweiss path passes through several scenic points and beautiful hamlets in Zermatt. Arbenbachfall is one of these beautiful spots, and Höhbalmen is another.
Why visit Höhbalmen
Unlike most of the places I mentioned here, Höhbalmen is just a low-key scenic spot where you will have nothing to do but relax and enjoy the presence of the 4000-m peaks around. It's like the best spot you can visit from Zermatt for soul searching or finding oneself. Actually, it seems to be a place straight out of an indie music video on Youtube.
During summer, the area in Höhbalmen is primarily meadows with small rocks scattered all around. You can find alpine animals roaming here like mystical ibex and mountain goats. Most importantly, At 2665 meters, Höhbalmen gives you one of the best vantage points for admiring the north face of Matterhorn with the Hörnligrat ridge.
Here is a 360-view of Höhbalmen on its iconic bench:
You can also virtually tour Höhbalmen using the Street View of Edelweiss Path below:
When to visit Höhbalmen
Höhbalmen is a simple yet scenic place in Zermatt. There's no particular time best to visit Höhbalmen. However, it would be better to go to Höhbalmen during Summer when the snow is gone, and the meadows are lush again. You can just lay down on the grass with Matterhorn beside you and feel carefree more than ever!
Going to Höhbalmen
How to go to Höhbalmen? Hiking is the only means of reaching Höhbalmen at the moment. From Zermatt, follow the Eidelweiss Path that also leads to Zmutt and Arbenbachfall. By the time you get to Arbenbachfall, continue hiking up to the mountains and follow Eidelweiss Path still. Within 2 hours, you should finally be in Höhbalmen.
To go back to Zermatt, just continue hiking along Eidelweiss Path. Here is a route you can follow to visit Höhbalmen from Arbenbachfall:
Click the box above the zoom (plus and minus) buttons to recenter the map.
Eidelweiss Path is actually a round-trip hike from Zermatt. You can do the opposite way I mentioned just above. But here's the Eidelweiss Path hiking trail information so you can assess if the difficulty is just right for you:
Click the box above the zoom (plus and minus) buttons to recenter the map.
Scenic Spot #10: Viewpoint Le Petit Village at Mürini 
Finally, we are down to the last scenic spot in Zermatt, the Viewpoint Le Petit Village at Mürini.
If you followed my list of the 10 most scenic spots in Zermatt, you would realize that we just discussed the most beautiful locations around Zermatt in a clockwise direction.
Our discussion started from Zermatt, so we'll end in Zermatt – similar to what our journey is going to be. We began at a scenic spot in Zermatt for sunrise, so we shall finish it in Zermatt also but at a vantage point best for sunset. Very poetic, eh? LOL.
Anyhow, located in Zermatt's northern portion, the Viewpoint Le Petit Village at Mürini serves as a perfect spot for taking photographs of Zermatt, with Matterhorn blessing the view above the town. Sunset is the best time to go here to witness Zermatt's houses slowly turn on their lights and then glitter as dusk happens.
The Viewpoint Le Petit Village at Mürini is a famous photography spot in Zermatt. So, you might want to go earlier than sunset to get your perfect angle in capturing Zermatt's and Matterhorn's combined beauty.
Other Things To Do That Make Zermatt Worth It
A trip to Zermatt does not end after seeing Matterhorn and visiting its scenic spots. There's a lot more to do in town. You can view museums and go to historical sites.
Among those, here are the five worthy things to do that your wanderlust, awe-thirsty self would love to find:
Hinterdorf Street
Iglu-Dorf
Gorner Gorge
The Hamlet of Zmutt
The Hamlet of Herbrigg
Note: You shall see photos of the views you can expect to see a place/activity at the end of each section.
See the map I created to find their exact locations.
Hinterdorf Street
Travel back to the 16th to 18th century with the Zermatt's traditional larch houses located on Hinterdorf Street. The barns, stables, and homes in this part of town bring you almost 500 years of stories of how the locals thrived in Zermatt. Full-blooded wanderers and photography enthusiasts will have fun seeing and capturing the quaintness of the place.
Hinterdorf Street is open every day, so you can come anytime you want. You can join tours to learn more about the history embedded in these traditional barns, stores, and houses. To participate, just go to the Zermatt tourism office and inquire.
Iglu-Dorf
Do you also want to have the most unique experience when you travel to Zermatt? Why not try to stay or visit Iglu-Dorf, an igloo four-star hotel, bar, and restaurant. For me, just to see an igloo and enter it is already a significant bucket list accomplishment!
They have igloo rooms with fabulous carvings, designs, and lighting. I also learned that they have a whirlpool which is so fantastic as you can see the Matterhorn directly from the window of its room. You can know more from Iglu-Dorf-Zermatt's website, but here's a sample view you'll see inside:
Gorner Gorge
Zermatt is known to have one of the most spectacular views of 4000-m peaks. But do you know that it also has breathtaking views underneath and between its gigantic rocks? If you are interested, then you should check out the Gorner Gorge.
Gorner Gorge is a 220-million-year-old ravine, now built with wooden walkways for us to explore. You would see the dramatic rock formations along the trail, with a turquoise river flowing in the middle of the gorge and underneath where you're walking. Gorner Gorge is for you to have a variety of experiences in Zermatt.
The best time to visit a gorge is when the sunlight enters its rocky openings from above. With the rays of the sun, the ravine shall show spectacular colors so magical to see. In the case of Gorner Gorge, it happens most incredibly between 3 p.m. and 4 p.m. in mid-October.
Gorner Gorge is open every day from 9:15 a.m. until 5:45 p.m. It can be easily reached from Zermatt's town center with only 15 minutes of walking. Just go south, hiking the path beside the river.
The Hamlet of Zmutt
A while ago, I mentioned Edelweiss Path at the discussion of Arbenbachfall and Höhbalmen. As I continued exploring Edelweiss Path, I found out that these two are not the only exciting places that await you along the trail. There is another one, and it is called Zmutt Village.
The hamlet of Zmutt is a charming small village composed of not more than 40 houses and shops built in the traditional Upper Valais style. Situated in the vast meadows with mountains all around, it can be the idyllic place you might be looking for. There are small shops and beer gardens in the middle of the Zmutt village where you can rest and relax after an hour of a hike from Zermatt.
The Hamlet of Herbrigg
If you want to see idyllic places like the hamlet of Zmutt but you have limited time in Zermatt that hiking for hours wouldn't make it possible, worry not. Because not too far from Zermatt, another beautiful rustic village called the hamlet of Herbrigg is just on the outskirts of Zermatt – and it's very easy to visit.
The hamlet of Herbrigg is located just above Zermatt's ZenStecken bus station. However, you can go straight to the Herbrigg from Zermatt's center. Here are the steps you can follow:
From the Church of Saint Mauritius, walk south following the direction of Matterhorn.
At the first fork way, choose the path on the right.
Continue walking, and you shall encounter another fork after a few steps. Again, choose the path on the right, and you will be in Schälpmattgasse.
Along Schälpmattgasse, you shall see a stairway going up. Proceed to this, and you will be at Herbriggweg – the path to Herbrigg.
Follow Herbriggweg, and within 15 minutes, you shall be in the hamlet of Herbrigg.
Here is the map to visualize the route you'll be taking:
During summer along the Herbriggweg, you shall see meadows with small barns built scattered in the place. It has lovely scenery, especially when it's sunny. 
But why would you visit the hamlet of Herbrigg? Not only the hamlet of Herbrigg is an idyllic place, but it's here in the hamlet of Herbrigg that you will find the oldest barn in Europe. Since it is elevated at around 2000 meters, the hamlet of Herbrigg serves as an excellent viewing point above Zermatt, too. 
This oldest barn in Europe, located in the hamlet of Herbrigg, is said to have been built in 1261. It's impressive for a wooden structure to last that long! Actually, it blew my mind to think that it is older than other civilizations in the world. 
Interestingly, the hamlet of Herbrigg has been the source of many folklores. Like, the tale of the ghost who was banished to sneeze forever in a barn in the village. The spirit was only freed from the curse after a milkmaid told him, "Bless you!"
Should You Visit Zermatt?
Is Zermatt worth a visit? Zermatt is one of the best destinations you can go to in Switzerland. It is definitely worth a visit place jampacked with endless beautiful sceneries and breathtaking landscapes. The views in Zermatt are really compelling to see, but Zermatt's quaint hamlets, mountain culture, and scenic hotels will also be a reason why you would come here.
Map of Scenic Spots and Activities in Zermatt
Here are the exact locations of all the places we have talked about a while ago. Read back: Zermatt scenic spots, Zermatt things to do
Things to Know When Visiting Zermatt
With all the scenic spots, scenic hotels, and lovely hamlets, it seems I can spend more than a month in Zermatt in full retreat. It's just one of the most beautiful we all dream about, right?
In this part of the blog, you will learn essential things to know when going, staying, and exploring Zermatt. So without further ado:
Going to Zermatt
Going to Zermatt by Private Car
How to go to Zermatt by car? Zermatt is a carfree town in the Swiss Alps, only accessible by public transportation and electric taxis. You can only bring your vehicle to Täsch and park it at Täsch Matterhorn Terminal. From there, you have to use the trains or get an e-taxi ride to your destination or hotels in Zermatt.
Matterhorn Terminal Tasch lets you park with a fee on its 2100 covered parking lots. You can reserve slots/tickets from their website.
Going to Zermatt by Public Transportation
How to go to Zermatt by public transportation? All cities and almost every town in Switzerland, including Zermatt, are connected by public transportation. To save a lot of money on moving around using trains and buses, I suggest you check the current promos like Supersaver tickets and Saver Day Passes. It could save you money as much as 70% compared to the original fares.
Traveling for a week or more in Switzerland? Save a lot of money using the Swiss Travel Pass (click here to learn more). With it, you can have an unlimited ride on public transportation (Bus, Trains, and Boats) and free entry to more than 500+ museums in the country. Cable cars, funicular, and cogwheel train rides are discounted by 50%. IMPORTANT: before you buy a Swiss Travel Pass, check first where it is valid or where it applies 50% on STP's official website.
Airports near Zermatt
If you are from somewhere far from Zermatt or Switzerland, certainly you will be traveling by plane and then land transit. Choosing which airport you will be arriving at could sometimes be crucial as it involves time and money.
In this section, I give you estimates on how much effort, time, and money you will spend if you decide on one of the airports near Zermatt. There are five international airports you can use for arrival when visiting the Swiss Alps or Zermatt: 
Zurich, Switzerland
Geneva, Switzerland
Basel, Switzerland 
Bern, Switzerland
Milan, Italy
Using Rome2Rio.com, one of the most reliable travel planners on the internet, I created the tables below to help you compare the trip from these five airports to Zermatt:
Going to Zermatt by private car from nearby cities with airports:
Cities near Zermatt with airports
(IATA code)
Road Distance
(kilometers)
Travel Time
Zurich (ZRH)
247.7
3h 55m
Geneva (GVA)
236.9 
3h 12m
Basel (BSL)
335.3
4h 14m
Bern (BRN)
239.7
3h 19m
Milan (MXP)
194.9
3h 17m
Going to Zermatt (only up to Tasch) from nearby cities with airports by car
Going to Zermatt by public transportation from nearby cities with airports:
Cities near Zermatt with airports
(IATA code)
Commute Difficulty
Travel Time
Cost
(USD)
Zurich (ZRH)
2 train rides
3h 50m
98 to 183
Geneva (GVA)
2 train rides
3h 56m
89 to 167
Basel (BSL)
1 bus ride + 2 train rides
4h 53m
91 to 175
Bern (BRN)
1 bus ride + 3 train rides
3h 24m
57 to 111
Milan (MXP)
3 train rides
4h 28m
77 to 177
Going to Zermatt from nearby cities with airports using public transportation
See notes here.
Here are my references:
Suppose you plan to visit Zermatt in a group or with your family only for a day from Zurich, Basel, or Bern. In that case, you get a private tour that removes all the hassle of creating an itinerary, booking entry passes, and tickets. Learn more about the private tours from getyourguide.com: Zurich to Zermatt, Basel to Zermatt, and Bern to Zermatt.
Zermatt and the Nearby Attractions
Zermatt isn't the only destination in the Swiss Alps. There are a lot, and they are all incredibly worth a visit too. Here are some of the most beautiful towns in the Swiss Alps you can visit before or after Zermatt:
Distance between Zermatt and other beautiful towns in the Swiss Alps
See notes here.
Zermatt is just one of the adventure-filled, idyllic, and scenic towns in the Swiss Alps. If you plan to stay in Switzerland for longer, you should also visit other towns e.g. Interlaken, Grindelwald, Lauterbrunnen, Kandersteg, Gruyeres. Click the name of the towns to see if they are worth a visit too.
Zermatt and the Swiss Alps Cities
Aside from the Swiss metropolises with airports, Switzerland has beautiful big towns and cities near the Swiss Alps that you can also visit quickly before and after exploring Zermatt. They are Montreux, Sion, Brig, Thun and Lucerne. Here is the table showing Zermatt's distance and travel time to these cities:
Distance between Zermatt and the Cities near the Swiss Alps
NOTE: the data in all of the tables are only estimates, and values may differ at different times depending on the schedule of the train and buses. Also, weather and traffic should be considered. For public transportation, Travel time includes the time needed for transfers.
When to go to Zermatt
Best time to visit Zermatt? The scenic views will absolutely make your trip to Zermatt worth it. So, it's best to go to Zermatt during Summer, particularly in September, when the temperature is pleasant, and the skies are clear. During September, Zermatt experiences the lowest precipitation in the entire summer months.
Exploring Zermatt
Zermatt is one lovely destination in the great outdoors. Because it's vast and would require us to hike, ride trains, or cable cars, planning is quite an important thing to do before going. Here are some of the things you must know when exploring Zermatt:
Zermatt Mobile App (Matterhorn)
Zermatt is perhaps one of the most convenient places to visit today. With its Smartphone App "Matterhorn," you get all the things you need to explore Zermatt and the mountains. Here are some of the application's features that will definitely be useful when you visit Zermatt: 
The list of all the attractions in Zermatt. You will easily find the "Must-Sees," shops and restaurants, places you can hike or bike, things to do during bad weather, and the list go on! 
You can also check the weather of the high-altitude destinations with the live webcams in the app. 
The status of the lifts and pistes is also indicated in the app, telling you if they are operational or not yet.
You can also check the overall weather in Zermatt, snow thickness, and avalanche risk in certain places.
Most importantly, you can buy and reserve tickets, join a tour, and get different passes from the app. 
Using the app, you can easily plan, find the spots you like to visit, create an itinerary, etc. You can download the app from AppStore or PlayStore.
How many days in Zermatt?
Based on the scenic places and other things to do in Zermatt listed in this post, let's try to answer the question:
How many days should I spend in Zermatt? You must have at least one sunrise in Zermatt to have a chance to see the Matterhorn's spectacular golden hour. Also, you must consider the weather and give yourself a day of allowance to ensure you can enjoy the scenic views in Zermatt. With those, two days and one night (or more) trip to Zermatt would be highly recommended.
Photos to Inspire you Visit Zermatt
Zermatt is sure a beautiful place to be. Mountains will always be awe-inspiring. For some, it is a once-in-a-lifetime destination that all their lives they've been dreaming of visiting. If you are traveling to Zermatt, be grateful because you're really blessed and lucky!
I hope this article helped you or at least inspired you to visit Zermatt and Switzerland.
The Swiss Alps is one of the most beautiful places on Earth! Discover more places to visit in the Swiss Alps from my articles: Inspiring Photos of Swiss Countryside and Things That Make The Swiss Alps Famous and Special (Click to open in a new tab and read later). I have listed all the things that will make you visit the Swiss Alps – they shall give you ideas of what to visit when visiting Switzerland.
Save it on Pinterest.