Is Strasbourg Worth Visiting? 22 Reasons To Visit Strasbourg
Strasbourg is the northeasternmost French city, an emblem of European unity. It is also a melting pot of different cultures and religions. French, German, Catholic, Protestant, Russian Orthodox, and even Islam live together in peace in Strasbourg.
But what can be more fascinating about Strasbourg for every tourist/traveler is the city's characteristics as a destination. It has a UNESCO site, three beautiful districts, unique attractions, romantic spots, international institutions, futuristic buildings, and many more to mention!
If you wonder if Strasbourg is worth visiting, think about it no more. In this blog post, I will let you know. With the 22 reasons to visit Strasbourg, I'll help you decide if this place is for you to see or skip.
Affiliate Disclaimer: This post contains affiliate links. I recommend products and services that I think can help you make a successful and memorable trip. I may receive a tiny commission if you purchase them with no additional cost to you. These will support me in maintaining, creating more articles, and fulfilling the mission of this blog.
Throughout the article, you'll also find the "unique characteristics of Strasbourg"– things that you can consider as a reason to visit Strasbourg. Of course, its beautiful attractions and the best experiences in the city, too.
I will not only introduce each to you but also give you a brief explanation of their visiting information. The links to their official websites are also here in this post. All these to make your reading more productive.
Most importantly, I will explain the values you can acquire from the experiences Strasbourg offers its visitors. These "values" or "gems," I believe, are the things that make Strasbourg worth visiting. 
Let's start learning about Strasbourg by answering the question you're here for:
Is Strasburg worth visiting?
We all travel for different reasons.
Personally, when I started traveling, all I wanted was a place where I could relax and escape reality–somewhere I could breathe (figuratively and literally). Growth and self-transformation, too!
Other people travel to meet new friends, learn about cultures, and eat various cuisines. Also, to have a romantic date somewhere else.
Some go on a trip to have fascinating discoveries or admire famous artworks. Many travelers love marveling at the awe-inspiring architectural wonders. Others have fun visiting historical sites to get time-transport-like escapism.
The good thing about Strasbourg is that it has many attractions/things to do. And most of the reasons why people travel are found and satisfied by the experiences awaiting in Strasbourg.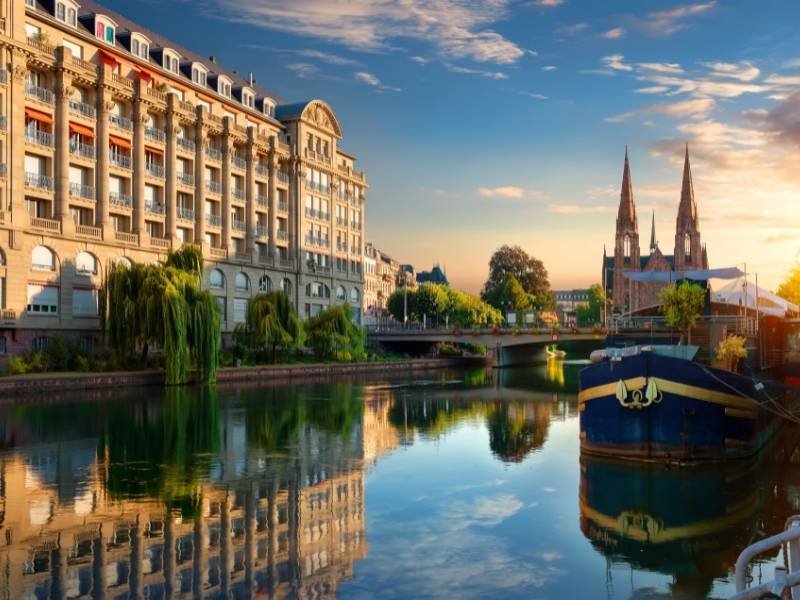 And if you ask me, is Strasbourg worth visiting? My answer is:
Yes, Strasbourg is worth visiting mainly because of the numerous experiences influenced by different cultures (French and German) it offers. A delightful trip to Strasbourg can start from its Venice-like city center to its modern European district. Strasbourg has a lot–whether it is about art, history, architecture, unique discoveries, and leisure.
Later, in my list of 22 reasons to visit Strasbourg, you will know exactly why.
Is Strasbourg beautiful?
The travelers who love taking photos, admiring aesthetic places, or escaping unlovely reality will most probably find Strasbourg worth visiting. Why? It is because Strasbourg is one of the most beautiful cities in France. 
Is Strasbourg beautiful?
In a meaningful way, Strasbourg is beautiful because it embraces modernity while keeping its vibrant heritage. However, in aesthetics, Strasbourg is undoubtedly eye-pleasing. From its medieval architectural marvels to impressive modern structures, and its charming streets–you'll love what you'll see most of the time.
We can mention Place de la Cathédrale Square, the panoramic terrace of the Vauban Dam, and Place Benjamin Zix Square as the epitome of Strasbourg's Alsatian beauty. Amazingly, some of the places in Strasbourg grace one's eyes with "country beauty" even though they are located in the city.
So, you should not forget to make space in your camera's storage if you travel to Strasbourg!
What is special about Strasbourg?
What makes Strasbourg even more worth visiting? Aside from its charming heritage-rich cityscape, it's definitely Strasbourg's unique characteristics and attractions. They make Strasbourg special and give Strasbourg a special slot in any itinerary of a trip to eastern France.
If you ask me, what's so special about Strasbourg? My answer is:
The most special thing about Strasbourg is its Alsatian Culture, which is a beautiful blend of French and German influences. It can be distinguished right away from the different landmarks in the city. In addition, the unique attractions such as Vodou Museum, European Parliament, and the Cathedral also make Strasbourg a unique destination.
These places are a reason to visit Strasbourg. You'll learn about them later on.
Anyway, Strasbourg is the capital of France's Grand Est and also of Alsace–a cultural region in northeastern France (near southwestern Germany).
The Alsace region was handed back and forth between French and German control in different political conflicts in the past several times. Its geographical location and changing governance let the German and French cultures mix together throughout time.
Is Strasbourg a good day trip from Paris?
When we look at the map, Strasbourg sits by the west of the Rhine River, which forms a part of the French-German border. It's closer to Germany than the French Capital, Paris. 
Although that is true, did you know that Strasbourg is actually a good day trip from Paris?
Strasbourg may be approximately 500 kilometers away from Paris (a 5-to-6-hour drive). But with TGV (high-speed trains), travel time can be shortened to less than 2 hours. With Strasbourg's unique characteristics, its beautiful places, and a relatively quick train ride, Strasbourg is definitely a good day trip from Paris.
If you plan to see eastern France, Strasbourg isn't the only place you should consider visiting for a day trip or slow travel. I recommend Lyon, Reims, and Colmar. Click the links to learn about each.
Whether you're looking for a day trip from Paris or not, the next section will explain why you should include Strasbourg in your France itinerary.
Are you looking for an off-the-beaten-path destination in France? A fairytale village? Or a romantic town? Maybe a scenic place? Check out my list of 10 beautiful towns in the South of France. Have a random pick: Gordes, Saint Cirq Lapopie, Saint Paul de Vence, Domme, Chamonix, Carcassonne, Aigues Mortes, Moustiers Sainte Marie, Eze.
22 Reasons To Visit Strasbourg
Previously, I gave an overview explaining why Strasbourg is worth visiting. In this part, we'll dive deep into the things that make Strasbourg a special and beautiful city.
Here is the list summary of my 22 Reasons why you should visit Strasbourg:
Grande île
The Strasbourg Cathedral
Palais Rohan
Kammerzell House
Saint Thomas Church
Historical Museum of the City of Strasbourg
Petite France
The half-timbered houses in Petite France
Ill River
The Bridges in Petite France
Ponts Couverts
Vauban Dam
Neustadt district 
Art Nouveau buildings
The Palais Universitaire
The Municipal Baths
European district
The European Parliament
Little Gems in Strasbourg
Vodou Museum
Alsatian Museum
Plenty of Daytrips & Nearby Attractions
I have 22 Reasons to visit Strasbourg but we can simplify it to five:
The Grande île. It is a UNESCO world heritage site where you can find all the time-transporting attractions in the city. There are many you can discover in this place, for real!
Petite France. This portion of the Grande île depicts the character of Strasbourg as a town in Alsace. Here you can find the most charming, romantic, and relaxing scenes in Strasbourg. You can create a month-long Insta-feed by numerous photo spots in Petite France.
Neustadt district. In this district of Strasbourg lies the extravagant buildings made with different architectural styles. It includes Art Nouveau, Neo-Renaissance, and Neo-Gothic. Come to see some of the last examples of late 19th-century extravagant German/Prussian structures.
European district. Visit one of the capitals of Europe. See the fruit of French and German reconciliation from the massive and impressive modern buildings of different EU institutions. 
Unique attractions in Strasbourg. 
Back to the Table of Contents | Proceed to Strasbourg Guides/Tours
Let's go discover each!
Reason 1. Grande île
The first and main reason to visit Strasbourg is no other than its historic center called Grande île. I know many historical cities, but this, in Strasbourg, is unique at least because of the place where it was built.
Grande île, as its name suggests, is Strasbourg's historic center located on a large island along the Ill River. Hence the name. It is a reason to visit Strasbourg for being a UNESCO World Heritage site, an epitome of medieval cities.
Europe has numerous towns and cities established beside a river. But it's very rare that you can find something similar to Strasbourg's Grande île.
The thing is, Grande île is a place where it's hard not to wander around and take pictures every step of the way. It's a beautiful place packed with expansive squares, centuries-old churches, and imposing palaces and hotels.
Come to Strasbourg and Grande île will feed your wanderlust! It also has cobblestone paths, heavily decorated buildings, charming houses, flower-decked balconies, lüftlmalerei, and colorful flags to transport you back centuries to the past.
If you plan to explore Grande île, you should not miss the Cathedral district. It is the pedestrianized zone around the Strasbourg cathedral where you can really feel the medieval flair. The squares you should see are the following:
Back to the Table of Contents | Proceed to Strasbourg Guides/Tours
Reason 2. The Strasbourg Cathedral
In Grande île lies the unmissable spectacle in France awaiting you in Strasbourg. It is the Strasbourg Cathedral, and it is a reason to visit Strasbourg because it's the sixth-tallest church in the entire world.
The lone spire of Strasbourg Cathedral reaches the height of 142 meters or 466 feet, dominating the skyline of Grande île. 
Strasbourg Cathedral was even the world's tallest structure for more than 200 years from mid-17th to late-19th centuries. Its greatness, and being one of the finest examples of Rayonnant Gothic architecture, clears all doubts as to why it's a reason to visit Strasbourg.
The famous French poet and novelist Victor Hugo, the author of the novels The Hunchback of Notre-Dame and Les Misérables, even said that Strasbourg Cathedral is one "gigantic and delicate marvel."
The ornamentation everywhere in Strasbourg cathedral will leave you speechless. On the outside, aside from its dizzying intricate spire, its rose window, portals, and even the balustrade are architecturally noteworthy. 
Portals of Strasbourg Cathedral have a beauty that words can't describe. They have sculptures that not only embellish them but depict Christian and biblical stories to give you an insight into the values that the people in Strasbourg stand for.
Sculptures in the portals of the Strasbourg Cathedral tell the story of the Wise and Foolish Virgins, the Battle of the Vices and Virtues, and the passion & resurrection of Christ. Truly, it is a "travel gem" to behold.
Strasbourg Cathedral doesn't stop filling its visitors with awe after they see the exteriors. If you visit the cathedral, seeing its interiors is definitely one of the experiences in Strasbourg you should not miss.
From the tapestries depicting more biblical stories to the Byzantine-style mosaic paintings on the cathedral's apse, Strasbourg Cathedral alone can be your sole-worth-it-reason to visit Strasbourg. That would be so true, especially if you love arts and architecture.
Experience a "jaw-drop" when you see the astronomical clock inside, which has been one of the impressive features of the cathedral since the 14th century. It has a celestial globe, mechanically animated characters, and other parts to leave you so curiously fascinated after your visit. Watch it do something every 15 minutes!
Well, not to mention its kaleidoscopic 12th-century stained glass on the nave depicting the emperors and kings of Swabia and Bamberg, Germany. Also, the stained glass at the cathedral's north transept depicting the Judgement of Solomon, Saint John the Baptist, and Saint John the Evangelist – all are just worth a mention! 
Lastly, if you really want to be overwhelmingly astonished by rich ornamentation, it's the pulpit of the Strasbourg Cathedral you must see. It is all covered with decorations, like colonettes, gables, sculptures of Christ, Mary, Kings, and other icons of the Church.
The craftsmanship of the entire Strasbourg Cathedral amazes me very much.
There is no admission fee in Strasbourg Cathedral. Visitors can access the church from 8:30 am until 5:45 pm (11:15 am to 12:45 pm – no entry on lunch break) Monday to Saturday. During Sundays and holidays, wandering inside the cathedral is only allowed from 2:00 pm until 5:15 pm.
You can climb to the Cathedral's roof platform for a pleasing panorama of Strasbourg and a close-up view of the cathedral's copper rooftops. Entry to this part of the cathedral costs 8 EUR/adult.
Here's the exact location of Strasbourg Cathedral in Grande île and the official website of Strasbourg Cathedral (in French) for more information.
France has many extremely beautiful churches. Aside from the Strasbourg Cathedral, the Notre Dame de Reims is another you must see. It's where the French kings were crowned for centuries! Learn more about Reims from my post Reasons to Visit Reims.
Back to the Table of Contents | Proceed to Strasbourg Guides/Tours
Reason 3. Palais Rohan
What I liked about Strasbourg is that you won't have to walk very far just to see another captivating architectural masterpiece after you visit one. A good example is Strasbourg Cathedral and Palais Rohan. They're just only 1 minute apart!
Like Strasbourg Cathedral, Palais Rohan is a landmark we can consider as a reason to visit Strasbourg. It is seen as one of the best 18th-century Baroque architectural masterpieces in France, made to resemble the elegant palaces in Paris.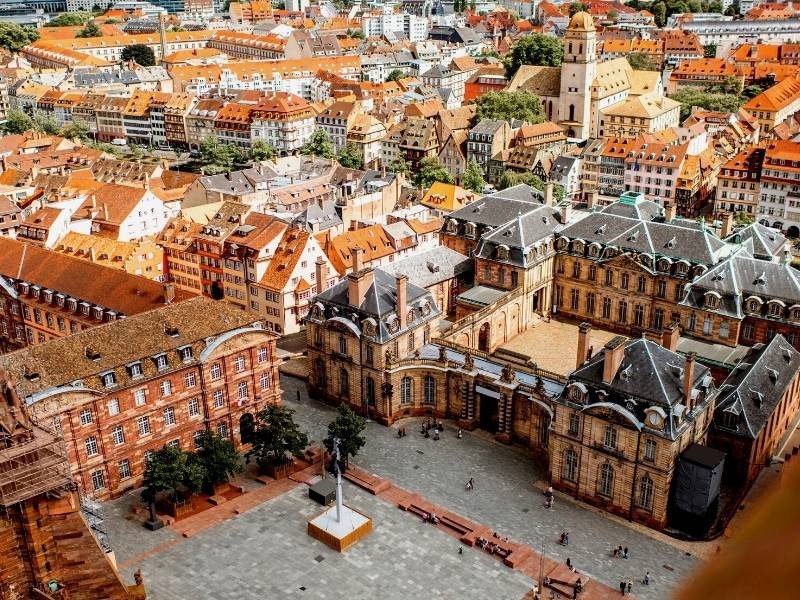 A little bit of History, Palais Rohan was the home of the prince-bishops of Strasbourg from the House of Rohan, hence the name. And since its completion in the late 1700s, it hosted not only Rohan royals but also several important personalities like King Louis XV and Emperor Napoleon.
For me, it's always a privilege to be in the same place where the most powerful personalities have been. To see what these guys saw centuries in the past is so fascinating to think. 
Actually, I didn't pick Palais Rohan as a reason to visit Strasbourg, only because of its architectural splendor. What's found inside the palace gives more value to your visit.
Believe it or not, there are not only one but three museums inside Palais Rohan. And they are not just ordinary museums. These museums are three of Strasbourg's most important museums. They are:
The Archaeological Museum is located in the basement of the palace. 
The Museum of Decorative Arts stays on the ground floor of the palace.
The Museum of Fine Arts is situated on the first and second floors of the palace. 
I linked the official web pages of each museum in case you want to learn more about them. Here's a quick summary of the visiting information of the museums inside Palais Rohan:
Opening hours: 10:00 am to 6:00 pm, all week side from Tuesday.
Admission fee: 7.5 EUR/adult/museum. You can check this page to see if you can avail of discounts or free admission.
Palais Rohan isn't the only palace you must see in France. In Avignon lies Palais des Papes, the largest gothic palace in Europe. It was the place that became the home of the popes during the 14th century. Learn more about it from my post telling the 10 Reasons To Visit Avignon.
Back to the Table of Contents | Proceed to Strasbourg Guides/Tours
Reason 4. Kammerzell House
Previously I mentioned that Strasbourg has its stunning attractions only a few steps away from each other. It is also very true with Kammerzell House, which is located in Place de la Cathédrale and literally just beside (east of) Strasbourg Cathedral.
Apparently, Kammerzell House is another reason to visit Strasbourg. By how it looks, not only architecture enthusiasts will love it, everyone will be impressed by it!
Kammerzell House's beautifully-crafted wooden sculptures, colorful paintings, and honeycomb-like bottle-bottom stained glass windows are an unmissable spectacle to behold while in Strasbourg, as the Strasbourg Cathedral.
Definitely, Kammerzell House is one of the most elaborate civil structures in late Gothic Architecture you'll ever see. It was even mentioned by Patricia Schulz as one of the best brasseries in the world in her book "1000 places to see before you die."
Yep, that is true! Kammerzell House is also a restaurant. It will not only satisfy your eyes but also your tummy. I haven't tried dining, but from the reviews I saw, the restaurant serves pretty Instagrammable food presentations.
By the way, Kammerzell House has hotel accommodation too. When you go inside, you'll see its interiors painted with lavish frescoes by Alsatian painter Léo Schnug. 
If you want to book reservations (a night in their hotel or a table in their restaurant), use this link to the official webpage of Kammerzell House.
Back to the Table of Contents | Proceed to Strasbourg Guides/Tours
Reason 5. Saint Thomas Church
When you wander around Strasbourg's Grande île, you'll find so many stylish buildings. There are several churches on the island too! 
And as I've mentioned in the beginning, Strasbourg is a melting pot of cultures and religions. Although these entities strongly did not agree with each other in the past, we can find them existing side by side today.
One testament to this is Saint Thomas Church which is another reason to visit Strasbourg. Saint Thomas Church is the cathedral of Protestantism in Alsace, and the only "hall church" in the region. (Hall churches have an equal height for their naves and aisles).
For me, Saint Thomas Church is a reason to visit Strasbourg mainly because of the mausoleum of Marshal Maréchal de Saxe–a beautiful example of 18th-century baroque funerary art. It's one of the unique discoveries you can find as you explore Eastern France.
Jean-Baptiste Pigalle, a renowned sculptor, crafted the mausoleum of Marshal Maréchal de Saxe. His artwork depicts death, glory, and power through ensembles like a lion, Hercules, and so on.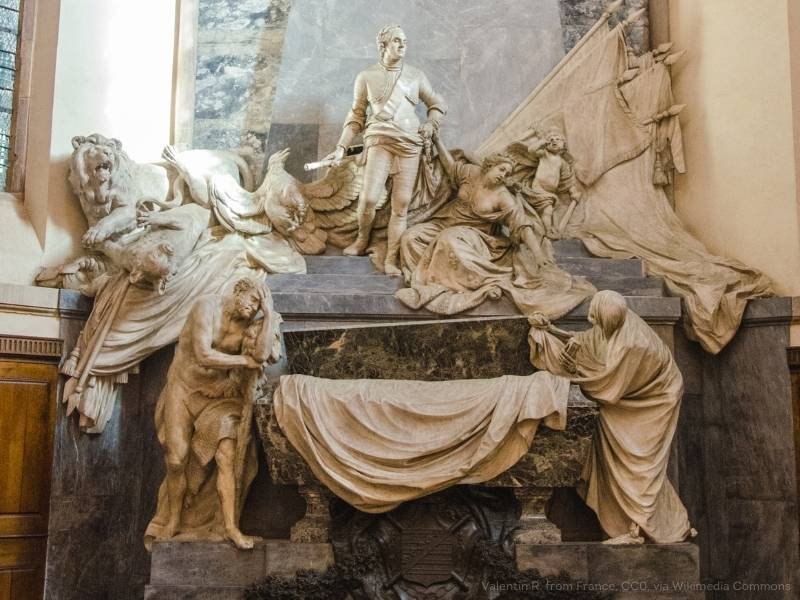 There are concerts often held inside Saint Thomas Church. Learn their schedules from its official website.
Visitors are welcome to explore Saint Thomas Church all week. From Monday to Saturday, it accepts visitors from 10:00 am until 5:00 pm. Every Sunday, from noon until 4:30 pm. Wandering in the church isn't allowed when there is a mass service going on.
Back to the Table of Contents | Proceed to Strasbourg Guides/Tours
Reason 6. Historical Museum of the City of Strasbourg
I'm sure that there are a few people who like discovering even the tiniest detail of their destinations. If you're one of them and that's your reason to travel, Strasbourg won't leave you empty-handed. You can even find them all in one place!
The Historical Museum of Strasbourg is located south of the Cathedral, beside the Ill River (2 minutes away by foot).
Although the landmarks in Strasbourg can already tell so much about the city, its Historical Museum can spoon-feed you with the particulars you want to learn about Strasbourg.
The city's history is described by the dense collections inside this museum. Whether you want to learn about Strasbourg's political, cultural, economic, and social history, the Historical Museum of Strasbourg has many to show you.
In addition to what I mentioned earlier, it has a collection of items from ancient times (archaeology) to the middle ages. Also, from the years of the French Revolution up until the formation of European institutions.
In the Historical Museum of Strasbourg, some of the objects you can discover are the things used by ordinary citizens (e.g. their unique costumes), military weapons & uniforms, paintings, furniture, and so much more. Many aspects of life in Strasbourg you will discover.
One of the cool objects I discovered is the plan-relief of Strasbourg and of its surroundings back in 1727. In it, you can see a miniature Strasbourg Cathedral, and how it was crafted impressed me!
Be sure to have Google Earth App on your smartphone if you visit the Historical Museum of Strasbourg. With the app's 3D visualization of Strasbourg, you can compare how the city looks now and how it appeared 300 years ago.
If you want to visit the Historical Museum of Strasbourg, it is open all week except for Mondays. It opens at 10:00 am and closes at 6:00 pm. The Entry fee is 7.5 EUR/adult. 
Check if you're eligible for discounts and for announcements from the website of the Museums in Strasbourg.
Back to the Table of Contents | Proceed to Strasbourg Guides/Tours
Reason 7. Petite France
Escapism is another reason to visit Strasbourg for. Like, if you want to forget your current reality, seeing the magical scenes in Strasbourg would absolutely help. Really? But it's a city. We can often see fairy tales in the countryside.
Well, even though Strasbourg is a city, it does not mean that you cannot make your fantasies come to life in Strasbourg. Being the capital of Alsace, the most German region in France, it's probably that you can really make your fairy tale a reality here.
Did you know? Germany is the land of fairy tales. It's where the famous fairy tales of today originated. Like, Snow White, Hansel & Gretel, and Sleeping Beauty by the Grimm Brothers.
Although there are no castles in Strasbourg, it has Petite France, however. It has picturesque buildings, streets, and flower-decked river railings that give the same magical vibe. Even Forbes thinks that Petite France is a fairytale!
What is Petite France exactly? Petite France is a historic old quarter in western Grande Île. It was the home to the tanners, millers, and fishermen during the middle ages. This is why Petite France has several canals where the River Ill cascades into several parts.
However, Petite France doesn't serve you only one reason to visit Strasbourg. And in the following sections, I'll tell you more.
Back to the Table of Contents | Proceed to Strasbourg Guides/Tours
Reason 8. The half-timbered houses in Petite France
What gives the most fairytale vibe in Strasbourg's Petite France are the half-timbered houses. They even remind me of the game called Warcraft I used to play back in college. 
If you're familiar with Warcraft, I bet you will also find the homes of the human characters of the game very similar to the houses in Petite France. Most probably, Strasbourg and its neighboring towns and villages were the places that inspired the designers of the game.
I first realized it when I discovered Rothenburg ob der Tauber in Germany. Rothenburg is also a fairy tale town in Germany, like Strasbourg and Colmar – another charming village in the Alsace Region.
Anyhow, the patterns made by the timbers on the white/pastel-colored facades of these houses are simply eye pleasers and shutter pressers. These, and with their tiled roof, they can give you a scene for one of the loveliest strolls of your life!
If the weather is friendly during your visit, you can find these half-timbered houses reflected by the calm Ill River. You can have that view in the most notable spots in Petite France:
Rue du Bain-aux-Plantes. This is the street where you can find the white homogeneous half-timbered houses in Strasbourg. It is the former tanners' street and you can notice the houses here are slightly different from other timber-framed houses in Petite France. They have additional roofs used in drying animal skins.
Place Benjamin Zix. This square has the nicest setting in Petite France. It's the place where you can admire Rue du Bain-aux-Plantes's white half-timbered houses and the Ill River, reflecting the houses. There is alfresco dining under the trees in this square during summer.
Back to the Table of Contents | Proceed to Strasbourg Guides/Tours
Reason 9. Ill River
You would not only want to visit Strasbourg for a lovely walk, but for a boat trip on the Ill River. It may not be as romantic compared to the ones in Venice, but I'm sure it is enough to be a reason to visit Strasbourg.
Ill River passes through all the beautiful districts in Strasbourg (Grande île, Neustadt, and European districts). And the boat ride tours will let you discover a European Capital from a unique perspective.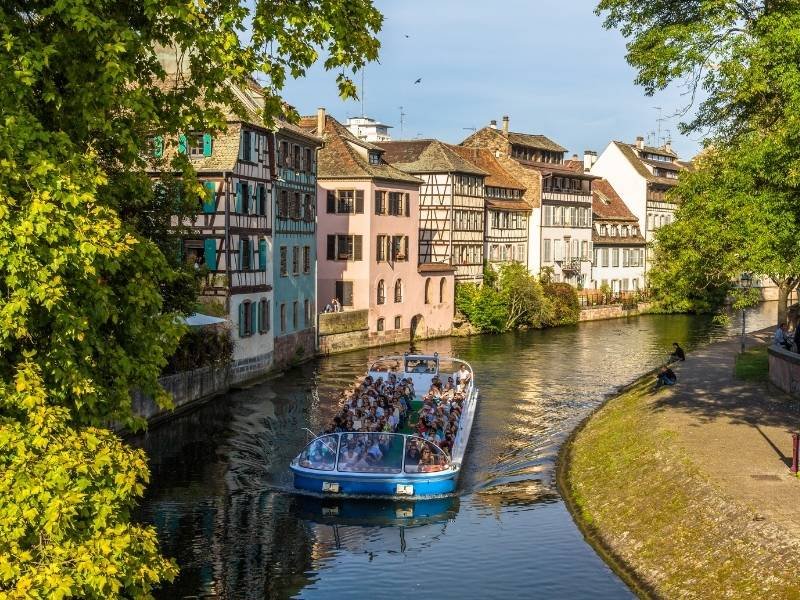 If you have only a day to spend in Grand Est or Alsace, this would definitely be one of the must-activities you should try. The boat ride will allow you to see most of Strasbourg in less than a half-day (70 minutes in total, available all year round)
The boat ride is managed by Batorama, and they let their passengers learn about the different landmarks in Strasbourg through the audio guides in the boat. The cruise is air-conditioned, so it will be one comfortable trip all around Strasbourg.
You'll go under stone bridges and pass by colorful half-timber framed houses, medieval infrastructures, picturesque churches, modern buildings, and more! If you start the boat tour from Grande île to the European District, it should feel like time traveling from the past to the future.
Back to the Table of Contents | Proceed to Strasbourg Guides/Tours
Reason 10. The Bridges in Petite France
River Ill, when it reaches Petite France, branches into several channels flanked by the charming half-timber framed houses. Over these canals are bridges which can be a reason to visit Strasbourg. 
If you are traveling with your partner, the bridges in Petite France can be the budget-friendly romantic spot you might be looking for. These bridges seem to be a scene straight out of a love story movie.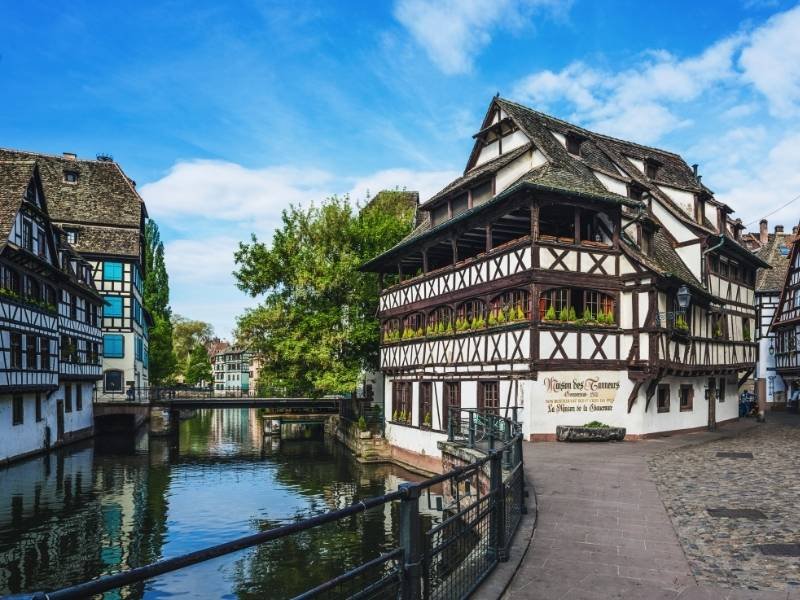 The charming houses, boats passing underneath, flowers hanging on the railings–all the beauty that surrounds the bridge can make you say the most intimate feelings you keep inside.
Oh, not to mention the view when it's the golden hour! Or when it is spring in Strasbourg when the bridges are fully embellished with colorful flowers. The entire place would seem like it was prepared for a marriage proposal that a couple is dreaming of.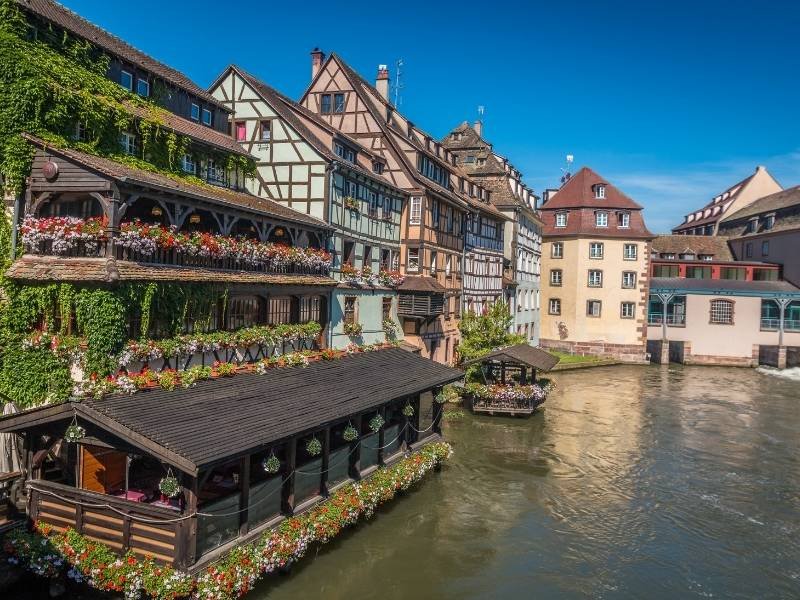 Of the several bridges in Petite France, it is the Pont du Faisan (As labeled by Google Maps) and Pont Saint-Martin are the two I find that have captivating views. They're very close to each other, connected by Rue des Moulins street.
Pont du Faisan is the small bridge only a few steps away from Place Benjamin Zix. Though it is tiny, it is impressively 100+ years old already dating 1888. Pont du Faisan is also a hydraulic bridge that opens when there's a boat passing.
Pont Saint-Martin, however, is the stone bridge you can see from The Lock of the Old Glaciers (the lock between Pont Saint-Martin and Pont du Faisan).
From Pont Saint-Martin, you get a lovely view of Au Pont Saint-Martin, a restaurant with a riverfront terrace often heavily decorated with flowers. Of course, you can also view the lock and several pastel-colored half-timbered houses from Pont Saint-Martin.
Back to the Table of Contents | Proceed to Strasbourg Guides/Tours
Reason 11. Ponts Couverts
Historical, time-transporting bridges also await you in Petite France, Strasbourg. These bridges are called Ponts Couverts, located on the southwest corner of Petite France at the point where the branches of the Ill River meet.
Ponts Couverts is a reason to visit Strasbourg because it's a landmark, made unique by the topography of Petite France. Besides, it is a historical structure dating back to the 13th century. And it will show you a picture of what a European capital appeared like hundreds of years ago.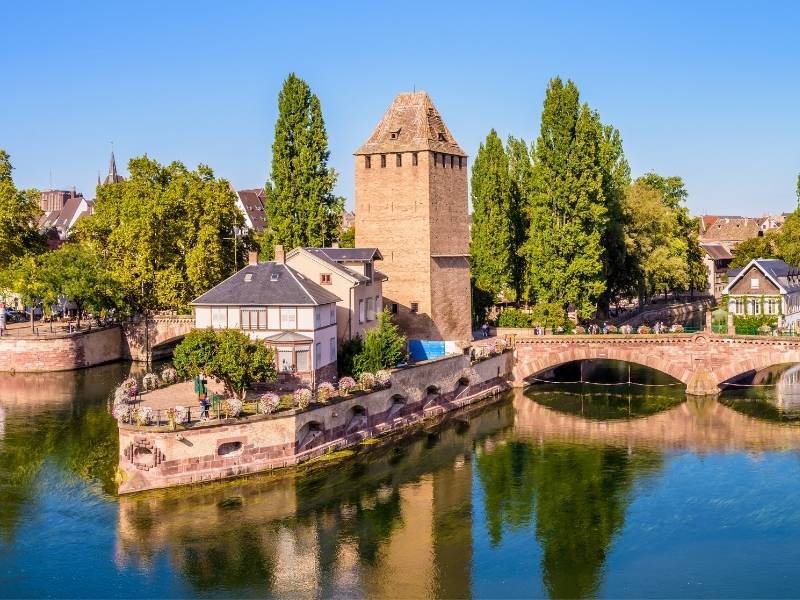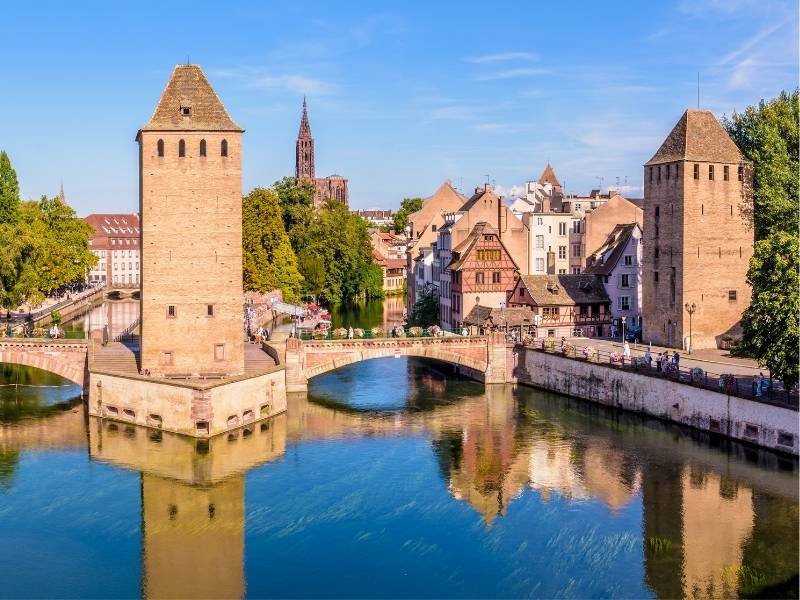 These historic Ponts Couverts are special because basically, they aren't only bridges. They also have defensive towers which will allow you to fantasize about the movies set in the middle ages you watch on Netflix. 
If you walk close to the towers of Ponts Couverts, you can notice its defensive architecture such as arrow slits. Imagine arrows shooting up and raining down on the enemies of Strasbourg during an attack. 
Did you know? Strasbourg had medieval ramparts totaling 90 towers and Pont Couverts is only a part of it. Also, until 1784, Ponts Couverts had roofs that shielded the defenders of the city from the raining arrows from the enemy. Hence the name.
Ponts Couverts is a pleasant place for a stroll and taking photos. In between Heinrichsturm and Hans von Altheimturm, the two towers in the central part of Ponts Couverts, you'll find the Instagrammable little house called Protection des Mineurs. 
Protection des Mineurs has its garden connected to Ponts Couverts. And during spring/summer, the garden blooms in purple. The quaint house and its lovely garden is surely an idyllic scene you would like to see.
Back to the Table of Contents | Proceed to Strasbourg Guides/Tours
Reason 12. Vauban Dam
Opposite Ponts Couverts, across the Ill River, is another historical landmark in Strasbourg called Barrage Vauban or Vauban Dam. It is here where visitors can find a scenic view of the Strasbourg skyline with the mighty Ponts Couverts in front.
Vauban Dam is a reason to visit Strasbourg for a few reasons. Aside from it being a breathtaking vantage point of a European capital, it is actually a marvel of engineering showing the ingenuity of Strasbourgeois people in defending their city. 
That is right, Vauban Dam is a defensive feature of Strasbourg that protected the city from invaders from 1690 until it became outdated. It was even called the "Great Lock" as it was used to block the outflow of the Ill River. 
By blocking the outflow of water, Vauban Dam transforms the Ill river into a giant moat. This, in turn, keeps the enemies from entering the city.
One notable point in history at which Vauban Dam became very useful was during the Franco-Prussian War. It raised the water level of the Ill River and held the Prussians out of the city for a while.
With time, the advancement of technology, and the evolution of warfare, Vauban Dam became obsolete. But, also with time, it acquired a new purpose: a cultural heritage locals can be proud of and visitors can marvel at.
Not only that! Vauban Dam is now linked to a lapidarium containing copies of statues from other landmarks in the city. Some of them are statues of baby angels, saints, and gargoyles from the Strasbourg Cathedral and Palais Rohan.
Do you want to visit? Vauban Dam has different opening hours depending on the season and the admission is free. The last time I checked the official website of the Strasbourg tourism office Vauban Dam is open all week:
May to August: 7:15 am to 9:00 pm 
September to October: 8:00 am to 7:00 pm
November to February: 8:30 am to 4:00 pm
March to April: 8:00 am to 7:00 pm
Back to the Table of Contents | Proceed to Strasbourg Guides/Tours
Reason 13. Neustadt district 
In Strasbourg, beautiful places and remarkable attractions await visitors within and outside the Grande Île. To the north of this historical center, just across the Ill River, we can find the Neustadt district—the new extension of the UNESCO Heritage site of the city.
Even though the Neustadt district is the extension of Grande Île as a UNESCO site, their appearances greatly differ from each other. Instead of narrow cobbled lanes, you'll find wide boulevards and rectilinear streets.
Medieval architecture is no more but it's rather the Art Nouveau and other modern architectures such as Baroque revival, Renaissance revival, Gothic revival, and Romanesque revival styles.
All of these have to do with the time the district was constructed and who constructed it. As its name suggests, the Neustadt district, this place is intended to be a new city center to replace Grande Île.
And yes, it was built by the Germans during their administration from the end of the 19th century to the start of the 20th century.
For me, the Neustadt district is a reason to visit Strasbourg because it's a unique place in France. It is the French city with the most German influence, apparent in its buildings and city planning (Germanic-inspired Haussmannian model). Even UNESCO says that this urban space is specific only to Strasbourg. 
Basically, large and elegant buildings with imposing stone facades dominate in the Neustadt district. They also have these ornamental black wrought iron window balconies and grills, which most of the time, give the gracious look.
Although the buildings in the Neustadt district vary in size, they share common characteristics that make the harmonious eye-pleasing appearance. This is another reason why Strasbourg is a destination that architecture enthusiasts and pure-blooded wanderers can enjoy much. 
I must mention that there are cities in France, like Paris, that have been transformed into the Haussmannian model too. But, nowhere else in France you can find a similar place such as Strasbourg's Neustadt district made unique by German influence.
Come to see this place that is a testament to the political, social, and cultural changes that happened in the region.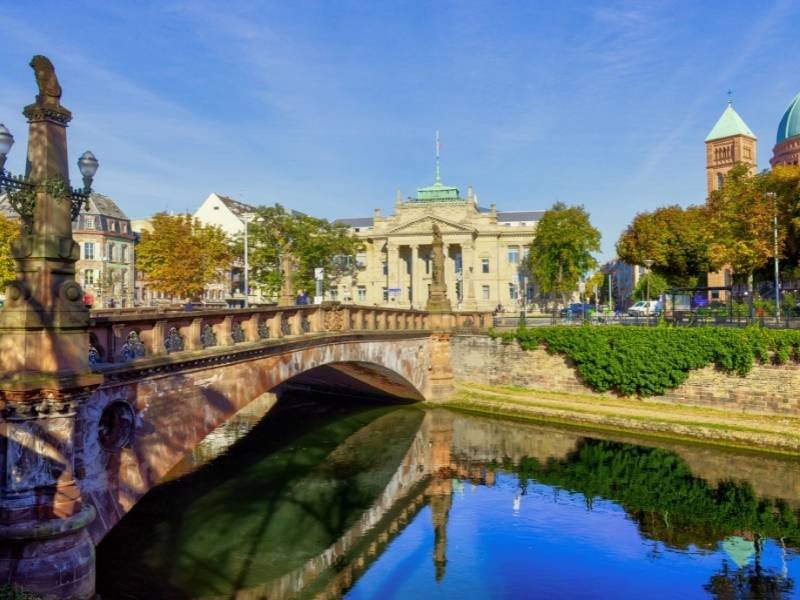 Back to the Table of Contents | Proceed to Strasbourg Guides/Tours
Reason 14. Art Nouveau Buildings
In visiting Strasbourg, you will feel like you are exploring an open museum of building architecture depicting various cultures and ages. Here, visitors learn how humans define architectural beauty with the buildings they created; how the perception of aesthetics evolved throughout time.
During the time when the Neustadt district was built, a specific modern style of art flourished in Europe. It is called Art Nouveau and was applied to the buildings in the Neustadt district. If you like to discover art styles you might haven't seen before, Art Nouveau buildings can be your reason to visit Strasbourg.
What's Art Nouveau, by the way? Art Nouveau, or "New Art" in English translation, is an art movement deliberately made to replace eclectic historical styles that were popular at that time.
We can easily distinguish Art Nouveau with its characteristics inspired by the natural world. Often it has some sinuous, curving, arched lines and natural elements.
I suggest that you bookmark this post if you plan to visit Strasbourg's Neustadt district. It's because I give you below the exact location of the most impressive Art Nouveau buildings in Strasbourg. This way, you can find and get to each place quicker:
Back to the Table of Contents | Proceed to Strasbourg Guides/Tours
Reason 15. The Palais Universitaire
Previously, I mentioned that Strasbourg is like an open museum of architecture. That is more accurate with all the buildings mentioned in this post plus Palais Universitaire–a large imposing Neo-Renaissance building in the Neustadt district. 
Modeled before a university in Berlin, Palais Universitaire is a landmark that transports visitors to Germany without leaving France. It's a unique landmark in France, which for me, is enough to be a reason to visit Strasbourg. 
The feature of Palais Universitaire's facades that makes it more German is the 36 sculptures of German scientists, theologians, and scholars placed on their tops. Some of them are the statues of Friedrich Carl von Savigny, Immanuel Kant, Johannes Peter Müller, and Carl Friedrich Gauss.
The thing is, Palais Universitaire is not only a place to see because you want "to feel in Germany while in France." 
Palais Universitaire has remarkable architecture (Aula – the great hall) and a rare artifact (black granite statue of sitting Ramses II) you may find interesting to discover. At the same time, it has its botanical garden and a planetarium that simulates the night sky full of stars.
Back to the Table of Contents | Proceed to Strasbourg Guides/Tours
Reason 16. Palais du Rhin
If you stand facing the center of Palais Universitaire's main facade and turn around 180 degrees, you'll see Avenue de la Liberté—Strasbourg's version of Paris' beautiful Avenue des Champs-Élysées.
Avenue de la Liberté is the most beautiful avenue in Strasbourg, surrounded by elegant Italian Renaissance-style buildings. But, do you know what's stunning? It's Palais du Rhin on the eastern end of the avenue (and it's a reason to visit Strasbourg).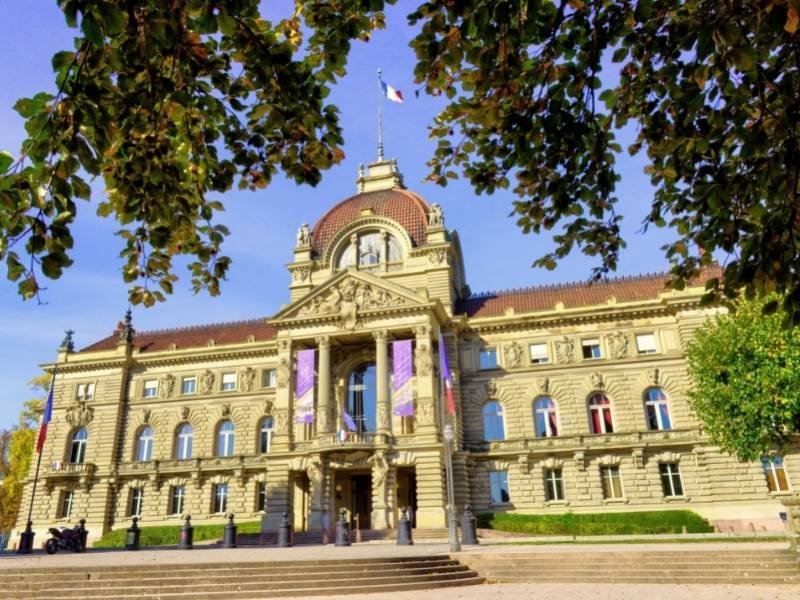 Palais du Rhin is the most lavish and elegant landmark I discovered in the Neustadt district. Especially the facade, it's an epitome of a 19th-century Prussian architectural marvel. If you've already been to Florence, you'll find Palais du Rhin's masonry very similar to Palazzo Pitti.
The palace has not only aesthetic but also historical value. Palais du Rhin was built to be the home of the German emperors. From its inauguration in 1889 to 1914, it housed Emperor William II's seven visits.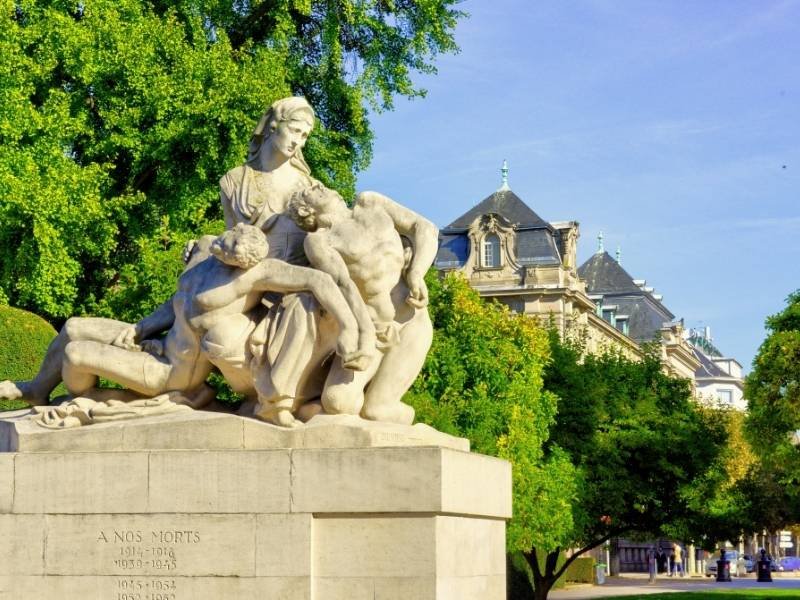 Anyhow, its facade is elegantly adorned by relief, depicting different symbolisms and elaborate coats of arms. I think you'll also be impressed by the giant sculptures on its tympanum.
Not to mention the design of the roof! If you have a phone that can zoom 10x, you'll see that the edges of the roof of Palais du Rhin are actually flower sculptures. All these should make Architecture enthusiasts so satisfied with their visit to Strasbourg.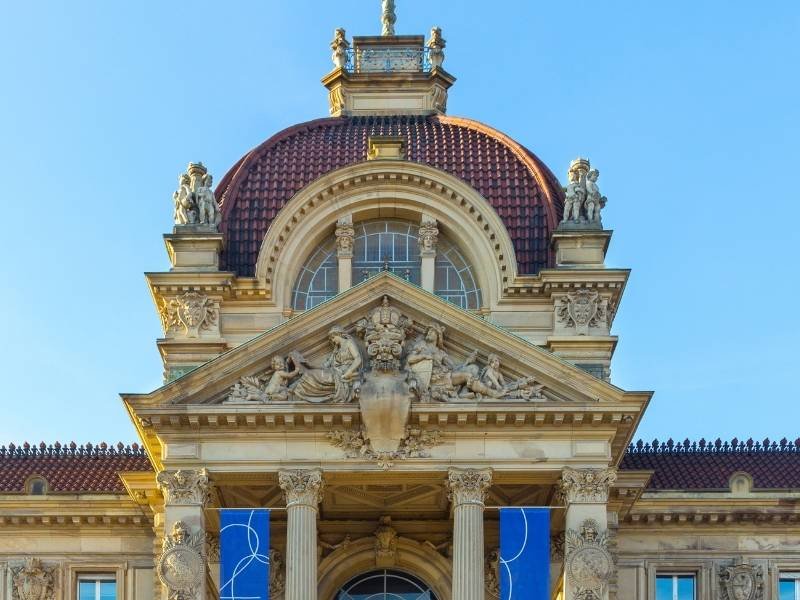 If you ask me, is Palais du Rhin an Instagrammable place in Strasbourg? I'll definitely say yes! Palais du Rhin has impressive architecture and a lovely garden in front. Matched together, it's a place full of photo opportunities.
The name of the garden in front of Palais du Rhin is called Jardin de la Place de la République. During spring, there are cherry blossoms that make the scenery much prettier.
Back to the Table of Contents | Proceed to Strasbourg Guides/Tours
Reason 17. European district
At the beginning of this post, I mentioned that you'll love what you'll see most of the time in Strasbourg. I expect that will be the case with the stunning buildings and landmarks discussed in the previous sections.
Well, the thing is, Strasbourg is beautiful in a profound, meaningful way. Being the capital of Europe, Strasbourg is proof that nations and people can discard their past conflicts. And most importantly, be united and live harmoniously together side by side.
Did you know? In 2015, Strasbourg won the European Heritage Label. It's an award given to extraordinary places in Europe that achieve important milestones in creating present Europe. In places with European Heritage Labels like Strasbourg, mutual respect and common European identity are promoted.
The European district proves the meaningful beauty of unity and thus a reason to visit Strasbourg. Also, this place has futuristic buildings too; one of them is symbolic of the strength of the European Union. If you are curious about the European Union, this is the place to learn new things!
Like the Grande Île and Neustadt district, Strasbourg's European district has several attractions too. And if these are the last ones you visit in Strasbourg starting from Grande Île, it's going to feel like traveling in time… from the medieval ages to the present.
There are eight attractions in the European district I found which you may be interested to visit. In summary, they are the architectural marvels home to the different institutions of the European Union. I linked their exact position in case you want to see them in person:
You can find their exact details on the website of a non-profit organization called Europe Direct Information Center. They have prepared a route you can follow if you want to see them all.
Among the eight I mentioned, the place which can further be a reason to visit Strasbourg is the European Parliament. I'll explain in detail in the following section. Let's go!
Back to the Table of Contents | Proceed to Strasbourg Guides/Tours
Reason 18. The European Parliament
The European Parliament is one of the attractions in the Strasbourg European district that welcomes ordinary tourists. Among the landmarks in the district, it is one which you can find very educational and impressive in terms of architectural design.
You can find the European Parliament sitting at the banks of the Ill River in the northeastern part of the city. The best views are seen either from the boat ride or at the river banks located southeast of the parliament building. If the weather favors you and the Ill River flows calmly, you can behold it with its reflection on the water.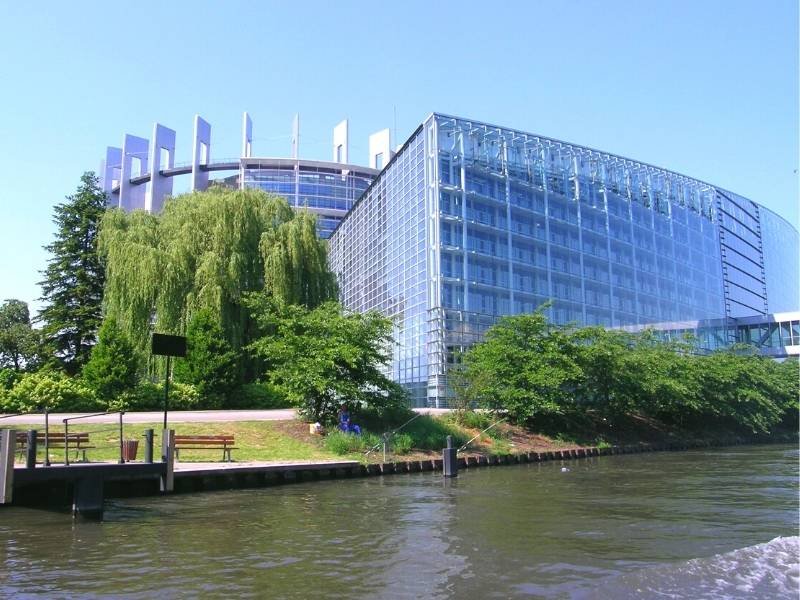 For me, The European Parliament is another reason to visit Strasbourg because, aside from its gorgeous modern architecture and educational purpose, it's a site of historic value. It's one of the places where the future of Europe is being created and decided.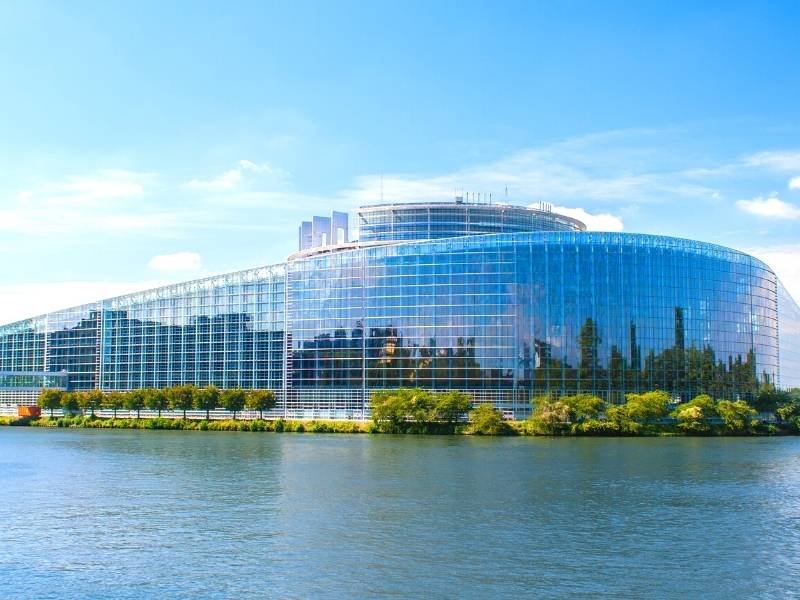 You can check these videos created by the European Parliament to learn further. 
Here's the very brief introduction to the EU parliament
Then here's a comprehensive video showing the experiences awaiting you in the European Parliament in Strasbourg:
It may be obvious already by now, but did you know that the European Parliament is the world's largest transnational parliament? At the same time, the European Parliament in Strasbourg has the largest parliamentary visitor center called Parlamentarium Simone Veil. Since it was built, more than 2 million visitors have visited it.
Parlamentarium Simone Veil is an attraction for teens and adults. It has interactive exhibitions to give you an idea of the work done by the members of the parliament, the role of the institution, and other political groups. The place is pretty Instagramable too, but visitors aren't allowed to take photos inside the high-security areas.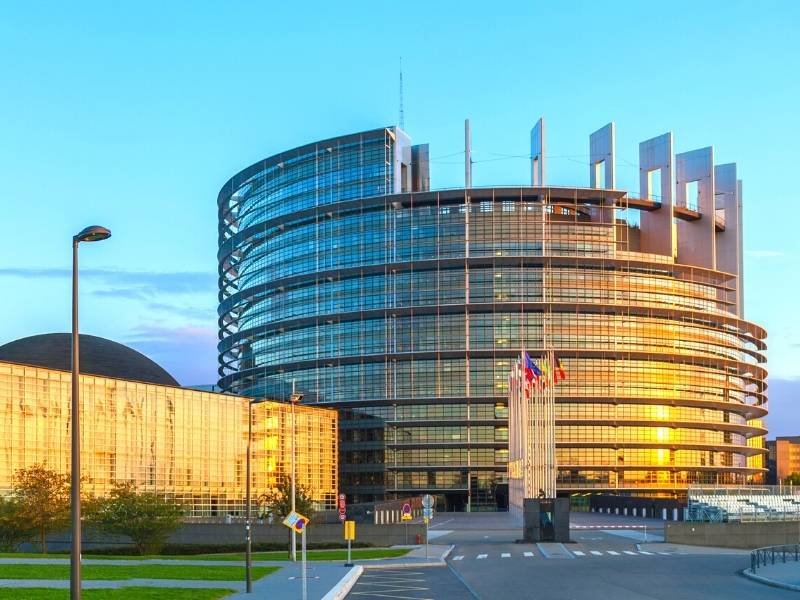 You can explore the European Parliament in Strasbourg without any guides Monday to Friday from 1:00 pm to 5:00 pm and 09:30 to 5:00 pm every Saturday (lunchtime from 12:00 pm to 1:00 pm). You can learn more visiting information in book group tours from the official website of the European Parliament.
Back to the Table of Contents | Proceed to Strasbourg Guides/Tours
Reason 19. Little Gems in Strasbourg
From the previous discussion, we learned that there are so many impressive and insightful places that we can visit, explore and admire in Strasbourg. But did you know, as you wander around Strasbourg, you may find not-so-famous yet pretty fascinating little things?
These discoveries I call "Little Gems" of Strasbourg may not be as impressive as the Strasbourg Cathedral or as charming as the houses in Petite France. But, with the combined and the fascination they can give you, they are enough to be a reason to visit Strasbourg.
I'll tell you why. Let's start with the most thought-provoking thing I have discovered in Strasbourg. They call it the Vault for the Future or Caveau du Futur.
Caveau du Futur is one of the most bizarre vaults you can find not only in Strasbourg but perhaps in all of France. It is not an eye-catcher, but what's written or embossed on it will mind-blow you. Here's the preview: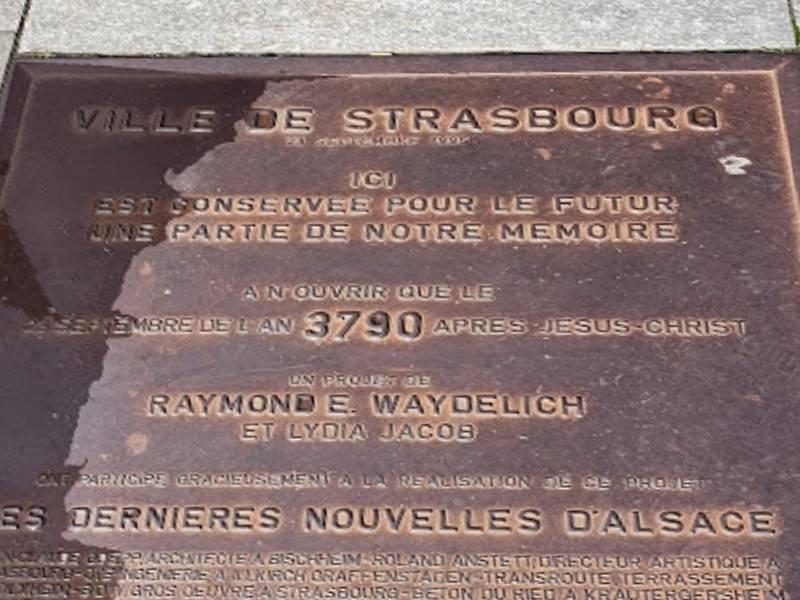 Yep, it's French, it may not make sense quickly if you're like me who understands 2 languages, not French. But, when I translated, what I understood was:
"This is preserved for the future"
"A part of our memory"
"To be only opened on the 23rd of September 3790"
It was sealed by the owner in 1995. And according to the tourism office of Strasbourg, it contains computers, medical documentation, and holy books of the residents. I wonder if there are refrigerators inside because they say the vault also has beers, wines, and even pretzels!
Caveau du Futur is really strange, and it makes me wonder why we should only open it in 3790.
You can find Caveau du Futur in the Place du Château Square. It should be only a few steps away in front of the southeast portal of the Strasbourg cathedral.
Another strange landmark in Strasbourg is the artwork of a Woman Walking To The Sky. It is an outdoor sculpture near the memorial for the synagogue destroyed by the Nazis. It will surely capture your attention as you explore the area because it's like a real woman walking on an inclined pole.
Then, if you are exploring the European District, don't forget to peek at the piece of the Berlin Wall awaiting you in the gardens of the European Court of Human Rights. There are four fragments of the wall you can quickly find near the main entrance of the building. 
The Fountain of Janus is another discovery you can find in Strasbourg related to Germany (aside from the piece of the Berlin wall). It is only beside Théâtre Alsacien de Strasbourg and it symbolizes the duality of Strasbourg's Franco-German identity (through the two-faced man in the fountain).
And when you are visiting the Neustadt district, I suggest you have a stroll on Pont Royal or ride a tram to the Gallia Tram stop. Because it's on this bridge, you can get a very Instagrammable view of Église réformée Saint-Paul. You'll see the Église réformée Saint-Paul from Pont Royal as if it was built on the river.
Speaking of churches. Do you know that there is an elegant Russian Orthodox Church in Strasbourg? Well, perhaps you have read it already from my introduction. Its white facade and the pale-green curvy roof are very eye-catching! 
The Russian Orthodox Church sits by the river bank near the Rhone River, on the outskirts northeast of the city. It appears magical when looking at it from the other side of the river or while riding a boat.
I just want to share that Lyon is another city in France that has a lot of little things to discover. From the biggest mural to the maze-like Traboules, especially the cuisine! Lyon is the gastronomy capital of the world. Learn more about Lyon from my post 14 Reasons to Visit Lyon.
Back to the Table of Contents | Proceed to Strasbourg Guides/Tours
Reason 20. Vodou Museum
If you look for a unique but strange and spooky experience, you have another reason to visit Strasbourg! Nope, it is not about European witches or sorcery but African. You can find it in Vodou Museum, a 2-minute walk from Porte Blanche station near the main train station of Strasbourg. 
Vodou Museum is the world's largest private collection of West African voodoo artifacts. And here, you can find more than 1000 voodoo collections – all to let you discover an ancient belief system and a fascinating culture that is still practiced, even today!
I am not a fan of voodoos. But, yeah it's quite interesting to discover, right? Perhaps, this can be the "twist" in the story of your travels in Strasbourg. In a city full of charm, medieval flair, elegance, and modernity, you discover this voodoo thing and it's pretty strange.
Inside Vodou Museum, all the strangest objects used in West African religious practices await you. There are articles used from medicine to ancestor worship, from witchcraft to divination. They are fascinating yet appear so scary.
According to the official website of the museum, the collection of voodoo artifacts came from Togo, Nigeria, Ghana, and Benin. The permanent exhibition called "Vodou: the art of seeing differently" is I think the most interesting part.
Actually, the Vodou museum is also one of the little gems (see the previous section) of Strasbourg. The massive octagonal water tower housing the Vodou museum is one such beautiful architectural work. Its metal latticework and geometric windows are the most notable parts.
Vodou Museum is open from Tuesday to Sunday, from 2:00 pm until 6:00 pm. The admission fee rate is 14 EUR/adult, and advanced booking is required from the 9th of June. Learn more visiting information from the official website of the Vodou Museum.
Back to the Table of Contents | Proceed to Strasbourg Guides/Tours
Reason 21. Alsatian Museum
Previously, you learned that you can discover a unique, far-away African culture right from the heart of Strasbourg in the Vodou Museum. Speaking of museums, Strasbourg also has a museum about the region where it is the capital. The Alsatian Museum.
The Alsatian Museum is a reason to visit Strasbourg because visiting it is like going inside a house of an Alsatian, letting you discover all the little details about their lives. Well, the museum is actually 3 former homes of Alsatian residents that's why a visit should feel more like it!
Yep, the Alsatian Museum is inside the charming houses, and you can find it in Quai Saint-Nicolas. More than 5000 possessions of the ordinary residents of Alsace are kept in the 30 rooms of the museum. From furniture to toys, from traditional costumes to tools–all should acquaint you with the simple lives of the locals.
If you're a slow traveler, I think the Alsatian Museum can be one of your worthwhile places to visit. Discovering little details and immersing yourself in the actual stories of the residents sounds like learning and widening our horizons, right?
A visit to the Alsatian Museum is a kind of time-transporting experience too. The collection inside dates back to the 18th and 19th centuries. Some are chronicles of the Alsatian Jews. Others depict the local rural life.
The Alsatian Museum is open all day (aside from Tuesdays) from 10:00 am until 6:00 pm. The entry fee is 7.5 EUR/adult. Check the website of Strasbourg museums to learn more about visiting information.
Back to the Table of Contents | Proceed to Strasbourg Guides/Tours
Reason 22. Plenty of Daytrips & Nearby Attractions
The last reason to visit Strasbourg is simply for its strategic location. Going to Strasbourg, you come closer to more beautiful places not only in France and Germany but also in Switzerland. 
Let's start with France.
If you're already in Strasbourg, you don't need to leave Alsace to see a real fairytale destination. In less than 30 minutes, you can get to Colmar via train.
Colmar is a beautiful town filled with timber-framed houses too. It is so charming that it was copied in another country (Malaysia) halfway around the world! It is also surrounded by mountain-top castles and you can expect it to give you the best "escapism" trip of your life!
Learn about Colmar by discovering the reasons why you should visit Colmar here.
Colmar is located to the south of Strasbourg. But if you continue south, you'll reach Switzerland–the heart of the Alps, one of the most scenic places in Europe. There is a lot to do here, especially if you want to be filled with unprecedented awe!
You can check my Switzerland itinerary for 3, 7, 10, and 14 days to see how amazing this country is. Among the destinations in Switzerland, I recommend that you see the Jungfrau Region (Lauterbrunnen, Interlaken, Grindelwald), Zermatt, and Lucerne. 
I really love Switzerland, but you do not have to go far south to see lovely scenery. The Black Forest in Germany neighbors Strasbourg. Literally, you only have to cross the Rhine River to get there. 
The Black Forest in Germany is a destination mixture of breathtaking landscapes and enchanting places like Petite France or Colmar. It is full of unique things you can discover too. Like, the biggest cuckoo clock in the world.
I suggest you check some of them from my article about the Black Forest. 
If you made it to the Black Forest, you can continue eastward and start exploring southern Germany and Bavarian Alps. These places are packed with stunning scenery too and cute Lüftlmalerei houses. 
Here, I give you a list of the most beautiful places in Southern Germany or the Bavarian Alps itinerary to learn more.
Back to the Table of Contents | Proceed to Strasbourg Guides/Tours
Guides in Visiting Strasbourg
Hello! I hope that you find my article about Strasbourg insightful. Also, I hope I helped you decide if Strasbourg is a destination you will include in your travel itinerary or not. But, ultimately, Strasbourg is one fantastic city to visit, right?
If you plan to visit Strasbourg, I recommend deals and guides from my trusted partner (see below) to help you have a fun, convenient, and productive trip to Strasbourg. Don't miss the boat ride, especially if you're only visiting for a day.
Back to the Table of Contents
Save it on Pinterest.