Is Grindelwald Worth Visiting: 20 Worthy Things To Do
Bernese Oberland is a jewel of Switzerland, home to the most spectacular natural wonders that fill people with awe. Here, memorable and incredible adventures await, and trips of a lifetime are made.
One of the beautiful towns you can visit in Bernese Oberland is Grindelwald. It is situated in a valley between two-to-four-thousand-meter high mountains of the Bernese Alps in the Interlaken-Oberhasli administrative district.
Grindelwald is known for the awe-inspiring views of Eiger's north face and beautiful alpine sceneries. It's also one of the most family-friendly and adrenaline junkie's favorite destinations in Switzerland. Whether it's summer or winter, fun activities are always waiting for you to try here.
If you wonder if Grindelwald is worth a visit, you are in the right place. This post will help you decide if Grindelwald is for you by letting you know the best and worthy things to do in Grindelwald. This post is very informational, and it should help you conduct a trip to Grindelwald.
Affiliate Disclaimer: This post contains affiliate links. I recommend products and services that I think can help you make a successful and memorable trip. I may receive a tiny commission if you purchase them with no additional cost to you. These will support me in maintaining, creating more articles, and fulfilling the mission of this blog.
This article will answer the question "is Grindelwald worth a visit" and will be your ultimate guide in exploring Grindelwald when you decide you want to visit. You will find practical information, hiking routes, photography tips, and other suggestions for a memorable and worthy trip to Grindelwald.
This is a lengthy post. Feel free to click the table of contents to jump to the parts you're interested in.
Facts and information (i.e., opening hours, etc.) are based on the official website of Grindelwald unless stated.
If you find this article useful, don't forget to bookmark this post or pin it to Pinterest!
Need help in planning your trip to Switzerland? I prepared a 3-day, 7-day, 10-day, 14-day Switzerland Itinerary to guide you. I discussed each destination to visit (things to do, how long to stay, map, and other tips). Check it out!
Is Grindelwald, Switzerland, worth visiting?
Grindelwald has some of the most exciting adventures you can ever find in Switzerland. They just don't come with fun but also with thrill and awe-inspiring sceneries. The Glacier Canyon, Jungfraujoch, Grindelwald-First, and Mannlichen are just some of the activities/places in Grindelwald that make Grindelwald absolutely worth visiting.
Learn more about why Grindelwald is worth a visit from this list of 10 things to do in Grindelwald:
Best things to do in Grindelwald
There are plenty of things to do in Grindelwald. Since it is located in a mountainous area, you can expect to have almost all sorts of outdoor activities during summer and winter sports during icy cold months.
Definitely, you can find activities from hiking, mountain biking, skiing, ice sledding, or even paragliding in Grindelwald. I will no longer mention some of them in this list of things to do in Grindelwald. That's because I know you already have them in mind as soon as you learn that Grindelwald is located in a mountainous region in Switzerland.
In this list, you will only find experiences and activities unique to Grindelwald – things that will make you want to visit Grindelwald.
Here is the summary of this list of things to do in Grindelwald:
Grindelwald-First
Bachalpsee
Pfingstegg
Glacier Canyon
Heimatmuseum Grindelwald
Mannlichen
Jungfraujoch
Camping in Grindelwald
Visit the heaven on earth place in Switzerland
Go to the Adventure Capital of Europe
Grindelwald is one of the adventure-filled, idyllic, and scenic towns in the Swiss Alps. If you plan to stay in Switzerland for longer, you should also visit other towns, e.g.,  Lauterbrunnen, Kandersteg, Interlaken, Zermatt, and Gruyeres. Click the name of the towns to see if they are worth a visit too.
Suppose you were coming from a faraway place like me (literally, I'm on the other side of the globe). In that case, these are the activities in Grindelwald that you would not like to skip and do first. First – that's where we kick off this list of things to do in Grindelwald:
Activity 1: Have fun in Grindelwald-First
Most of the fun in Grindelwald happens in First, a minor peak of the Schwarzhorn mountain. It is located northeast of the town of Grindelwald, also one of the destinations of the hikers coming from Schynige Platte in Interlaken.
It is often called Grindelwald-First instead of just "First," as other mountains in Switzerland are also called First. For example, in Kandersteg, there is another mountain called First.
Anyhow, Grindelwald-First is the first reason why you would come to Grindelwald. Mainly because you'll not only find one fun activity here but five! It's even dubbed the Summer hotspot for Adventure and winter Mecca for freestylers and snowboarders.
Views in Grindelwald-First
Here are some of the views that await you at First
How to go to Grindelwald-First?
There are two ways you can go to Grindelwald-First: hiking and cable car. Taking the cable car instead is recommended as the hike to First from Grindelwald is difficult. It lasts for about 3 hours (starting from the town), covering 7.2 kilometers (4.5 miles) and an 1100-m (3600-m) elevation gain.
Besides, the cable car can bring you to First much faster, under 30 minutes. In the cable car, you also get to see the stunning beauty of the mountains surrounding Grindelwald. You'll love the views from Grindelwald-First's cable car, especially during clear weather.
The cable car station (valley station) to First is located 10-minutes away on foot from the Grindelwald train station. Just walk east along the town's main street (Dorfstrasse) from the train station, following the direction where the Gondolas originate from the ground.
Grindelwald-First Cable Car Stations and Activities
Grindelwald-First cable car has four stations. You have to alight on different stations to try every activity available to do in Grindelwald-First:
| Station # | Station Name | Activities |
| --- | --- | --- |
| 1 | Grindelwald Valley Station | |
| 2 | Bort | Trottibike |
| 3 | Schreckfeld | Glider, Mountain Cart |
| 4 | First | Flieger, Cliff Walk |
Grindelwald-First Cable Car Stations
Things to do in Grindelwald-First
This section will introduce you to the cable car stations and the activities you can avail of from them. All the information in this section is based on the brochures you can download from Jungfrau.ch. They are accurate as of this writing, but I recommend checking the link for updates.
Trottibike Scooter
1 of 20 worthy things to do in Grindelwald
Midway through your cable car journey to First's summit, you'll arrive at Bort, the station and area where you can rent Trottibike scooters.
What exactly are the Trottibike scooters? They are a type of scooter that has a suspension fork and tires of a bike with tread. Trottibike scooters are more rugged than regular scooters as they are used in transporting a person down the mountains.
Instead of sitting on a bike, you'll stand up on a wide footboard as you move down the mountains. There are no seats and pedals. All you need is to balance the scooter or push your foot against the ground to gain speed.
Grindelwald-First Trottibike scooter is an adventurous experience that starts at Bort cable car station, passing through beautiful meadows and farmhouses, ending in Grindelwald. Along the way, you'll see breathtaking views of the mountains from Eiger to Wetterhorn. Grindelwald-First Trottibike scooter is worth trying if you have the skills to use it.
Here are the views you will meet along your ride with the Trottibike scooter:
Grindelwald-First Trottibike Scooters are only available during summer. If you are coming with kids and they want to try, they would only be allowed if they are 125 cm (4 feet) tall. 
Access/rent to Trottibikes scooters is 21 CHF for Adults and 17 CHF for children under 15. You can check for rental dates and announcements on Jungfrau.ch. 
Grindelwald-First Glider
2 of 20 worthy things to do in Grindelwald
At the next Grindelwald-First gondola lift station, Schreckfeld, two more experiences await you: First-Glider and Mountain Cart. Let's discuss first the glider.
First-Glider is a special kind of zip line that somehow simulates the flight of a bird of prey. However, there's a twist; you are the prey! During the ride, you will be hanging beneath the eagle-designed-glider.
But even though it's just a zip line, it'll make you feel like flying! Because, in this 800-meter (2600-feet) long rope amusement ride, you'll be experiencing an exhilarating speed of 83kph (52 mph) at max!
The experience in First-Glider is ecstatic, especially during clear and sunny weather. The views you'll see while zipping down the rope are really spectacular.
It may feel really hesitating when you see the path that the First-Glider will take and the speed it will put you. But there's just nothing to fear! You'll be safely buckled up to the eagle, and all that's you'll have to worry about is how you can have fun.
The ride First-Glider only lasts for a few minutes. It starts and ends in the same place near the Schreckfeld lift station. Once you ride the zip line glider, you'll be pulled up into a hill, and then after you reach the end, it's time for flying down back to the place where you embarked on the ride.
Here's what you can expect to experience in First-Glider:
From the video, you can see that the actual experience in First-Glider only lasts under five minutes, but note that only four people can be accommodated at a time. Because of that, the line can get really long, especially at peak season.
If you really want to try First-Glider and not waste a lot of time falling in line, it is recommended that you come to the First-Glider very early in the morning.
First-Glider is open both summer and winter. However, dates could vary depending on the situation. Kindly check jungfrau.ch for schedule and announcements.  
First-glider's access fee is 31 CHF for adults and 24 CHF for children under 15 years old. Not everyone can try, though. Sadly, children under 10, shorter than 130 cm (4.3 feet), and persons heavier than 125kg (275lb) aren't allowed to try First-Glider.
Grindelwald-First Mountain Cart
3 of 20 worthy things to do in Grindelwald
Another fun thing to do from Schreckfeld is First-Mountain Cart. Like the Trottibike scooters, mountain carts are used to travel down from First, but in this case, it's from Schreckfeld to Bort.
First-Mountain Cart is a go-kart mixed with the idea of winter sledding – like sledding on wheels!
The mountain cart you'll be using is guaranteed safe, as it's designed with wide apart wheels, setting the center of gravity low. It is equipped with hydraulic breaks to control your speed much better over long distances.
However, you need some biking (or similar) skills for First-Mountain Cart. Though most of the parts of the tracks are gradually inclined down and are protected with safety nets, you can encounter nerve cracking curves that need maneuvering skills. Just don't build up speed too much if you will try.
The views in First-Mountain Cart tracks are spectacular too, but if you move too fast, you will not be able to focus on the sceneries around you. Going down from Schreckfeld to Bort through First-Mountain Cart tracks covers 3 kilometers (1.86 miles).
Here's the experience awaiting you in First-Mountain Cart:
Depending on your speed and the speed of the person in front of you, the time you can spend in First-Mountain Cart could range from 5 to 10 minutes.
Anyhow, with all the reviews I've read, First-Mountain Cart is the most adventurous activity loved by almost all who've tried it! Definitely recommended. Just be safe, and control your speed, so you don't get into an accident.
There is no minimum age restriction in First-Mountain Cart, but kids should at least be 135cm (4 feet 4 inches) tall to be allowed. First-Mountain Cart is open during summer, and fees are 21 CHF and 17 CHF for adults and kids under 17, respectively. Check jungfrau.ch for exact opening dates and announcements.
Grindelwald-First Cliff Walk
4 of 20 worthy things to do in Grindelwald
First-Cliff Walk by Tissot awaits you at the summit of Grindelwald-First. Situated 2168 meters (7112 feet) on top of the mountain, you can expect to have a sweeping view of more than just Grindelwald but the entire eastern Bernese Alps.
The entire platform comprises steel pathways suspended and protruding from First's summit's rocks and cliffs. People who visited the First-Cliff Walk were impressed by both views and works of engineering on site.
Walking on First-Cliff Walk can be intimidating, especially if you are afraid of heights. The path is steel-meshed, by the way. You will see what's underneath you.
At the same time, it is also awe-inspiring at the top, especially at the end corner of First-Cliff Walk on a clear sunny day. Imagine yourself at the end of First-Cliff Walk, overlooking the summer lush green meadows and the eternal perpetually frozen peaks of Jungfrau Massif.
However, it could be crowded sometimes. Prepare to fall in line if you want to take solo photos at the end of the walkway or platform. Access to First-Cliff Walk is free.
The First Cliff Walk is open both summer and winter. But before you come, be sure to check jungfrau.ch for maintenance work schedules and announcements. 
Grindelwald-First Flieger (Zip Line)
5 of 20 worthy things to do in Grindelwald
Though First-Cliff Walk is an excellent attraction, the real action lies at First-Flieger.
First-Flieger is a typical zip line that lets you travel to Schreckfeld from First at a max speed of 84 kph (52.2 mph). You'll be hovering 50 meters above the beautiful alpine meadows dotted with alpine farmhouses along the ride.
First-Flieger is 800 meters long, and like the Glider, Flieger can be exhilarating and lasts only for several minutes. Be warned that the line for the First-Flieger could be very long during the peak seasons. Some have waited for more than 2 hours just to try First-Flieger.
Here's a sample experience:
First-Flieger is open for both summer and winter. Still, opening dates are subject to change depending on the current situation. You can check for the schedule and announcements in jungfrau.ch.
Access to First-Flieger costs 31 CHF for adults and 24 CHF for children under 15 years old. Minimum and maximum weight requirements are set since the zip line operates partly dependent on the participants' body mass. Only people weighing between 35 kgs (77 lbs) and 125 kgs (275 lbs) can try First-Flieger.
Grindelwald-First Tips & Suggestions
Here are some of my personal tips about the essential things to remember when you are planning to go visit Grindelwald-First:
Check the view in Grindelwald-First.
The activities in Grindelwald-First will not be worth it if it is foggy and there's no view of the spectacular mountains. You can check the weather in Grindelwald-First using the live webcams and maybe postpone the trip to the top a few hours later or the next day if the view isn't nice.
Get the Grindelwald-First Adventure Package.
If you want to be flexible with your schedule, you can buy the Adventure Package. It will allow you to have unlimited gondola rides and select which activities you want to try and how many times you want to experience them. The validity of an Adventure Package lasts spring to autumn of the current year. 
As of this writing, the prices of the Grindelwald-First Adventure Package range from 50 CHF to 120 CHF for adults. The package price varies with the number of activities included and whether you have other travel passes. Here is the table showing you the rates matrix for adults, discounted, and children:
Grindelwald-First
Adventure Package
Inclusion
Adult Rate (CHF)
Adult Rate (CHF)
with Half-Fare Card,
General Pass, Swiss Travel Pass
Children Rate (CHF)
1 activity
74
50
43
2 activities
89
67
57
3 activities
106
85
71
4 activities
120
99
84
Grindelwald-First Adventure Package Rates / Prices
These are rates for 2021. Always check the Grindelwald-First brochure in jungfrau.ch to see if there are updates or announcements.
Watch sunset and sunrise in Grindelwald-First.
If there are places in the world best to watch the sunrise, they are the mountains. It's the time when the peaks are painted golden, and sometimes a sea of clouds appears! It's an unreal experience, a spectacle to fill you with incredible wonder. 
Are you wondering if you can watch the sunrise at Grindelwald-First without hiking (cable car rides start at 8:30 a.m.)? It is possible to stay in the hostel at First called Berggasthaus First. Basically, you have to spend the night in Berggasthaus First to catch the sunrise. 
Activity 2: Visit the Picturesque Bachalpsee
6 of 20 worthy things to do in Grindelwald
When you are at Grindelwald-First's summit, you are no longer too far away from Bachalpsee, a lake dubbed the "blue jewel" of Grindelwald. Bachalpsee is Grindelwald's one of the most picturesque places indeed. Actually, Bachalpsee is the lake you'll see in Gmail's mountain theme background since 2013.
Located at an elevation of 2,265 meters (7,431 feet) directly north of the Jungfrau massif, Bachalpsee is perfect for taking photos of Eiger and the neighboring peaks. If you arrive at Bachalpsee in clear and calm weather, you will see the mountains' summit inverted on its surface. This spectacle is the reason why Bachalpsee is really worth visiting.
Hiking Bachalpsee is easy, and from First, it would only take an hour to reach. The trail is paved and surrounded by lush meadows, with few cows grazing over (suppose you're going to hike during summer). It's scenic, and it's gonna be a leisurely hike, yet it's mostly an uphill climb.
Most people bring packed lunches and eat them up at the shores of Bachalpsee while enjoying the view. Most importantly, before you come and buy/prepare lunch for your Bachalpsee hike, do not forget to check the weather. You might want to reschedule the hike if it's gonna be rainy or cloudy.
It is not recommended to hike to Bachalpsee during winter as it usually freezes and gets covered with snow. Anyhow, here are the views you can expect to see in Bachalpsee: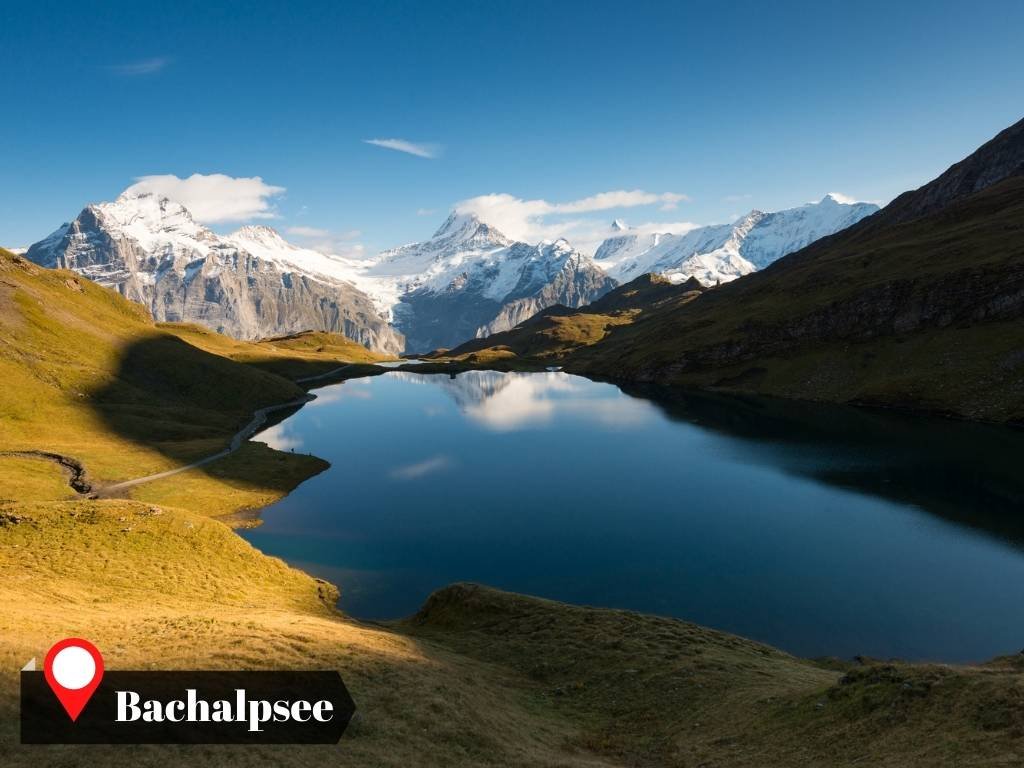 The Swiss Alps is just one of the most beautiful places on earth, right? Discover more places to visit in the Swiss Alps from my articles: Inspiring Photos of Swiss Countryside and Things That Make The Swiss Alps Famous and Special (Click to open in a new tab and read later). I have listed all the things that will make you visit the Swiss Alps – they shall give you ideas of what to visit when visiting Switzerland.
Activity 3: Have fun in Pfingstegg, Grindelwald
Suppose you already have kids, and you plan to bring your family to Grindelwald. In that case, Pfingstegg is an excellent place you can go and bond together. It's like a mini version of Grindelwald-First with chiller and gentler rides more suitable for kids.
Pfingstegg can be reached through a gondola ride from the Pfingstegg valley station located in the eastern parts of Grindelwald town. The cable car ride only lasts for 5 minutes.
During non-winter months, you can expect to see beautiful alpine meadows in Pfingstegg and hear the chiming of cowbells from the grazing cows nearby. Here, you can also find an excellent vantage point to see the valley entrance to Grindelwald.
Aside from sightseeing activities, Pfingstegg also has a playground and two rides, Fly Line and Toboggan Run. Let's discuss them separately:
Pfingstegg Fly Line
7 of 20 worthy things to do in Grindelwald
Fly Line is a ride that will somehow let you "fly" in the middle of the forest, similar to a zip line. However, unlike a zip line, you riding Fly Line will not pass through a straight line, but you'll go make spiral paths circling trees in the forest. 
It's not that of an adrenaline-pumping experience but rather a chill and relaxing ride mimicking a "flight." The speed in Fly Line averages at 10 kph (6.2 mph). If you are afraid of heights, you won't feel hesitant to ride Fly Line compared to First-Glider and First-Flieger.
Pfingstegg Fly Line starts right after under the cable car station. Along the ride, you will be sitting on a sturdy cloth attached to a stainless steel pipe system, which is then attached to the trees around. At the end of the ride, a lift brings you back to where the ride started. 
The entire stainless steel pipe system covers 350 meters (1148 feet) distance, taking you to scenic alpine spots from the forest. A single ride in Fly Line usually lasts 2 to 3 minutes.
Pfingstegg Fly Line is open from mid-spring to mid-autumn from 10:30 a.m. until 5:00 p.m. During the summer months, closing time is adjusted to 5:30 p.m.
Entry starts at 12 CHF for adults and 8 CHF for children under 15 years old. There are package discounts if you plan to have multiple runs. You can check pfingstegg.ch to see the packages and the exact opening dates.
Pfingstegg Toboggan Run
8 of 20 worthy things to do in Grindelwald
Want more fun in Pfingstegg? Then you must try Toboggan Run. It's another fun activity in Grindelwald, a reason why people visit Grindelwald. This is definitely the best fun you can have in Pfingstegg, suitable for both kids and adults.
Here will probably feel some adrenaline, especially when you pass through the curves on the 700+ meter (2300+ feet) downhill track. You can speed up to an exhilarating speed of 40 kph (25 mph) in Pfingstegg Toboggan Run.
Sure, you can drive fast in Pfingstegg Toboggan Run, but you might as well want to slow down to enjoy the spectacular alpine views along the tracks. Stopping in the middle is prohibited, however.
I've read an experience from Google Maps reviews, and here's what he has experienced:
Brilliant! It can feel a little expensive, especially when you figure the cost of the cable car into things, but it is lots of fun! At busy times the queues can be a little frustrating, particularly when some visitors think the Rodelbahn is for a gentle trundle down the mountain, rather than the thrill ride it should be!

Andrew Berridge
Overall, visitors had fun and felt safe throughout the ride, even accelerating down the curves. It has 81 reviews, and it got a very high rating of 4.5 out of 5 stars.
Bringing personal items like mobile phones, cameras, and bags is not allowed while tobogganing. Suppose you want to record your adventures in the Pfingstegg Toboggan Run. In that case, I suggest that you bring an action camera and attach it to your body as this dude did:
Pfingstegg Toboggan Run is open from mid-spring to mid-autumn from 10:30 a.m. until 5:00 p.m. During the summer months, closing time is adjusted to 5:30 p.m.
A single run in Pfingstegg Toboggan Run starts at 6 CHF for adults, 4 CHF for kids 8 to 15, and 2 CHF for children 4 to 7 years old. Kids 8 to 15 are allowed to drive by themselves, but the children 4 to 7 must be accompanied by their guardians/parents. 
Pfingstegg Toboggan Run offers different packages for multiple runs and for groups. Check out their website pfingstegg.ch to see the toboggan run packages and the exact opening dates.
Activity 4: Explore Glacier Canyon Grindelwald
9 of 20 worthy things to do in Grindelwald
Another reason why it's so great to visit alpine regions is the variety of things to do and numerous natural spectacles you can find. In Grindelwald, you don't only experience the awe and adventure in peaks and lakes. Wonders and fun also await you between the mountains' gigantic rocks; in the Glacier Canyon Grindelwald!
Glacier Canyon Grindelwald is a 1-kilometer (0.62-mile) gorge in Grindelwald where the Lutschine River, a tributary to Schwarze Lutschine, flows. It is said to be nature's work of art, 250 million years in the making. Glacial ice formerly covered the entire canyon until the world warmed up and the global temperature melted them away.
You can find Glacier Canyon Grindelwald on the eastern portion of Grindelwald. Coming from Grindelwald Terminal (the terminal that looks like a mall), just go east, following the road alongside Schwarze Lutschine. You can use these Google Maps coordinates to Glacier Canyon as your guidance.
Today, what is left in the Glacier Canyon are the magnificent carvings of nature like glacial polish, blocks of green and pink marbles, iron excretions, and more rock galleries. In between 300-meter tall rock walls, you will find only bare natural spectacle but also discoveries about the gorge's geology and glaciers. It takes an hour to two to explore the entire Glacier Canyon Grindelwald, including its crystal museum.
Glacier Canyon Grindelwald has tunnels and wooden pathways to lead you to different discoveries inside the gorge. Expect to hear the thundering sound of the Lutschine river and chilling wind – all to manifest the power of nature that made the canyon. Do not forget to bring jackets/windbreakers when you come!
Aside from sightseeing, you can do two other activities in Glacier Canyon. They are the Spider's Web and the Canyon Swing.
Spider's Web
10 of 20 worthy things to do in Grindelwald
One of the highlights of visiting Glacier Canyon is the Spider Web, a walkable net set above the river, attached to the towering walls of the gorge. It is 170 sq. meters (1830 sq. feet) wide and is where the light show occurs.
Being in the middle of the gap between the canyon walls, the Spider's Web lets you see a better perspective of the gorge than what you can see in the walkways. Feel awe for the unique view and thrilled for balancing yourself on the net.
Canyon Swing
11 of 20 worthy things to do in Grindelwald
For me, the most exciting part of Glacier Canyon Grindelwald is the Canyon Swing. It is the one that will absolutely pour adrenaline into your bloodstream and conquer all your fear. Definitely, it is an experience that you'll be really proud of telling all your friends and family after!
In the Canyon Swing, you will jump from a 90-meter-high platform down to the Lütschine river and then swing at 120 kph (75 mph) max in between the towering rock walls. After the free fall, the rope will give you this bungee jumping sensation, followed by the four to five times swing fly-like experience.
Actually, the Canyon Swing is the activity in Grindelwald that was once featured in the Amazing Race TV show (90's kids can relate. LOL). Adrenaline junkies who have tried this said that the free fall is unreal! — and the best adventure to try in Grindelwald.
Access to Canyon Swing costs 149 CHF per person and an additional 38 CHF for a video souvenir. Only 14 years old and above are eligible, and participants must be lighter than 130 kilograms (286 pounds). It is usually available from April to November; learn more or book tickets from outdoor.com (official website).
Access to Glacier Canyon Grindelwald
The opening dates/months of Glacier Canyon Grindelwald are dependent on the season; usually, it is open from May to mid-November. It opens in May after the snow has melted and the gorge's authorities have cleared all the loose rocks in the canyon walls.
Access to Glacier Canyon Grindelwald costs 19 CHF for adults and 10 CHF for kids below 16 years old. Children below 7 years old are free to enter.
From Saturday to Thursday, Glacier Canyon Grindelwald opens at 9:30 a.m. and closes by 6 p.m. On Fridays, it still opens at 9:30 a.m., but the closing time is adjusted to 10:00 p.m. to give way for the light show in the gorge's spider web.
Activity 5: Discover new things in Heimatmuseum Grindelwald
12 of 20 worthy things to do in Grindelwald
Almost all of the activities in Grindelwald are outdoors, and stormy weather could really be a bummer. If you are already in Grindelwald and caught in rainy weather, worry not that you'll waste your time. You can visit Heimatmuseum Grindelwald to discover fascinating things about Grindelwald and mount Eiger.
In Heimatmuseum Grindelwald, we can learn the stories of the locals and the alpinists that give meaning to the awe-inspiring sceneries we can find in Grindelwald. 
You'll know how the locals thrived in the region with the gallery's agricultural and alpine farming items. At the same time, uncover tales of the early alpinists who wanted and have successfully conquered Eiger. The museum's mountain guides and mountain rescue tools will link you to the past, giving insights into the early mountaineers' challenges and fervor for glory.
Heimatmuseum Grindelwald can give you more immersive learning of the past with its listening room called "Eiger Myth." There are five radio plays you can listen to, each lasts between 4 and 5 minutes:
1858: The story of the first ascent of Eiger
1935: The story about Sedlmayr and Mehringer
1936: The story about Toni Kurz
1938: The story of the first ascent of Eiger North Face (Most interesting)
1957: the story about Claudio Corti and Stefano Longhi
Take note that there are no English information boards inside the museum, but you can borrow an audio guide that speaks in English. One to two hours is the suggested length of stay in Heimatmuseum Grindelwald. Entry is 7 CHF for adults and 2 CHF for children.
Heimatmuseum Grindelwald opens at a very limited time only from Tuesday to Friday and Sunday, from 3 p.m. until 6 p.m. The opening months are announced on the museum's website; kindly check for announcements.
Activity 6: Be awe-inspired by the view in Mannlichen
13 of 20 worthy things to do in Grindelwald
If you are looking for a breathtaking 360-view of the entire Jungfrau Region, Mannlichen in Grindelwald is the place to be. Mannlichen is the peak at the heart of this magnificent region. Even though it is just 2343 meters (7687 feet) high, it is the vantage point where you'll see every beautiful part of the Jungfrau region.
From Mannlichen, you can spot Grindelwald, Interlaken, and all the villages in the entire Lauterbrunnen valley. Not only that! Here, you can also have a spectacular view of the three superstars peaks of the Jungfrau region, Eiger, Monch, and Jungfrau.
How to go to Mannlichen from Grindelwald
Getting to Mannlichen from the town of Grindelwald is very easy. All it takes is a single 20-minute cable car ride from Grindelwald. It is a 6-kilometer journey with spectacular views as well! When this cable car route opened in 1978, it was considered the longest passenger-carrying gondola in the world!
As soon as you reach Mannlichen cable car station, you will already wow yourself with the views you'll see. However, you still need to hike a little north to the summit to get to the best vantage point. Mannlichen "Royal Walk," a crown-like platform, is found at the peak, perfect for Instagram photos.
The famous Mannlichen-Kleine Scheidegg trail
14 of 20 worthy things to do in Grindelwald
After enjoying Mannlichen, you may want not to go back to Grindelwald yet. It is because Mannlichen is the start of the famous panoramic trail to Kleine Scheidegg, the gateway to Jungfraujoch.
Mannlichen-Kleine Scheidegg trail is an easy hike, covering 4.4 kilometers (2.7 miles) of slight ascents and descents. Visitors can finish the hike in an hour and a half usually. The sceneries in the trail include beautiful alpine meadows and a direct look at Eiger's north face.
Activity 7: Have Excusion to Jungfraujoch from Grindelwald
15 of 20 worthy things to do in Grindelwald
Jungfraujoch is the literal translation of Jungfrau saddle. Saddle in geography means the lowest area between two peaks. In the case of Jungfraujoch, the two peaks it connects are the four-thousander mountains of Jungfrau and Monch.
It is also known as the "Top of Europe." Because it has the highest railway in entire Europe at 3,454 meters (11,332 ft). Here we can find the largest glacier in the whole Alps (Aletsch Glacier), one of the world's highest observatories, and the second-highest viewing platform in Switzerland (Sphinx Observatory) at 3,572 meters (11,719 ft).
Because of these marvels and the high cost of visiting, people consider Jungfraujoch a once-in-a-lifetime destination in Switzerland.
Suppose you are from a faraway place like me. In that case, Jungfraujoch should not be missed when visiting Switzerland. Of course, it is, especially when you're already in Grindelwald.
Here are the highlights of your visit to Jungfraujoch:
Aletsch Glacier
16 of 20 worthy things to do in Grindelwald
Without a doubt, Aletsch Glacier will be the primary reason why you would like to go to Jungfraujoch. It is the largest glacier in the entire Alps, about 23 kilometers in length, stretching from the summit of Jungfrau massif all the way to Bettmeralp in the canton of Valais.
It is an incredible spectacle that will soon disappear if Global warming continues, so it's just compelling to see in person while it exists. You can view Aletsch Glacier from the Sphinx observatory.
You cannot come inside the observatory, though. But you can have a closer look at the glacier from the binoculars installed at the viewing deck of the observatory.
Remember that Jungfraujoch is at a very high altitude, which means that oxygen is already at a thin level. Do not forget to assess your health before coming. Also, Jungfraujoch stays at a freezing temperature; don't forget to bring jackets.
Ice Palace
17 of 20 worthy things to do in Grindelwald
In Jungfraujoch, you can see the surface of the glacier and come inside of the glacier! Don't miss the Ice Palace if you want to experience what it is like to be inside the glacier. What you'll see from the inside is spectacular as what's on the surface.
Not only is it spectacular, but it's gonna feel unreal! We all have entered caves and underground tunnels… but how about tunnels made of natural ice? It's definitely a bucket list experience to do.
How to visit Jungfraujoch from Grindelwald
There are two ways you can get to Jungfraujoch from Grindelwald:
From Grindelwald, hop on the Eiger Express tri-cable gondola and alight at Eiger Glacier station. At the Eiger Glacier station, ride on the train heading to Jungfraujoch.
From Grindelwald, hop on the train going to Kleine Scheidegg. From Kleine Scheidegg, transfer to Jungfraujoch Railway train which goes directly to Jungfraujoch.
Tip: It is cheaper and faster to go to Jungfraujoch using the Eiger Express tri-cable gondola, but people find Jungfrau Railway more scenic and classic. 
Jungfraujoch is a popular destination, especially during summer. During the peak season, tickets to Jungfraujoch sell out fast. If you plan to visit, make sure to book a train in advance. 
Activity 8: Camp in Grindelwald at Camping Holdrio
18 of 20 worthy things to do in Grindelwald
For full-blooded outdoor lovers, camping is much better than sleeping in a hotel. If you're one of us who loves spending the night under the glittering sky and likes waking up in a tent, check out this place called Camping Holdrio in Grindelwald.
Camping Holdrio is a camping accommodation not too far from downtown Grindelwald. Situated on a hill with unobstructed views of the mountains and the town, it's the best camping site you'll find in Grindelwald. See the view:
The views from Camping Holdrio are fantastic, right? It gets better when the sun has slipped down the horizon:
It's simply romantic that you'll see both the glittering stars above and the town lights of Grindelwald. Just perfect for relaxing and chilling out after a day of adventure, right?
Perhaps you'd love to come here too for some timelapse and night photography tricks if you're a photographer.
If you have your partner, you can bring them here and drink some wine as you talk deeply with each other. With the view, I'm sure it's gonna be a memorable time you'll cherish forever!
Camping Holdrio allows dogs on their campsite. However, you need to make sure that you clean their poop! The site has available dog poop bags; you can ask the reception to give one for free.
It has very high ratings in Google Maps (4.5 out of 5) for having a nice view and more than adequate facilities (tables, benches, cooking range, fridge, pot wash, clean and maintained toilet and showers). You can also ask for electricity supply if you need to charge your phones or switch on lights.
It may look secluded from town, but don't worry, the site is serviced with a bus. Most importantly, as soon as you check-in, you will be given free bus tickets to the town!
If you have questions about campervans, tents, and other things to bring, you can email or call Camping Holdrio through: info@camping-grindelwald.ch | Tel +41 (0)79 614 02 88 | camping-grindelwald.ch
Camping Holdrio is usually open during summer, but it's best to send them an email for clarifications/reservations. Here are the rates:
Activity 9: Visit the Heaven on Earth Place in Switzerland
19 of 20 worthy things to do in Grindelwald
Jungfrau Region is packed with jaw-dropping sceneries and places you can call heaven on earth. However, I can assure you that Lauterbrunnen is the one you'll admire the most. Lauterbrunnen is just the epitome of Alpine beauty, not only the village but the entire valley!
Lauterbrunnen has sparked the imagination of many creatives, artists, and writers throughout the years. Rivendell, the home of the elves in J.R.R. Tolkien's novels Lord of The Ring and The Hobbit, is said to be inspired by Lauterbrunnen.
If you want to be awe-inspired like J.R.R Tolkien, you have to see Lauterbrunnen. It is just 2 train rides away from Grindelwald, definitely effortless to visit!
Well, suppose you're already in Mannlichen or Klein Kleine Scheidegg. In that case, you are only one cable car or one train away from Wengen – one of the villages of Lauterbrunnen Valley.
There are 2 hamlets, 4 villages, 71 waterfalls, and almost endless beautiful hikes in Lauterbrunnen valley for you to see and explore. It does not have as many adventurous things to do compared to Grindelwald. Still, it will also definitely give you breathtaking views you'll never forget in your entire life.
Actually, if you love soul searching, introspecting, or want to find some healing, Lauterbrunnen valley is the place to be. Lauterbrunnen has a lot of spots where you can find peace and discover so much about yourself. Gimmelwald is a perfect example!
I have another article about Lauterbrunnen (click here to open a new tab and read it later). There I enumerate all the beautiful things you can experience and in Lauterbrunnen, the reasons why it is so much worth visiting. You will also learn about the villages in Lauterbrunnen valley, hikes, and so much more from that article. Check it out!
Most importantly, there you'll discover what else is to do when you come to Jungfrau Region.
Activity 10: Visit the Lakes of the Adventure Capital of Europe
20 of 20 worthy things to do in Grindelwald
If you look at the map of the Jungfrau region, you can see that there are two large lakes near Grindelwald: Lake Thun and Lake Brienz. Like the rest of the Jungfrau region, these lakes are stunning and full of things to do.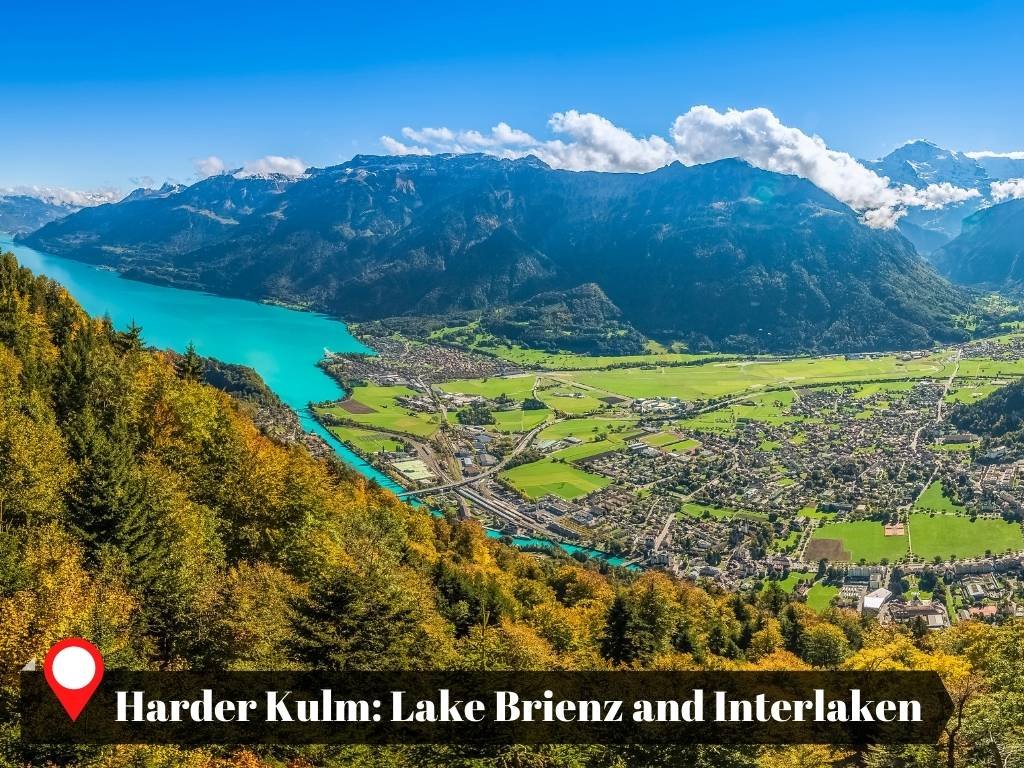 Lake Thun is the fairytale lake of Switzerland. Here, you can visit mystical tourist attractions like the Saint Beatus Caves and Oberhofen Castle. Mount Niesen, the pyramid mountain of Bern, can be spotted from Lake Thun too.
Lake Brienz, however, is more of a picturesque lake surrounded by alpine villages and nostalgic train ride experiences. You can visit the spectacular 14-step Giessbach waterfalls from its shores.
You can learn more from my article about Interlaken (click to open a new tab and read later). In that article, I also explained why Interlaken is worth visiting by giving you the things you can do from the town, Lake Thun, and Lake Brienz. The activities indicated will provide you with more ideas about things to do when you stay in Grindelwald.
How do I get to Grindelwald, Switzerland?
Grindelwald can be reached through public transportation and private car. However, suppose you come from Switzerland's primary cities (Geneva, Bern, Basel, and Zurich) using public transit. In that case, you may have to do 2 to 3 transfers on the trains/bus (2 to 4 hours of travel) before you reach Grindelwald.
You can also join organized tours and day trips to Grindelwald from these cities. This way, you can avoid all the hassle of booking and creating an itinerary for your visit to Grindelwald. See this list of day trips from getyourguide.com.
Switzerland Major Airports to Grindelwald
Here are the major Switzerland cities (with airports) and the distance and travel time between them and Grindelwald.
Private Car
| City | Road Distance to Grindelwald | Travel Time |
| --- | --- | --- |
| Zurich | 137 km | 2h 5m |
| Bern | 75 km | 1h 9m |
| Basel | 170 km | 2h 49m |
| Geneva | 234 km | 2h 51m |
Nearest Cities with Airports to Grindelwald (car travel)
Public Transportation
City
Transit
(no. or rides)
Travel Time
Zurich
3 train rides
2h 46m
Bern
2 train rides
1h 43m
Basel
2 train rides
2h 50m
Geneva
3 train rides
3h 49m
Nearest Cities with Airports to Grindelwald (public transportation)
Sources (Google Maps), click to see routes:
Hey! Know that there are five cities near the Swiss Alps where you can see beautiful sceneries and at the same time learn about Swiss culture and history. If you plan to stay in Switzerland for a longer time and are looking for a city to visit in the Swiss Alps before or after Grindelwald, you got to see my articles about Montreux, Sion, Brig, Thun, and Lucerne.
When is the best time to visit Grindelwald?
Grindelwald is an excellent destination for both summer and winter. However, Grindelwald is much better to visit during summer and shoulder seasons (mid-May to mid-October) when all the adventurous and fun activities are available. The precipitation level is at the lowest during September and October in Grindelwald.
How many days do you need in Grindelwald?
The bests experiences in Grindelwald can all be done within 2 to 3 days. That includes all the activities in First, Mannlichen, and Jungfraujoch. However, suppose you have time and money to do all the worthy things to do in Grindelwald (including some hiking). In that case, you will need to allocate at least 4 to 5 days of stay.
Traveling for a week or more in Switzerland? Save a lot of money using the Swiss Travel Pass (click here to learn more). With it, you can have an unlimited ride on public transportation (Bus, Trains, and Boats) and free entry to more than 500+ museums in the country. Cable cars, funicular, and cogwheel train rides are discounted by 50%. IMPORTANT: before you buy a Swiss Travel Pass, check first where it is valid or where it applies 50% on STP's official website.
Save it on Pinterest.