Interlaken Itinerary: Spend 1, 3 to 7 Days in Jungfrau Region
Interlaken is dubbed the adventure capital of Switzerland. It is tucked between mountain ranges and lakes of the Jungfrau region, offering activities ranging from simple sightseeing to mountain excursions and adrenaline-pumping outdoor fun.
If you need ideas on how you can spend days in Interlaken and in the Jungfrau region, you arrived at the right post. Here I will help you decide how long to stay in Interlaken and guide you to spend your days in the Jungfrau region.
This post will also introduce you to Interlaken and the Jungfrau region, the activities, and the tourist attractions you can visit. You will also find suggested 1, 3, to 7-day Interlaken itineraries as your reference for your visit to the Jungfrau region at the end of this article.
Are you in?! Let's go! 😀
But before we dive into our discussion of Interlaken itineraries, let's first tackle some basic details about Interlaken and Jungfrau region. This way, you get a bigger picture of Interlaken and a better understanding of the sequences of destinations/tourist attractions in the itinerary.
This post is packed with information. Thus it's quite lengthy. But remember, you can proceed to different parts of this post using the table of contents if you need to find information quickly. 
Introduction to Interlaken and Jungfrau Region
So, where exactly is Interlaken?
We can find Interlaken in the Jungfrau Region in southwest-central Switzerland within the Canton of Bern. Everyone can easily see Interlaken on a map, with the Jungfrau region's two largest lakes, lake Thun and lake Brienz, sandwiching Interlaken in between.
Lake Thun and Lake Brienz are Switzerland's two most beautiful lakes. Not only do they have clean, glittering, turquoise waters, but they also have castles and quaint villages possessing fairytale looks that really satisfy wanderlust.
Aside from two lakes, the Jungfrau region has several resort towns. The three most visited are Interlaken, Lauterbrunnen, and Grindelwald. 
Do you want to see heaven on earth scenery? Visit Lauterbrunnen. However, if it's the classic breathtaking hiking trails and outdoor fun you like, Grindelwald is the place to be. 
However, Interlaken is undoubtedly the most preferable home base when visiting the Jungfrau region. Not only is Interlaken connected to Switzerland's major cities with fast InterCity trains, but Interlaken also has train routes, bus rides, and boat tours that link it straight to the beautiful places in the region.
For example, Lauterbrunnen and Grindelwald are 20 minutes and 45 minutes away from Interlaken using the train.
Lake Thun, Lake Brienz, Lauterbrunnen, and Grindelwald may sound like end destinations from Interlaken. But the thing is, they're just jump-off points to more incredible places within the Jungfrau region. 
Later, in the list of things to do in Interlaken, you'll find how simple it is to visit other tourist attractions in the Jungfrau region from Interlaken. 
By the way, Zurich is the city with an international airport, closest to Interlaken. It has Europe's best airport that accommodates flights almost from all corners of the world. From Zurich, you can reach Interlaken using a 2-hour train ride with a transfer to Bern.
Learn more about Zurich and Bern from my articles:
If you want to learn more about Interlaken, I suggest that you read my article 10 Reasons to Visit Interlaken. It should give you a comprehensive explanation of the beautiful experiences that await you around Interlaken.
Need help in planning your trip to Switzerland? I prepared a 3-day, 7-day, 10-day, and 14-day Switzerland Itinerary to guide you. I discussed each destination to visit (things to do, how long to stay, map, and other tips). Check it out!
Things to do in Interlaken and Jungfrau Region
The first thing we should do to know…
how many days should we stay in Interlaken
how can we build an itinerary for the Jungfrau region
… is to look/research the tourist attractions, best destinations, and different activities available in the area. 
The kind of experience, the distances, amount of time spent, opening hours, and other information we'll find shall help us formulate an itinerary that perfectly suits our travel desires.
So, in this section, I'll give you:
A brief introduction to each attraction in Interlaken and Jungfrau region
The exact location of the destinations in the Jungfrau region with links to Google Maps
Visiting and practical information, tips, and recommendations
How much time do you need for each activity
A photo/video/360-view of each tourist attraction in Interlaken to give you a glimpse of the experience
This article will give you links to Google Maps to tell you the exact location of the different attractions around Interlaken.
The app is simple to use, and no super techy skills are required to navigate using Google Maps. But if you need help understanding how the app works, here's the Google Maps Documentation you can read.
Going back…
After my research, I found more than 40 tourist attractions, beautiful destinations, and once-in-a-lifetime activities in the Jungfrau region. Packed with so many things to do, It's just a place where the word boredom does not exist.
However, I did not include every one of them here. I only write the unmissable and worthy destinations that I think you must try. Some offer redundant experiences, so I left them out of the list.
Learn about all the attractions and experiences you can have in the Jungfrau Region from these articles (towns in the Jungfrau Region)
Let's kick off the list with Harder Kulm, the tourist attraction always included in every Interlaken itinerary you can find out anywhere!
Harder Kulm
The first place you must include in your Interlaken itinerary is Harder Kulm.
It is a viewpoint located 1321 meters above sea level that overlooks the towns of Interlaken and Unterseen. Here you'll get a sweeping view of the entire Bernese Oberland from Lake Brienz to the snowy peaks of Jungfrau massif to Lake Thun.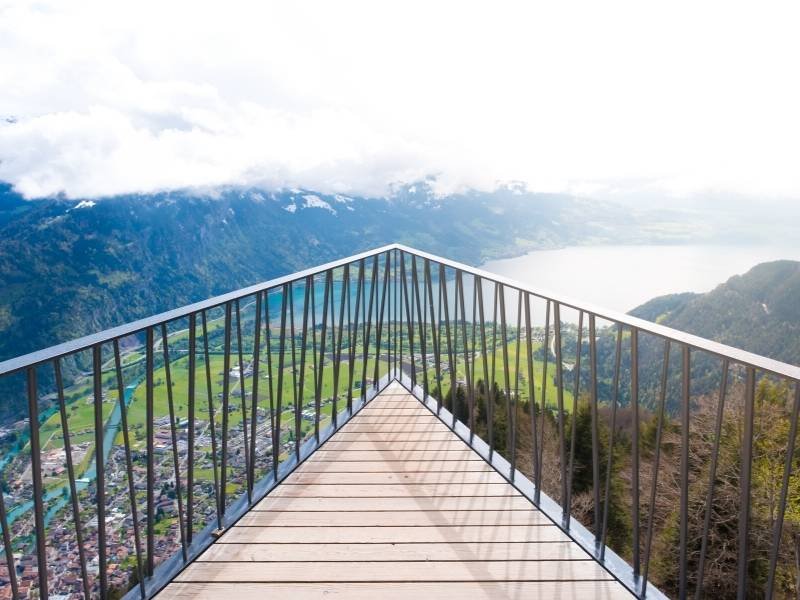 Harder Kulm shall be your fantastic Eye-appetizer to surely spark your desire to see the rest of the Jungfrau region if it's the first place you visit. Also, the viewing platform protrudes several meters into the air with nothingness below you.
Imagine how thrilling the experience can be!
Harder Hulm is the nearest tourist attraction you can visit from Interlaken. You can hike for 2 to 3 hours to reach the top or ride the 100-year-old funicular that brings you instantly to the viewing platform from the valley station in 10 minutes.
I would not recommend that you hike to Harder Kulm from Interlaken because of the stiff elevation gain over a short hike. Reserve all your energy for hiking other mountains and viewpoints. 
Harder Kulm Visiting Information
Since Harder Kulm is very simple to visit and has absolutely stunning views, it is often swarmed by tourists. Come very early to ditch the crowd and own the scenery and moment right there at the tip of the viewing platform!
I strongly suggest checking the cloud cover from the live webcam first before going to Harder Kulm. Harder Kulm is worth visiting only if the views from the top aren't covered with fog or clouds.
Saint Beatus Caves
Are you traveling during the non-summer season when there is a high probability of unpleasant weather occurring? Saint Beatus Caves is one of the destinations you should not miss including in your Interlaken itinerary. 
Saint Beatus Caves is a legendary cave named after Saint Beatus, who expelled a fire-breathing dragon that lived inside the cave in the 6th century. Real or not, it's the place to amaze you with its underground spectacle (stalagmites and stalactites), medieval structures & waterfalls that looks like Rivendell. 
Aside from the cave and waterfalls, Saint Beatus Caves also has its museum exhibiting the history of the cave, exploration done, and rock formations inside. After visiting everything, you can proceed to Saint Beatus Caves restaurant to feed your eyes with Lake Thun's beauty as you replenish your tummy with authentic Swiss cuisine. 
You can arrive at Saint Beatus Caves by boat or by bus. However, it's preferable to utilize the bus (#21) as it's only a 20-minute trip from Interlaken Ost – much faster than the boat.
Saint Beatus Caves Visiting Information
Exploring the cave by yourself is allowed. But, if you want an insightful visit to Saint Beatus Caves, I recommend that you join a free guided tour that starts every 45 minutes. It usually lasts for 75 minutes. 
Bring jackets and extra clothing during your visit! The temperature inside the cave is typically low, around 10 degrees Celsius, even during summer. 
Oberhofen Castle
At the northeastern end of Lake Thun lies the fairytale Oberhofen Castle, the most picturesque tourist landmark you should include in your Interlaken Itinerary.
Oberhofen Castle is a 13th-century structure to wow you with its beautiful architecture, idyllic location, and its tower dipped in the glittering turquoise waters of the lake.
Though it has undergone several repairs and changes over time, its charm remains that you can see inside and out.
Aside from being just a castle, it features a museum exhibiting antique furniture, a chapel painted with centuries-old murals, a tree gallery, and a blooming garden/park where stunning views of Lake Thun can be seen.
If you want to learn more about Oberhofen's 800-year history, join a castle tour that lasts for 1 hour. The guide will bring you to the most incredible spots of the castle, like the dungeon, residential area, and the top of the keep with a spectacular view of the Bernese Alps and Lake Thun.
If you are interested to discover Oberhofen Castle from home or wherever you are, you can check Oberhofen Castle's website here. The best view of the Oberhofen Castle is from the dock/restaurant at the side, where you can photograph its tower with the Bernese Alps in the backdrop.
Oberhofen Castle, like Saint Beatus caves, can be reached through a ferry or bus #21 from Interlaken Ost. A ferry trip from Interlaken to Oberhofen Castle often lasts for 2 hours. On the other hand, a bus ride takes about 50 minutes only.
Oberhofen Castle Visiting Information
I suggest using public transportation to Oberhofen Castle because of the limited parking, which gets filled quickly during the peak season. If you have a lot of time, I think it's better to arrive at Oberhofen Castle by ferry to see the castle's perspective from the lake.
Mount Niesen
Mount Niesen must have a slot in your Interlaken itinerary if you want to witness an extraordinary sunset. 
This mountain, 2362 meters high, is one of the peaks in Bernese Oberland that offers a sweeping overlooking view of Lake Thun and Interlaken. 
Mount Niesen is one unique mountain because its shape projects a perfect triangle shadow over Lake Thun on a sunny afternoon.
Then, although open only once a year (Stair Run event), here in Mount Niesen, you can find the world's longest stairway with 11,674 steps! How impressive is that!
If you are lucky, you may witness the projection of a triangular shadow over the sea of clouds like Jackson from the Journeyera has experienced. In his blog post, he narrated his experience of hiking mount Niesen – I bet you'll like it too.
The view on top of mount Niesen during his hike is phenomenal – blissful, I should say.
There are two ways you can climb Mount Niesen. First, it's through hiking, which usually takes about 5 hours to finish.
Do you have limited time? No worries. Mount Niesen has a cableway to bring you straight to the summit in minutes. 
Neisenbahn valley station is located in Mulenen, a small village west of Interlaken and the jump-off point for hiking Mount Niesen. Though Mulenen is slightly far from Interlaken, getting there wouldn't take so much effort yet.
It only takes 2 train rides to get to Mulenen from Interlaken. From Interlaken Ost, hop on the train to Spiez. At Spiez, transfer to another train heading to Mulenen.
You should arrive at Mulenen from Interlaken within 1 hour. 
Mount Niesen Visiting Information
Lauterbrunnen
To the south of Interlaken lies the heaven on earth valley that every visitor of the Jungfrau region should include in their Interlaken Itinerary.
This valley is called Lauterbrunnen, and it's a place that has inspired thousands of people because of its unique appearance straight out of a movie!
If you're a fan of J.R.R. Tolkien's Lord of the Rings, Lauterbrunnen should virtually transport you to the Rivendell, the haven of the elves. Why? Because Lauterbrunnen is Tolkien's inspiration for Rivendell. I should say that seeing Lauterbrunnen is one of the highlights of visiting the Jungfrau region.
Lauterbrunnen is more than just a beautiful valley.
It is a town and a commune composed of more quaint and idyllic villages – the epitome of Swiss Countryside. Wengen, Murren, Gimmelwald, Isenfluh, and Stechelberg are the villages aside from Lauterbrunnen. 
There's nothing much to do from these villages. But, they will surely give you a fantastic time exploring, wandering to discover details of the Swiss countryside, and relaxing or even introspecting!
Most importantly, I must mention that the views from these towns, wherever you look, are stunningly phenomenal.
Lauterbrunnen is the closest town to Interlaken. It will only take 20 minutes to reach Lauterbrunnen from Interlaken by train. You can only bring your car up to Lauterbrunnen, Isenfluh, and Stechelberg.
The rest of the villages in Lauterbrunnen, like Wengen, Murren, and Gimmelwald, can only be reached using funiculars and cable cars. If you like, you can hike!
The thing is, the villages aren't the only places worth visiting in Lauterbrunnen from Interlaken. There are waterfalls, viewpoints, revolving restaurants, etc. We'll discuss each of them later.
Read my 10 Reasons to Visit Lauterbrunnen to discover every beautiful thing about Lauterbrunnen. Actually, I have another post, particularly about how you can visit Lauterbrunnen. In the article are Luaterbrunnen itineraries you can use as references or additional suggested ways to see the Jungfrau region.  
Also, check out my suggested itineraries for visiting Lauterbrunnen.
Anyway, including Lauterbrunnen in your Interlaken or Jungfrau Itinerary, stopping by Lauterbrunnen village, and taking a selfie in front of the Staubbach falls is at least the thing you should not forget to do. 
Trummelbach Falls
Lauterbrunnen means "many springs." Another waterfall you can find in Lauterbrunnen is the Trummelbach Falls.
It's one of the best destinations to include in your Interlaken Itinerary, especially if you're visiting the Jungfrau region during the seasons with unpredictable weather.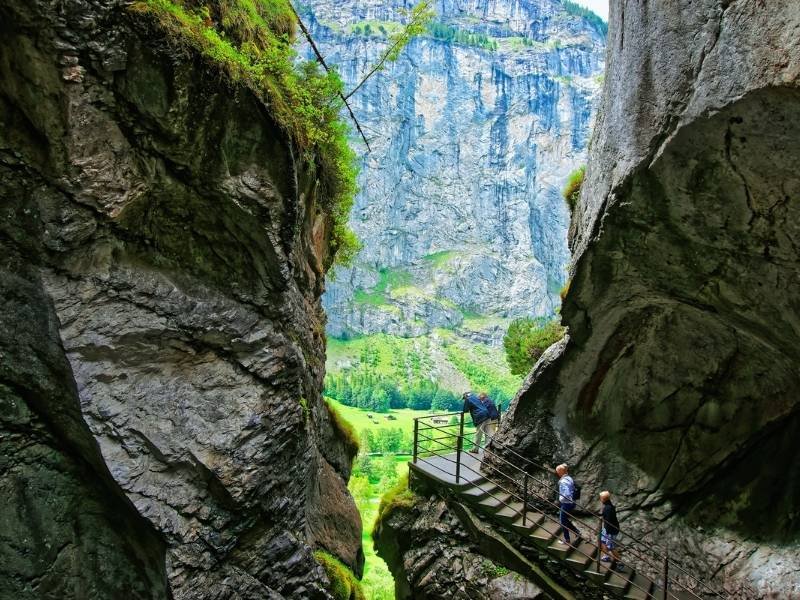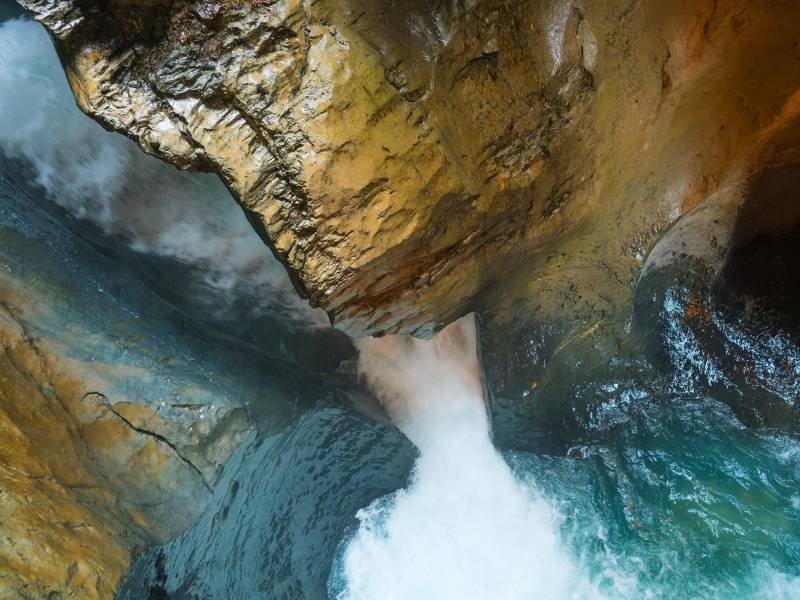 Trummelbach Falls is not an ordinary waterfall. It's Europe's largest underground waterfall, with waters flowing 20,000 liters per second. By visiting Trummelbach falls, you get a chance to trace the spectacular flow of water towards its source.
Trummelbach Falls has 10 levels of viewing platforms that are linked with tunnels, elevators, and hiking paths.
It's an impressive work of engineering, I think. You should not miss the part where there's an opening offering views of Lauterbrunnen valley. 
Visiting Trummelbach Falls from Interlaken is very simple. First, hop on a train to Lauterbrunnen and then catch bus #141 heading to Stechelberg (south). Within 10 minutes, you should arrive at the Trummelbach Falls bus stop. You have to walk for a very few minutes to reach the entrance. 
Trummelbach Falls Visiting Information
Planning to include Trummelbach falls in your Interlaken itinerary?
Be sure to pack warm and waterproof clothing for your visit. The temperature inside is slightly lower, and there are areas where there is spray mist, which can make your clothes wet over a long exposure. Footwear with a good grip is a must.
Schilthorn and Birg
Once-in-a-lifetime experiences await you in the mountains surrounding Lauterbrunnen. One of them lies to the west of Lauterbrunnen, where we can find Schilthorn – the peak made well-known by a James Bond film.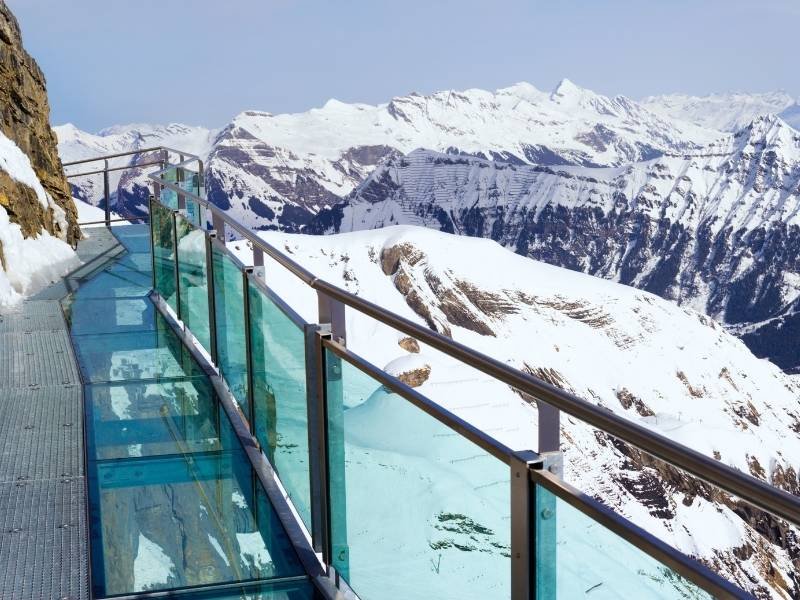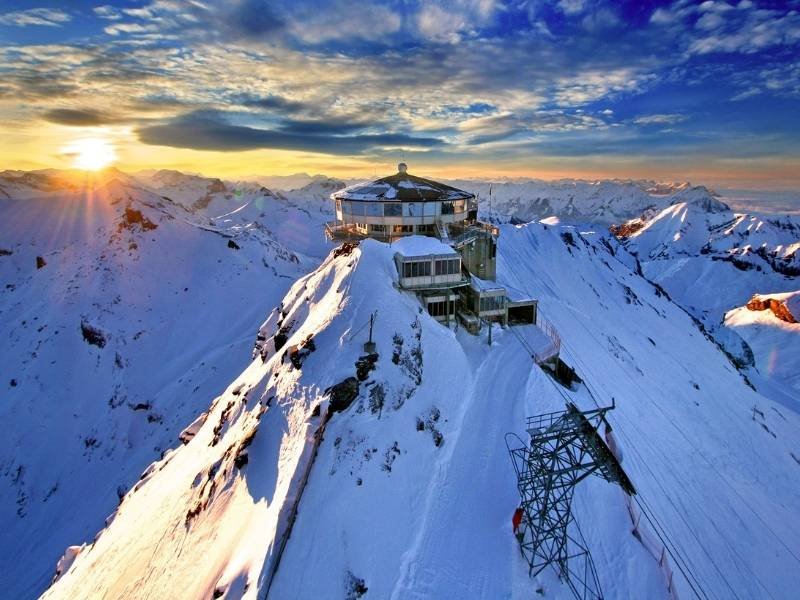 Schilthorn is a must-include in an Interlaken Itinerary for three reasons. The view, the restaurant, and the thrilling mini-adventures. For me, "James Bond" is just a bonus.
Being one of the highest peaks in Bernese Oberland, you are assured of witnessing 360-degree stunning panoramic scenery on Schilthorn.
On a clear sunny day, you should be able to see the majestic snowy peaks of Eiger, Monch, and Jungfrau. If the weather favors you, a sea of clouds may occur – and it should make you feel you're on top of the world!
The journey to the top of Schilthorn starts at Murren, where you can find the cable cars that bring the visitors to the Schilthorn's summit.
However, you may want to have a stop at the cableway's mid-station called Birg. Here you can find the mini-adventures I'm telling you about previously. 
By the way, Birg is also a mountain peak situated a bit lower than Schilthorn.
In Birg, you can find Skyline Walk and Thrill Walk, a platform and a meshed steel path offering dizzying views around and under you. From here, hikes start to Grauseeli, a picturesque lake where you can spot an inverted image of the Jungfrau massif.
You can also start hiking to Grauseeli from Schilthorn. But the main attraction or activity at the summit is Piz Gloria Revolving Restaurant. It is a destination on everybody's travel bucket list, which you should also include in your Interlaken Itinerary.
Piz Gloria completes one revolution in less than an hour. If you dine here, you should be able to see the entire Jungfrau region as you chew your food… while on your table… even if you don't move… even if you don't move your head around!
If the weather favors you, you can spot more than 200 alpine peaks from Piz Gloria. Believe it or not, the Black Forest in Germany and Mont Blanc in France can be seen from Schilthorn, particularly during clear skies.
Maximize your visit to Schilthorn by visiting other attractions like the Bond World (a museum), Skyline view platform, 007 Walk of Fame, and view lounges.   
Schilthorn and Birg Visiting Information
You will need at least six hours to enjoy Schilthorn and Birg. Basically, it will be a day trip from Interlaken. If you finished Schilthorn in half-day, explore the towns below, Gimmelwald and Murren, to fill up your free time.
Speaking of time, you can save time by avoiding falling in lines at the cable car stations if you have a fixed and guaranteed departure time to Schilthorn using Schilthorn Boarding Pass. Check the link for more information.
Jungfraujoch
Like Piz Gloria in Schilthorn, which we discussed previously, Jungfraujoch is another destination in the Jungfrau region unmissable to include in your Interlaken itinerary. It's the ultimate place to see for many several reasons.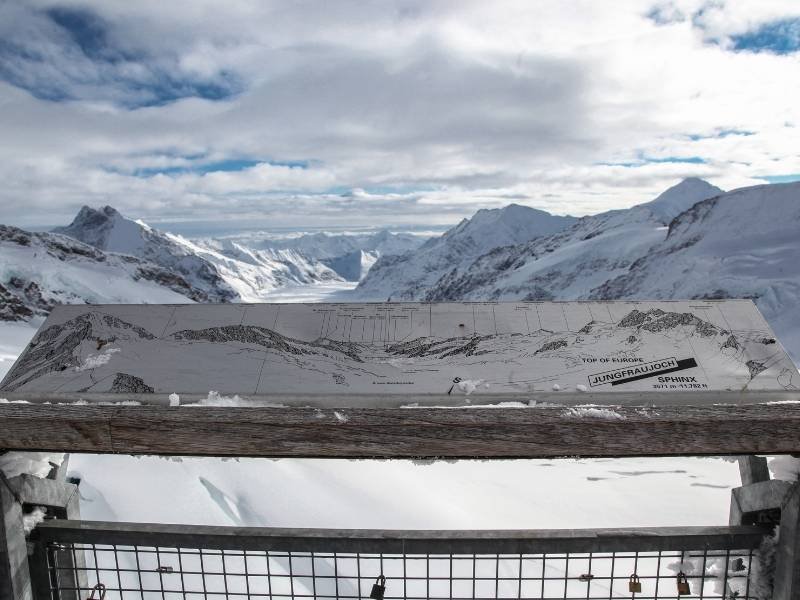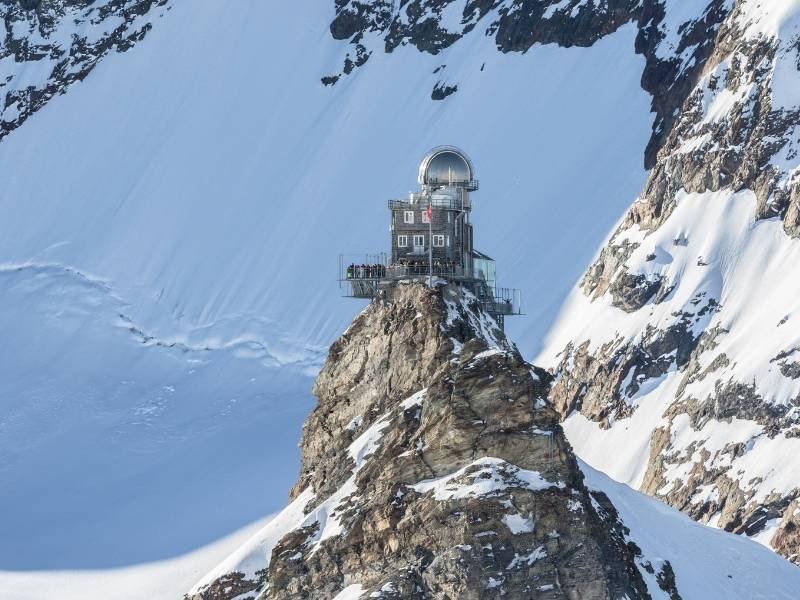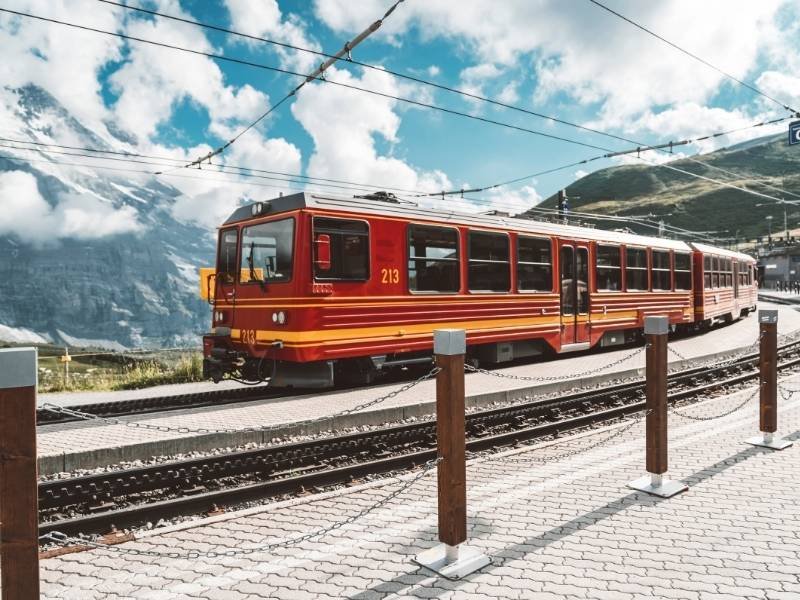 So what's Jungfraujoch, by the way?
Jungfraujoch is the most elevated railway station in the entire Europe. This is why it is also called the "Top of Europe." It is perched at 3,454 meters above sea level, at the saddle of the two 4000-meter high mountains, Monch and Jungfrau.
Among the extraordinary things found in Jungfraujoch, the two most compelling are the Jungfraujoch railway and the Aletsch Glacier. By visiting Jungfraujoch, you give yourself a chance to see the Alps' largest glacier and experience one of the "most marvelous works of engineering." 
I must not forget to mention that it's on Sphinx Observatory, one of the most elevated observatories in the world, where you will behold the Aletsch Glacier.
Actually, you won't only see a glacier from Jungfraujoch but also be able to come inside it!
Jungfraujoch has a tourist attraction called Ice Palace. It's an impressive ice tunnel under a glacier with ice sculptures. The view or "blue-ness" of the appearance of the tunnel is truly breathtaking.
The weather at the 4000-meter elevation can be so unpredictable sometimes.
If the clouds suddenly block the stunning scenery from the viewpoints, Jungfrau Panorama has your back. Inside Jungfrau Panorama, the views outside are virtually shown through screen projections.
There are two ways you can get to Jungfraujoch.
It's either the scenic Jungfraujoch railway or Eiger Express tri-cable Gondola. The fastest way to get to Jungfraujoch is through the cable car that starts in Grindelwald. Both have breathtaking views, but the Jungfraujoch rail should feel more laidback and cozy-classic. 
Whether you choose the train or cable car, you have to do 2 transfers to get to Jungfraujoch coming from Interlaken:
Interlaken – Lauterbrunnen – Kleine Scheidegg (start of Jungfraujoch Railway)
Interlaken – Grindelwald (Eiger Express Cable Car) – Eiger Glacier Station (Jungfraujoch Railway)
Jungfraujoch Visiting Information
As you can see, the fares to Jungfraujoch are costly.
One of the ways you can save money is by joining a group of 10 that gets a 30% discount. If you can't find a group, an alternative is joining group tours which take advantage of the group rates.
I mentioned that Jungfraujoch Railway is an unmissable experience, but I don't recommend that you book round-trip railway tickets. You can save some cash with Eiger Express Cable Car on the other leg of your journey to or from Jungfraujoch. 
There is snow in Jungfraujoch, even during summer. Don't forget to wear warm clothing during your visit!
Grindelwald
If you seek more adventure in the Jungfrau region, Grindelwald is the destination you must include in your Interlaken Itinerary.
Here, exhilarating activities are enjoyed in the most beautiful alpine environment. It's hitting two birds with a stone if you visit!
Grindelwald lies in the eastern portion of the Jungfrau region, situated on its own valley like Lauterbrunnen. Going to Grindelwald is only a 30-minute drive from Interlaken and a 45-minute train ride from Interlaken Ost.
Read my article, 20 Things to Do in Grindelwald, to learn about every tourist attraction and adventure you can take in Grindelwald. You can also find tips and visiting information for each destination in Grindelwald from that post.
The thing is, numerous activities are available in Grindelwald.
You can start at Heimatmuseum Grindelwald, where you can find stories of alpinists who have climbed the mighty north face of Eiger. Also, the museum contains not only the tools these alpinists have used but also objects used by the locals in their alpine life.
Heimatmuseum Grindelwald is a good place to visit when there's unpleasant weather. However, if the sky looks great and sunny, Grindelwald-First, Pfingstegg, and the Glacier Canyon are the must-visit destinations. 
In fact, you can go directly to First immediately after you arrive from Interlaken.
The cable car valley station leading to First is just a 10-minute walk from Grindelwald train station. By the way, First is a 2184-meter high minor summit of Schwarzhorn, where most fun in Grindelwald happens.
Grindelwald-First cable car has three other stations aside from the valley station. From lowest to highest: Bort, Schreckfeld, and First – each station has fun activities available to try for both young and adults. 
The fun adventure awaits you in these stations in Grindelwald-First: Trottibike, First-Glider, Mountain Cart, First-Flieger, and First-Cliff Walk.
Learn more about these activities from my article about Grindelwald.
An alternative destination to Grindelwald-First is Pfingstegg.
It is located at the east of Grindelwald, and it has a beautiful overlooking view of the town. Like First, Pfingstegg can be reached using a cable car, bringing you to the site from the town in less than 5 minutes.
The two main tourist attractions from Pfingstegg are the Toboggan Run and the "Fly Line." Pfingstegg also has a playground that kids will enjoy!
The view in Pfingstegg is idyllic, too, by the way.
If you need to see a unique view, not mountains or lakes, the 1-kilometer gorge Grindelwald Glacier Canyon is just the place to visit. Stroll in the middle of 300-meter tall rock walls, feel the raging waters of the Lutschine river, and marvel at the marvelous rock galleries carved by the force of nature.
The Canyon Swing is the real deal in going to Grindelwald Glacier Canyon.
Here, adventurers have to jump from a 90-meter high platform to feel weightlessness for split seconds and have their adrenaline bursting into their bloodstreams as they swing at 120 kilometers per second. How exhilarating is that!?
Again, if you want to learn more about these awesome adventurous activities I mentioned, go and read my blog post about Grindelwald.
Bachalpsee
Aside from Lake Thun, Lake Brienz, and Grauseeli, Bachalpsee is another beautiful alpine lake recommended to be included in your Interlaken Itinerary. Believe it or not, Bachalpsee was picked by Google to be the background of their mountain Gmail theme. 
During winter, it's frozen. It appears just like a plain white patch of snow and ice. But, once Bachalpsee thaws, it becomes a photographer's paradise because of its otherworldly mirror-like appearance. Yet, of course, it's weather-permitting.
Situated at 2,265 meters above sea level, you can easily photograph the peaks of the Jungfrau massif with an inverted image on its surface. It has two parts, separated by a natural dam. If you want to take photos, I suggest going to Bachalpsee's smaller portion.
Some visitors find Bachalpsee a good picnic ground for lunch after having fun in Grindelwald-First. Bachalpsee is just an hour of a trek away from First and one of the stops for other travelers hiking First-Schynige Platte and vice versa.
Bachalpsee Visiting Information
Schynige Platte
Schynige Platte is a mountain ridge in the Schwarzhorn mountain group that is considered one of the classic hikes in the Jungfrau region.
Include Schynige Platte on your Interlaken itinerary to see the breathtaking overlooking views of Lake Brienz and Schwarze Lütschine valley – the two places that ridge separates.
Honestly, Schynige Platte offers more than just beautiful hikes and breathtaking scenery.
Visiting Schynige Platte lets you experience Swiss Tradition and see more than 600 kinds of alpine flowers, including Edelweiss. Edelweiss is a white flower that's a symbol of purity, innocence, and rugged individualism. 
The fun of visiting Schynige Platte starts on the way to Schynige Platte on its historic 19th-century railway. This railway has been operating for more than 125 years now. Nostalgia does not actually come from the numbers but from the actual experience!
The nostalgic experience in Schynige Platte starts at Wilderswil, a town south of Interlaken.
In Wilderswil, you'll find the trains straight out of the Belle Epoque era. And those wooden train carriages – you would not believe that they can carry people up to Schynige Platte through an inclined railway.
The journey to the top of Schynige Platte is slow yet scenic.
It's only a 7-kilometer route, but it takes nearly an hour to reach Schynige Platte from Wilderswil. By the way, 4 times a year, steam locomotives are available for a ride to Schynige Platte – see the schedule from jungfrau.ch.
Planning to visit Schynige Platte during the summer?
You definitely should! Because every summer, there's a free alphorn performance in Schynige Platte. You can watch one in front of the hotel from 11:00 am to 2:00 pm.
And about the hike… There are several hiking trails you can go for trekking in Schynige Platte. But according to my favorite Family Travel blog, fullsuitcase.com, there are four best hikes you can try:
Daube viewpoint hike (2.4 kilometers, "easy" difficulty)
Oberberghorn panorama trail (3 kilometers, "easy to moderate" difficulty)
Louchernhorn panorama trail (6.1 kilometers, "moderate" difficulty)
Schynige Platte-First hike (16 kilometers, "moderate to hard" difficulty)
From these hiking trails, you can expect to see unique views of Eiger, Monch, and Jungfrau, Lake Thun and Brienz, Rothorn, and Mannlichen.
Jurga from fullsuitcase.com described each hike in Schynige Platte thoroughly, and you should find her post very helpful if you want to do trekking. Alternatively, you can use the printable brochure below (you can also get one from the tourism office in Interlaken) as your guide for your hiking.
Schynige Platte Visiting Information
Mannlichen-Kleine Scheidegg
Mannlichen is the mountain peak at the heart of the Jungfrau region.
For me, Mannlichen has the best views of all summits you can visit in the area. This is why Mannlichen should be included in your Interlaken itinerary. I'll explain as we go along.
So, what is it all about?
Simply, Mannlichen is a 2,343-meter high mountain peak between Grindelwald and Lauterbrunnen that overlooks the point where the two Lutschine valleys converge. At the top, stunning 360-views of the Jungfrau Region await.
On a clear sunny day, you get unforgettable panoramic views of the Jungfrau region from Mannlichen. It starts from Grindelwald to Interlaken, Lake Thun to the jaw-dropping Lauterbrunnen valley, Jungfrau, Monch, and Eiger back to Grindelwald.
Everywhere you look, it's heaven.
To get to Mannlichen, you must get to either Grindelwald or Wengen in Lauterbrunnen from Interlaken. In these towns, you can find cable cars to bring you directly to Mannlichen.
Hiking to Mannlichen from Wengen is doable too, but I would not suggest that as the hiking trails are steep.
Most travelers hike down to Kleine Scheidegg after visiting Mannlichen. The hike is done on a panoramic trail, with idyllic alpine views with Eiger's north face in the backdrop. 
Others can finish hiking Mannlichen-Kleine Scheidegg panoramic trail in an hour. But, with stops for a break and small moments to appreciate the beautiful surroundings, you could be slowed to finish the hike in an hour and a half.
You shall find small alpine lakes and more hiking trails once you arrive in Kleine Scheidegg. You can hike to Lauberhorn (another peak) or Fallbodensee after. Either can be reached within an hour of a hike from Kleine Scheidegg.
Did you know that Mannlichen-Kleine Scheidegg is the largest ski resort in the Jungfrau region or Bernese Oberland? It's definitely one to include in your Interlaken Itinerary during winter. 
Kleine Scheidegg has a train station to bring you back to the Wengen or Grindelwald after hiking. Remember that Kleine Scheidegg is the start of the Jungfraujoch railway. If you can make enough time, you can go ahead to the Jungfraujoch!
Visiting Information Mannlichen-Kleine Scheidegg
*See all rates from maennlichen.ch. Get discounts using Swiss Travel Pass or have unlimited rides using Jungfrau Travel Pass
Lake Brienz
The last place (but not the least) you must include in your Interlaken itinerary is Lake Brienz and the towns around it. Lake Brienz's turquoise blue-green mirror-like water, surrounded by mountains and idyllic villages, is an image of a paradise unmissable to see when visiting Interlaken. 
There are many ways you can enjoy Lake Brienz.
The list starts with simple boat tours, then the charming towns and natural attractions on the lake. There is also a nostalgic train ride awaiting you here (Brienz-Rothorn Bahn) – but I don't recommend it as the experience should be just the same as the nostalgic train to Schynige-Platte.
If you're going to visit a village in Brienz, the best options are the picturesque Iseltwald and the quaint Brienz. You can get to those villages using land public transportation, but I think it's better to ride on a boat to see panoramic views from the lake.
There are only a few things to do in the towns around Lake Brienz.
Have a leisurely stroll, discover little things, reflect, or maybe, photograph some idyllic spots. If you are into photography, Iseltwald is the place to be.
Perched on a peninsula in the middle of Lake Brienz, Iseltwald should offer you unique scenery that can be both magical and serene. The Seeburg Palace at the far end of the Iseltwald peninsula is the compelling factor.
Rent a boat to get closer to the palace and photograph it with its image reflected by the milky-blue waters of Lake Brienz.
On the other hand, Brienz is a town epitome of an alpine settlement. You would want to come here as every house you'll see is a Swiss chalet. It's like a theme park, but it's the legitimate one. 
You'll have fun even in a simple leisurely stroll, passing flower-decked windows, shops selling authentic local products and souvenirs, etc. Perhaps, Brienz will make you take a lot of photos too!
Oh, and don't miss the cozy cafes and shops with a view of Lake Brienz – these are spots to satisfy your sight and tummy.
A short boat ride from these towns is a majestic waterfall called Giessbach Falls. Like Trummelbach Falls, this waterfall is somewhat unique and like no other. Believe it or not, Giessbach Falls has 14-stages, and it also has a massive 500-meter height.
From Lake Brienz, Giessbach looks gorgeous. It draws white lines, dividing the thick green forest as it flows down to the lake. 
Giessbach Falls has hiking trails and bridges you can explore to feel nature's incredible power. Because the waterfall is long and has several stages, you should be able to hear the soothing rush of water downstream. Some parts you can pass underneath the cascade – it's also Giessbach Falls' vantage point of Lake Brienz.
If you want to learn more about Lake Brienz, how you can get to Brienz or Iseltwald, and visit Giessbach Falls, read my article 10 Reasons to visit Interlaken.
How Many Days In Interlaken
If you ask me how many days to stay in Interlaken to see the bests of the Jungfrau Region, I recommend 1 week or seven days. That includes a tour of Lake Thun, Lauterbrunnen, Grindelwald, and Lake Brienz and one hiking trip. However, if you have plans to see the rest of Switzerland or have limited time in the country, 3 days in Interlaken should be enough.
Actually, it depends on your preferences. Based on the list of things to do in Interlaken and the amount of time spent on each destination, how long do you think you will stay in Interlaken? 
I'll explain why 7 days are perfect for a stay in Interlaken and 3 days are enough if you have a shorter trip to Switzerland by answering the questions below:
Are 3 days enough in Interlaken or Jungfrau Region?
Three days are enough in Interlaken to see the highlights of the Jungfrau region, which for me, can be classified into three: (1) bucket list scenic destination, (2) culture, and (3) adventure. A visit to Jungfraujoch, Schynige Platte + Lake Brienz, and Grindelwald is doable within 3 days.
Later in this article, you will find the itineraries you can use as a reference for a 3-day visit to Interlaken or Jungfrau Region.
Anyhow… 
From the list of things to do in Interlaken I shared previously, we can clearly see that the Jungfrau region is undoubtedly packed with exciting activities and beautiful places to visit. Though I have recommended destinations, the highlights of the Jungfrau region, you are always free to choose to go to places you really want to see. 
Aside from the first group of places I recommended earlier for a 3-day stay in Interlaken/Jungfraujoch, below are my other suggestions to fit different travel preferences.
3-day Interlaken Itinerary: Unique Mountain Top Experiences
As you may have discovered from the list of things to do in Interlaken, the mountain peaks in the Jungfrau region are not ordinary. From the top, you not only see stunning views but rare wonders and impressive works of engineering. 
One of the ways you can spend 3 days in Interlaken or in the Jungfrau region is to get to these mountain peaks and marvel at the most incredible works of man and nature. In this case, I suggest you include Jungfraujoch, Schilthorn, Harder Kulm, and Mannlichen. 
3-day Interlaken Itinerary: Lake Tours
Mountain peaks in the Jungfrau region are stunning, as are the lakes. If you're into a relaxing trip or vacation, Lake Thun and Lake Brienz, the lakes sandwiching Interlaken, will probably help you accomplish your refreshing getaway. 
How? Well, first of all, there are no tiring hikes involved. Then, most of the time, you will be just sightseeing in the boat while drinking beers or cocktails, with your backs laid on your comforting seats. There will be no long commute on trains or cable car rides.
So, how can you spend 3-days in Interlaken or Jungfrau region visiting mostly the lakes? Check these out:
Day 1: Cruising in Lake Thun
Day 2: Cruising in Lake Brienz

Morning: Iseltwald
Afternoon: Brienz

Day 3: Sightseeing the lakes

Morning: Harder Kulm to see the stunning overlooking views of the two lakes you visited
Afternoon: Schynige Platte to see another breathtaking view of Interlaken and the lakes
3-day Interlaken Itinerary: Discovering the Jungfrau Region's Culture
Jungfrau region may be known for breathtaking scenery and adventures, but did you know that there's a lot else you can discover from this place too? Like the culture and the daily lives of the people living in the region. Believe me, if you have an interest, they can be the most memorable experience you may get from spending days in Interlaken/Jungfrau region.
If you're interested, I suggest that you use this 3-day Interlaken Itinerary below:
Day 1

Morning until lunch: Schynige Platte. Ride the nostalgic train and watch the alphorn performance in front of the hotel.
Afternoon: Grindelwald. Visit the museum to learn about the alpinists and the things used by the locals in their daily lives.

Day 2: Lake Brienz

Morning: Iseltwald
Afternoon: Brienz

Day 3: Lauterbrunnen, Murren, Gimmelwald. 
Learn more about Iseltwald and Brienz from my article 10 Reasons to Visit Interlaken. Then, 10 Reasons to Visit Lauterbrunnen for Murren and Grindelwald.
3-day Interlaken Itinerary: All the Instagrammable Spots
Jungfrau region is packed with beautiful Instagrammable scenery to fill your digital storage with photos and videos. I'm positive that a 3-day photography trip to Interlaken can provide a month-long Insta feed of new pictures and videos every day.
Based on the accounts and photos I found on Instagram, the following places in the Jungfrau region should have the most Instagrammable spots. I arranged them into an itinerary, each destination closest to another:
3-day Interlaken Itinerary: Adventure Time
Interlaken is the adventure capital of Switzerland. One of the reasons you'll come here is to have fun and feel some adrenaline rush, right? If that is the case, then here's what I can suggest for your 3-day stay in Interlaken or Jungfrau region:
Day 1

Morning: Watersports in Lake Thun or Lake Brienz
Afternoon: Paragliding from mount Niesen

Day 2: 

Morning: Canyon Swing in Grindelwald Glacier Canyon
Afternoon: Grindelwald First-Trottibike, First-Glider, First-Flieger, Mountain Cart, Cliff-Walk.
Night: Stay in Berggasthaus First to catch the sunrise in Bachalpsee (next day)

Day 3:
Every suggested 3-day Interlaken itinerary has a home base in Interlaken aside from the adventure itinerary. You have to book accommodation in Berggasthaus First for a night to start hiking in Schynige Platte very early the next day. The sunrise in Bachalpsee should be spectacular.
Are 7 days enough in Interlaken or Jungfrau Region?
7 days is the perfect length of a visit to Interlaken and the Jungfrau region. Within 7 days, you have enough time to see the best destinations around Interlaken and have some hiking activities if desired. 
However, if you plan to travel to Switzerland for a week or two, I do not recommend staying for 7 days in the Jungfrau region. Yes, it's worth a visit, but so are the other parts of Switzerland. 
Maximize your visit to the country by visiting more places. Switzerland isn't that big, and traveling from one beautiful destination to another should not take you a half-a-day or more. You must not miss Lucerne and Zermatt as well!
Going back…
There are many ways you can explore the Jungfrau region in seven days. Keep on reading as the last part of this article will tackle how you can spend 7 days in the Jungfrau region, Interlaken being the home base.
Lastly, …
Is 1 day enough in Interlaken or Jungfrau Region?
Definitely, one day is not enough to see the bests of the Jungfrau region. However, if you're only visiting Switzerland for less than a week, a day trip to Interlaken is definitely unmissable. One day is only enough to see one of the region's highlight destinations. 
Interlaken Itinerary: How to Spend Days in Jungfrau Region
Previously we discussed the different things to do in Interlaken and how long you should stay in the Jungfrau region. With the information given, we can now create an Interlaken Itinerary we can use in exploring the Jungfrau region.
However, you do not have to exert effort to do your own Interlaken Itinerary, as I have already prepared one. The best part? Whether you're planning to have a day trip (1 day), a weekend trip (3 days), or a week-long trip (7 days) to Interlaken, the itineraries I made should help.
Frankly, the itineraries below should still be helpful even if you only plan to stay for 2, 4, 5, or 6 days (and not 1, 3, or 7).
Each day's itinerary in the list is totally independent of the next and previous day. It means that the itineraries for each day are not in sequence (don't be confused with the numbers). Example:
Day 1 is not necessarily the first you should do.
You can swap the position of Day 1 with Day 2 or Day 3 on the list. Same as Day 6 or Day 7 – you can switch their positions.
Also, instead of doing Day 1, Day 2, Day 3, and so on, you can try Day 4, Day 2, and Day 1…
I made this itinerary as flexible as possible by making Interlaken the home base for the entirety of your trip to the Jungfrau region. 
Day 1 in Interlaken
In this Interlaken itinerary, you visit the destinations in Lake Thun (Saint Beatus Caves and Oberhofen Castle) after sightseeing in Harder Kulm. It's simple to get to these places – they are connected with only one bus route. However, I recommend riding the ferry for the return trip to Interlaken for a cruise experience in Lake Thun.
Day 2 in Interlaken
On this day, you visit the western part of Lauterbrunnen valley from Interlaken. Take the Lauterbrunnen-Grutschalp-Murren route to reach the cable car station to Schilthorn much faster. Avail Schilthorn boarding pass to avoid the lines in the cable car station.
You will be spending the whole day in Schilthorn and Birg. Having lunch in the revolving restaurant (Piz Gloria) is recommended!
After spending the day in the mountains, and if you still have time, you may visit the idyllic villages of Murren and Gimmelwald below Schilthorn. Take the Gimmelwald-Stechelberg-Lauterbrunnen route for quick sightseeing along Lauterbrunnen valley in a bus.
Day 3 in Interlaken
For this day, we aim to see the world's most beautiful valley, Lauterbrunnen. Explore the village and take a selfie with Staubbach falls in the backdrop. Trummelbach is very near to Lauterbrunnen, so it's the next destination.
In the afternoon, we try to witness the spectacular sunset over Lake Thun from the summit of Mount Niesen. From Lauterbrunnen, we go back to Interlaken and then proceed to Mulenen to get to the peak of Mount Niesen.
Note: The sunset depends on the season. Adjust the hours accordingly.
Day 4 in Interlaken
We allocate the entire day to visiting the ultimate destination in the Jungfrau region, which is the Jungfraujoch. There are several things to do and attractions in Jungfraujoch, and they should take more than half a day to finish.
At the same time, the travel time from Interlaken to Jungfraujoch and back takes more than three hours. That's why one day should be allocated to visiting Jungfraujoch from Interlaken. I suggest using the cable car and Jungfraujoch railway for the round trip.
Day 5 in Interlaken
For this day, you traverse the heart of the Jungfrau region, Mannlichen, from Wengen to Grindelwald. The morning will be spent in Wengen, Mannlichen, and Kleine Scheidegg. Then, it's adventure time in Grindelwald-First in the afternoon.
There are restaurants and beer gardens in Mannlichen and Kleine Scheidegg. You may want to eat lunch there before going to Grindelwald.
Day 6 in Interlaken
You should not miss one of the best classic hikes in the Jungfrau region. For this day, try hiking the strenuous yet absolutely scenic Schynige Platte-First hike. The hiking trail includes the otherworldly-looking Bachalpsee.
The Schynige Platte-First trail usually takes 7 to 8 hours to finish. Picture taking and small breaks are already considered in that estimation. Ultimately, if you start in Wilderswil, the most important thing is you catch the last cable car descent from First to Grindelwald.
Day 7 in Interlaken
I recommend that a tour in Lake Brienz be the last day of your Interlaken itinerary since it's the "relaxation" part of a visit to the Jungfrau region. With the serene views of Lake Brienz and leisurely activities available to do here, a tour of the lake should help you recover from exhaustion after days of adventure/hiking.
Book a cruise and relax in the cozy cafes with views of the lake!
Helpful Links For Your Trip to Interlaken/Jungfrau Region
Make your visit to Interlaken and Jungfrau region convenient and easy, and save money using the following:
Save it on Pinterest.