Lauterbrunnen Switzerland: 10 Best Reasons Why Must Visit
If you haven't seen a paradise before, in Lauterbrunnen, you will. It Lauterbrunnen is a piece of heaven on earth, a place that inspired many people, including the author of The Lord of The Rings, J.R.R. Tolkien. In his book, we can see the illustration of a place called Rivendell, the home of the elves, manifesting significant similarities with Lauterbrunnen.
Lauterbrunnen, in a nutshell, is an idyllic town, picturesque valley, and a municipality encompassing more charming towns. Three to four thousand-meter-high peaks surround Lauterbrunnen from east to south, to west. That includes the famous trio: Eiger, Monch, and Jungfrau.
These you just read are just the very tip of the iceberg of why Lauterbrunnen is so compelling to visit. In this post, you will learn more reasons why you will go to Lauterbrunnen. They also serve as your list of things to do in Lauterbrunnen to create meaningful and fulfilling travel. 
Affiliate Disclaimer: This post contains affiliate links. It means I recommend products and services which I think can help you make a successful and memorable trip. I may receive a tiny commission if you purchase them with no additional cost to you. These will support me to maintain, create more articles and fulfill the mission of this blog.
After you discover the reasons why visit Lauterbrunnen, you can find some practical information about visiting Lauterbrunnen. Those shall help you plan your trip and make an itinerary.
Facts and information (i.e., opening hours, etc.) are based on the official website of Lauterbrunnen unless stated.
Before we dive deep down to the 10 reasons you will visit Lauterbrunnen, let's try to know first what makes Lauterbrunnen unique. Thus, a place to be added to your bucket list.
Lauterbrunnen is Special
What's so special about Lauterbrunnen? Lauterbrunnen is a place like no other, particularly its angelic landscape that truly awe-inspires. Lauterbrunnen's picturesque town with snow-capped mountains in the background and sitting by a graceful 200-meter waterfall is the most iconic of all. There is just endless natural beauty to admire everywhere you look, from the meadows to Jungfrau, the list goes on…
I have looked for similar places everywhere numerous times now, but nothing is identical to Lauterbrunnen. For me, because of that, we can consider it also as a destination of a lifetime – a place more than just worth a visit.
Need help in planning your trip to Switzerland? I prepared a 3-day, 7-day, 10-day, 14-day Switzerland Itinerary to guide you for your trip. In that post, I discussed in detail each destination to visit (things to do, how long to stay, map, and other tips). Check it out!
Just stare at the photo above for a few seconds. Honestly, it's a place that looks really like a fantasy, isn't it? It's not hard to understand why J.R.R. Tolkien has created such a beautiful fantasy novel.
As of now, all these that I've said may still seem trivial to convince anyone to visit Lauterbrunnen. So, to better understand what awaits in Lauterbrunnen, it's now time to check the 10 reasons you will visit Lauterbrunnen! Let's go!
Reasons To Visit Lauterbrunnen
In this section, I wrote all the most beautiful experiences that you can have in Lauterbrunnen. Here is the summary of the 10 reasons to visit Lauterbrunnen:
The Picturesque Lauterbrunnen Town
Lauterbrunnen's Waterfalls
Quaint Villages and Towns in Lauterbrunnen Valley
Endless Scenic Hikes in Lauterbrunnen
Experience The Idyllic Countryside in Lauterbrunnen
Three Peaks of Lauterbrunnen
Spot in Lauterbrunnen Seen on Movies
Lauterbrunnen's Bucket List Scenic Train Rides
Incredible Outdoor Sports
Lauterbrunnen's Monk View
Reason #1: The Picturesque Lauterbrunnen Town
Most of us have seen it before on social media, messages sent by our friends, the town with flower-decorated chalets with a massive waterfall cascading behind. When I first saw it, I just could not believe it!
For someone who grew up in a town with nothing much beautiful to see and all are asphalt, concrete, and steel, Lauterbrunnen is a place straight out of a fairytale. That's why it's a reason why visit Lauterbrunnen – it just satisfies our cravings to see awe-filling, inner-peace-indulging things even we're in a town.
Imagine, if there's this beauty in every city, every town, or every village in the world, no one will be depressed, I guess.
When I, who is a traveler by heart, discovered Lauterbrunnen, unexplainable wanderlust came to me. Like, I was telling myself, this is something I need to visit before I die.
Strolling around the town can already feed your wanderlust, especially when you get into the best vantage points. Worry not where to find one. Because here is the exact location of the most picturesque spot in Lauterbrunnen town:
View from Fuhren Street's Red Chair
The Fuhren red chair is the vantage point in Lauterbrunnen, where you shall have Lauterbrunnen's iconic view of its church with Staubbach Waterfall, Breithorn, and Grosshorn in the background.
To go to Fuhren street's red chair viewpoint, head first to the Tourism Office. Then you can follow these steps:
Outside the Lauterbrunnen's Tourism Office, walk in the direction of the Staubbach Waterfall along Auf der Fuhren.
After walking for around 3 minutes, you shall see spherical stone sculptures in front of the hotel Hotelschützen. 
There is a street (Fuhren) beside the sculptures. Proceed on it. Within a few steps, you shall see a red chair with a small hiking trail nearby. There you shall see the view.
Suggestion: Try to catch the early morning view of the town. Sometimes it could get misty, but the scene could be really spectacular during the first light hitting the top of Staubbach Waterfall, making it shine and glow.
Lauterbrunnen Town Scenic Spot
(Google Maps Link)
Map Coordinates
Fuhren Red Chair
46.594842, 7.908374
Lauterbrunnen's Best Vantage Point
Reason #2: Lauterbrunnen's Waterfalls
Staubbach Waterfall is just one of the 72 waterfalls you can find in Lauterbrunnen Valley. Actually, it's where Lauterbrunnen's name is based. Its name means "many springs," as the locals explained.
You can spot waterfalls randomly along the length of Lauterbrunnen Valley. However, most of them are concentrated at the southernmost end of the valley, which you can only reach by hiking. Have a look at this 360-image; you can swipe left and right to see more waterfalls.
Can you see that white cascade dividing the forest into two? It's pretty spectacular, right? This is why the waterfalls in Lauterbrunnen Valley are a reason to visit. Moreover, just imagine the sound of these waterfalls' water crushing down the mountains' feet. It should feel soothing, indeed.
Out of the 72 waterfalls of Lauterbrunnen, there are three that people visit the most (based on Google Maps reviews): 
Staubbach Falls
Trümmelbach
Mürrenbachfall
Staubbach Falls
Staubbach Falls is the waterfall located southwest of the town of Lauterbrunnen, easily spotted by visitors wandering everywhere in town. Its water dropping from a 297-meter-high cliff (974 feet) just gracefully bless Lauterbrunnen with a gorgeous view.
You can see the full beauty of Staubbach Falls during late spring and summer when it is supplied with an immense amount of water coming from the melting ice in the mountains. The water strikes hardly on numerous rocks as it drops off the cliff during that time, breaking itself into smaller particles. This creates a cloud of liquid dust that sways with the breeze and spectacularly glows when hit by sunlight.
It's very easy to visit Staubbach Falls. When you're in Lauterbrunnen, just head to the tourism office. Follow the road south. After walking for 10 minutes, you must have arrived at the foot of Staubbach Falls.
Trümmelbach Falls
Not all waterfalls in Lauterbrunnen are directly seen from the fields. Trümmelbach, an underground waterfall located 2.8 kilometers south of the town, is another spectacle for you to discover. It also holds the title of Europe's largest subterranean waterfall – a reason why visit Lauterbrunnen.
To get to Trümmelbach falls, you can either hike for 40 minutes from the town or hop on bus #141, which can take you to the falls' entrance in just 10 minutes. It is recommended to bring rain jacket as it will be cold and wet in the falls' viewing platforms.
At the Trümmelbach falls, you will see 20,000 liters of water cascading per second straight from the melting glaciers in Eiger, Monch, and Jungfrau. The tremendous amount of water crashes to the rocks, creating thrilling thundering sounds that manifest the power of nature.
Trümmelbach waterfall has 10 viewing platforms connected by tunnels, stairs, and lifts. Each has a different view showing the creativity of nature from the eroded rocks. Some parts are open, serving as a scenic lookout to the valley.
Practical information in visiting Trümmelbach:
| Months | Opening Hours |
| --- | --- |
| Early April – November | 9:00 a.m. – 5:00 p.m. |
| July – August | 8:30 a.m. – 6:00 p.m. |
Trümmelbach Opening Hours
| Visitor | Entry Fee |
| --- | --- |
| Adult | 12 CHF |
| Children | 5 CHF |
| Toddlers (4 yrs and below) | Not allowed |
| Pets | Not allowed |
Trümmelbach Entry Fee
Please always check the official website of the Trummelbach falls for announcements.
Mürrenbachfall
Going further 5 kilometers south of the town of Lauterbrunnen, we arrive at the small village of Stechelberg. It is here we can directly see Mürrenbachfall, the highest waterfall in Switzerland.
Mürrenbachfall is a 417-meter-high waterfall with 5 cascades that breaks the falling water wider than its mouth above each step. The cascade creates fine, thin curtain-like water flow, seen mainly after rain or sometime during early spring.
Again you have two options to go to Stechelberg from Lauterbrunnen to see Mürrenbachfall. You can either hike for an hour and 15 minutes or hop on bus #141, which can take you to the village in 15 minutes.
If you will be coming from Trümmelbach falls, hiking to Stechelberg will take you 30 minutes. You can also ride bus #141 to reach Stechelberg from Trümmelbach much faster at 6 minutes.
Reason #3: Quaint Villages and Towns in Lauterbrunnen Valley
Lauterbrunnen and Stechelberg aren't the only settlements you can visit in Lauterbrunnen Valley. But unlike Lauterbrunnen and Stechelberg, these other villages are perched above the valley, forming a balcony overlooking the first two mentioned places.
Their breathtaking locations will make you even more excited to visit them. You will also love them because almost all of these villages are car-free. Expect more immaculate alpine sceneries and more fascinating mountain culture – all to make you forget all the worries and stress you acquired from the city.
For the people who have visited these places, and for me, they are the epitome of heaven's beauty that transcended on earth. Here are villages and hamlets above Lauterbrunnen Valley:
Mürren village
Gimmelwald village
Wengen village
Hamlet of Isenfluh
Lauterbrunnen, Gimmelwald, Wengen are just three of the adventure-filled, idyllic, and scenic towns in the Swiss Alps. If you plan to stay in Switzerland for longer, you should also visit other towns e.g. Interlaken, Grindelwald, Kandersteg, Zermatt, and Gruyeres. Click the name of the towns to see if they are worth a visit too.
Let's start talking about these places in Mürren, the car-free village above Stechelberg.
Lauterbrunnen's Village of Mürren
Perched on a clifftop 1638 meters high, Murren, home to 500 people, is considered the highest village you can visit in all of Lauterbrunnen valley. It acts as a breathtaking balcony of the whole valley, giving an expansive view from north to south and from the Weisse Lütschine river below to the peaks of Eiger, Monch, and Jungfrau above.
If you are afraid of heights, it's time to finally conquer it in Murren by going to the easter part of the village in these coordinates (46.562067, 7.897215). There you can find Hotel Alpina, where you can have a look at the almost-90-degree cliff wall you are standing on.
You can even take the experience further with Thrill Walk Birg, located above Murren. In Thrill Walk Birg, you will walk over a mesh bridge where you can clearly see your feet above a dizzying elevation. After you make it, you will no longer fear the heights!
Birg, by the way, is an observation deck directly connected to Murren by a cable car. It is a good viewpoint for the trio Jungfrau, Monch, and Eiger on the opposite side of the valley. Here's the view you can see in Birg:
Stechelberg and Murren are linked with a cable car service with a stop on Murren's neighboring village, Gimmelwald.
Lauterbrunnen's Village of Gimmelwald
Gimmelwald is a small peaceful village south of Murren, home to hundred people. It is one of the most preserved mountain farming villages in the Alps and the most idyllic among settlements in the Lauterbrunnen valley.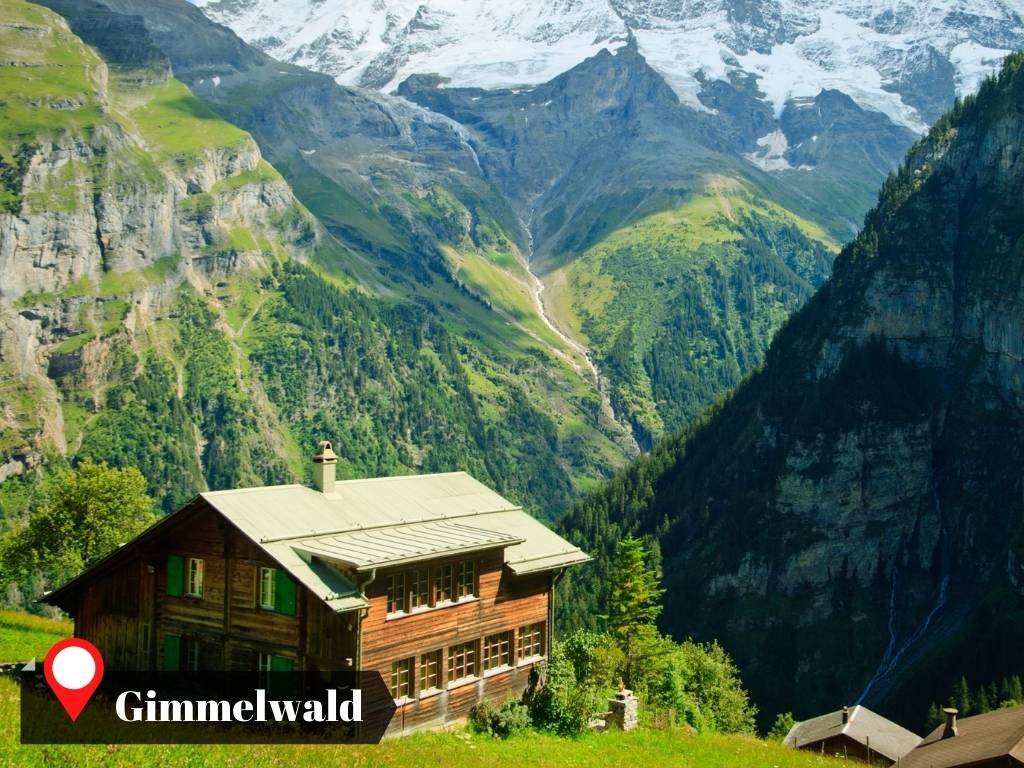 Walking in Gimmelwald, all that you will have is a distraction from the anxieties in life. The sound of several waterfalls and the birds chirping, and sometimes the chimes of the cattle's bell are the only things you would hear.
Complete the rural experience in Gimmelwald by tasting the local delicacies like the alpine cheese and alpine yogurt from the local cheese shack and Esther's Guesthouse. These delights came fresh directly from local farms. Expect one of the bests!
Most importantly, if you are the reflective kind of person or you just want to introspect, Gimmelwald is the place to be. With the view shown below and because fewer tourists visit Gimmelwald, you can definitely have the most productive retreat you might be looking for.
It's kinda hard to describe where exactly this viewpoint in Gimmelwald is. But you can always check in Google Maps the exact location using these coordinates: 46.544869082036165, 7.888511472303715.
We've reached the southernmost village of the Lauterbrunnen valley so let's try checking what's on the north: Wengen.
Lauterbrunnen's Village of Wengen
Wengen is a car-free village that has a population double of Murren and Gimmelwald combined. Perched on a natural balcony 400 meters above the valley's entrance, Wengen always gets the impression of being the best vantage point in photographing the entire Lauterbrunnen valley.
The beautiful view of Lauterbrunnen's landscape seen from Wengen is complemented with the quaint alpine timber houses and chalets spread in the valley's viewpoints. Wengen is also proud of its charming hotels that date the belle époque period.
During winter, Wengen becomes the gateway to some skiing paradise, with pistes 100 kilometers in length. Then, in Summer, 500 kilometers of hiking trail becomes accessible to everyone from Wengen. These trails lead the visitors to the most epic views in the Jungfrau region, particularly Kleine Scheidegg.
If you want to see the legendary north face of Eiger, side-by-side with Monch and Jungfrau, on a higher and more scenic elevation, go to Mannlichen. You can also see the entire Lauterbrunnen valley from it. To go here, just hop on a cable car going to Mannlichen from a station in the heart of Wengen.
Above is the fantastic view that awaits you in Mannlichen. Try to move the 360-image left and right to see more sceneries.
Lauterbrunnen's Hamlet of Isenfluh
Isenfluh is the counterpart village of Gimmelward in the northern Lauterbrunnen Valley. Like the first mentioned villages, it is perched on a sunny terrace overlooking the valley below. But the only difference is, cars have access to Isenfluh. 
If you want to have an overlooking view of Wengen, Isenfluh is the place to go. However, you still have to ride the cable car to Sulwald from Isenfluh to see it. You shall also see an alpine pasture in a flowery meadow during summer in Sulwald.
You can rent monster scooters in Isenfluh to get around the hamlet and discover viewpoints in the village. So far, this experience is unique to Isenfluh within Lauterbrunnen valley. Kids will definitely love it.
Isenfluh monster scooters rental fee:
Adults: 19 CHF
Kids and Teens: 15 CHF
Have a look at what views you can enjoy while riding on a monster scooter in Isenfluh:
Reason #4: Experience The Idyllic Swiss Countryside in Lauterbrunnen
Isenfluh, Murren, Gimmelwald, and Wengen started as alpine farming communities transformed by time into tourism destinations. Though there have been a lot of changes that happened just these last century, these villages stayed rural. This is another reason why Lauterbrunnen, as a commune, is so compelling to visit.
The smell and taste of cheesy alpine meals, the touch of the cold mountain breeze, the view of the meadows with cattle roaming around, and the sound of running water – Lauterbrunnen is just a place to bless all your senses. 
That's not all. 
As you explore Lauterbrunnen, you get to see several barns and wooden houses along the way. Sometimes you also encounter livestock, chickens clucking in their cage. 
Particularly in Gimmelwald, you can find a wooden fountain along with one of the village's paths (46.545673, 7.891058). The dripping sound of the water in the fountain will just absolutely soothe whatever you hold inside you. Rotate the 360-image to see the fountain behind:
The rustic vibe and nature in Lauterbrunnen will just transport you back to the past when life was so simple and seemed so happy. It's a magical place, best to visit if you have had enough of the life in the city.
Reason #5: Most Scenic Hikes in Lauterbrunnen
Lauterbrunnen Valley, especially during late spring and early summer, is a paradise we can consider. Since it's obvious now what views await you in the trails, so I will no longer explain what you can see. Definitely, they are a reason why you would like to go to Lauterbrunnen and hike. 
For this section, I will mention some of the places in Lauterbrunnen with really incredible views you must not miss hiking. I'll also suggest the routes you can follow to get to these great hiking spots. But before we talk about each of them, I give you first this quick-list-summary of Lauterbrunnen's best hikes:
Lauterbrunnen to Stechelberg
Lake Grauseewli Loop from Murren
Gimmelwald to Stechelberg via Tanzbödeli 
Wengen to Kleine Scheidegg via Mannlichen + Fallbodensee
From the list, you can see that you can hike from different villages in Lauterbrunnen Valley.
Note: I assume that you will be hiking during the summer. The views and difficulty of these hikes I will mention below are sure different during other seasons.
The Swiss Alps is one of the most beautiful places on Earth! Discover more places to visit in the Swiss Alps from my articles: Inspiring Photos of Swiss Countryside and Things That Make The Swiss Alps Famous and Special (Click to open in a new tab and read later). There I have listed all the things that will make you visit the Swiss Alps – they shall give you ideas of what to visit when visiting Switzerland.
Lauterbrunnen to Stechelberg
1 hour and 45 minutes | 6.5 km or 4 mi
Lauterbrunnen to Stechelberg route is the most leisurely hike that you can have in Lauterbrunnen. Along this route, expect to see lush flowery meadows, at least 10 gorgeous waterfalls, and scenes of the Swiss countryside.
The path surface in Lauterbrunnen to Stechelberg hiking trail is party unpaved, paved, and gravel. Most parts of this route lie beside the Weisse Lutschine river; expect to get soothed by the sound of running water. Lastly, the hiking trail has almost no noticeable incline, so you shall definitely have a relaxing hike here.
Here is the route I made using Komoot to show you the summary of the Lauterbrunnen to Stechelberg hike specifications:
Click the square button above the zoom navigation (plus and minus button) to view the entire route.
Here is the sample view you get in Lauterbrunnen to Stechelberg hiking trail: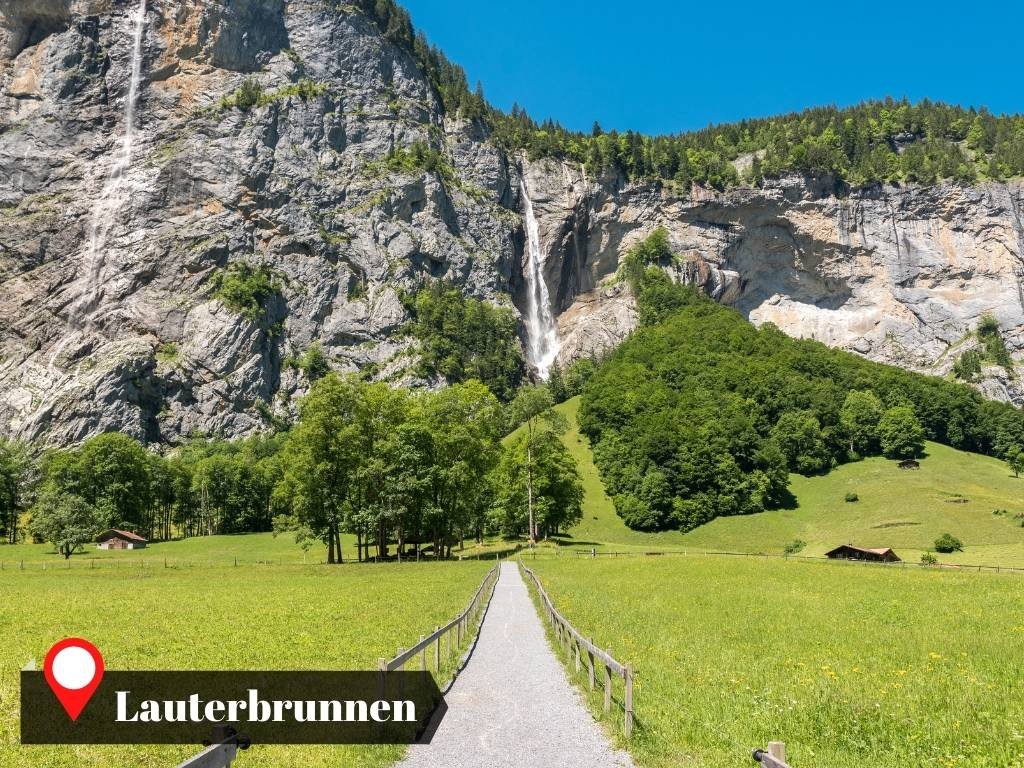 Lake Grauseewli Loop from Murren
1 hour and 15 minutes | 3.16 kilometers or 2 mi
Between Birg and Schilthorn, we can find the Lake Grauseewli, famous for its lake surface that creates an inverted image reflection of Jungfrau massif. It's one of the spots in Lauterbrunnen that's scenic and looks magical at the same time – a reason to visit Lauterbrunnen, right?
There are multiple ways you can reach Lake Grauseewli and see its mesmerizing view together with the ice-capped Jungfrau. You can start a long, strenuous hike from Murren, which will take you 3 hours to finish. There is also a much longer route from Gimmelwald.
But to make life easy, just hop on a cable car from Murren to Birg. From Birg, you can then start the short loop hike to Lake Grauseewli. The hike shall last for an hour and a half, considering that you will be having a leisurely time near the lake.
Lake Grauseewli Loop trail has a path surface mostly gravel and alpine. There's not that much change in elevation in this trail. However, the path is steep when going down to the lake. Here is the Lake Grauseewli Loop trail's map and its specifications:
Click the square button above the zoom navigation (plus and minus button) to view the entire route.
Lake Grauseewli is frozen during the winter and early spring. There's no reason to go here during those months. But during summer, here's the view you can expect to see:
Gimmelwald to Stechelberg via Tanzbödeli
6 hours | 14.3 kilometers or 9 miles
Tanzbödeli is the area at the southern end of Lauterbrunnen valley, where you can spot almost all of the villages of Lauterbrunnen altogether in one view. That includes Gimmelwald, Murren, Stechelberg, Lauterbrunnen, and even Wengen! It's even more impressive with the expansive sceneries extending from Schilthorn to Birg and Jungfrau massif, left to right.
Most importantly, if you are looking for just the complete view of the entire Lauterbrunnen valley, Tanzbödeli is just the place to be. The spectacles you'll see here are priceless, incomparable to others. But of course, only the dedicated and willing to hike for longer hours and steeper routes would only see it.
Most people wanting to have this view typically starts the hike from Gimmelwald. From Gimmelwald, hikers move down to Sefinen valley and then hike upwards to a high grassy plateau, which we call Tanzbödeli. After seeing the epic view in Tanzbödeli, they now descend back to the Lauterbrunnen Valley, ending in Stechelberg.
I must say that the hiking trails in Tanzbödeli are scenic, serene, and rustic. You will pass several waterfalls, quaint mountain cabins, a thick pine forest, and so much more.
One of the most notable landmarks along the Tanzbödeli hiking trail is the Obersteinberg, a hotel dating to 1880, with views of 300-meter Schmadribachfall and a few glacial cirques nearby. Inside Obersteinberg, you can satisfy your tastebuds with alpine delights in a dining hall lighted with kerosene lamps and candles. It's a simple but genuinely one-of-a-kind experience to have.
Here is the map and a specification summary of the Gimmelwald to Stechelberg via Tanzbödeli trail:
Click the square button above the zoom navigation (plus and minus button) to view the entire route.
Then here is the 360-view of Tanzbödeli you can expect to see:
If you are using mobile, try to swipe the image left and right to see more views.
Wengen to Kleine Scheidegg via Mannlichen + Fallbodensee
Another reason why people go to Lauterbrunnen is because of the legendary north face of Eiger, famous for the challenging climbs that mountaineers could ever have. Its spectacular triangular wall-like face attracts enthusiasts and awe-thirsty individuals all around the world.
If you are one of them who has Eiger on a bucket list, you can hop on a cable car ride to Wengen and then another ride to Kleine Scheidegg. There in Kleine Scheidegg, you shall see Eiger and its impressive rock wall in front of you.
Hiking would be the best alternative if you are not in a hurry and want to save money. Not only is hiking beneficial to our health, but you also get to explore hidden gems along the hiking trails between Wengen and Kleine Scheidegg. These gems are the unforgettable views you'll see along the hike.
There are several hiking trails that you can use to reach Kleine Scheidegg from Wengen. Just be sure to make Mannlichen one of the stops of your course. Here is a sample hiking trail that passes through the most awe-inspiring spots between Wengen and Kleine Scheidegg:
As I was saying, Mannlichen is the most unmissable part of the hike from Wengen to Kleine Scheidegg. It is where you get a 360-panoramic view of the canton of Bern's southern territory. In Mannlichen during sunny weather, you can spot as far as Thun and Interlaken northwest, Grindelwald to the east, and the entire Lauterbrunnen southwest.
However, I noticed that the hike between Mannlichen and Wengen could be very challenging. It is just a continuous upward hike with parts that have slopes at a 37% incline. Absolutely not for everyone. You can avoid that by simply hopping on a cable car to Mannlichen from Wengen.
The route from Mannlichen to Kleine Scheidegg is almost flat, with inclinations not greater than 12%. From Mannlichen, everyone could get to Eiger's face in Kleine Scheidegg without much effort.
Here is the view that awaits in the hiking trail:
Then here's what the face of Mount Eiger looks like:
Try to swipe the 360-image below to see the panoramic view in Mannlichen:
Reason #6: Lauterbrunnen's Bucket List Train Rides
When you reach Kleine Scheidegg from Wengen, you make the achievement by seeing Eiger at a very close point. Now you might think that it's the end of your journey, and you are now okay to go back to the village. But nope. The truth is, Kleine Scheidegg is just the start of more fun, the gateway to more experiences that puts a check on a traveler's bucket list!
Kleine Scheidegg is where you can find the trains that bring people to the most elevated structures in the world, like Sphinx Observatory, and Jungfraujoch (also called Top of Europe, highest train station in Europe). These train rides are definitely a reason to visit Lauterbrunnen, not only because of Jungfraujoch, but these train rides are actually one of Switzerland's most scenic.
Most importantly, these railroads are a marvel of engineering that manifests Swiss intelligence and expertise in making infrastructures. It's one of the things that makes the Swiss Alps really special. What do you think about experiencing Swiss technology first hand?
Note that the train rides and package tickets to Jungfraujoch are costly. But I think it's just fair to pay that much considering all that was built and the overall impressive experiences that you can encounter on top and along the ride.
Reason #7: Jungfraujoch, Top of Europe
Jungfraujoch Train rides bring you to the most epic views and most fantastic experiences in the Bernese Alps, located at the 4000-meter peaks of Jungfrau massif. It's again, once-in-a-lifetime experience to have, especially that it lets you do the following:
Visit Sphinx Observatory
View Aletsch Glacier
Enter Ice Palace
Tickets to Jungfraujoch sell out fast, especially during peak season. Book your tickets in advance! You can get your tickets for a roundtrip cable car and train rides to and from Jungfraujoch at getyourguide.com (Admission to Jungfraujoch included).
Sphinx Observatory
Sphinx Observatory is an astronomical observatory in Jungfraujoch, considered one of the most elevated ones in the world. It is the second-highest observation deck in Switzerland connected to Jungfraujoch railway station by an elevator that can travel 108 meters up in just 25 seconds. 
It is not open to the public, but everyone can go to its observation deck to behold the head of Aletsch Glacier located southwest of the observatory.
Aletsch Glacier
Another reason why you should visit Lauterbrunnen and go to Jungfraujoch is because of Aletsch Glacier, the largest glacier in the entire Alps. It holds a staggering 15.4 cubic kilometers (3.7 cubic miles) of frozen water that stretches 22 kilometers (13.5 miles) down to Bettmeralp in Rhone valley.
I believe it's another once-in-a-lifetime experience that everybody should now see. With global warming, its existence is definitely threatened, and it could disappear soon. So, we must come here as soon as we can and behold it while it exists! 😀
Ice Palace
You can make your glacier experience even more fantastic by entering the actual thing! In Jungfraujoch, you can do that in Ice Palace. It is the place where you can literally walk along the ice tunnels built inside the glacier.
People often say it's the most impressive attraction in the Jungfraujoch, especially for the kids. Aside from the incredible experience in the glacier's blue tunnel, you can also see different art exhibitions made from ice. The ice gallery changes every season or year, I guess. Still, the thing is, you can anticipate little surprises when you visit the Ice Palace.
Reason #8: Spot in Lauterbrunnen Seen on Movies
With all the fantastic things to see and experience in Lauterbrunnen, it's not hard to understand why moviemakers in the 1960s to 1970s (the time when computer-generated graphics aren't existing yet) would want to include it on their scene. 
One of these movies that featured Lauterbrunnen is the 1969 James Bond movie On Her Majesty's Secret Service. Can you Guess what place in Lauterbrunnen was featured in this movie? It's not Jungfraujoch!
*Drum roll*
The answer is Piz Gloria, the revolving panoramic restaurant on top of Schilthorn.
Yes, you read it right, Piz Gloria is a revolving restaurant, on the top of the mountain! That's very impressive, right?!
It revolves in full 360 degrees within 45 minutes. Showing you all the jaw-dropping sceneries around while you eat. It's just another engineering marvel you can visit from Lauterbrunnen, not to be missed if you have the chance and money. 
Piz Gloria, perched on a 2,970-meter high mountain, also has an observation deck that gives you an unparalleled view of Eiger, Monch, and Jungfrau in terms of elevation.
Sometimes, overcast appears just below the restaurant turning the mountain peaks into islands in a sea of clouds. It's just one of the most fantastic phenomena that you can experience in the mountains, absolutely!
Visting Piz Gloria is easy. Just go to Murren and hop on a cable car going to Schilthorn. However, always check first the live cameras broadcast first before going. In that way, you can tell if the skies are clear, and going to the revolving restaurant would be worth it.  
You can book in advance your cable car tickets to Schilthorn and Piz Gloria at getyourguide.com. The tickets include free entry to Bond World and Thrill Walk.
Reason #9: More Outdoor Sports
After knowing what kind of terrain Lauterbrunnen has from the reasons above, it's obvious now what kind of outdoor activities you can enjoy here. But I must mention that aside from hiking, skiing, and paragliding, the following adventures are also doable based on Jungfrau and Lauterbrunnen's official tourism websites:
Mountain bike 
Via Ferrata climbs
Mountain cart
Trottibike and monster scooters
Sledding
Camping
Skydiving
If you are an adrenaline junkie, Lauterbrunnen is your paradise as well. Imagine the fun with awesome views – that would be perfect! Those will be the most unforgettable moments you could ever have in your entire life.
Reason #10: Lauterbrunnen's Beautiful Sunrise at Moenchblick
The last reason to visit Lauterbrunnen is simply because of the blissful sunrise you can witness here. Yep, mountains and places alike do often have beautiful mornings, but Lauterbrunnen is special. I read comments from all over the forums that it's indeed a picture of heaven on earth.
There are many spots in Lauterbrunnen where you can witness beautiful dawns. But in my opinion, the place with the most blissful sunrise view in Lauterbrunnen is located in the area called Moenchblick, situated northwest of Murren (Map coordinates: 46.611532, 7.910958). Here's a sample shot: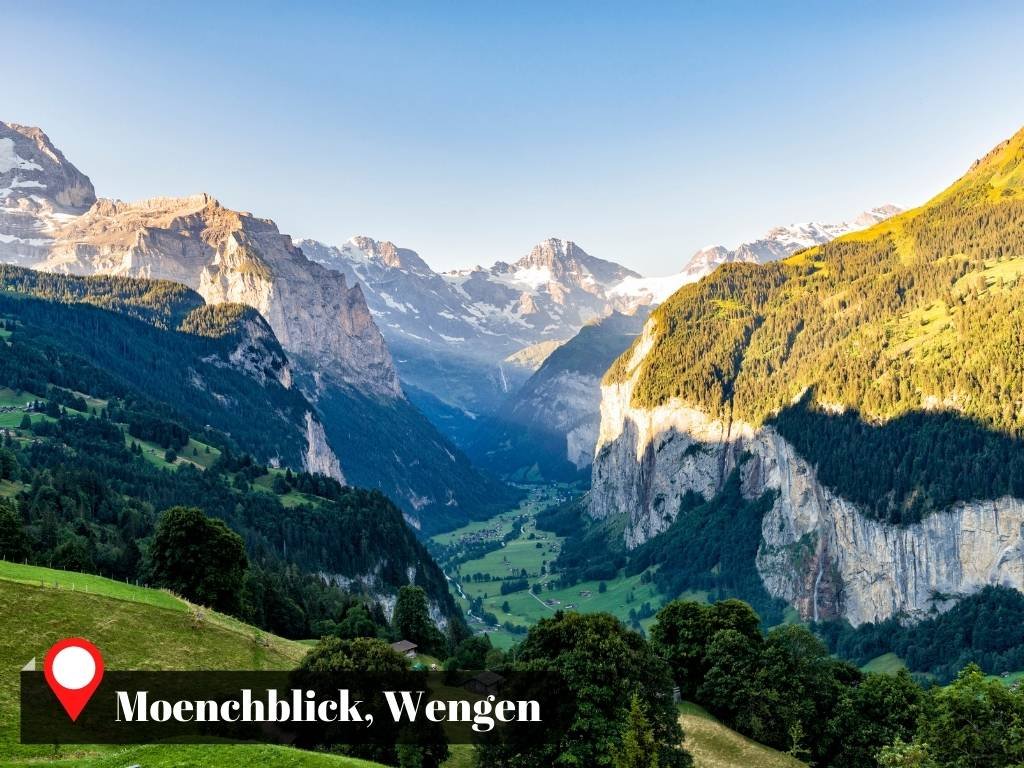 It's a scene that would seem complete anyone's trip to Switzerland right away. Right?
Is Lauterbrunnen Worth a Visit?
Absolutely yes! Lauterbrunnen is worth visiting. From spectacular views to phenomenal marvels of engineering that bring you to places of once-in-a-lifetime encounters, everything in Lauterbrunnen will just satisfy your wanderlust desires. A visit could be costly, but all are just at a reasonable price with the quality of the travel experience you will have.
I have an article about creating an efficient itinerary in visiting Lauterbrunnen. Its goal is to help me and you plan a DIY trip to Lauterbrunnen. Check it! 🙂 The article should help you find an airport, discover a city in the alps to visit next, travel within Lauterbrunnen and so much more.
Traveling for a week or more in Switzerland? Save a lot of money using the Swiss Travel Pass (click here to learn more). With it, you can have an unlimited ride on public transportation (Bus, Trains, and Boats) and free entry to more than 500+ museums in the country. Cable car, funicular, and cogwheel train rides are discounted 50%. IMPORTANT: before you buy a Swiss Travel Pass, check first where it is valid or where it applies 50% on STP official website.
There are five cities near the Swiss Alps where you can see beautiful sceneries and at the same time learn about Swiss culture and history. If you are looking for a city to visit in the Swiss Alps after Lauterbrunnen, see my articles about Montreux, Sion, Brig, Thun, and Lucerne. (click them to open to a new tab and read later)
Photos of Lauterbrunnen Valley to Travel Inspire You
Here are more views in Lauterbrunnen to convince you to come if you have not yet decided to go.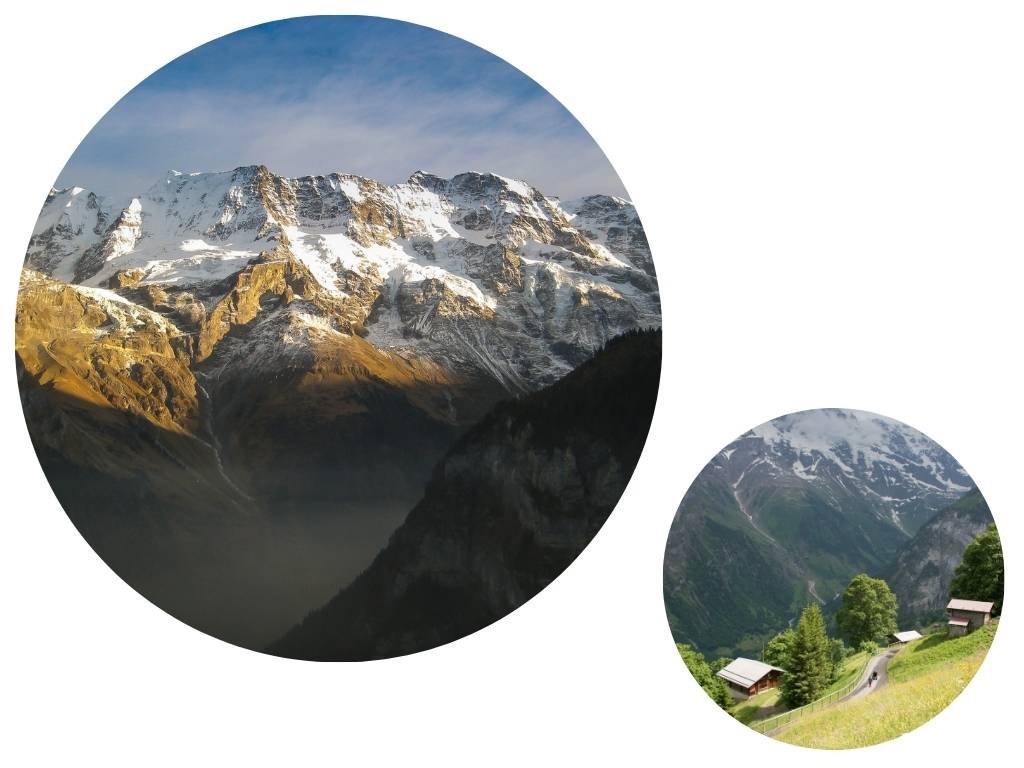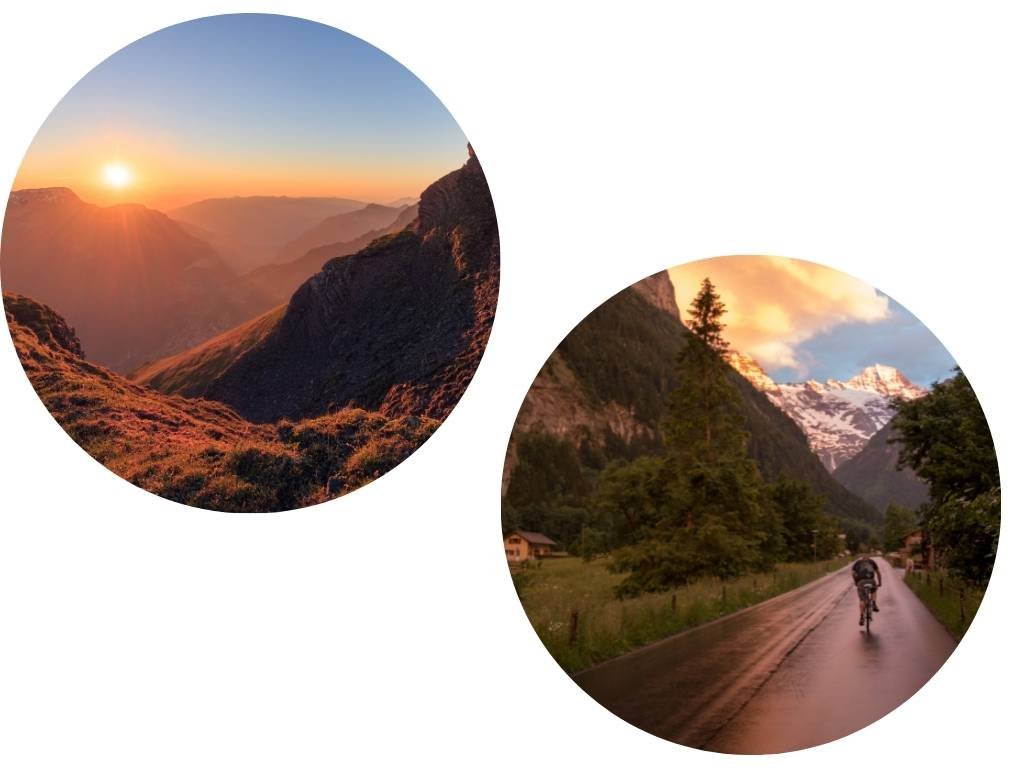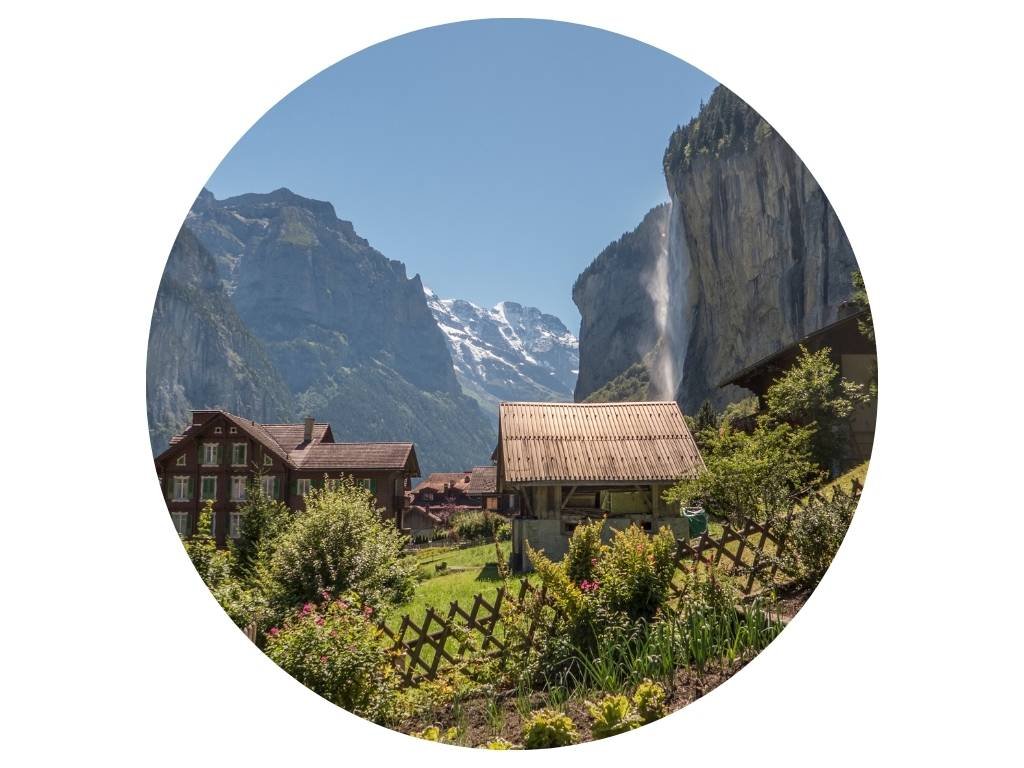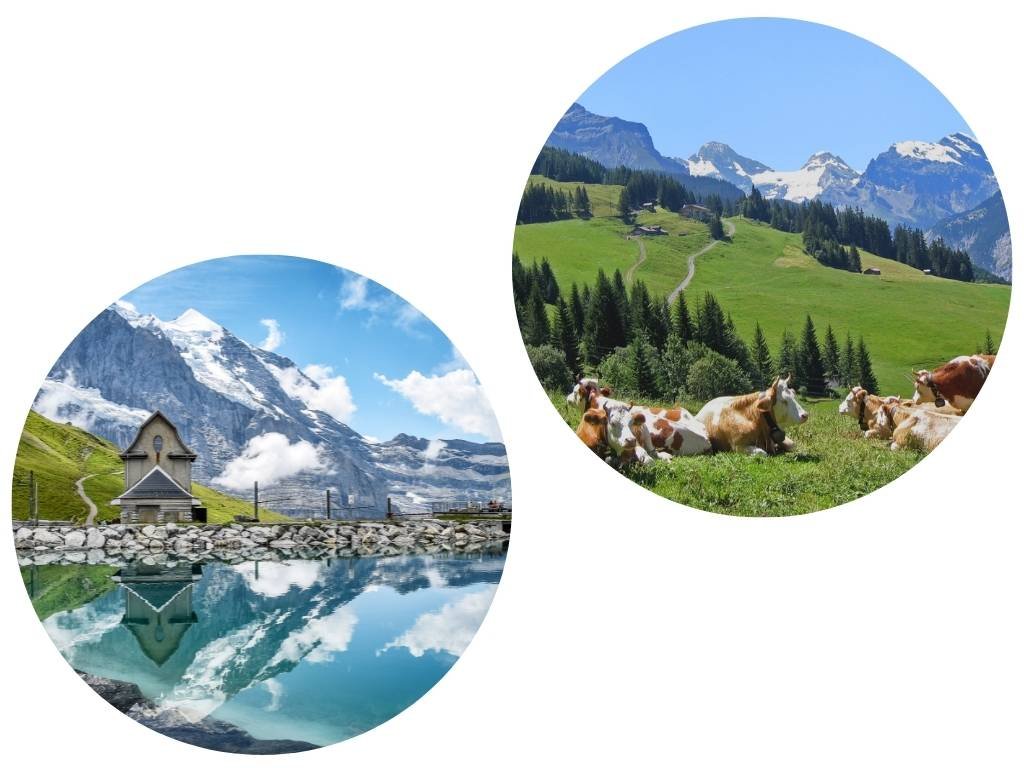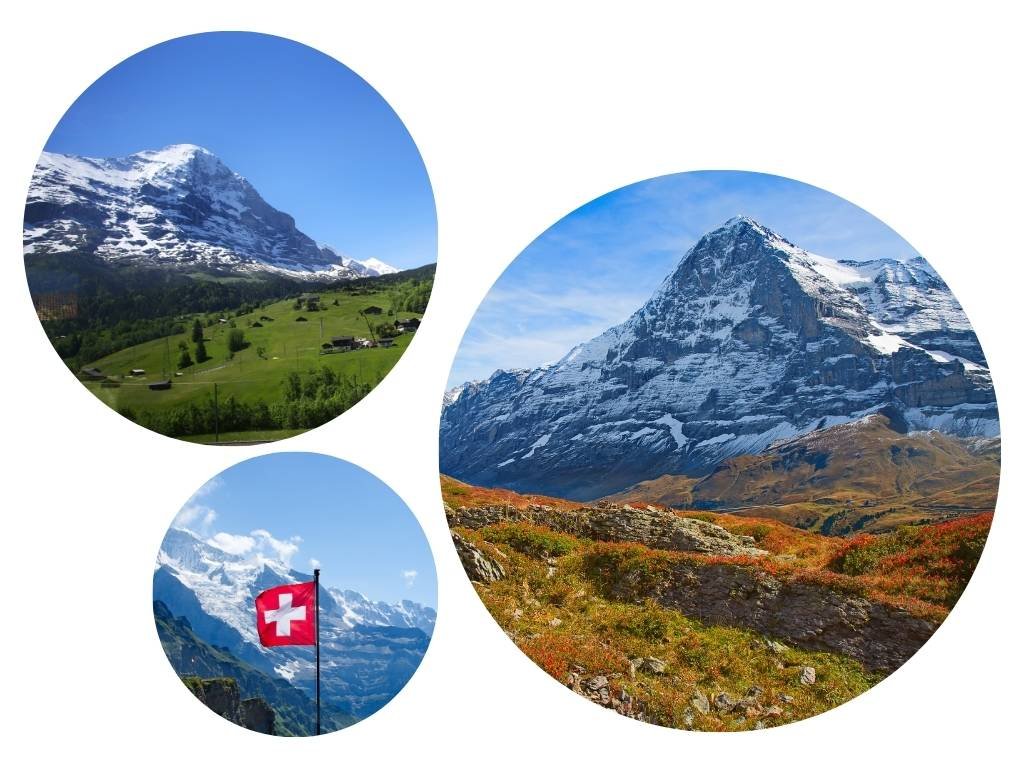 Save it on Pinterest.