Interlaken Switzerland: 10 Best Reasons Why You Should Visit
Interlaken is considered one of Switzerland's best destinations for its scenic and unique location, sandwiched between two mountains and two lakes, and the fun and adventurous activities on them. However, Interlaken isn't the only place in Switzerland having a picturesque landscape and adrenaline-pumping things to do.
Aside from Interlaken, there is Zermatt, the entire Lauterbrunnen Valley, Lucerne, Gruyeres, Brig and the simplon pass, and so on… It's tough to decide which place is to visit, especially if you have limited time in Switzerland.
In this post, you will find 10 reasons to help you decide if Interlaken is a worthy place for you to visit or not. The main beautiful things/activities you will find in Interlaken are discussed here. They should give you ideas too about what to do in Interlaken if you decide to come.
Affiliate Disclaimer: This post contains affiliate links. I recommend products and services that I think can help you make a successful and memorable trip. I may receive a tiny commission if you purchase them with no additional cost to you. These will support me in maintaining, creating more articles, and fulfilling the mission of this blog.
Facts and information (i.e., opening hours, etc.) are based on the official tourism website of Interlaken unless stated.
Aside from the 10 reasons why visit Interlaken, you will also find a few questions most people ask when visiting Interlaken. Like, how expensive it is to visit Interlaken? When to visit Interlaken? and how long should your visit be in Interlaken?
Without further ado:
The 10 Reasons Why Visit Interlaken (Things To Do)
As someone who loves nature and mountains so much, I could definitely say that Interlaken is a must-visit. Not only because of the views and the thrilling, fun experience awaiting you here, but it's more of the awe and life-changing things mountains can give you.
But, of course, we all have our likings, and definitely, we all have different ones. This is why I made these ten reasons to see if Interlaken is just the place for you. Here is the summary:
Interlaken is easily accessible.
Interlaken has scenic view decks that are easy to reach.
Interlaken's magical west lake (Lake Thun).
Interlaken's picturesque east lake (Lake Brienz).
Nostalgic train rides in Interlaken.
Fantastic caves in Interlaken.
Interlaken's numerous outdoor fun and adventurous activities.
Some of the best hikes are found in Interlaken.
The chocolates from Interlaken.
Interlaken's "Heaven on Earth" nearby destination
Need help in planning your trip to Switzerland? I prepared a 3-day, 7-day, 10-day, 14-day Switzerland Itinerary to guide you. I discussed each destination to visit (things to do, how long to stay, map, and other tips). Check it out!
Interlaken is a good base when visiting the Jungfrau region. Check my article Interlaken Itinerary: Spend 1, 3 to 7 Days in Jungfrau Region to learn about how long you should stay and how you should visit Interlaken and the rest of the Jungfrau region.
Reason 1: Interlaken's accessible location
The first reason why you should visit Interlaken and choose it over other towns is simple. Interlaken is located in the heart of Switzerland, close to all major cities and attractions in the country.
Though situated in the Bernese Alps, Interlaken is still serviced by fast InterCity trains, stopping at major cities with international airports like Geneva, Bern, Basel, and Zurich. If you are coming from abroad, it would only take 1 to 2 train rides to get to Interlaken. Easy and convenient!
Here is the table showing how close Interlaken is to Switzerland's major cities:
City
Road Distance
Travel Time
(Using Car)
Public Transit
Travel Time
(Using trains)
Bern
63 km
54m
direct
1h 3m
Basel
149 km
1h 49m
direct
2h 2m
Zurich
118 km
1h 45m
2 train rides
1h 56m
Geneva
216 km
2h 30m
2 train rides
2h 46m
Distance between Interlaken and the Cities in Switzerland
Source (Google Maps):
You can use the links above to see the routes (public transit and car) to reach Interlaken from Bern, Basel, Zurich, and Geneva.
Alternatively, you can join organized tours to avoid the hassle of booking, creating an Interlaken itinerary, and so on… Since Interlaken is near the major cities in Switzerland, day tours from these cities are possible. See this list of day trips from getyourguide.com.
Traveling for a week or more in Switzerland? Save a lot of money using the Swiss Travel Pass (click here to learn more). With it, you can have an unlimited ride on public transportation (Bus, Trains, and Boats) and free entry to more than 500+ museums in the country. Cable cars, funicular, and cogwheel train rides are discounted by 50%. IMPORTANT: before you buy a Swiss Travel Pass, check first where it is valid or where it applies 50% on STP's official website.
Reason 2: Harder Kulm and the epic views of Interlaken's lakes and mountains
Interlaken isn't only accessible; it also has a unique and stunning location. Surrounded by natural beauty in all directions, Interlaken is a place that will just consume all your camera's storage. Positively, it is a reason why you will visit Interlaken.
Just check out this 360-image captured in Interlaken:
Try to drag the image in any direction to see more views.
To see such a view isn't difficult when you visit Interlaken, and that's another good thing about this town why you would like to visit. It is only a matter of one quick public transport ride to have such a stunning view. 
Visit the Harder Kulm in Interlaken
Harder Kulm is the place to be if you are looking for a vantage point where you can easily see the entire Interlaken and the surrounding villages. It is also from here that you can also see both Lake Thun and Lake Brienz in a single view.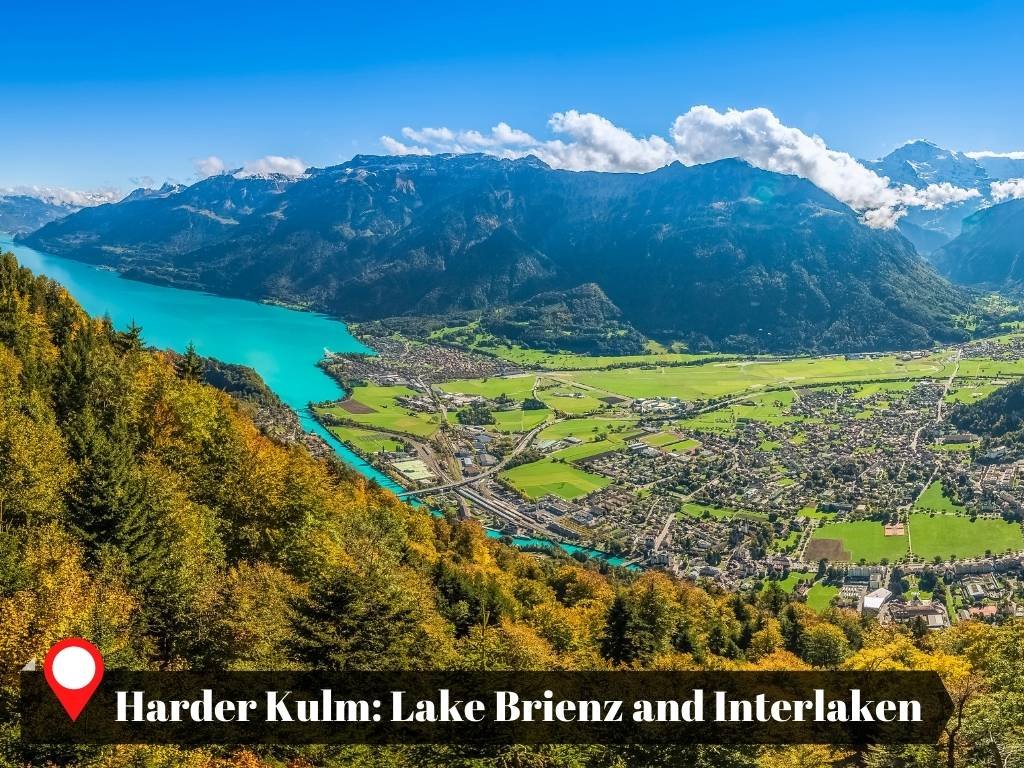 What's more exciting? From Harder Kulm's vantage point, you can also spot the entrance to the Lauterbrunnen valley. Above it are the three famous peaks of the Jungfrau massif: Monch, Eiger, and Jungfrau – the superstars of the Bernese Alps. This is just the view that makes Harder Kulm worth a visit.
If you decide to visit Interlaken and get to Harder Kulm, do it very early in the morning. Go to the funicular station in Interlaken before 9 just before the first train departs. The experience on top is much better when there is no crowd swarming the view deck.
However, the Harder Kulm's view deck isn't just a simple sunny terrace. It has an observation platform that protrudes from the cliff where it is built. Basically, there will be nothing beneath you when you go to the end of the view deck. It's gonna feel like you're flying!
Harder Kulm also has a charming timber-framed restaurant where you can have your breakfast. People liked the chicken nuggets from the restaurant even though they cost a bit more than usual in Switzerland. By the way, I like how the restaurant's pointy roof looks, though!
You can reach Harder Kulm in two ways: 
Funicular train
Hiking
Funicular Train to Harder Kulm from Interlaken
The easier way to reach the Harder Kulm is through a funicular which brings visitors to Harder Kulm 700 meters above the station in 10 minutes, running at an impressive 64% gradient slope. 
The funicular ride to Harder Kulm starts at Harderbahn station, located on the other side of the Aare River northwest of Interlaken Ost station. The train departs every 30 minutes, beginning at 9:10 a.m. until 5:10 p.m. from April to November, Monday to Sunday. 
You should always check for announcements and schedule updates from the Harderbahn timetable before going.
Hiking to Harder Kulm from Interlaken
For me, it is only preferable to hike to Harder Kulm if you want to solo the place very early in the morning to catch the sunrise. You might need to bring essential hiking gear (head/flashlight) if you plan to. 
Hiking to Harder Kulm has an intermediate difficulty, and it could take you 2 to 3 hours to reach the top. The route is approximately 4.5 kilometers (2.8 miles) with 770 meters (2500 feet) elevation gain. You can find a trailhead near the Harderbahn Interlaken Station. 
Reason 3: The magical Lake Thun, west of Interlaken
When you are in Harder Kulm's lookout and face the start of the Lauterbrunnen Valley, the lake you'll see to your right is Lake Thun. It is a lake named after the city located on its northern shore, "Thun," the home of the oldest panorama in the world.
I would like to call Lake Thun "The Fairytale Lake of Switzerland." Why? Lake Thun is the lake with the most number of castles in Switzerland. There are just 8 castles around Lake Thun, including one in the city and two in ruins, and these castles are:
With these beautiful castles around Lake Thun that you can visit from Interlaken, how will you not include Interlaken in your Switzerland itinerary? These places will transport you into different times and eras – a whole new way to experience the Alps.
The Oberhofen Castle in Lake Thun
Among the eight castles that you will find around Lake Thun, Oberhofen Castle is the one which you will love to visit the most. This is the castle in Switzerland that we often see on social media – the one with a tower that stands right at the lake's waters. Below is the image of Oberhofen Castle, and this you'll consider a reason to visit Interlaken.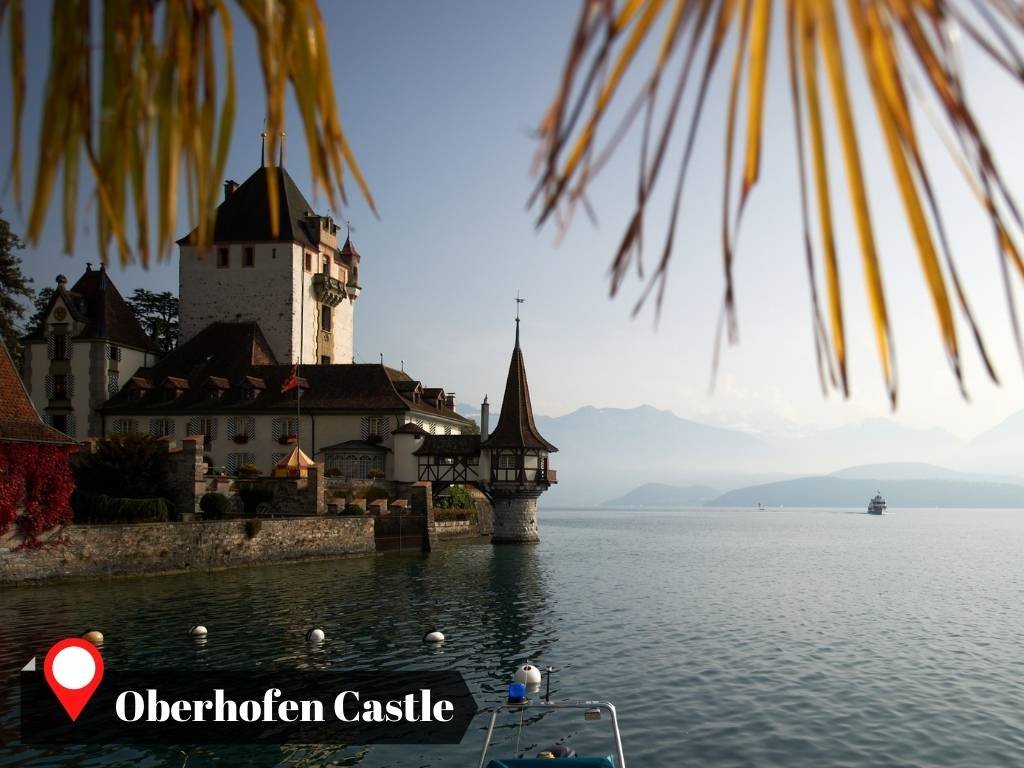 Oberhofen Castle is a 13th-century structure located in the municipality of Oberhofen, 30 minutes away from Interlaken using a car. It is said to be the most picturesque castle in Switzerland because of its lake tower, sitting beautifully in the water, which could be captured with the Bernese Alps in the background.
Aside from being picturesque, it is also impressive with the 2-meter (6.6 feet) keep walls and preserved royal-level furniture and decorations inside the castle. The nobility of Oberhofen Castle can also be seen in its chapel and murals dating from 1473.
To learn more about the castles and discover more attractions in Lake Thun, check out my article about Thun.
By the way, the Swiss Alps is one of the most beautiful places on earth! Discover more places to visit in the Swiss Alps from my articles: Inspiring Photos of Swiss Countryside and Things That Make The Swiss Alps Famous and Special (Click to open in a new tab and read later). I have listed all the things that will make you visit the Swiss Alps – they shall give you ideas of what to visit when visiting Switzerland.
How to Explore Lake Thun From Interlaken
There are 3 ways you can get around Lake Thun from Interlaken:
Bus
Train
Boat
… and it is possible to circumnavigate Lake Thun using a bus and train. But basically, the east side of Lake Thun (from Interlaken to Thun via Oberhofen) is serviced only by buses. Then, Lake Thun's west side (from Interlaken to Thun via Spiez) is serviced by trains and buses.
Lake Thun Bus Trips from Interlaken
On the east side of Lake Thun is where we can find Schloss Eichbühl, Hunegg Castle, and Oberhofen Castle. We can reach these castles using bus #21, which departs from Interlaken Ost station every hour.
The closest castle to Interlaken on the east side of Lake Thun is Oberhofen Castle. The bus ride has several stops along the way, and it will take 46 minutes to reach Oberhofen.
Spiez Castle is the only castle on the west side of Lake Thun. To go to Spiez From Interlaken, you can also start from Interlaken Ost station and then hop on bus #60. The entire bus trip lasts for 36 minutes.
Lake Thun Train Rides from Interlaken
If you want to visit Spiez Castle from Interlaken, the trains are your better alternative. Starting from Interlaken Ost, the train ride only lasts 17 minutes to reach Spiez. Similar to the buses, they depart the terminal every hour.
Lake Thun Boat Tours from Interlaken
I'd say if you really want to enjoy Interlaken and Lake Thun, ignore the bus and trains and have the boat tour instead! Unlike land transportation, boat tours bring you directly to the attractions in Lake Thun on a relaxing, breezy drift over the lake.
Most of the cruises and boats roaming around Lake Thun has a stop on following areas: St. Beatus Caves, Beatenbucht, Gunten, Oberhofen, Hilterfingen, Hünibach Thun, and Spiez. You can book the culinary cruises that fill your eyes and tummy with satisfying sights and delicious meals if you have the luxury. 
It is best to explore Lake Thun during summer and days between Christmas and New Year when the Blümlisalp, an early-1900s paddle-wheel steamer (steamship), sails across Lake Thun. You either can watch it puffing white steam as it passes by or have yourself in it and experience an old-style cruise in Lake Thun. 
To try the cruise in Lake Thun, you can make a booking directly from Interlaken's website. Alternatively, you can use my affiliate link to getyourguide.com for a Boat Day Pass, which will let you have unlimited boat rides for both Lake Thun and Lake Brienz! 
Reason 4: The picturesque Lake Brienz, east of Interlaken
Interlaken gives you two options on how you can discover and experience alpine lakes.
If it's the fun, luxurious, or relaxing watery activities you're looking for, you have Lake Thun to see. But, if you're like me – an introspecting type of traveler who loves to visit peaceful, natural, and uncrowded places, Lake Brienz is the lake to go to.
Lake Brienz is known for its mesmerizing turquoise water, which gets really spectacular during summer and spring when the color intensity of the water is at its peak. The blue-green is the effect of the tiny particles washed away into the lake by the water from the melting glacier.
The most spectacular view of Lake Brienz is at Rothorn, a peak above Brienz village. At the top of this mountain, you'll see Lake Brienz burst with milk-ish blue color during the said seasons. Yet, of course, it will only be that pretty when the weather is excellent and the sun is out.
Lake Brienz is not the only one that makes Interlaken worth a visit. Like Lake Thun, Lake Brienz also has attractions along its shores that make the trip to the lake from Interlaken worth it. Here are the highly-rated attractions which you can visit in Lake Brienz:
Giessbach waterfalls and Grandhotel Giessbach
The peaceful lakeside village of Iseltwald
The charming chalet village in Brienz
Let's talk about one of each, and let's see if they could fit your liking to be a reason to visit Interlaken.
See Iseltwald from Interlaken
Let's start at the nearest destination in Lake Brienz, Iseltwald. A village of 400 people, located on a small peninsula in the middle of Lake Brienz.
Iseltwald may be small, but interestingly, it has been for thriving for more than 9 centuries already now. You can see the quaintness of the village from the flower-decked chalets, with stone foundations under their wooden parts.
The main attraction in Iseltwald is the castle built at the top of the village's peninsula. It is called Schloss Seeburg, and it is absolutely the most picturesque part of Iseltwald. Perhaps we can consider it as the Oberhofen of Lake Brienz.
Because of this castle, you will be compelled to rent a boat or kayak found on the shores of Iseltwald just to take photos – unless you have a very powerful lens. The scenery there are just so beautiful when you see the castle reflected by the turquoise water of Lake Brienz.
How to go to Iseltwald
To go to Iseltwald, head first to Interlaken Ost and hop on bus #103. Within 25 minutes after the departure, you must be arriving at Iseltwald. The bus departs the station 5 minutes every after one whole hour.
Alternatively, you can ride the boats from Interlaken, which also stops in Iseltwald to load and unload visitors and tourists.
Explore the charming chalet village in Brienz
Like Lake Thun, Lake Brienz is also named after a village found at its northernmost shores, Brienz. However, Brienz isn't yet a city like Thun. It is only considered a town for having only 3000 citizens.
Demographics set aside, Brienz is a pleasant alpine town full of quaint traditional alpine vibe, really! It has more flower-decked chalets compared to Iseltwald.
Honestly, it seems all the houses in Brienz are chalets or at least made of wood. It is just so lovely to have a stroll in this town! Simply by just walking around, you'll definitely feel that you're in the alpine world.
What's fascinating about Brienz are the bits of discoveries you'll find along the way. Some of those are the plant boxes designed like animals, wood sculptures showing the lives of the locals, animals, etc. If you're a full-blooded wanderer, this is just a place to visit.
Above everything, for me, the more convincing reason why you'll go to Brienz is the nostalgic steam train that departs from Brienz going to Rothorn. We'll discuss the train later in another section.
How to get to Brienz
Going to Brienz from Interlaken is easy. It's just one train ride away, and it only lasts for 20 minutes. You'll be passing several hamlets and campsites along the way. Alternatively, you can use the boat to reach Brienz.
Visit Giessbach Waterfalls and Grandhotel
If you're already in Brienz, you do not have to go far to see a really spectacular waterfall. This beautiful waterfall is called Giessbach Waterfall, and it is one of the best destinations awaiting you around Lake Brienz.
Giessbach Waterfall, having a height of approximately 400 meters, is one of the tallest waterfalls in Switzerland. It is also the waterfall you'll definitely admire because of its 14 cascades.
Visitors, especially landscape photographers, will be thrilled to visit and photograph it during spring and summer when the cascades look the thickest as the snow from the mountains melts downstream.
When you visit the area where Giessbach Waterfall is, you will be surprised because you will also see a hotel. The hotel is called Grandhotel Giessbach, and it isn't just an ordinary one, at least for how it looks.
Grandhotel Giessbach is a 4-story building that looks like a castle manor having a witch-hat-shaped roof, also embodying some elements of traditional chalets. You'll never pass it without taking photos or at least being captivated for a moment.
The thing about Giessbach waterfall is that you can come close to the rushing water using the hiking trails all around the area. The hiking trails even go under the rocks where the Giessbach is flowing. Not only can you feel the power of nature from that spot, but you also get the view of the hotel from it in the direction where the waterfall is flowing.
How to get to Geissbach Waterfalls
There are three ways you can visit Giessbach waterfall:
The first is through driving, but you have to pay a 10 CHF expensive parking fee. Use this Google Maps coordinates to find the direction to Geissbach waterfall.
The second is through bus #155 from Brienz. With this, you'll have to walk for 12 minutes to get to the main area of the falls.
The third is through a boat ride (either from Interlaken or Brienz). It will bring you to Giessbach See (dock), where you can hop on nostalgic funicular trains to quickly get you to the waterfalls area.
Reason 5: Nostalgic train rides around Interlaken
I have mentioned the nostalgic train rides in the previous section twice, and now let's discuss them here!
The nostalgic trains are a reason to visit Interlaken as they are indeed a unique experience you can't just find anywhere else in the world. Well, actually, there are numerous places where you can find and ride on 1900s style trains. However, they don't have the view only you can behold in Interlaken!
If seeing or riding a steam-puffing train is the experience you want to have, the two bests you can have in Interlaken are the Brienz-Rothorn Bahn and the Ballenberg steam railway.
Brienz Rothorn Bahn
Prepare yourself to be transported back in time… Also, to one of the most scenic spots above Lake Brienz! Your ride to the Brienz-Rothorn steam train shall be one of the most memorable experiences you'll have in Switzerland.
Many have said it, and perhaps you will be announcing it to the world too after the ride! So, what can you expect along the train ride?
Basically, you will be riding an open-air (big adjustable glass windows) red carriage steam locomotive that puffs steam as it brings you up to the summit of Rothorn. Throughout the ride, you'll hear the locomotive's sound rolling over the rack.
The locomotive train is kinda noisy, though. But hey, it's the fun thing, and it's what throws you back a hundred years ago!
The train passes green forest, dark tunnels, and most importantly, absolutely panoramic scenery. From verdant meadows to the rugged mountain ridges and turquoise Lake Brienz – all shall open your eyes wide open!
Unlike modern trains, the Brienz-Rothorn steam train only runs at approximately 10 kph (6.2 mph). It's a speed just perfect to give you moments to admire every single view that comes along the tracks.
You'll be impressed by how powerful the locomotive is when it's time you pass steep slopes. But with the epic sights that you can see during the journey, you will barely notice the steep climb.
Know that the Swiss people built this locomotive funicular as early as 1892. With the terrain that the mountains have and the so little technology they have back then, the train ride will make you appreciate how good the Swiss are in engineering.
The entire Brienz-Rothorn steam train journey covers 7.6 kilometers (4.7 miles) of rail tracks. When you reach the summit, not only the whole of Lake Brienz will be in your sight, but also the ~700 mountains alpine peaks that scrape the horizon in all directions. There are restaurants and accommodations available at the summit of Rothorn.
Brienz-Rothorn Steam Train Schedule
As per my last check on the official website of Brienz-Rothorn Bahn, the train only operates during the summer season, usually from early June to late October. Opening dates are specific per year, however. You must check their website for an accurate schedule.
Brienz-Rothorn Banh line has three stations: Brienz, Planalp and Rothorn. The train leaves the station at an approximately 1-hour interval. Be at the station 30 minutes before your scheduled trip.
In Brienz, you must be at the station before 7 in the morning to catch the first departure. You must be at the station at 4 p.m. to get the last train ride to Rothorn.
In Rothorn, to catch the first departure, you must be at the station by 8:30 in the morning. For the last train departure, get to the station before 5:00 p.m.
If you really want to try the Brienz-Rothorn steam train, book early at the official website of Brienz-Rothorn Bahn. Their website has some reminders to be mindful of for your journey in the Brienz-Rothorn steam train. Please read all the details.
The fare starts at CHF 24.50.
The Ballenberg steam railway
Ballenberg steam railway is the alternative to the Brienz-Rothorn steam train. It starts directly from Interlaken, passing the banks of Lake Brienz and ending at Meiringen. You would prefer Ballenberg over the Brienz-Rothorn train ride if you prefer a more authentic locomotive train ride experience over the scenery.
The trains look like the locomotives that people used back in the 1900s on the Ballenberg steam railway. They are black in color, the train carriages are rectangular, and the windows aren't made for sightseeing, unlike the Brienz-Rothorn steam train.
In the Ballenberg steam railway, you will not have views that are as epic as the ones you'll see in Brienz-Rothorn. However, you still have the scenery of Lake Brienz along the way.
I think the Ballenberg steam railway is good for travelers who just want to have a relaxing time, also a simple memorable moment with someone. The slow-moving locomotive will just give you enough time to talk about life while enjoying the scenery of Lake Brienz.
Ballenberg steam railway schedule
The schedule for departure and availability varies every year. It is not practical to post the availability calendar here. Everyone should directly check the official website of Ballenberg steam railway. 
You must be on the desktop and use chrome or other browsers to check the schedules as their website is in German. Chrome automatically translates the webpage to English.
Reason 6: An absolutely spectacular cave near Interlaken
Having a unique landscape of lakes and mountains combined, Interlaken is a place to give you lots of experiences, mainly about nature. Not to mention the Giessbach Waterfall we talked about earlier. 
Though there are cultural attractions too, they are often made more compelling to visit by nature. There's Oberhofen Castle and the Schloss Seeburg as examples.
But, if you did not read the header for this section, would you know that underneath the ground near Interlaken, there's a wonder waiting for you to see? They call it Saint Beatus Caves, and it is another reason why you should go to Interlaken.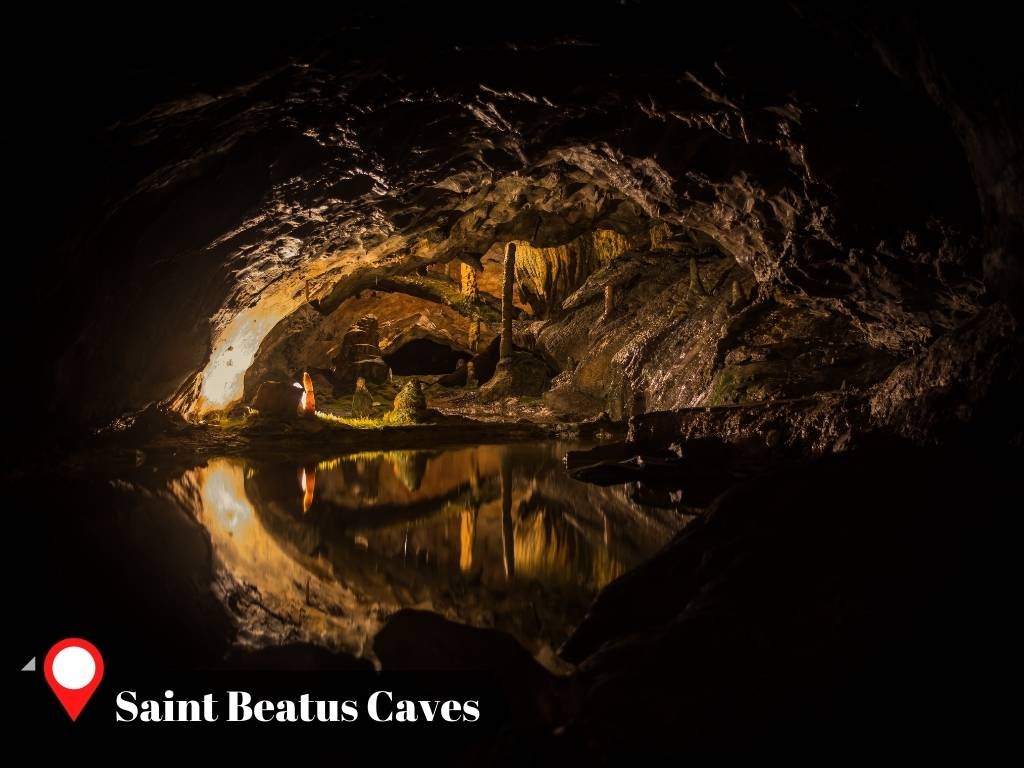 Saint Beatus Caves was, obviously, named after Saint Beatus. In the legends, it is said that Saint Beatus expelled the fire-breathing dragon that lived inside the cave in the 6th century.
Well, it's all just a legend. But, outside the caves, you'll find structures that seem was built during medieval times.
The thing is, waterfalls flow through the rocks below them. It kinda feels like the castle in Rivendell, the home of the elves in the Lord of the Rings. With the legend about Saint Beatus, people visiting the area feel some kind of fairytale vibe, adding to the worthiness of their visit.
You can expect to see spectacular stalagmites, stalactites, and small underground lakes as you go inside the caves. The rock formations are well-lighted, and so because of this, their images reflect the calm lake below them. A pretty mesmerizing scene, I think!
How to go to Saint Beatus Caves from Interlaken
There are three ways to reach Saint Beatus Caves from Interlaken: Boat, car, bus. The easiest is by bus. First, go to Interlaken West station and hop on Bus #21. 12-15 minutes after the bus departure, you should arrive at Saint Beatus Caves.
A visit to Saint Beatus Caves lasts for 75 minutes or more, exploring the 1-kilometer long trail inside the cave. You can visit a museum and restaurant with pleasant views of Lake Thun and the Bernese Alps. Saint Beatus caves' restaurant must be the best place to eat after the exploring cave. 
Entry to the caves only is 18 CHF for adults and 10 CHF for 6 to 16 years old. It is open daily from the 13th of March until the 24th of October, 9 a.m. to 5 p.m.
Reason 7: Interlaken is the adventurers' Paradise
At Interlaken, you can visit places from the caves down underneath the earth to the skies above the mountains, lakes, and grass fields. And no, it's not only sightseeing you can do here!
There are a lot of fun and adrenaline-pumping activities to do in Interlaken. This is why Interlaken is so much worth visiting, especially for adventurers and thrill-seekers! You have many options, from simple hiking to kayaking to waterskiing and windsurfing.
Based on the official website of Interlaken, you can Hang-Glide, bungee jump, and skydive in the area. This is the reason why Interlaken is called the adventure capital of Europe.
Here's a glimpse of some of the fun that awaits you in Interlaken:
Here are the most famous activities that you can try:
Tandem Paragliding – Feel like a bird! Drift in the air and see the spectacular views of the lakes and mountains. What's great about this? There's a pilot that will do all the maneuvering. The only two things that you will do are (1) enjoy the scenery up in the air and (2) put a check to this once-in-a-lifetime adventurous experience on your bucket list! Learn more about the activity here.
Canyoning on the Chli Schliere – I've tried to do canyoneering/canyoning before, and I can totally say that it's an activity that's more than just having fun! You will be jumping off the cliffs plunging into the water, scrambling, and sliding off the rocks. It can be a fear conquering activity to try. Learn more about the activity here.
Canyon Swing – Seek the extremes and say to the world that you have lived your life to the fullest! Scream out the fear in you and experience free-fall at 120kph (75 mph). You will no longer fear death after the canyon swing! LOL. Learn more about the activity here.
Discover more fun and adventurous activities you can have in/from Interlaken from getyourguide.com
Reason 8: Absolutely Scenic Hikes from Interlaken
There is no other place more spectacular than the Alps: the snow-capped peaks, turquoise lakes, graceful waterfalls, peaceful meadows, peaceful meadows, and the list continues. But, you know, there's no way to find the true beauty of the alps or any mountains other than hiking.
Hiking is free, and it sets you free. Sometimes, you conquer not the mountains but the mountains within you in hiking.
Profoundness set aside, hiking still has many benefits. It gives you plenty of time to discover new stunning sights and admire them for as long as you want. Unlike if you're on a train ride, perhaps a view will be gone after minutes or seconds you pass the spot.
From Interlaken, there are three mountains or hiking spots you'll absolutely love to hike. They are unique, and you'll not find them anywhere else. Definitely, a reason why visit Interlaken.
We all have different likings and tastes regarding the beauty and experiences we like to have. But for me, these two hiking spots in Interlaken are the ones best to hike:
Mount Niesen
Schynige Platte
Mount Niesen
If you pass by roads between Interlaken and Thun or take a boat ride in Lake Thun, you'll see a triangular mountain to the west of the southern portion of Lake Thun.
This mountain is called Mount Niesen, the mountain pyramid of Switzerland, and it's one of the mountains best to hike and visit to watch the sunset. Suppose that the weather is clear and the sun is setting with hard light… What you'll be excited to see more is the triangular shadow it will cast on the fields and lake east of the mountain.
It's just spectacular. Have a glimpse: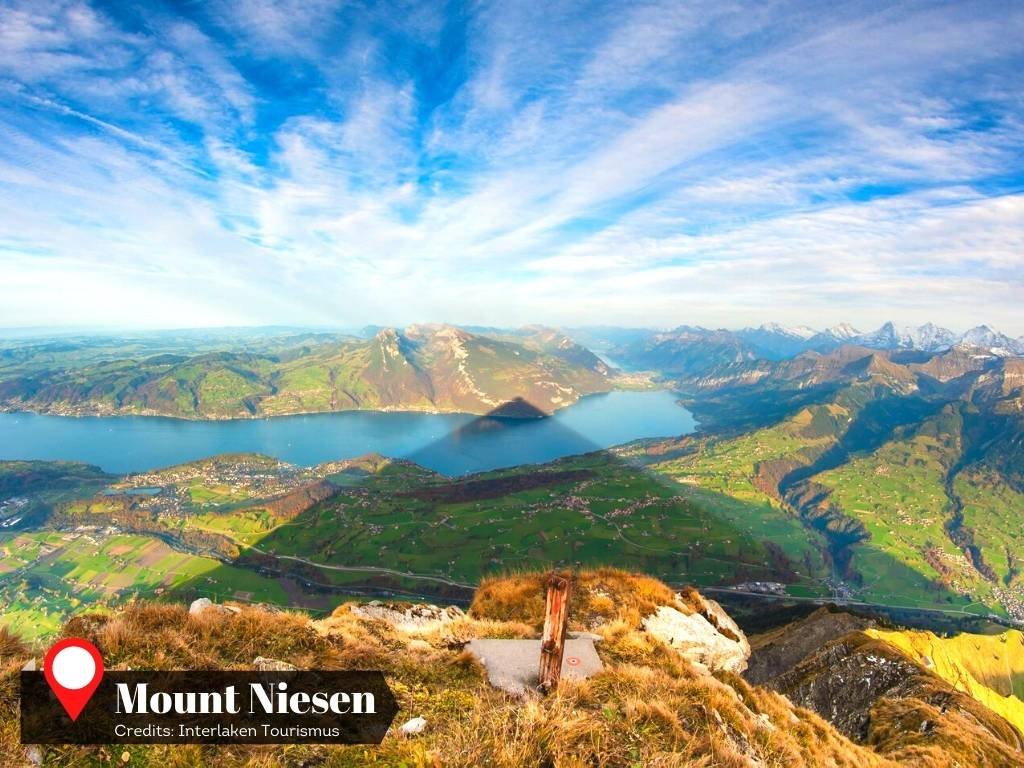 However, it's still compelling to come to Mount Niesen even if it's not the sunset. At the summit of Mount Niesen, you'll have a sweeping view that stretches from Switzerland's Central Plateau on the north to the rugged peaks of the Bernese Alps to the south. It's a view you will not regret seeing.
How to get to Mount Niesen from Interlaken
To get to Mount Niesen from Interlaken, go first to Interlaken Ost station. From there, get a train ride to Spiez. Bus #60 departs Interlaken Ost station and goes to Spiez too. Finally, in Spiez, hop on a train to Mülenen, the small village where Niesenbahn is.
You have 3 ways you can reach the summit of Mount Niesen:
Funicular ride straight to the top.
Funicular rides until Schwandegg and starts the hike until the summit.
Hike right away from the Niesenbahn ground station.
Hiking Mount Niesen
Based on my route planner, it could take you 5 hours to reach the summit of mount Niesen if you start from Niesenbahn. That's hiking for 7.83 kilometers (4.8 miles) and climbing 1620 meters (5300 feet) overall elevation gain.
It's better to do the second way to reach Mount Niesen's peak: to start hiking from the middle. From Niesenbahn ground station, hop on a funicular to Schwandegg and then do the hike to the top.
This way, you can save a lot more time and energy. Besides, the lower parts of the trail do not have beautiful views yet. So it's really practical that you skip them.
But of course, you always have the choice not to hike. The Funicular train can bring you straight to the top of Niesen from the ground station.
If you start hiking Niesen from Schwandegg, you will only be trekking for 2 hours, covering 3.16 kilometers (2 miles). The total elevation gain you'll make is 670 meters (2200 feet). Check out the route I prepared:
Click the square button on top of the plus and minus buttons to recenter the map.
Schynige Platte
Another hiking spot that will make you go to Interlaken is Schynige Platte. It is a small mountain ridge located southeast of Interlaken, worthy of visiting because of the 360 views of different parts of The Bernese Alps. The view of the lakes of Interlaken, the valley of Lauterbrunnen, Lütschine, and Grindelwald will all be yours, of course, including the Jungfrau Massif.
Below is a sample of the view from one side of the Schynige Platte. Rotate the image to see more sights:
Here's how it looks on the northern side of Schynige Platte from Daube's viewpoint:
During summer, aside from the views, people go to Schynige Platte for the lovely botanical garden located near the summit station of the Schynige Platte Railway. You can find around 690 species of alpine flowers blooming in different colors.
How to go to Schynige Platte
There are two ways you can go to Schynige Platte from Interlaken. The first is through hiking, and the second is through a 125-year-old cogwheel train that departs from Wilderswil.
Since you will still be hiking in Schynige Platte when you arrive, I suggest that you have the cogwheel train ride instead. That way, you will still have the energy to trek around Schynige Platte and go to the best vantage points from the hiking trails on the ridge.
Hiking Schynige Platte
There are several hiking trails you can follow and spots must visit in the Schynige Platte. Below is the brochure from Jungfrau.ch you can download and print to guide you in exploring the area. It has the complete details of what you can expect to see for every part of Schynige Platte. 
Reason 9: The Funky Chocolate Club Switzerland in Interlaken
Interlaken offers many experiences not limited to adventure and sightseeing. Located in the heart of the town, you can find Funky Chocolate Club Switzerland, the meeting point for all chocolate lovers. Here you can discover "funky, quirky chocolates in all imaginable flavors, shapes, and patterns."
Here, the secrets of Swiss chocolates are shared with travelers from everywhere. You can join their workshop and get the experience. Here's a preview of what's inside the shop.
The Funky Chocolate Club Switzerland has been featured by many travel vloggers and international food shows already. It's excellent for family travelers and adventurers who also have a foodie person within them. They love the experience, especially the kids.
Learn more from their website: funkychocolateclub.com
Here's what some of the travelers say:
I highly recommend taking the chocolate cooking class here. Not only do you learn about chocolate in general, but also Swiss Chocolate. The instructor was very fun and spoke English well as he is from New Zealand. The fun part about the class is of course, eating the chocolate and taking some home!

Troy Donovan
Also:
Absolutely amazing. The class was perfect. We had 2 kids and the teacher was very patient with them and took her time to ensure they understood what they were doing and where chocolate came from. You make three bars with different decorations and have a lot of fun and eat a lot of chocolate in the process. Absolutely worth the hour you spend doing it. Plus, there is a craft brewery on the premises that makes pretty darn good beer.

JB
On the 400 reviews, it scored 4.4 out of 5. The only negative thing I read is that there were racist instructors. But, they are active in answering feedback. So, perhaps, the issue must have been solved/improved by now.
Reason 10: Interlaken is minutes away from a place called "Heaven on Earth."
The last reason why you should visit Interlaken? It is very near to Lauterbrunnen Valley, the place called by many the "Heaven on Earth." Basically, Interlaken is the gateway to Lauterbrunnen. You are just minutes away from this spectacular place if you're already at Interlaken.
People usually make day trips to Lauterbrunnen and its surrounding villages and attractions from Interlaken. Like Interlaken, I also have an article about Lauterbrunnen.
In that post, you can also find 10 reasons and things to do why you would also want to visit Lauterbrunnen. Click this link to see what Lauterbrunnen is all about.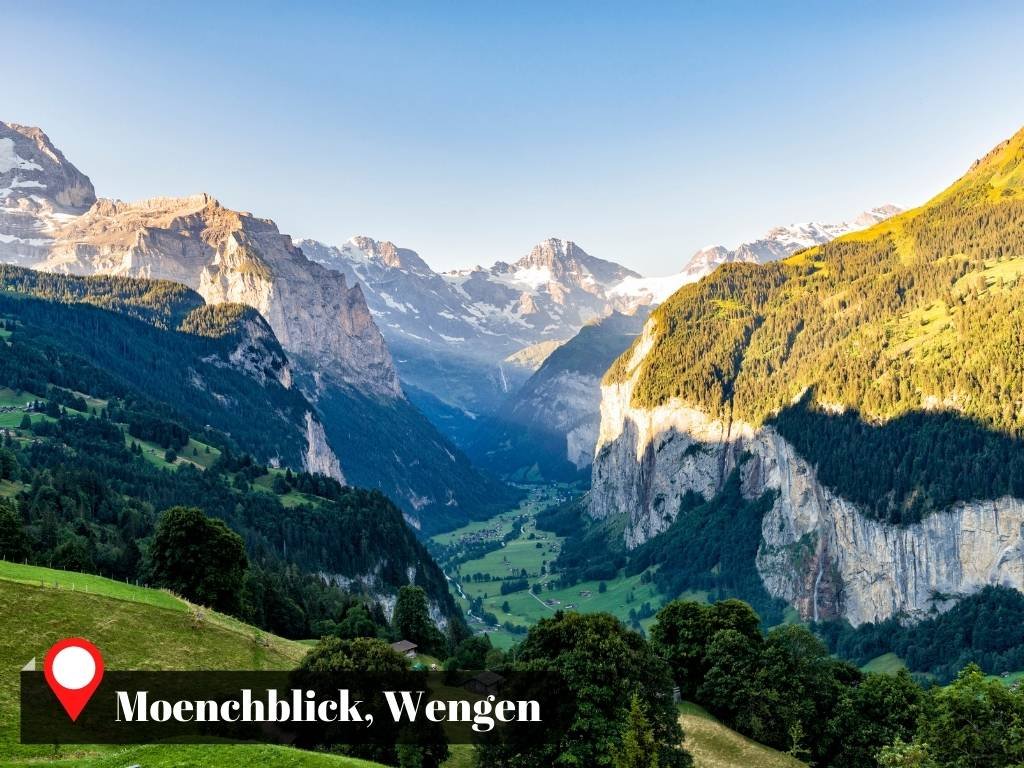 Is Interlaken worth a visit?
In summary, Interlaken is a town in the heart of Switzerland situated in one of the most unique and spectacular landscapes in the alps. Being in between mountains and lakes, you'll find yourself around scenic hikes, different natural attractions, and fantastic adventures in Interlaken. These, together with the castles and nostalgic train rides, make Interlaken absolutely worth visiting.
Interlaken is one of the adventure-filled, idyllic, and scenic towns in the Swiss Alps. If you plan to stay in Switzerland for longer, you should also visit other towns e.g.,  Lauterbrunnen, Grindelwald, Kandersteg, Zermatt, and Gruyeres. Click the name of the towns to see if they are worth a visit too.
Is Interlaken Switzerland expensive to visit?
Apparently, Interlaken is expensive to visit, especially for budget travelers like me, since it is in Switzerland. As per my research, the average food ranges from 15 to 20 CHF, and some decent accommodation has prices ranging from 25 to 35 CHF (1 USD = 0.9 CHF). Yet, I think the prices are just right with the quality of travel experience you'll get in Interlaken.
When is the best time to visit Interlaken?
Interlaken is the adventure capital of Europe. The best time to visit Interlaken is during summer when all of the adventurous activities, from hiking to canyoning, nostalgic train, paragliding, etc., are available for you to try. Also, the temperature from June to September is just perfect for outdoor activities, having a low of 12°C/53.6°F and a high of 24°C/75.2°F. 
How many days to stay in Interlaken?
Visiting the attractions in Lake Thun from Interlaken takes a day, an additional one day for exploring Lake Brienz. You will also need a day or two for hiking and a ride on one of Interlaken's nostalgic trains. With all these in your itinerary plus one or two adrenaline-pumping activities, you must allocate 4 to 6 days to visit Interlaken.
There are five cities near the Swiss Alps where you can see beautiful scenery and at the same time learn about Swiss culture and history. If you are staying in Switzerland for a longer time and looking for a city to visit in the Swiss Alps before or after Interlaken, see my articles about Montreux, Sion, Brig, Thun, and Lucerne.
Save it on Pinterest.