Gruyeres Switzerland: 10 Best Reasons Why Visit Gruyeres
If you ask people to list the most beautiful towns in Switzerland, one of the places you'll notice common to all is Gruyères. A medieval city situated in the rolling hills of Swiss pre-alps and located in La Gruyère district in the canton of Fribourg.
Gruyères is famous for two things: its preserved medieval center and Gruyère cheese. The 800-year history of the town and its world-famous cheese will be the highlight of your visit.
But are the time-transporting experience in Gruyères and its world's famous cuisine compelling enough? Is Gruyères worth visiting? Is this the place right for you to travel to?
Affiliate Disclaimer: This post contains affiliate links. I recommend products and services that I think can help you make a successful and memorable trip. I may receive a tiny commission if you purchase them with no additional cost to you. These will support me in maintaining, creating more articles, and fulfilling the mission of this blog.
This blog post will help you decide if Gruyères or La Gruyere is a perfect destination for you by giving you ideas of the BEST experiences that await you here. These experiences are technically the reasons you will visit Gruyeres… and they are later summarized to answer the question: is Gruyeres worth visiting?
At the end of the post, you shall also find the answers to the most frequently asked questions about Gruyeres. This is to help you plan a trip to Gruyeres in case that you have decided to include it in your Switzerland itinerary.
Do not forget to bookmark/pin this post if you find it useful! You can also use this as your list of things to do in Gruyeres when you come.
Facts and information (i.e., opening hours, etc.) are based on the official website of La Gruyere unless stated.
Let's begin!
10 Reasons to visit Gruyères, La Gruyère
Switzerland, though tiny, is packed with beautiful destinations to visit. There are so many unmissable places that creating an itinerary seems challenging already.
Aside from Gruyeres, there is Lauterbrunnen, Zermatt, and all these cities near the Swiss alps that are so magical. We just want to visit them all too! Picking a destination could be a dilemma, especially if we have very limited time to travel to Switzerland.
So let's finally end the decision-making dilemma for Gruyeres now whether to include it or exclude it in your trip to Switzerland! Here are the 10 things that you can enjoy in Gruyeres – the reasons why you will add Gruyeres in your travels to Switzerland:
The cheese made from Gruyères
The chocolate factory in La Gruyere
The medieval town of Gruyères
Gruyères' out-of-this-world museum
Fascinating mixed-culture museum in Gruyères
The Castle in Gruyères
Countryside sceneries in La Gruyère
The Gorge in La Gruyère
Scenic view of the Alps in La Gruyère
La Gruyère's Magical Lake
Need help in planning your trip to Switzerland? I prepared a 3-day, 7-day, 10-day, 14-day Switzerland Itinerary to guide you. I discussed each destination to visit (things to do, how long to stay, map, and other tips). Check it out!
1st Reason: The cheese made from Gruyères
In the introduction, I mentioned that Gruyères is famous for its cheese… Cheese – we all love cheese, right!? HAHAHA! 
From pizza to pasta, cheese fondue, mac & cheese – ahh, it's hard to explain how they tickle my taste buds as I devour them during a meal! My tummy growls as I imagine eating.
Because of this, I think there's no better way to kick off this list of reasons why visit Gruyeres with the cheese named after the town it is made: Gruyère Cheese. 
So how does Gruyère Cheese make Gruyères worth visiting? Well, it is simple. You can taste the authentic and freshly made Gruyère Cheese in this town. There's a twist! You can also learn how this cheese is produced. The locals themselves will show and explain to you how.
Most importantly, your trip to Switzerland or the Swiss alps would not be complete without trying one of the local's best products. I know cheese is available everywhere, but have you tried tasting an original, unique to Switzerland Alpine cheese?
If you're from a very far place like me, halfway around the world from Switzerland, I bet you also haven't seen any alpine cheese ever. So when you come to Switzerland, it will be your chance finally… and no, don't just see or eat one. Learn how it is made – it's a great experience, most people say!
What is Gruyere Cheese?
Gruyere is a smooth-melting kind of Alpine cheese from Switzerland that tastes sweet but slightly salty. It is made from whole cow's milk cured for half a year or longer.
Before aging at five months, Gruyere cheese is described as creamy and nutty. But as it matures around the 5th month, it becomes assertive, earthy, and complex. You shall see small cracks in Gruyere cheese, revealing a slightly grainy texture during that stage.
Here's what a Gruyere cheese looks like:
Where to see Gruyere cheese in Gruyeres?
There are two places in Gruyeres where you can watch and learn how Gruyeres cheese is made:
La Maison du Gruyere
Moleson-sur-Gruyeres
Below is the summary of what you can experience from each cheese factory.
La Maison du Gruyere
La Maison du Gruyere is the cheese factory nearest Gruyeres' old town, located beside Gruyeres' largest road intersection in Pringy. It is a prominent cheese factory where the secrets of the Gruyere cheese are revealed. Inside, you can observe how the cheesemakers do their thing being the expert. 
A visit lasts for 45 minutes. After touring the factory, you can go to the Restaurant of La Maison du Gruyere to try the dishes made with Gruyere cheese. 
Here are the opening hours of La Maison du Gruyere: 
October to December, Monday to Sunday, 9 a.m. to 5 p.m.
January to September, Monday to Sunday, 9 a.m. to 6 p.m.
The entry fee for adults is 7 CHF (6 CHF for reduced rates). A combined ticket costs 16 CHF, which includes entry to Gruyeres Castle.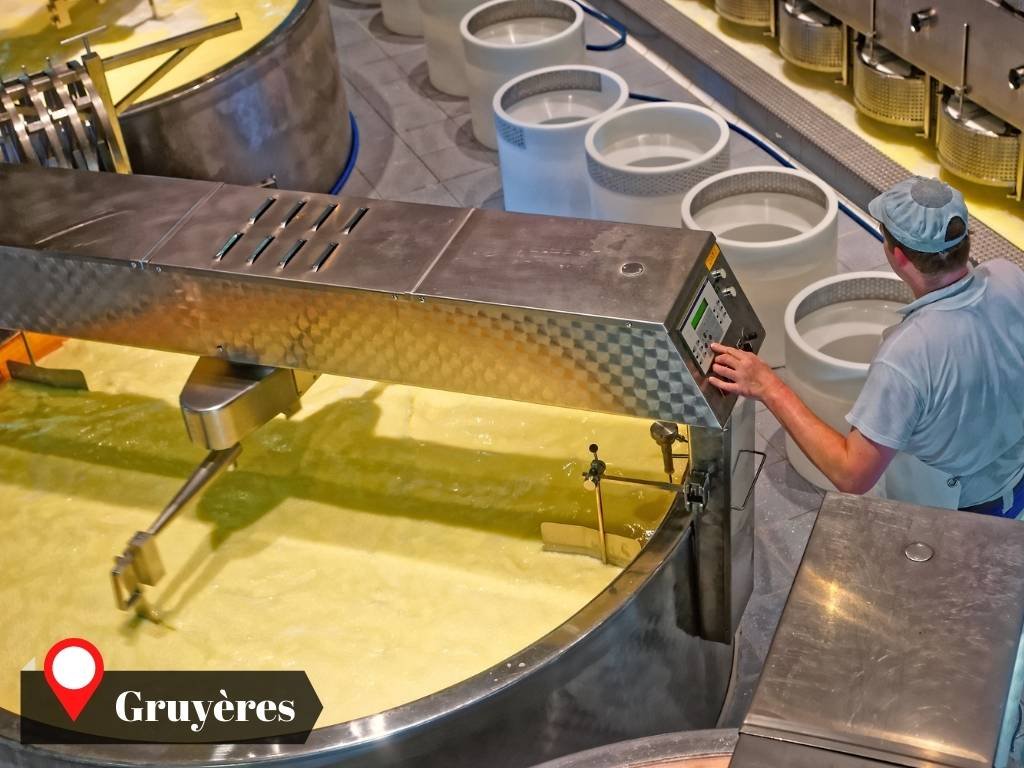 Moleson-sur-Gruyeres
The Mountain Cheese Dairy (Fromagerie d'alpage) in Moleson-sur-Gruyeres should give a better experience of witnessing more traditional cheesemaking. Instead of seeing steels and machines, you watch the cheesemaker make the cheese using a huge wood-fired boiler in a 17th-century chalet.
The cheesemaking demonstrations are done twice a day and every day from May to October at 10 in the morning. They have opening hours from 9 a.m. until 6 p.m… Mountain Cheese Dairy offers you fondue and traditional macaroni after the demonstration. 
If you want to assist in cheese making, you have to make a reservation by calling +41269211044. Entry is 5 CHF for adults, 2 CHF for kids 6-15 years, and 4 CHF for reduced rates. Here's Mountain Cheese Dairy's exact location on Google Maps.
2nd Reason: The chocolate factory in La Gruyère
La Gruyere will awaken the sleeping food traveler within us. Because aside from a cheese factory, we also find a chocolate factory in La Gruyere which is best to visit when traveling with your family. Definitely, it is a reason to visit La Gruyere as the kids (or the child in us) will surely love the crazy sweetness chocolates they bring.
Can you guess the name of the chocolate produced in La Gruyere is? No, it's not Toblerone or Gruyere chocolate! LOL.
The answer is Cailler chocolate. Like Gruyere cheese, these chocolates are also one of the town's pride. The locals, the Cailler family, has been producing the chocolates for more than a century already! 
Cailler chocolates are special, as they are also made from the milk of the alpine pastures, taken care of and nurtured by the Swiss themselves. Inside the factory (during a tour), you will find the raw materials (which you can actually touch) and observe how they undergo the chocolate manufacturing process.
The tour is very comprehensive, prepared in various languages, and has different parts. You'll learn about the history of chocolate-making in Maison Cailler, where the raw ingredients are sourced, etc.
If you have kids, you can let them join the activities in the Maison Cailler, like creating their own chocolate bars. At the end of the tour, you are given a chance to taste the chocolates produced in the factory (buffet-style alike). 
Most visitors say they were overwhelmed by the number of chocolates they found. They were delighted with the experience as well! Definitely, it was an excellent, must-try activity. In Google reviews, it has a whopping 4.6 out of 5 rating by more than 7,000 visitors. 
Entry to Maison Cailler factory is 15 CHF for adults, and children up to 16 years old are free to enter. It is located in Broc, La Gruyere, a few-minute drive from Gruyeres (see Google Maps location here). The factory is usually open:
April to October, Monday to Sunday, 10 a.m. to 5 p.m.
November to March, Monday to Sunday, 10 a.m. to 4 p.m.
Please always check the information for updates from the previous link. 
Ultimately, isn't it incredible that by visiting Gruyeres or La Gruyere, you can also go to the origin of the two iconic food/sweets that makes Switzerland famous? Not only that, but you also get to taste the freshest, most authentic ones!
3rd Reason: The medieval town of Gruyères
Enough with the mouth-watering reasons why visit Gyureres. I'm getting hungry with all these. Let's proceed now on things we'll have in Gruyeres that will then satisfy our eyes and our wanderlust within! 
… and the third reason why visit Gruyeres? Its town. The preserved, medieval old town.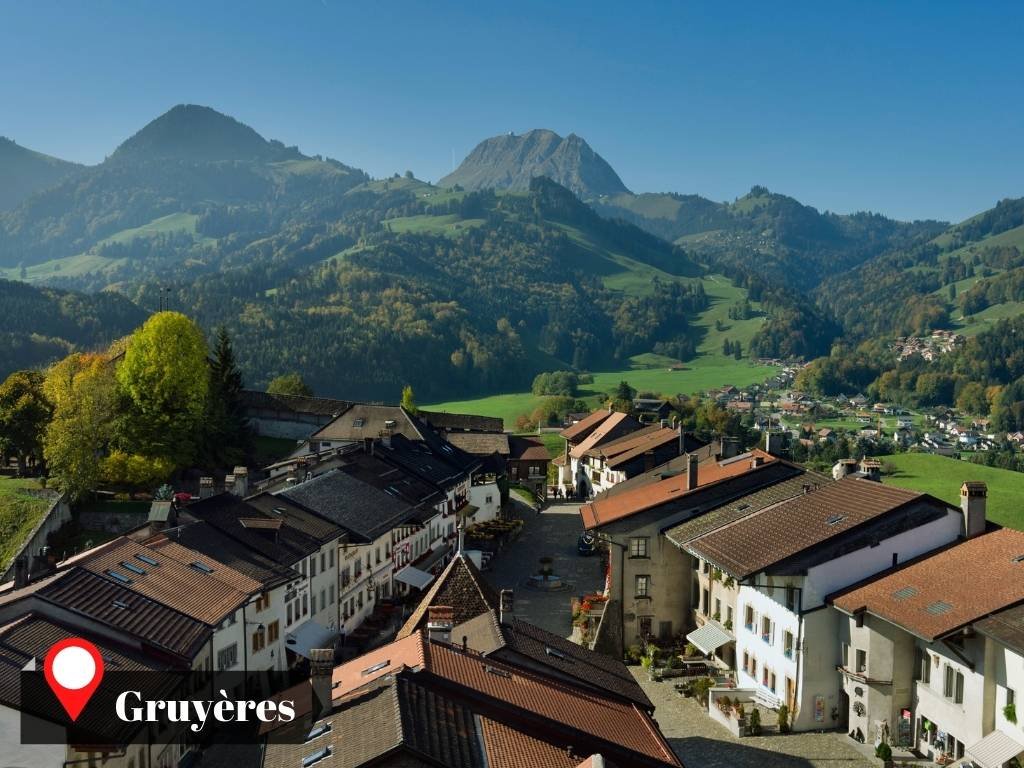 Although it is not as quaint as you might expect, the cute little town of Gruyeres can still transport you back into the past. The cobblestone streets, picturesque flower-decked chalets, ivy-covered buildings, and the scenic bastion shall give you charming throwback feels.
The surrounding mountains could be seen from Gruyere's main street. And they make the old town look more lovely and charming.
Standby at the Calvary Chapel in the heart of the city, and you'll see the entire main street against the snow-capped mountains and lush green meadows in the background. It's a shutter-presser view, most lovely when it is not crowded and sunny.
By the way, Gruyeres also has a castle, and along the way to it is the Chalet de Gruyeres. A lovely restaurant with a gorgeous facade. It's the most popular restaurant in the town and perhaps the most beautiful building you can find in Gruyeres.
Usually, Chalet de Gruyeres is embellished with flowers. Cowbells are hanged on its balcony with the town's coat of arms. It's something that will catch your sight.
It is beautiful outside, but the best part awaits inside. The interiors are all wooden, and cooking tools and utensils are displayed. Expect some quaint, cozy atmosphere.
Have a glimpse of what you'll see inside:
People who came here can't get enough of the Raclette and meringue with double cream. Let's make the reason why visit Gruyere visual:
Best fondue I ever had, seriously. The inside of the restaurant was very authentic swiss style and the service was quite fast and the staff members were kind. I had a dark local gruyeres bier 🍺 and it was very delicious. The price of the food and the drink was expensive but it was totally worth it.

Kuby Ebc
4th Reason: Gruyères' out-of-this-world bar and museum
I do not like to spoil you, but another reason why you should visit Gruyeres is because of more surprises that await you in town. Gruyeres has tourist attractions that seem you would not expect to see in a preserved medieval city.
One of them is called HR Giger Bar Museum, and you can find it along the way to Saint Germain Castle. It is made by the Swiss artist Hans Ruedi Giger, who designed the extraterrestrial creatures in the movie Alien.
If you are looking for some kind of "twist" in your journey in Switzerland, the HR Giger bar museum is the place to be. It will give you a fascinatingly creepy sci-fi experience, absolutely contrasting the medieval atmosphere in Gruyere.
As per its name, it is both a bar and a museum. Here's what you'll see inside the museum:
And this is how it feels like inside the bar located just opposite the museum (try to move the 360-image to see more views):
Lastly, the entrance of the museum:
Many people like Giger's works. It's impressive how creative and extensive Giger's imagination is, really! However, some of the things you'll see inside the museum are slightly disturbing and may not be very suitable for young ones.
5th Reason: Fascinating mixed-culture museum in Gruyères
Another surprising thing you'll find in Gruyere is the Tibet Museum. It was established by the Alain Bordier Foundation inside the renovated chapel of Saint Joseph, located near and between the castle and HR Giger Museum. 
The Tibet Museum in Gruyere contains many artifacts of Hinduism and Buddhism like the golden sculptures of Buddha, paintings of their gods, inscriptions, and so on. Perhaps It is the most bizarre place you'll find in Gruyeres.
Here's why:
First, it's pretty strange to see Tibetan culture in the alps. Yes, the Himalayas and the Alps are mountainous regions, but we are in Europe! The odds of seeing Tibet's tradition and religion are almost impossible, but this.
Second, since the Tibet Museum is inside a renovated church, you will see images of Jesus and Christianity displayed just above the Buddha and gods with several arms and faces.
Exploring the Tibet Museum will undoubtedly be a unique experience on your trip to Switzerland. It's a reason why visit Gruyeres, right?
Above is what you'll see inside the museum. This is a 360-image – try to swipe it around to see more views.
6th Reason: The Castle in Gruyères
The 6th reason to visit Gruyeres is the Chateau de Gruyeres, the main destination in the preserved medieval city. Built during the late 13th century, the Gruyeres Castle is the place in Gruyeres that will certainly transport you back into medieval times. 
Gruyeres Castle has perks more than just discovering historical stuff, being situated on a hilltop surrounded by mountains and beautiful vistas. It kinda appears like a setting in a movie, and it could look very dramatic during specific times of the day, i.e., the golden hour during sunset and misty morning sunrise.
If you have been fantasizing or imagining yourself in one of the fairytales or medieval movies/series you've been watching (i.e., Game of Thrones, Narnia, The Hobbit). Then, this is your opportunity to make it a reality! 
The experience gets better as you enter the castle. 
Inside, you will find valuable items used by nobles and knights and things alike. Things that will further help you imagine what it was like to live in medieval times or in the fantasy you're making. 
You can either join a tour or make a DIY tour when visiting the castle. If you do it by yourself, you will be just given a handout guide to help you find the most notable items exhibited in the castle:
Charles the Bold's capes of the Order of the Golden Fleece
Jean-Baptiste Camille Corot's landscape paintings 
Troubadour decorations of the Knights' Room
The wall decorations commissioned by the bailiffs under the Ancien Régime
The castle's intricate stained-glass windows that are half a millennium years old.
The wall decorations and the paintings are incredible! The level of details will wow you. Above all, embedded in them are the stories of life during medieval times. The most words you'll say when you see them? "Ahh, so this is what happened; this is how it was."
After your tour, proceed to the gardens for a refreshing breeze of mountain air. There you can find plants cut and formed into various shapes. During spring, you can see it blooming with colorful flowers.
It will be better if you come to Gruyeres Castle with a company or a partner. You can ask them to stay on the castle's upper floors overlooking the garden. This way, they can take photo souvenirs of you while you are in the charming castle garden with the snowcapped mountains in the background.
Check out the view from the castle's garden! Rotate the image to see more sights:
If you join a tour, storytellers wearing medieval clothes will accompany you around the castle, telling its secrets and legends. For kids – they can join a treasure hunting activity guided by the lady of the court. You can check the video I showed you earlier.
The entry is 12 CHF for adults, 25 CHF for families, and 4 CHF for kids 6 to 15 years old. They are open during:
April to October, Monday to Sunday, 9 a.m. until 6 p.m.
November to March, Monday to Sunday, 10 a.m. until 5 p.m.
7th Reason: Countryside sceneries from Gruyères
If you are sick and tired of seeing stressful traffic and lifeless buildings in the city, it is time to get some refreshments – your 7th reason why visit Gruyeres. By visiting the town, you send yourself closer to nature. You will also give yourself a wide-open space to breathe; indulge in your mental health peace in the absence of the bustling city vibe.
Just imagine yourself being at a place where sceneries are the total opposite of that in the city. The lush and flowery meadows, the patches of pine trees in them, and the animals grazing – it's a scene that will absolutely soothe you out of your stress and anxiety, right?
With the quaintness of its medieval town, plus all the relaxing sights around it – I definitely could say that Gruyeres is a place worth visiting. Here are some of the countryside sceneries you'll see as you hike and explore the surroundings of Gruyeres:
Check out this drone shot! (Move the image around to see more views)
Aside from the castle, there are two short hiking trails around the old town of Gruyeres you can access for more beautiful vantage points of the pre-alps and of the countryside. In the old town, you can start hiking from:
Bastione d'ingresso, passing the meadows and trees located down below the castle. Ends in Gruyères Castle.
Église Saint-Théodule, passing the deer park and several houses. Ends in the car park at the entrance of the old town. This hike has better sceneries as it's located east of Gruyeres old town where the views of the mountains are.
Gruyeres is one of the adventure-filled, idyllic, and scenic towns in the Swiss Alps. If you plan to stay in Switzerland for longer, you should also visit other towns e.g., Interlaken, Grindelwald, Lauterbrunnen, Kandersteg, and Zermatt. Click the name of the towns to see if they are worth a visit too.
8th Reason: The Gorge in La Gruyère
For me, the best reason why you should visit Gruyeres is its location. You get so close to the mountains and have so many perks and remarkable experiences. 
With the mountains, Gruyeres seems like an all-in-one destination. Not only do you find medieval magical encounters, but you get picturesque views, adventures, and relaxation from nature.
Gorges de la Jogne is one of the adventures you can try in the La Gruyere region. Located just in Broc, you can quickly reach it in minutes either by bus or private vehicle.
Hiking the gorge takes about an hour and ten minutes to finish, covering 3.5 kilometers of an easy hike. It starts in Broc and ends in Montsalvens Dam, the first double-arch dam in Europe. 
Gorges de la Jogne may not be as spectacular compared to the Gorges du Verdon in France or Samariá Gorge in Crete. Still, it has the stunningly picturesque Montsalvens Dam that makes the hike worth it. You will be hiking over wooden walkways, bridges, and tunnels in Gorges de la Jogne. 
When you reach the Montsalvens Dam, you can walk along with it and see the spectacular view of the Jogne Valley and Dents-Vertes de Charmey. You can continue hiking to Charmey by following the shore of lake Montsalvens. Once you reach Charmey, you can take the bus to Broc or Gruyeres to return.
Here are some of the views awaiting you in Gorges de la Jogne:
Swipe the image to see the surroundings:
9th Reason: Scenic view of the Alps in La Gruyère
Gruyères also has cable car stations that instantly bring visitors to a peak like almost all the towns in Switzerland with mountain ranges nearby. In the case of Gruyères, the mountain is called Moléson, and it is a 2002-meter high mountain situated southwest of Moléson-sur-Gruyères.
Moléson is one of the reasons to visit Gruyeres because of the unique views you can see from the top apart from the rest of the alps. Here, you see Switzerland's three physiographic regions.
When you're on the top of Moleson, the view of the spectacular rugged snowy peaks of the alps is the one you'll behold when you look south. Turn around, and the verdant vistas and the towns in the Central Plateau will be all yours to behold. The views extend as far as the Jura mountains beyond the Central Plateau in clear weather.
If you look on the map, you will see that Moléson is located between Lake Geneva (southwest) and Lake Gruyeres (northeast). These are the lakes you'll easily spot on top of Moléson.
The Swiss Alps is one of the most beautiful places on Earth! Discover more places to visit in the Swiss Alps from my articles: Inspiring Photos of Swiss Countryside and Things That Make The Swiss Alps Famous and Special (Click to open in a new tab and read later). I have listed all the things that will make you visit the Swiss Alps – they shall give you ideas of what to visit when visiting Switzerland.
Anyhow, what will fascinate you on the top is the view of the transitioning landscape of central Switzerland. From the jagged peaks of the alps to rolling hills and finally, to flat fields – they will fill you with wonder, thinking how creative nature is.
Here are the views in Moléson during pleasant weather:
Here are the steps to reach the summit of Moléson from Gruyeres:
From Gruyeres, take the bus 263 to Moléson-sur-Gruyères.
In Moléson-sur-Gruyères, ride the funicular to Plan Francey.
From Plan Francey, hop on a cable car to the summit station in Moléson.
Hiking is an alternative, but it could take you 2 hours just to reach the summit from Moléson-sur-Gruyères.
10th Reason: La Gruyère's Magical Lake
Last but not least on this list of reasons to visit Gruyeres is the nearby lake called the Lake of Gruyere, an artificial lake created by the construction of the Rossens Dam in 1948. 
Lake of Gruyere, though artificial, seems mysterious at times. Thanks to the castle ruins and the chapel built on one of the five islets of the lake called Ile d'Ogoz. The castle and chapel were a promontory overlooking the valley and Sarine River before it was flooded by the presence of Rossens Dam.
Usually, tourists go to the castle ruins by boat. However, during the dry season, the water level of Lake Gruyeres drops, a land bridge connecting the island and the shore appears.
Regardless, the lake has beautiful sceneries of the pre-alps. You can expect to see the rolling hills surrounding the lake on a stroll on its shores or visit its islands.
Travelers can hike around the lake or rent a boat/kayak to explore the surroundings. If you plan to hike hiking, you can expect to hear some cowbells ringing as you pass by some alpine farms and meadows. It will be just one relaxing hike, certainly.
Here is the view of Lake Gruyere from one of the towers of the ruins you can see when you visit:
Try to swipe the image to see more views or click the arrows to explore the island.
Is Gruyères worth visiting?
In summary, Gruyères is a beautifully preserved medieval city offering traditional heaven-to-goodness deserts you will absolutely love. Here, you'll not only find a time-transporting experience from the castle, but also out-of-this-world encounters brought to you by the town's fascinating museums. All these, combined with the beautiful scenery nearby, ultimately make Gruyères a worth visiting destination you must not miss on your Switzerland trip.
By the way, there are five cities near the Swiss Alps where you can see beautiful sceneries and at the same time learn about Swiss culture and history. If you are looking for a city to visit in the Swiss Alps after Gruyeres, see my articles about Montreux, Sion, Brig, Thun, and Lucerne. (click them to open to a new tab and read later)
When to Visit Gruyère?
The best time to visit Gruyeres is during late spring, early summer, or April to June. Not only is it the shoulder season when there isn't much crowd in Gruyeres, but it is also the time when the preserved medieval town is at its most picturesque state. The view of the snowcapped mountains and blooming flowers on the fields and the houses' windows will absolutely fill the sceneries in Gruyeres with cuteness and countryside charm.
How long to spend in La Gruyère?
One day is enough to see everything inside the preserved medieval city of Gruyeres, including the tour to the cheese or chocolate factory and the castle. However, if you also want to see the natural attractions in Gruyeres, you will need at least two days. That will involve going to Moléson and admiring the views, hiking in the Gorges de la Jogne, or exploring Lake Gruyere.
How do you get to Gruyères?
Gruyères is not too far from some of the main Switzerland cities. From these cities (Bern, Lausanne, Montreux, Geneva), it is possible to make a day trip to Gruyères because of the proximity and efficient commute between them. Below is the table showing the distance, travel time, and commute from the cities closest to Gruyères to Gruyères:
Using a car to visit Gruyères
You can click on the links in the table to see the driving routes from each city to Gruyères in Google Maps.
Cities Near Gruyères
Road Distance
Travel Time
(Private Vehicle)
Montreux
40.6 km
33m
Lausanne
56 km
47m
Bern
65.1 km
45m
Geneva
119 km
1h 26m
Travel distance between Gruyères and the cities in Switzerland (private car)
Using public transportation to visit Gruyères
You can click on the links in the table to see the public transportation routes from each city to Gruyères in Google Maps.
Traveling for a week or more in Switzerland? Save a lot of money using the Swiss Travel Pass (click here to learn more). With it, you can have an unlimited ride on public transportation (Bus, Trains, and Boats) and free entry to more than 500+ museums in the country. Cable cars, funicular, and cogwheel train rides are discounted by 50%. IMPORTANT: before you buy a Swiss Travel Pass, check first where it is valid or where it applies 50% on STP's official website.
Travel distance between Gruyères and the cities in Switzerland (public transportation)
Please note that these are only estimates. Several factors may affect it to change like traffic, weather, road repairs, and so on. Lastly, under the commute column, the quickest routes are indicated. The availability of the train/bus may differ for mornings, afternoons, and nights.
Joining a tour to visit Gruyeres
Another way you can visit Gruyeres is through the tours that can spoonfeed you with all the highlights of Gruyeres, no hassle, just enjoy!
Panoramic Cheese Tour to Gruyere
If you are coming from Montreux or Laussane, one fantastic way you can visit Gruyeres is through the "Panoramic Cheese Tour to Gruyère with Fondue Tasting."
On this tour, you will be riding on a comfy bus with massive windows featuring views of the Gruyere countryside along the way. The tour guide introduces you to the Swiss cheesemaking culture as you watch the lovely countryside. Of course, there's authentic Swiss fondue tasting when you reach Gruyeres!
Learn more about the Panoramic Cheese Tour to Gruyère with Fondue Tasting from getyourguide.com.
Cheese and Chocolate Factory Tour
Suppose you will be coming from Geneva and planning to visit Gruyeres with your family or friends. In that case, you can try the "Gruyère Day Trip – Cheese & Chocolate Factory Tour."
The tour includes a visit to Chocolate Factory – Maison de Cailler, La Maison du Gruyère Cheese Factory, and Gruyère Old Town. There's more! You will also visit the Wine Terrace in Lavaux, a UNESCO heritage site near Montreux.
Learn more about Gruyère Day Trip – Cheese & Chocolate Factory Tour from getyourguide.com.
Chocolate Tasting & Gruyères Medieval Village Tour
However, if it's only the Swiss chocolates and the old town of Gruyeres you want to discover and explore, you can check the "Chocolate Tasting & Gruyères Medieval Village Tour." (The tour starts from Geneva).
On this tour, you will be given the experience of how the chocolates are made in the Maison de Cailler chocolate factory and taste up to 30 kinds of chocolates. Of course, you will also see the old town of Gruyeres. Bonus: a visit to the Lavaux vineyards.
See the details of the Chocolate Tasting & Gruyères Medieval Village Tour on getyourguide.com.
Save it on Pinterest.