Is Stuttgart Worth Visiting? 10 Reasons Why Visit Stuttgart
Stuttgart is the third largest and third most visited city in southern Germany. In 2018, believe it or not, almost 4 million tourists visited Stuttgart! That's half of the total international tourist arrivals in Sweden.
As someone not German, it is not hard to understand why Berlin and Munich get so many tourists. But, in the case of Stuttgart and how does it receive millions of tourists a year? You must be curious why by now (like I was).
If you are clueless about "why" is that or unsure if you must visit Stuttgart, you found the right article. This post will explain why Stuttgart can be worth visiting for you. Here, I also mention the best experiences in this city – the "reasons" why millions visit Stuttgart.
Affiliate Disclaimer: This post contains affiliate links. I recommend products and services that I think can help you make a successful and memorable trip. I may receive a tiny commission if you purchase them with no additional cost to you. These will support me in maintaining, creating more articles, and fulfilling the mission of this blog.
You won't only find the reasons to visit Stuttgart or the best tourist attractions in this post. I included the highlights of each destination and their visiting information. So, if you decide to visit Stuttgart, this post can also help you!
At the end of this post, you can find helpful links to make traveling to Stuttgart more convenient. Don't forget to check them if you have plans to visit Stuttgart!
That's all. I hope you have a very productive reading or research! So, let's now answer the question you come here for:
Is Stuttgart Worth Visiting?
Stuttgart is worth visiting for the many experiences it offers. Stuttgart's tourist attractions range from historical to modern and nature to architecture. Above all, home to Porsche and Mercedes-Benz, Stuttgart will definitely be worth a while if you're a car enthusiast.
Did you know?
Stuttgart received the status "Autohauptstadt" Because of Porsche, Mercedes-Benz (museums) found in the city. Add to that are the car-enthusiast magazines also based in Stuttgart. Autohauptstadt means the Car Capital City of Germany.
I am not a car enthusiast. I'm not a fan of materialism. But as an engineer, I find them pretty fascinating. Especially the design and the technology used? Modern cars in these museums are more than a "swag."
In addition…
Nature complements the city tourist attractions in Stuttgart. This town sits between the hills or a fertile bowl-shaped valley with the Neckar river in the middle. If you're the kind of traveler who always looks for breathtaking spots (like me), you should not worry.
The views in the Stuttgart aren't as beautiful as the ones you'll find in Bavarian Alps or Swiss Alps. But they can still be good enough to be a reason to consider. It is, especially that some of Stuttgart's beautiful landmarks are in these scenic places.
Lastly…
It is logical to include Stuttgart in your itinerary if you want to travel to southwest Germany. Stuttgart is the city closest to the breathtaking Lichtenstein Castle. Not to mention the Black Forest (Baden-Baden), which is only roughly an hour+ away from Stuttgart.
Stuttgart, linked to major European cities by IC trains, is one thing why it is enticing to visit. You can go straight to Stuttgart from other European cities like Paris, Zurich, Munich, etc… It is very convenient to come to Stuttgart as it has its international airport also.
To know more about why millions of people visit Stuttgart every year… or if it is a place worthy of visiting for you, continue to the next section. Let's now discuss the best attractions in Stuttgart.
10 Reasons To Visit Stuttgart (Top Attractions In Stuttgart)
You may wonder how I came up with the list of the best attractions in Stuttgart below. It would be a long discussion. But in "simplest" words, these attractions are most visited & highest rated.
I based on different social media and travel review websites. Examples are Google Maps, Travel Advisor, and Instagram.
The attractions in Stuttgart below in the list either have hundreds or thousands of near-perfect ratings. Also, thousands of photos and geo-tagged posts.
I want to be as "objective" as possible that's why I based on the numbers. Regardless, these tourist attractions in Stuttgart are beautiful, without a doubt! You'll find out later. For now, here is the list summary:
Schlossplatz
Porsche Museum
Mercedes-Benz Museum
Killesbergpark and Tower
Stuttgart TV Tower
Public Librabry Stuttgart
Wilhelma
Sepulchral Chapel on Württemberg hill
Castle Solitude
Ludwigsburg Residential Palace
Let's start!
Reason 1. Schlossplatz
One of the best features that the cities in Europe have is their town squares. Often, they are places bundled with rich history and beautiful architecture. Stuttgart, a German city from the 10th-century, is not an exemption.
Stuttgart has several plazas. But, Schlossplatz is the largest and most beautiful among the squares in Stuttgart. As I've mentioned earlier, it's also home to many discoveries and admirable buildings.
Obvious enough, Schlossplatz is the first reason why you should visit Stuttgart. And what does going to Schlossplatz can tell you about Stuttgart? It will tell you that, indeed, Stuttgart offers mixed beautiful experiences.
An old castle, an elegant palace, and a modern museum surround Schlossplatz. It's fantastic, right!? Imagine, when you visit Schlossplatz, there's so much you can do in a day with each attraction only a few steps away.
These attractions around Schlossplatz lets you see Stuttgart in three different eras. But you don't have to visit each to get value for your travel to Stuttgart. Schlossplatz itself is a historical place as in its center you can find the "Jubiläumssäule."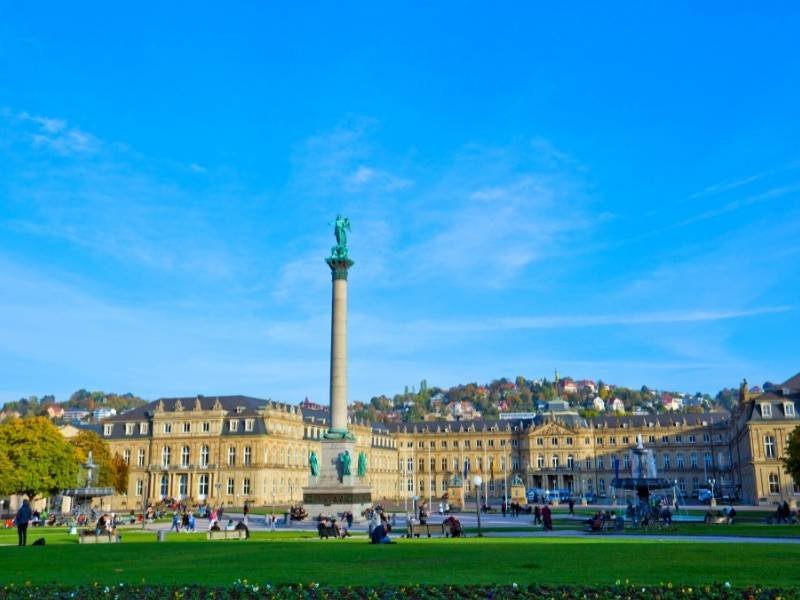 Jubiläumssäule is the 30-meter column surrounded by beautiful gardens in Schlossplatz. It is a monument to commemorate the 60th birthday of the Wurttemburg king, Wilhelm the first. Tourists take selfies with the Jubiläumssäule with Neues Schloss in the background.
Neues Schloss
Neues Schloss is the 18th-century Baroque palace located east of Schlossplatz. It was the place where Wurttemberg kings used to live. One of its architects inspired it to look like the Palace of Versailles in France.
The statues on top of the facade of Neues Schloss remind me of Saint Peter's Basilica in Rome, to be honest. Neues Schloss have fountains also! Come inside the Neues Schloss to witness baroque grandeur, especially the frescoes.
Neues Schloss houses the offices of Baden-Wuerttemberg state government today. This is why tourists can't go inside to see the interiors immediately. If you want to come inside, you have to contact the admin from the email/phone on the Neues Schloss website.
Altes Schloss
Adjacent and south of the Neues Schloss is Altes Schloss or Old Castle. This structure dates back as early as the 10th-century. It is where the dukes of Wurttemberg lived before Neues Schloss finally replaced it in the 1700s.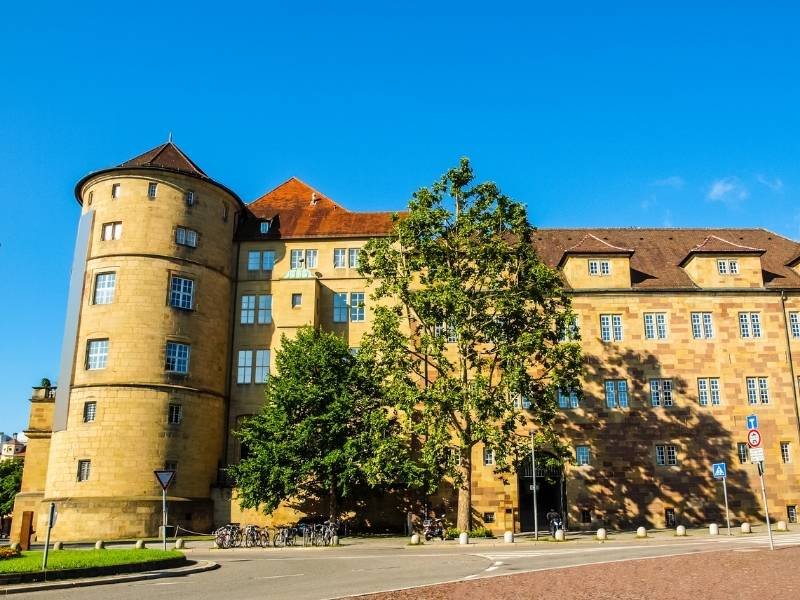 Today, it is being used as a museum, and the Castle Chapel inside it still functions as a place of worship. Come & see its time-transporting courtyard, designed in beautiful early Italian Renaissance style.
Wurttemberg State Museum is the museum inside the Old Castle. You must come inside because it's free! Also, it has fascinating collections of regional history, some dating from ancient times.
Prehistoric objects, medieval items, and historical artworks await curious visitors inside the museum. If you haven't seen "real" royal artifacts, Wurttemberg State Museum gives you a chance! This museum exhibits the Wurttemberg queen's crown, scepter, diamond jewelry & more.
Do you want to see the exhibition inside Wurttemberg State Museum? Be sure to visit Stuttgart on any day from Tuesday to Sunday. You may come inside starting from 10:00 am until 5:00 pm.
Kunstmuseum Stuttgart
At the southwest corner of Schlossplatz, you can find the Modern Art Museum of Stuttgart. You won't sweat finding this museum as its appearance is already a head-turner. The building of the Modern Art Museum has sleek cube glass architecture… so eye-pleasing!
The Modern Art Museum of Stuttgart focuses on the artworks made by Adolf Holzel and Otto Dix. Different masterpieces of Swabian Impressionists and contemporary artists are in this museum too. In total, more than 15,000 artworks await you here to see.
If Schlossplatz has a breathtaking vantage point, it has to be the highest floor of the Modern Art Museum. Its glass walls let you have an overlooking view of the Schlossplatz and also a big part of the city.
The view stretches to the hills surrounding Stuttgart. And at night, it should look even better with the city lights turned on. Actually, Modern Art Museum can be a lovely spot for watching the sunset over Stuttgart.
Entry to the Modern Art Museum of Stuttgart is 11 EUR (there are tours for 4 EUR but only in German). It is open from Tuesday to Sunday, 10:00 am until 6:00 pm. Every Friday, it closes much later at 9:00 pm. See kunstmuseum-stuttgart.de for complete details and announcements.
Reason 2. Porsche Museum
The Modern Art Museum discussed a while ago is only one of Stuttgart's modern museums. There are more! For car enthusiasts, Porsche Museum is definitely a reason to visit Stuttgart.
In a nutshell, Porsche Museum is a futuristic museum of their car brand. It exhibits more than 90 cars, some dating back mid-1900s, and others are straight out from the future. A visit means you tap into the story of the sports car manufacturer and their tradition.
The cars exhibited won't fail to awe-inspire car enthusiasts. They will, especially Porsche 356 "No. 1" Roadster, Porsche 911, Porsche 550, and the 917. They are the world-famous automobile icons unmissable to see in the museum.
Seeing exhibited cars sounds fascinating, but amusement can come even if you are outside. Why? The museum itself is an architectural marvel. Also, you can rent a Porsche and drive it for a day or more!
Porsche Museum also has a "cool" workshop. It is where you can watch employees do the restoration of Porsche's historic cars. Witness the master craftsman use state-of-the-art equipment and perform their car expertise.
Do you want now to visit Stuttgart and Porsche Museum? You can find Porsche Museum in Zuffenhausen. It is only one train ride away from Stuttgart central train station. You should be there in the museum after 10-15 minutes of travel time.
The opening hours of the Porsche Museum start at 9:00 am and close at 6:00 pm from Tuesday to Sunday. The admission fee is 10 EUR. The last entry to the museum is 30 minutes before closing time.
Reason 3. Mercedes-Benz Museum
Mercedes-Benz Museum is another excellent museum in Stuttgart. And again, a reason to visit Stuttgart. Why? It is the only museum that presents more than 135 years of auto history in one single place. (As stated on Mercedes-Benz Museum's website)
Aside from the insightful exhibits, Mercedes-Benz Museum is an architectural masterpiece. The stunning museum building gives visitors the impression that impressive exhibitions are inside. Mercedes-Benz Museum has 1500 exhibits and 160 cars on show.
You can find all these exhibits across Mercedes-Benz Museum's 9 floors, totaling 16,500 sq.m. of floor space. They are arranged in chronological order. Thus, these exhibits should be one to guide you well in discovering automobile history.
Mercedez-Benz Museum's presentation of automobile history has 7 segments. Each shows the appearance and technology used in generations of autos. You will find not only Mercedez-Benz cars but also their documents and photos. All to give you deeper insights into the development of automobiles.
They call the segments, Legends. The first Legend tells you about the birth of automobiles dating 1886. The first automobiles look like horse carriages, to be frank. They're a fascinating discovery, I think! The last Legend, however, shows the successes of the car brand.
Between the first and last Legends are exhibits depicting the evolution of cars throughout the decades. You'll see how autos changed with the advent of diesel, the second world war, and more. The exhibits also show how politics and environmental preservation affected the design of their cars.
Mercedes-Benz Museum is open from Tuesday to Sunday, from 9:00 am to 6:00 pm. You must come at least an hour before closing time. The entry fee is 10 EUR. Check the Mercedes-Benz Museum website for detailed information and announcements.
Reason 4. Killesbergpark and Tower
Another considerable reason to visit Stuttgart is the side destinations Stuttgart has. We can mention Killesbergpark and its tower as examples. After the touring the city and museums, nature is only a few minutes away for an affordable, relaxing time.
Killesbergpark is an urban park in the northern boroughs of Stuttgart. It hosts the "popular" Lichterfest Stuttgart when families decorate the Killesbergpark with lanterns. It occurs in July, and during the night, locals and visitors enjoy musical firework shows.
This park features a pool, amphitheater, and petting zoo. But the two fascinating things I discovered are the tower and the meadows to the south. You can also find a lake and beer gardens here.
Subway trains from Stuttgart Central Station can bring you straight to Killesbergpark. It will only take 5 minutes of travel time. The first view of the park you'll see is its unique-looking meadows.
I find the south fields of Killesbergpark unique because of their architecture. Walking trails pass through the grasses in random directions… and they make irregular-shaped meadows so Instagrammable. It should appear like a maze if you look at them from above.
The park has its scenic train also. Its station is located at the northeast end of the maze-like meadows, right after the residential area. Actually, it can also make you feel some nostalgic vibe.
Killesbergpark Railway operates diesel locomotives. Sometimes, steam locomotives run through the park if there are special events. The train is not available all year but from April to October only.
A little north of Killesbergpark train station, we find the gem of the park, Killesberg tower. It's an architectural marvel that rises in the middle of the park. The tower's architect used the "cable-stayed bridge technology" to erect the stunning structure.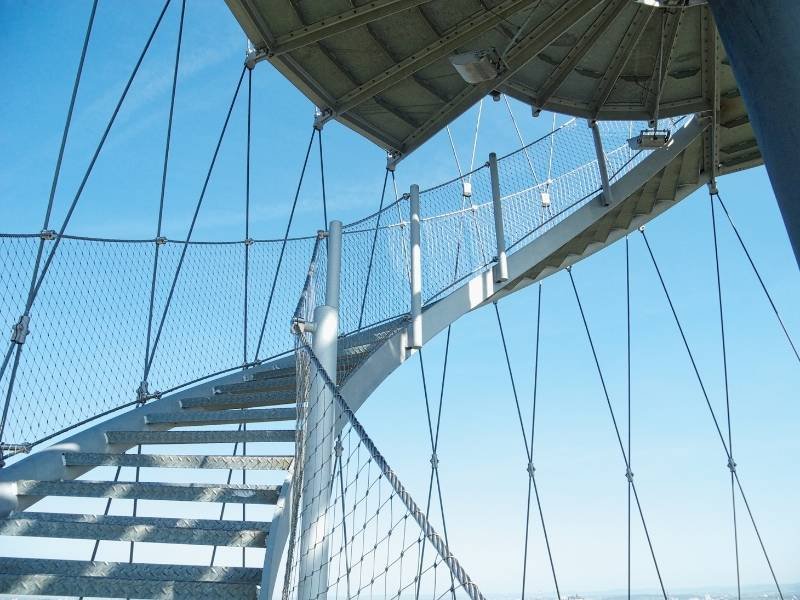 Marveling the tower from the ground may seem enough, but you can climb it, actually! The Killesberg tower reaches 40 meters above the ground, overlooking the park. Breathtaking views of the city await you from the top also.
Killesberg tower is open from 7:00 am until dusk. Access is weather permitting; closed if there's snow or ice. Individuals can climb the tower for only 1 EUR admission fee.
I just want to share my list of the most beautiful places in Southern Germany. In the list, you'll discover more scenic (Oberammergau, GaPa, Mittenwald, Berchtesgaden), historical (Bamberg, Wurzburg, Rothenburg, Black Forest), and magical places (Neuschwanstein Castle, Lichtenstein Castle) in Southern Germany where the most unforgettable memories and memorable journeys are made. Click one link to open an article on a new tab and read it later.
Reason 5. Stuttgart TV Tower
Are we the same? The kind of traveler always seeking to see breathtaking views? If yes, then you got another reason to visit Stuttgart. One of the famous landmarks of Stuttgart, its TV tower, is a must-visit place for us!
Stuttgart TV Tower is not significant in Stuttgart's communication and tourism industries only. But also in the world of civil engineering! Did you know? Stuttgart TV Tower was the first reinforced concrete telecommunications tower built?
The construction of this 216-meter tower was controversial because of the method used. Despite that, it became one of Stuttgart's best attractions. Its 150-meter high observation deck lets visitors have breathtaking views of the city.
Visitors can see views that reach the Swabian Alps and the Black Forest in sunny weather. The slopes of the surrounding hills and vineyards of the locals are viewable from the top. This is also why the tower's viewing deck is an excellent vantage point for watching the sunset over Stuttgart.
The views can be so romantic. But you can level that romantic moment with a dinner in the tower's Restaurant Leonhardts. With the 360-degree breathtaking views, you and your date will have both your eyes and tummies satisfied!
Do you want to chill and sip some drinks while sightseeing? The tower has a Panorama Cafe, and it should be perfect for that vibe! Just watch out for the weather, of course.
There is no reservation for Panorama Cafe, only in Restaurant Leonhardts. So if you're planning for a date, you know what to do! You can contact the restaurant from their email addresses on the tower's website.
Here is the summary of Stuttgart TV Tower's opening schedule:
Tower Schedule
Summer
April to October
Winter
November to March
Monday
Closed
Closed
Tuesday to Saturday
10:00 am to 10:00 pm
10:00 am to 9:00 pm
Sunday, Holidays
10:00 am to 10:00 pm
10:00 am to 7:00 pm
Opening hours for the Tower
Panorama Cafe
Wednesday to Saturday – 10:00 am to 9:30 pm
Sunday and Holidays – 10:00 am to 6:00 pm
Restaurant Leonhardts
Saturday – 12:00 pm to 10:00 pm
Sunday – 12:00 pm to 6:00 pm
Reason 6. Public Library Stuttgart
From Stuttgart's castles and palaces that transport visitors back in time to the marvelous modern museums in the city, showing minimalism yet still stunning… Travelers who love architecture can find a visit to Stuttgart worthwhile.
But the list of buildings with incredible architecture does not end in them. Stuttgart's Public Library is another you must see. It's only a quick stop if you visit Stuttgart. But if you're a photographer or an Instagrammer, it's a reason to visit Stuttgart!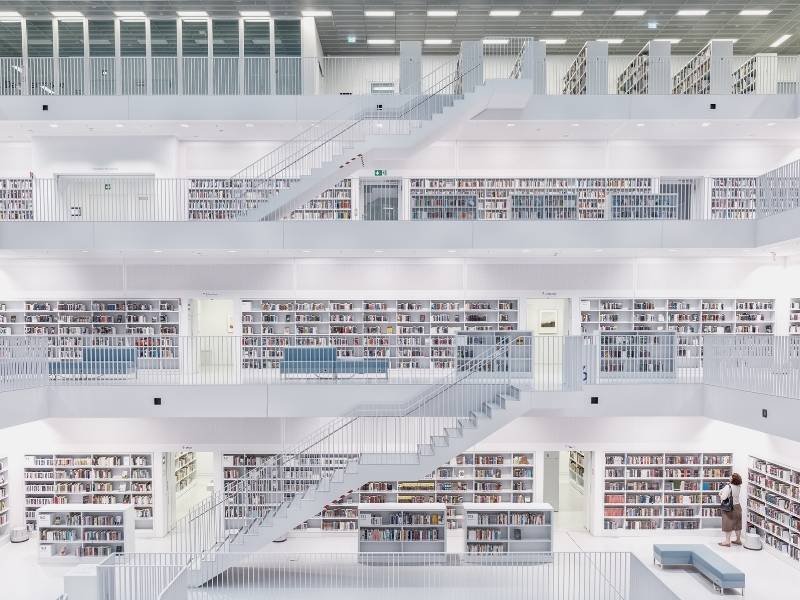 Public Library Stuttgart is a modern architectural marvel. It looks simple yet striking with its cube shape having edges of 45 meters each. Its shutter-presser facades have 9 x 9 frosted glass brick windows appearing so mesmerizing from afar.
It looks better on a sunny day. Yet, it becomes spectacular at night. The light from its windows changes colors and forms patterns of blue and white light.
The Stuttgart Public Library'sinteriors look picture-worthy too. Do you want to see the best views inside? Go straight to the eighth (or 6th to 8th) floor and peek over the mezzanine. It's elegant white. The lighting, shelves, and chairs are in eye-pleasing locations and proportions.
Visiting Stuttgart Public Library is one of the free things you can do in the city. Yes, there's no entry fee! The library is open from 9:00 am until 9:00 pm, from Monday to Saturday. It is closed on Sundays and holidays.
See the library's official website for more information.
Reason 7. Wilhelma
Stuttgart is home to two major car brands in the world. But did you know Stuttgart is also the city where we can find one of Europe's largest?
The continent's "largest" combined zoological and botanical garden is here. The park is called Wilhelma, and it's definitely a reason to visit Stuttgart.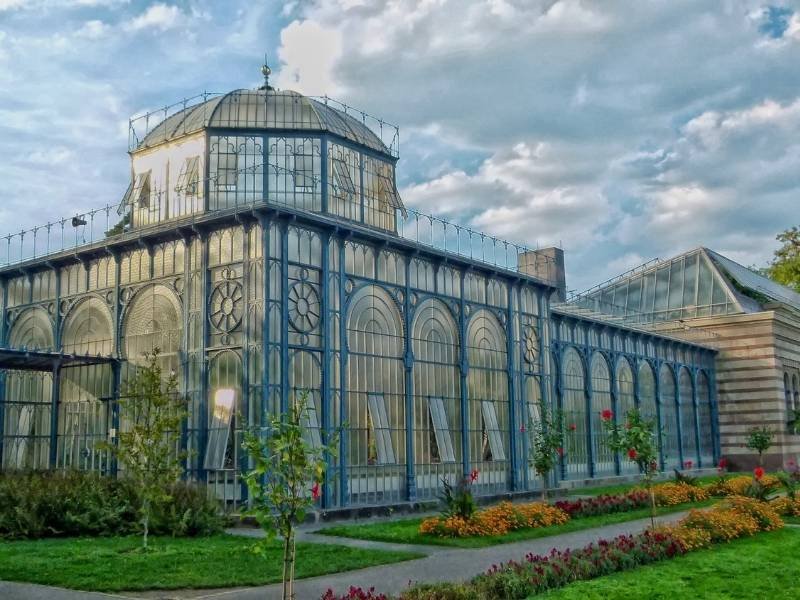 Wilhelma dates back to the mid-19th century during the rule of King Wilhelm the First. Hence Wilhelma is the name of the park. The Swabian king ordered the park to have Moorish architecture, for it was the most popular way back then.
Inside Wilhelma, you can find buildings with architectural styles like in Alhambra, Spain. This is also why the zoological-botanical garden is unique… and visited by 2-million yearly visitors!
Of course, Wilhelma's countless animals and plants also attract tourists and travelers. Especially that Wilhelma's collection of animals ranks second to the Berlin Zoological Garden. More than 11,000 animals of 1,200 species are in Wilhelma.
Travelers can indulge in the freshest air from plants of different regions! Almost 6000 plants are in Wilhelma. With those all mentioned, if you ask me, Wilhelma is pretty like the Garden of Eden of Germany.
You'll love hanging out in Wilhelma's pond. You may proceed to the fountain at the west end of the pond to see the most Instagrammable view of the park. At that point, you'll find Damaszenerhalle (hall) at the other end of the rectangular pond.
The pond has trees on both of its sides. Its trees line up its shores, forming a "symmetric" garden layout. They make leading lines to Damaszenerhalle – a very picture-worthy scene to see.
Do not only marvel at Damaszenerhalle from the outside. Come inside to behold its awe-inspiring Moorish-style interiors. It has a golden chandelier, spectacular stucco marble walls, and ceiling paintings.
The greenhouse in the Moorish Villa also deserves to be mentioned! It is the most iconic building of Wilhelma… and its beautiful exterior of the greenhouse should remind you of the Crystal Palace in Spain.
Wilhelma has different opening hours per season:
May to August (summer): 8:15 am to 6:00 pm
April and September (shoulder): 8:15 am to 5:30 pm
March and October (spring and autumn): 8:15 am to 5:00 pm
November to February (winter): 8:15 am to 4:00 pm
The entry fees are:
Adults – 20 EUR
Students (18 to 28 years old) – 13 EUR
Children (6 to 17 years old) – 8 EUR
Toddlers – FREE
See all details from the official website of Wilhelma. Don't forget to check for updates and announcements!
Reason 8. Sepulchral Chapel on Württemberg hill
Another reason to visit Stuttgart is the heritage sites in the city's scenic spots. They are valuable destinations where you can find three things in a single visit.
Of course, the most important is that you'll learn more about Stuttgart's Heritage. Another is that you'll see more beautiful architecture. Last is you can have the chance to relax and unwind with nature.
There are two heritage sites in Stuttgart's countryside I know are worth visiting. First is what they call the Sepulchral Chapel on Wurttemberg hill. Another is Castle Solitude. Let's first discuss the chapel.
Sepulchral Chapel is actually the mausoleum of the Wurttemberg royals. Here lie the remains of King Wilhelm, his wife and daughter, Catherine, and Charlotte. Above the crypt where the tombs of the royals are is a chapel with elegant architecture.
Visiting a mausoleum may sound taboo to some people. But it won't be the sole thing visitors can find during their trip. The chapel belongs in a compound with the priest's and psalmist's houses.
I bet you'll also love to relax around the priest's house. The house looks like a Tuscan villa. With the quietness and scenic views, you can expect serenity in it. It should be, especially when you arrive at the site with a few to no other tourists around.
On top of the Wurttemberg hill, where the chapel is, more scenic views await. Beautiful vineyards cover the surrounding rolling hills like giant green carpets. You can also behold an overlooking panorama of the city from here.
It's panoramic outside, yet you can't miss entering the sepulchral chapel. The interiors contain elegant Roman architecture, most visible from its dome. Light enters its glass-covered cupola, reminiscent of Rome's Pantheon.
The Sepulchral Chapel is open only during the non-winter months from April to November. You can enter the buildings (chapel and priest's house) from 12:00 pm until 5:00 pm. The open grounds are accessible to everyone until nightfall.
Reason 9. Castle Solitude
To the hilly western part of Stuttgart lies an 18th-century Rococo palace. It's one of Wurttemberg Duke Carl Eugen's creations, which he named Solitude Palace. He wanted it to be his hunting lodge at first, but sooner it became a place for official receptions. 
Duke Carl Eugen used Solitude Palace as his royal display of power too. The lavish style and impressive architecture inside the palace speak for it today. The scenic views must have impressed the duke's visitors even more.
This is why the Solitude Palace, a heritage, is a reason to visit Stuttgart.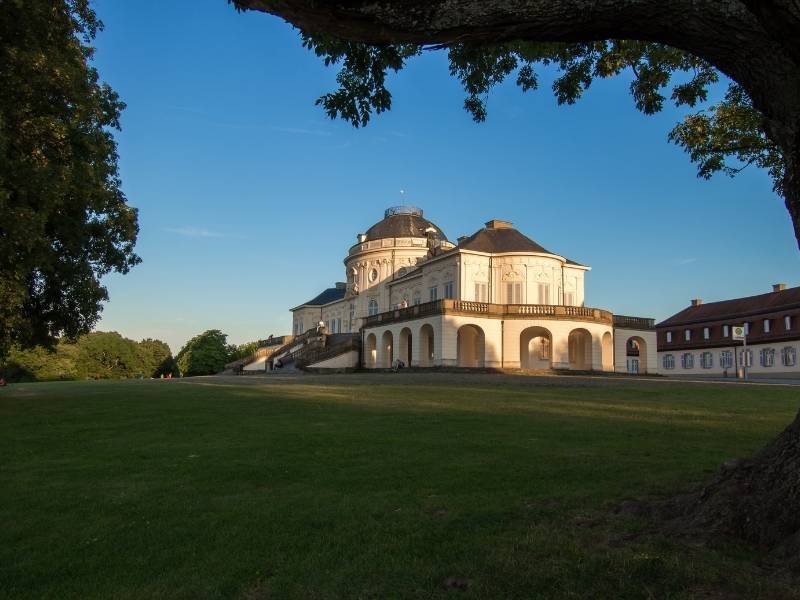 Solitude Palace isn't only a single building, though. It's a complex composed of the main palace, a garden, and two separate wing buildings. You can find smaller buildings on the sides used for different purposes.
The main attraction is, of course, the main stately building at the center of the compound. Stucco marbles, French doors, and Corinthian columns compose its elegant facades. And its grand staircases – I'm sure they have been the spots for many wedding prenup photoshoots.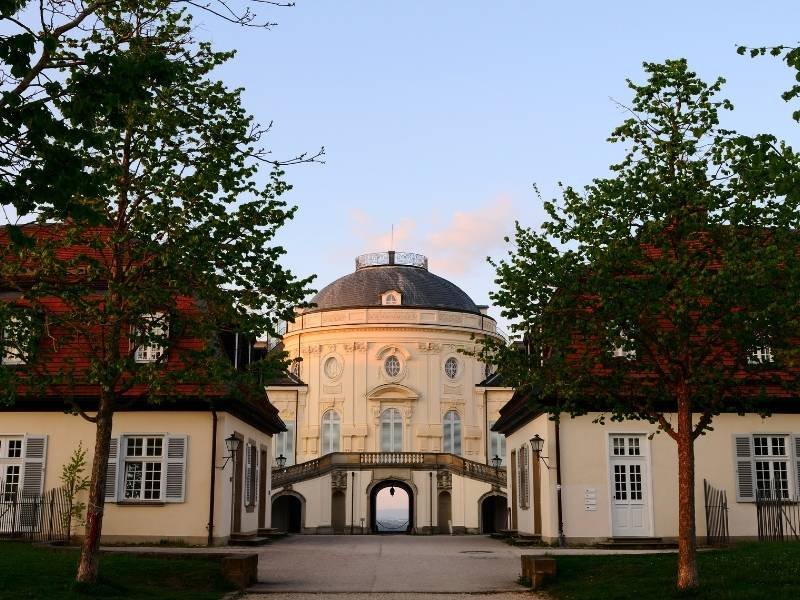 The Solitude Palace has several parts. But the ones which impress visitors are the White Hall, Marble Hall, and the Palace chapel. A glimpse to the White or Marble Halls makes visitors feel like they're in a fairytale!
Most parts of the palace exhibit Rococo architecture. Like, the Duke's apartments, Assembly Room, Music Room, etc… But these halls and chapel I mentioned appear different.
The chapel, for instance, has Rococo but mixed with Neoclassical style. You can see it from its elegant all-white walls and ceiling. The most noticeable part is the golden-framed-oval-fresco painting in the center of the ceiling, depicting the resurrection of Jesus.
Classic style architecture is then applied to the White and Marble Halls. You can find touches of the early Italian Renaissance and classical Greek design in them. Regardless of their architecture, it is clear that both halls manifest the duke's royal desire to impress.
The takeaway from a visit to the Solitude Palace is that you need a guided tour to enter and see the rooms. And the guided tours are only spoken in German.
Despite that, you can still enjoy nature around the palace. There are hiking & bike trails, pleasant meadows for picnics, and picturesque avenues… the complex has a restaurant and a cafeteria perfect to go to after you explore the area.
There are plenty of quiet and peaceful spots around. Indeed, the views are great, and they reach as far as the Ludwigsburg Palace.
Below is the schedule of opening hours of the Solitude Palace. But if you're planning to visit, I recommend checking the palace's official website (schedule of guided tours included). Solitude Palace is often used for events, so yeah…
Weekday
April 1 –
October 31
November 1 –
December 24
December 25 –
January 9
January 10 –
March 31
Monday
closed
closed
closed
closed
Tuesday – Friday
10:00 am – 05:00 pm
01:30 pm – 04:00 pm
10:00 am – 04:00 pm
closed
Saturday
10:00 am – 05:00 pm
01:30 pm – 04:00 pm
10:00 am – 04:00 pm
10:00 am – 04:00 pm
Sunday & holidays
10:00 am – 05:00 pm
10:00 am – 04:00 pm
10:00 am – 04:00 pm
10:00 am – 04:00 pm
Stuttgart Castle Solitude Opening Hours
The admission fee is 5 EUR which already includes the guided tour.
Reason 10. Ludwigsburg Residential Palace
Ludwigsburg Residential Palace is one of the most beautiful places in Baden-Wurttemberg. It's a place dubbed "Versailles of Swabia." I bet it has always impressed visitors with shutter-presser elegance.
32 hectares (79 acres) wide, Ludwigsburg Residential Palace is Germany's largest palatial estate. Also, it is an expression of different architectural styles, Rococo, Baroque, and Neoclassical. Visitors won't get bored from marveling at the appearance of this 18th-century palace.
Ludwigsburg Residential Palace's appearance isn't its only time-transporting feature. It has museums that let visitors get insights into life during the 18th century. Combined, you get another reason to visit Stuttgart, you'll know more about why later.
By the way, Ludwigsburg Palace is in Ludwigsburg, a town north of Stuttgart. Though it belongs to another place, the palace is only a 15-minute train ride from Stuttgart. (You need to have a few-minute-walk or a short bus ride after your the train arrival
By the time you arrive at Ludwigsburg Palace, a vast and beautiful garden will welcome you. Its name is Blühendes Barock or Blooming Baroque gardens. I guess you already know what you can expect based on its name.
But, honestly, Blühendes Barock can be the most spectacular garden in Germany. Its blooming flowers and well-groomed plants forming different geometric shapes are beyond beautiful.
The garden in front of the new central building is straight out of a fairytale! How it looks is definitely mesmerizing, especially if you see them from the top of the staircase. There, the fascinating irregular swirls and curves of the garden plants are very recognizable.
The garden is only the first of many incredible things in Ludwigsburg Palace. The palace is actually a complex of many magnificent buildings. Visitors may need 3 hours to half a day to see all the bests of Ludwigsburg Palace.
Ludwigsburg Palace has two central buildings (new and old), has two chapels, and chapels. Of course, like any other palace, it has royal apartments and an ancestral gallery. Ludwigsburg Palace also has its theater!
What can be so amusing about Ludwigsburg Palace is its museums and exhibits. Come and stumble upon the gallery that contains original 18th-century clothing. Or gaze upon the delicate ceramics with contemporary art.
If you have kids, bring them to the palace's interactive Kinderreich. It's a museum for children where they can simulate life during the Baroque period. They can wear the dress of a prince, duke, or princess, then play games as the royals did three centuries ago.
Aside from the museums, Ludwigsburg Palace offers many beautiful discoveries you must see or architectural masterpieces to marvel at. It's better if you can see everything but if you ask me, here are the two you must not miss seeing:
The Order Hall (converted to Throne Room). Its chandeliers, frescoes – the entire room is an absolute wonder filled with royal goodness!
The Marble Hall in New Central Building. Visiting this room will help you imagine fabulous royal parties, balls, and gatherings. Looking up at its frescoes seems like peeking up to the heavens. It also has a massive chandelier that is so gorgeous.
You can only visit most parts of the Ludwigsburg Palace with a guided tour. Check the visitor information page of the palace to learn what you need to know before going. Below's the summary for your convenience.
The entry fee is 8.50 EUR and the opening hours are:
March 15 to November 15, 10:00 am to 5:00 pm
January 10 to March 14, 11:00 am to 3:30 pm
More Things To Do in Stuttgart
The ten places mentioned aren't the only attractions/reasons to visit Stuttgart. If you love museums, check out Linden Museum and Pig Museum. Others you can try are Karlshöhe, Weinwanderun, and Marienplatz Square. 
If you want to quickly get to some of the best attractions in Stuttgart I discussed and these places I just mentioned, check out Stuttgart Hop-On Hop-Off.
The buses pass through to these destinations. You won't have to worry about finding the best route to get from one place to another. Skip the commute. Make your visit to Stuttgart so convenient!
Learn more details about Stuttgart Hop-On Hop-Off Bus from Get Your Guide.
After visitors have finished their Stuttgart day trip, they mostly return to their hotels or eat dinner in the usual restaurants. If you plan to do the same, hold on for a second! 
Why don't you try the city's culinary delights offered by a restaurant beside River Neckar? The place is called Riverhouse S-Münster… and it can be the romantic night you're looking for on a trip to Stuttgart.
They serve raclette, wines, a large selection of sausages and cheese, fresh vegetables, potatoes, and more! Also, there is a comedy show (in German) in this place.
Learn more details about Riverhouse S-Münster from Get Your Guide.
Actually… if you're a foodie, one that you should try is a culinary excursion through Bad Cannstatt. It is a food trip to the oldest district in Stuttgart to satisfy your eyes and tastebuds. Stuttgart's best culinary delights (regional cuisine) are offered here!
Do you know about the classic Hefezopf (a braided bread)? Or have you eaten Maultaschen (pasta filled with meat, sometimes cheese, served in a clear soup) before? If you have not yet, then this is your chance!
Learn more details about Bad Cannstatt culinary excursion from Get Your Guide.
Save it on Pinterest.