Garmisch-Partenkirchen: 10 Reasons Why It is Worth Visiting
Is Garmisch Partenkirchen worth visiting? I'll give you a clue: Garmisch Parterkichen has spectacular mountains, serene lakes, tranquil forests, and beautiful traditional houses you can visit and see. Fun? Yes, this town offers you endless outdoor activities to do, as well.
Garmisch Partenkirchen has all these because it is fascinatingly perched at the heart of the Bavarian Alps. They also call it the German Alps. But Either way, it is the most beautiful place in the country – no doubt!
In this post, I give you 10 reasons explaining why Garmisch Partenkirchen is worth visiting. If you're planning to come here and learn more about Garmisch Partenkirchen, you arrived at the right place!
Affiliate Disclaimer: This post contains affiliate links. I recommend products and services that I think can help you make a successful and memorable trip. I may receive a tiny commission if you purchase them with no additional cost to you. These will support me in maintaining, creating more articles, and fulfilling the mission of this blog.
Nature, mountains, and breathtaking sceneries – these inspire me. These places helped me heal and become a better individual. As Garmisch-Partenkirchen falls under these categories, I feel that I'm more than interested in it.
Facts and information (i.e., opening hours, etc.) are based on the official website of GaPa unless stated. Before we dive into the reasons why visit Garmisch-Partenkirchen, let's get some general knowledge about the town.
Introduction to Garmisch-Partenkirchen
Back in the days, Garmisch-Partenkirchen was once two separate market towns: Garmisch and Partenkirchen. Garmisch in the west and Partenkirchen in the east.
Ever since these two towns were established, they have been discrete, and each has its own identity. However, they have been both well-known ski resorts since the 1920s.
In 1935, in the advent of the 1936 Winter Olympic Games, Hitler combined Garmisch and Partenkirchen for a single grand venue for the sporting event. Though Garmisch and Partenkichen are already unified for decades, visitors can still observe the slight difference between the two old towns:
The modern vibe feels in Garmisch; and
Quaint and historic ambiance of Partenkirchen
Either way, GaPa, as most people call Garmisch-Partenkirchen today, has become the most famous town in Bavarian Alps. Countless visitors come here every year. During weekends, GaPa's approximately 25-thousand population is almost doubled due to the influx of tourists and travelers.
Where is Garmisch-Partenkirchen?
We can find Garmisch-Partenkirchen in the southernmost territory of Germany in the state of Bavaria. It borders Austria and sits just beside Germany's tallest peak, Zugspitze.
Garmisch-Partenkircen is easily accessible by train. From Munich, it is just a train ride away. It is another reason why people visit GaPa much more often than other attractions in the country. Here is the map of Garmisch-Partenkirchen from Google Maps:
What is Garmisch-Partenkirchen Famous for?
Garmisch-Partenkirchen became a well-known ski resort destination after it hosted the Winter Olympics in 1936. At the same time, its proximity to the highest peak in Germany, Zugspitze, made GaPa even more recognized as the country's primary tourist destination.
Garmisch-Partenkirchen was also the host of the International Alpine Skiing Championships twice, in 1978 and 2011. However, Garmisch-Partenkirchen is more than just a ski resort. You will know why the reasons why visit GaPa below:
Reasons to Visit Garmisch-Partenkirchen
One of the reasons I travel is that I want to feel awe. It's one of the best feelings we could ever have. I think it's also what you should look for when you travel.
Awe is beneficial. Having it, we feel happier. It also transforms us into better individuals: more satisfied with our life, decreased desire for materialism, and more humble. It's a magical thing! Nature, mainly the mountains – they are a good source of awe. Garmisch-Partenkirchen? Definitely, the same!
Here is the summary of the 10 reasons to visit Garmisch-Partenkirchen
Stunning Bavarian Alps mountains
Picturesque lakes
Partnachklamm (spectacular gorge)
A gorgeous palace you can visit from GaPa
The Grand Monastery to see from GaPa
The charming historic town of GaPa
More places to discover from Gapa
Olympics
Numerous things to do in GaPa
GaPa is near other beautiful destinations
Do you like mountains, lakes, castles, and fairytale villages? Bavarian Alps has all of those. Check out my 3-day, 7-day, and 10-day itineraries for visiting the Bavarian Alps << click this to open a new tab and read later. I've listed 5 towns and 15 tourist attractions to see in that post.
Reason #1: Bavarian Alps and Garmisch-Partenkirchen
Bavarian Alps, awe emanates even from the sound of its name. For me, it is the first and foremost reason to visit Garmisch-Partenkirchen.
Bavarian Alps Sceneries in Garmisch-Partenkirchen
Almost everywhere we look in Garmisch-Partenkirchen, we can see mountains gracefully beautifying the horizon. Even inside the town, we can see the mountain peaks peek up above the roofs of the houses and buildings.
The sceneries of the Bavarian Alps in Garmisch-Partenkirchen are so good to the eyes, so refreshing to see.
Suppose you are a person who has never been outside the concrete jungle since birth. In that case, visiting Garmisch-Partenkirchen and Bavarian Alps could be the life-changing trip you might be looking for.
Once you have breathed the freshest air, experienced the ever peaceful town/countryside, or even just seen the awe-inspiring mountains, all will be changed. It will just make you think twice about the place where you want to live for the rest of your life!
Anyhow, Garmisch-Partenkirchen is surrounded by the highest and most scenic peaks in Germany:
Alpspitze
Zugpitze
Wank
Kreuzeck
You can visit them either by hiking or by cable car. If you have plenty of time and are still capable, I suggest that you go hiking instead! Hiking has benefits that improve the mind, body, and soul.
Hiking in GaPa and Bavarian Alps
Besides, Bavarian Alps' hiking trails are just breathtaking. Just look at the image of meandering hikes below:
Imagine that you got nothing but nature and time with yourself or your family if you are here. All worries and problems seem not to exist here. It's a place to enjoy life!
Heavenly sceneries await you along the hiking trails from Garmisch-Partenkirchen like the countryside meadows you'll pass by. Here is a sample of the view you'll see:
You can try many hiking trails in Garmisch-Partenkichen, each leading to different vantage points or mountain peaks. Perhaps Zugspitze is the ultimate hike to have in all of Germany.
Zugspitze
Zugspitze is the highest peak in Germany, and it has the most elevated beer garden in the country. At the top lies the spot where you can observe multiple countries at once: Germany, Switzerland, Austria, and as far as Italy.
Zugspitze reaches an elevation of 2,962 meters (9,718 ft) above sea level.
With an almost 3000-meter height, going to the peak of Zugspitze means you'll be standing at an altitude higher than the level at which overcast clouds stay.
There, you can witness a sea of clouds – a magnificent phenomenon in which the mountain peaks become islands in which the clouds are the ones acting as the sea.
The sea of clouds phenomena happens mostly during sunrise after a light drizzle at night or a day before. The view should feel very rewarding after a hike.
Can you imagine yourself at the summit of Zugspitze, and this scene welcomed you there? It shall feel like heaven. Absolutely… The first time I experienced this? I almost cried a little. The view is just indescribable in person.
As mentioned a while ago, Zugspitze also has the most elevated beer garden in all of Germany. After the hike or a cable car ride, you buy meals partnered with bavarian beer to replenish your energy.
Three cable cars service the Zugspitze. If you ride on a Zugspitzbanh cable car, you accomplish two bucket list items:
Traverse the world's highest steelwork pylon (127 meters)
Ride the world's cable car with the greatest overall height difference (1945 meters)
Here are the other bucket list items you can accomplish when you visit Zugspitze:
Go to Germany's oldest ski resort
Visit Germany's most elevated church
Alpspitze and Alpspix
Aside from Zugspitze, Alpspitze is another peak to visit in GaPa.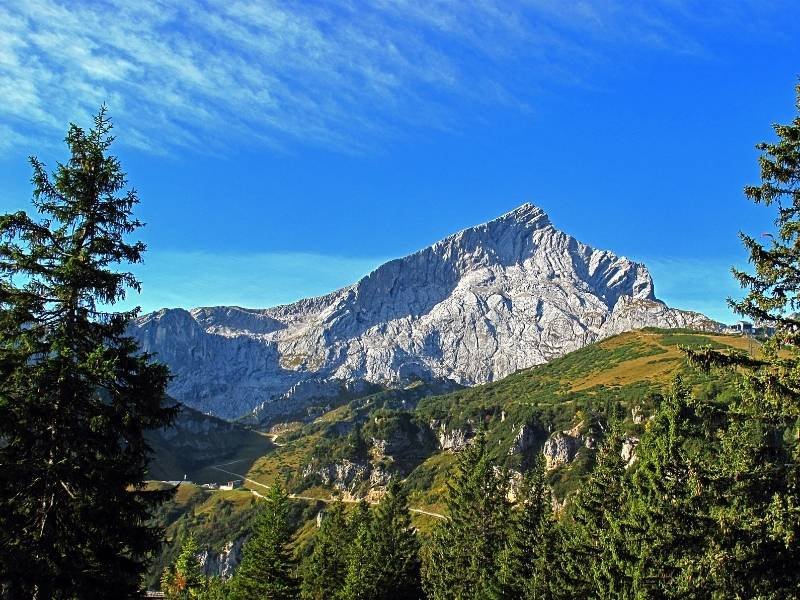 Alpspitze is a triangular peak closer to Garmisch-Partenkirchen, reaching 2628 meters (8622 ft) above sea level. It is famous for its shape and for its composition.
Alpspitze is predominantly made up of Wetterstein limestone. This gives the mountain a distinct look, easily recognizable from all angles.
Near Alpspitze is an observation deck called AlpspiX. It is an X shape, curved, 13-meter walkway that protrudes off the cliff. Here, visitors get a direct bird's eye view of Garmisch-Partenkirchen and surrounding landscapes.
Look at how AlpspiX forms the X-shape from the sky:
Here is the close-up view of AlpspiX from below. Can you imagine yourself being at the tip of the X platform?
When you are at the top of the AlpspiX platform, here's what you will see:
*You may click the arrows on the screen to see a different perspective or swipe the image to see what's behind the view.
Visiting AlpspiX is really convenient as cable cars are servicing the platform too. Getting such a panoramic view would be quick and effortless.
Are you now convinced to visit Garmisch-Partenkirchen? We are still getting started. The following reason to visit Garmisch-Partenkirchen will absolutely compel you to come here.
Reason #2: Picturesque Lakes in Garmisch-Partenkirchen
Mountain lakes are the dreamiest, most enchanting, most idyllic places on earth. In Garmisch-Partenkirchen, there are many that you can visit!
They're the ultimate shutter presser! Just look at the image of Lake Eib (Eibsee) below: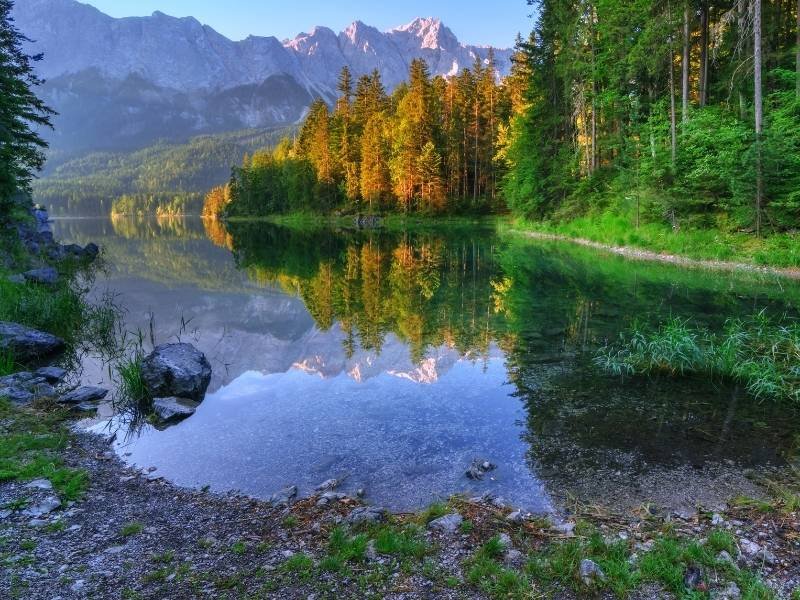 Imagine yourself being here now. You will be, like, facing a portal to another realm!
Garmisch-Partenkirchen Lakes
Eibsee and the other lakes in the Bavarian Alps are our second reason to visit Garmisch-Partenkirchen. There are eleven lakes in Garmisch-Partenkirchen we can easily find on the maps. Almost all offer mystic and tranquil sceneries.
These lakes are clustered in three areas: Lakes in the Wetterstein Mountain Range, Lakes within the Eibsee Area or north of Zugspitze, Lakes splattered near the towns.
Wetterstein Mountain Range:
Eibsee Area:
Frillensee 
Eibsee
Braxensee
Steingringpriel
Untersee
Garmisch-Partenkirchen and Grainau Area:
Badersee
Rosensee
Riessersee
Pfleger-See
Among the lakes in Garmisch-Partenkirchen, the most notable are the Lake Eib (Eibsee) and Lake Riesser (Riessersee).
Eibsee
Eibsee is the largest lake we can find in Garmisch-Partenkirchen. Like most lakes in the mountains, here you can find the clearest waters in your life! Come during the early, calm morning, and you will witness a mirror-like Eibsee.
You can enjoy the idyllic sceneries in Eibsee by hiking around the lake or kayaking drift the crystal clear waters.
When you kayak, try to visit the small islands of the lake. They are picturesque features of the lake that you would want to see if you visit Garmisch-Partenkirchen. See a sample shot below:
Eibsee in Garmisch-Partenkirchen has eight small islands. Here are the names of each island from east to west:
Steinbühl
Sasseninsel
Braxeninsel
Schönbichl
Maximiliansinsel
Scheibeninsel
Ludwigsinsel
Almbichl
It's best to come to Garmisch-Partenkirchen and see lake Eib during autumn when the fall foliage is at its peak. You'd see a lake full of vibrant colors.
Riessersee
If Eibsee is the largest, Riessersee is the most historic among these lakes. It has stories that date back to the medieval ages when it was created in a forest clearing. It was recently assigned as the venue of several competitions, obviously the 1936 Olympic Games.
Today, it is considered one of the highlights of visiting Garmisch-Partenkirchen. Lake Eibsee, Riessersee, shows visitors breathtaking sceneries.
Viewing the Riessersee from its northern shore on a calm sunny day, you would see the lake glitter and reflect the towering Mount Waxenstein and Mount Kramer nearby. 
The lake could be crowded sometimes, it's best to visit the lake during the off-peak hours to commune with nature and get the best experience.
Reason #3: Garmisch-Partenkirchen's Partnachklamm
Incredible sceneries never run out in Garmisch-Partenkirchen. Fill yourself with wonder: from the mountains down to the lakes, and even beneath the surface of the earth!
Here you can find a gorge – is the third reason why visit GaPa.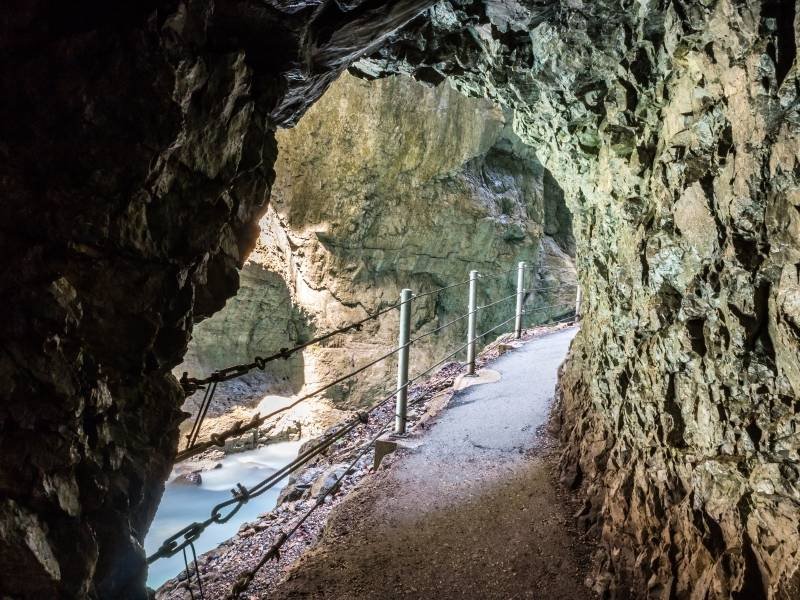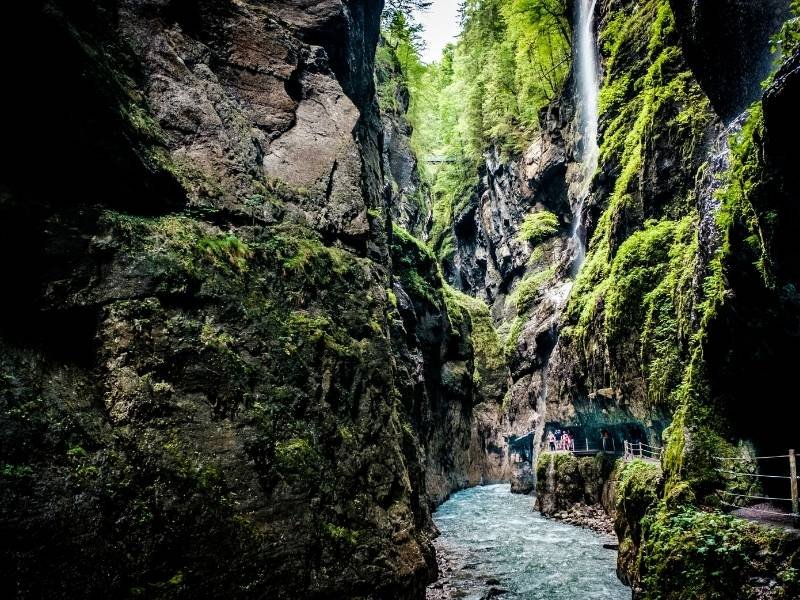 Partnachklamm, or the Partnach Gorge, is a 700-meter-long, 80-meter-deep canyon located in Reintal Valley just south of the town of Garmisch-Partenkirchen. Here visitors see the unfinished yet incredible artwork that nature started millions of years ago.
Inside we can find the spectacular show of nature's creativity, which stimulates our senses of sight and hearing. Rock formations are everywhere, and the cascading waterfalls and water rapids echo all around.
Before, I had no interest in visiting a canyon/gorge. I thought gorges were just rocks, simple waterfalls. But I was wrong! A different kind of wonder lies in the ravines, found nowhere else above the surface.
The most beautiful moment inside the gorge is when the sunlight enters the openings on top, making picturesque, dramatic lighting everywhere. You are fortunate when it happens to you.
The view inside Partnachklamm changes per season. Come around February and see not only rock formations but also icicles of different shapes.
Reason #4: Gorgeous Palace near Garmisch-Partenkirchen
It is not hard to understand why Garmisch-Partenkirchen is a fantastic destination for adventurers and nature lovers. But, do you know that there is an architectural gem you can visit from Garmisch-Partenkirchen?
That is Linderhof Palace, built by King Ludwig II of Bavaria in the 19th century.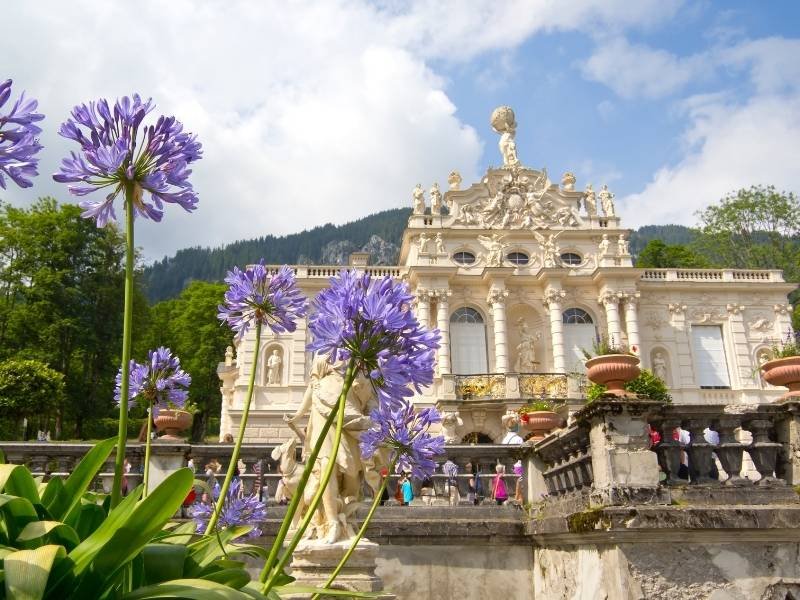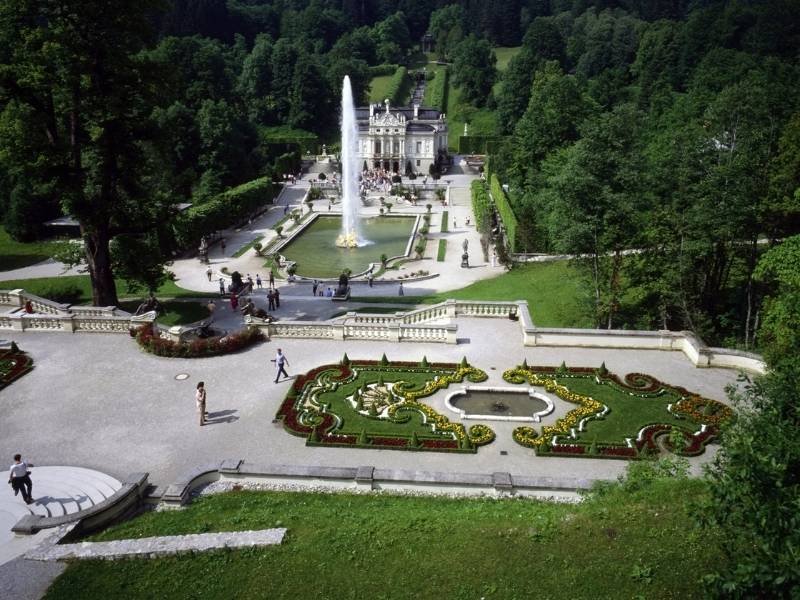 Linderhof Palace is one of the grandest royal lounges you can ever find, and it has one of the most impressive historicist garden designs you'll see in Germany.
You will be struck by immense Rococo grandeur inside the palace, especially in the palace's bed chamber and Hall of Mirrors. Bummer, photography isn't allowed inside the place for me to show you here.
The garden of Linderhof Palace is truly one of a kind. Its garden has a design that embodies architectural techniques that originated from different eras and places – see elements of baroque and renaissance architecture, similar to Marly le Roi in France or La Granja in Spain.
Linderhof Garden isn't only about plants arranged wonderfully. It is 50 hectares (125 acres) of land that has buildings that were inspired by different places and cultures:
Venus Grotto
Hunding's Hut
Gurnemanz Hermitage
Moorish Kiosk
Moroccan House
Ultimately, the palace is situated in the middle of the Bavarian Alps. Here, you can see the garden's lovely sceneries that come with the awe-filling mountains from afar. Can you imagine how beautiful it could be?
Reason #5: Grand Monastery in Garmisch-Partenkirchen
Ettal Abbey is another architectural marvel that will attract you to visit Garmisch-Partenkirchen, aside from the Linderhof Garden. It is a 14th-century Benedictine monastery and a baroque church with an impressive dome.
The monastery's dome is a phenomenal work of art. Filled with rococo embellishments and ultra-detailed frescos, anyone will absolutely be captivated! The painting illustrates the image of heaven, being the Holy Trinity as the central theme.
You'd be surprised about the Ettal Abbey when you discovered that it functions as more than just a church and a religious school. The monastery also operates a hotel, brewery, and show dairy.
Reason #6: The Historic Town of Garmisch-Partenkirchen
Actually, You do not have to move away from the town of Garmisch-Partenkirchen to see architectural wonders. In the historic town, artistic buildings can be found, and they are another reason why visit Garmisch-Partenkirchen!
Photos of Historic Garmisch-Partenkirchen
You can visit two famous streets in Garmisch-Partenkirchen: Ludwigstrasse and Fruhlingstrasse. These parts of modern-day Garmisch-Partenkirchen are the ones you'll find so Instagrammable and ultimately culturally rich.
Later I'll further explain each, but for now, here are the images of the Historic GaPa to make you want to visit this town: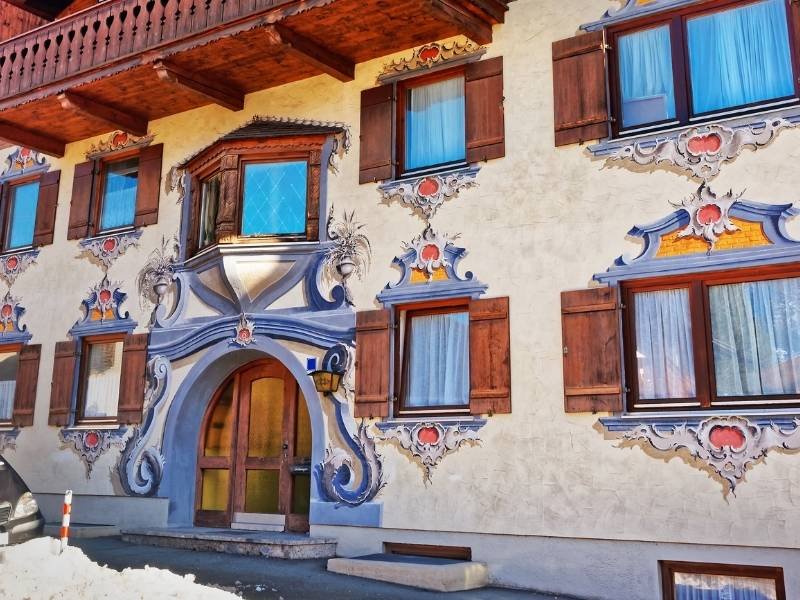 Ludwigstrasse (Ludwig Street)
Learning about the lives of the ancestors of Garmisch-Partenkirchen comes by a stroll in Ludwigstrasse. Here, you will see the facades of the houses, shops, and inns are painted with beautiful murals that express the old Bavarian character.
Lüftlmalerei, or the artistic facades of Garmisch-Partenkirchen and other towns in Southern Germany, can be seen almost everywhere. The murals mostly depict the profession of the house owner or their patron saints.
What's more interesting? In Ludwigstrasse, most buildings are constructed plain and flat, but they don't look like that! Some murals apply trompe-l'œil, a visual illusion that tricks the eyes to perceive the images as 3D objects.
Ludwigstrasse is really a fascinating street, and for art enthusiast travelers, this is definitely your reason why you would visit Garmisch-Partenkirchen.
Fruhlingstrasse (Fruhling street)
Fruhlingstrasse is also a part of Garmisch-Partenkirchen that you might also want to visit. This portion of GaPa was once a rural alpine settlement home to buildings with fascinating Lüftlmalerei mural paintings on the facades and wooden chalets similar to the ones from Switzerland.
Stroll along the Fruhlingstrasse and see 18th-century houses with balconies embellished by colorful flowers. It's a street full of charm, indeed!
Reason #7: More Discoveries in Garmisch-Partenkirchen
Aside from natural wonders and architectural marvels, you can also find attractions in Garmisch-Partenkirchen that embody "interesting" stories. These fascinating attractions are another reason to visit Garmisch-Partenkirchen:
Kirchdorf Wamberg
King's House on Schachen
The Werdenfels castle ruins
Kriegergedächtniskapelle
Kirchdorf Wamberg
Kirchdorf Wamberg is one of the most idyllic church villages that await you in Bavaria. It is a place straight out of an indie movie that tells some kinda profound message or a story. It's a perfect destination for old souls, I guess.
Wamberg is situated a kilometer above sea level in the Wetterstein mountain range. It is pretty far and isolated from Garmisch-Partenkirchen town, yet the visit is said to be a rewarding one.
Coming here, you'll get to see the epitome of the beauty of the German countryside in the mountains.
Wamberg has villagers of about 30 in number, living peacefully in their traditional and rustic homes. Visit in summer, and you'll get to see these charming houses stand against the verdant meadows – an absolutely delightful scenery to witness.
Enter the center of the village, and you'll find the Church of Saint Anne together with its impressive high altar. The church's altar is a work of art created by the sculptor Andreas Onich.
Ultimately, Wamberg offers picture-perfect views of Alpspitze and Zugspitze. This, together with all that was mentioned, shall give you a very tranquil and peaceful experience in Garmisch-Partenkirchen.
King's House on Schachen (Könighaus am Schachen)
The King's House is another gem we can visit in Garmisch-Partenkirchen. It is located just below Dreitorspitze at an elevation of 1,866 meters above sea level, an excellent vantage point for the Wetterstein mountain range.
This mountain lounge entails the story of a king (King Ludwig II) who dreamed of dwelling in an absolutely fairytale-like location in the mountains.
A rest house in the mountains… It is something that most of us dream of too, don't you agree?
King Ludwig II's house on Schachen looks plain and ordinary outside; it seems not even made for a royal! But don't get fooled; all its grandeur is kept inside.
The Werdenfels Castle Ruins
Wamberg and King's House are two of the hiker's destinations near Garmisch-Partenkirchen. The third one is the Werdenfels Castle ruins located between Garmisch and Ferchant.
Back in history, before the mid-17th-century Wenderfels Castle used to be a mighty fortress that guarded Loisach valley 80 meters above on a cliff. It was here that the counts of Wenderfels stayed to rule their land.
The center of power was moved somewhere else, letting the castle fall into disrepair after that.
*You can move the 360-degree image above to see the surroundings
Today, wanderers will be thrilled to visit Werenfels Castle ruins. Not only that, the Werdenfels Castle ruins give a mysterious feel to anyone who visits; the dramatic panorama from the ruins is just wanderlust satisfying to see.
Kriegergedächtniskapelle
Warrior Remembrance Chapel (Kriegergedächtniskapelle) is another historic place in Garmisch-Partenkirchen you can discover. We can find the chapel on top of a plateau located northwest of the town.
Like the three attractions mentioned above, Kriegergedächtniskapelle is also where you see panoramic views of the Bavarian Alps and or the Garmisch-Partenkirchen town.
It's a spot to get some peace and quiet too!
The story behind Kriegergedächtniskapelle is about the soldiers who have died during the Second World War. It is a memorial of these brave men who sacrificed their lives for their nation's interest.
You can come here for a hike, but please don't forget to commemorate the lost lives. This chapel should be able to remind us how lucky we are today to walk freely without the peril of war.
Implicitly, Kriegergedächtniskapelle is a place in Garmisch-Partenkirchen that helps us develop our character: to improve our overall sense of gratitude. See the essence of traveling here?
Reason #8: The Olympics in Garmisch-Partenkirchen
On Reason #7, you learned about the "interesting" places you can discover in Garmisch-Partenkirchen. In this section, we talk about what made GaPa well known to the world.
The 1936 Winter Olympics.
Impressively, even after decades, the Olympic spirit never left the town… and it is a reason why visit Garmisch-Partenkirchen.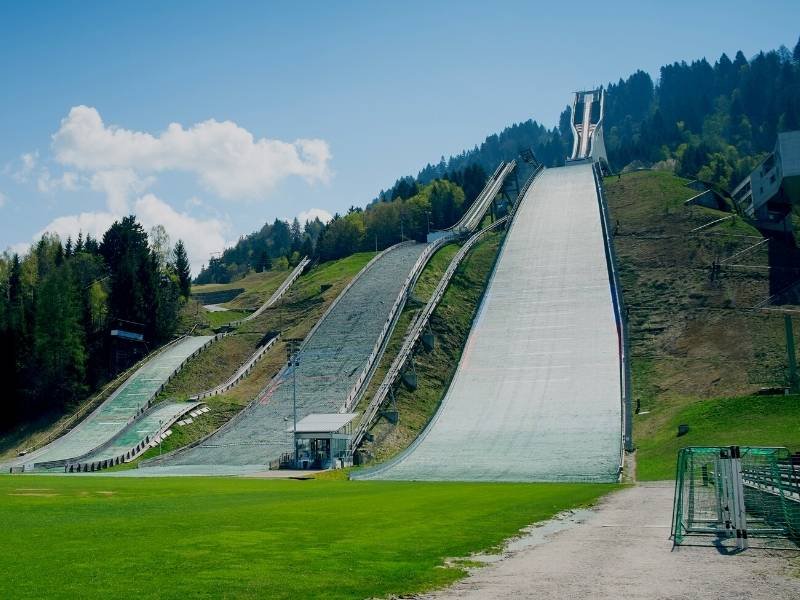 There are two notable attractions in Garmisch-Partenkirchen that relives the 1936 Winter Olympics every day:
Olympic Ski Jump
Olympic Bobsleigh Run
Olympic Ski Jump
Technically speaking, GaPa's Olympic Ski Jump is a K-125 (K point) and HS140 (Hill Size) ski jumping hill located in Gudiberg, south of the district of Partenkirchen.
But regardless of what these numbers mean, this structure will definitely give you a thrill even by having a glimpse of it. The Olympic Ski Jump will surely pump the adrenaline out of your blood when you try, especially if it is your first time!
You can access the Olympic Ski Jump Ski Stadium for free. Just sign-up at the Garmisch-Partenkirchen tourism office when you arrive in the town or call (ph.: +49 (0) 8821/180700).
Olympic Bobsleigh Run
Olympic Bobsleigh Run is a protected historic landmark that used to be the site where hundreds of bob sports athletes had run down its curvy path. When you visit Olympic Bobsleigh Run, you see the world's most dangerous run.
And back in the past, athletes have raced down in the tracks with speeds that top at 120kph. Can you imagine how crazy fast it is!?
Reason #9: Endless Activities in Garmisch-Partenkirchen
What's really compelling about visiting Garmisch-Partenkirchen is that the things to do here for a single visit are just endless! I think visitors would need more than a week or two to get them all done.
What's more? There is fun for everyone in Garmisch-Partenkirchen. It is for adventurous travelers, wanderers, family vacationers, architecture and art lovers, etc.! Aside from the mentioned above, below is the list/category of things you can else do in GaPa.
Summer Activities in GaPa
During the summer season, there are activities that you can have for fun:
Hiking
Hiking on prescription
Mountaineering & climbing
Cycling and mountain biking
Trail running
Water sports
Paragliding
Golf
You can check this summer activities list link to the official website of Garmisch-Partenkirchen to learn more about each item listed above.
Winter Activities in GaPa
When the winter season comes, GaPa turns even more fantastic! You can try the following activities:
Skiing
Cross-country skiing & biathlon
Winter hiking
Snowshoeing
Ski touring
Off the slopes
GaPa & the Olympic Games
Here is the link to the Winter Activities page of the Official website of GaPa to learn more about each item written above.
Wildlife in GaPa
If you want to see mystical creatures like those shown in elven fantasy movies, you don't have to go anywhere else; Garmisch-Partenkirchen has something to show you!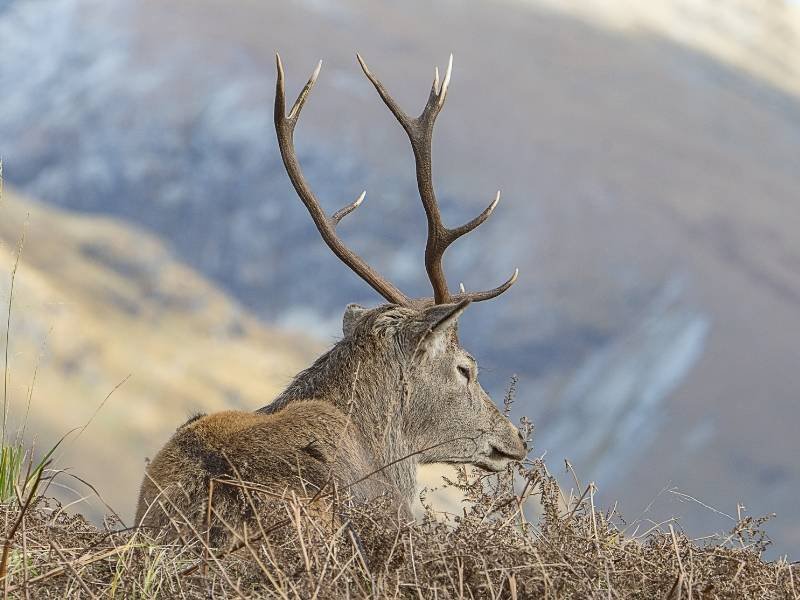 You can visit Kramerplateau, and there you can get a wildlife feeding experience with does and stags. You will be accompanied by a ranger who will teach you all the fascinating things about these animals.
Food in GaPa
And yes, Garmisch-Partenkirchen is for food travelers too! Here you can try the bests and classics of Bavarian Cuisine:
Fleischpflanzerl
Schweinshaxe mit Knödel
Obazda
Knieküchle
Zwetschgendatschi
Reason #10: Garmisch-Partenkirchen is Near Other Beautiful Places
Lastly, what's really great about visiting Garmisch-Partenkirchen is its location. Aside from being in the Bavarian Alps, where endless beautiful sceneries and activities are, Garmisch-Partenkirchen neighbors other attractions that are also a must-visit destination in Southern Germany.
It's just one ride away from Munich, Mittenwald, and Fussen! Discover 10 Beautiful Places in Munich to See.
When you are done visiting GaPa and want to see more tourist attractions, time and transportation fees won't be your problem, absolutely!
Some even make GaPa their home base for visiting other attractions. By that, they avoid the hassle of transferring from one hotel to another every single time or wasting time on a long commute/drive when they want to see a new spectacle, etc.
Is Garmisch-Partenkirchen Worth Visiting?
In conclusion of these ten reasons why you should visit Garmisch-Partenkirchen, I would say: YES! Garmisch-Partenkirchen is worth a visit. Here you'll see seemingly endless natural wonders, stroll along with charming traditional houses, and ultimately, you'll have a long list of many fun activities to do. Boredom just does not exist here.
I just want to share my list of the most beautiful places in Southern Germany. In the list, you'll discover more scenic (Oberammergau, GaPa, Mittenwald, Berchtesgaden), historical (Bamberg, Wurzburg, Rothenburg, Black Forest), and magical places (Neuschwanstein Castle, Lichtenstein Castle) in Southern Germany where the most unforgettable memories and memorable journeys are made. Click one link to open an article on a new tab and read it later.
Photos to Inspire You Visit Garmisch-Partenkirchen
If you aren't still convinced if you will go and visit Garmisch-Partenkirchen, let this stream of images make you want to come.
Save it on Pinterest.