Lichtenstein Castle in Germany and 5 Things to Do Nearby
Lichtenstein Castle is considered one of the most beautiful places in Germany. In fact, many online publishers and well-established travel websites like CNTraveler have mentioned Lichtenstein Castle in their Germany recommendation destination list. Well, it's undeniable why.
The first time I saw Lichtenstein Castle on social media, I was immediately convinced that this was a place to visit. Its fairytale appearance is the most influential factor, I say.
I just fantasize about the places like Lichtenstein Castle much often. Whenever I watch TV series or movies cast in medieval times, I never miss a moment imagining myself being in the scene. These places fill us with awe and wonder – feelings that help us feel happier and better. Agree?
I know this Lichtenstein Castle in Germany is obviously worth visiting by its appearance but is that enough? In this blog post, I share with you information about Lichtenstein Castle so you may know what else you can "gain" when you go.
This post also includes the things to do near Lichtenstein Castle to easily plan your visit.
Facts and information (i.e., opening hours, etc.) are based on the official website of Lichtenstein Castle and Baden-Württemberg unless stated.
Photos of Lichtenstein Castle in Germany to Travel Inspire You
First, let me show you what inspired me to create this post. Below are the photos of Lichtenstein Castle that also shall spark the wanderlust inside you: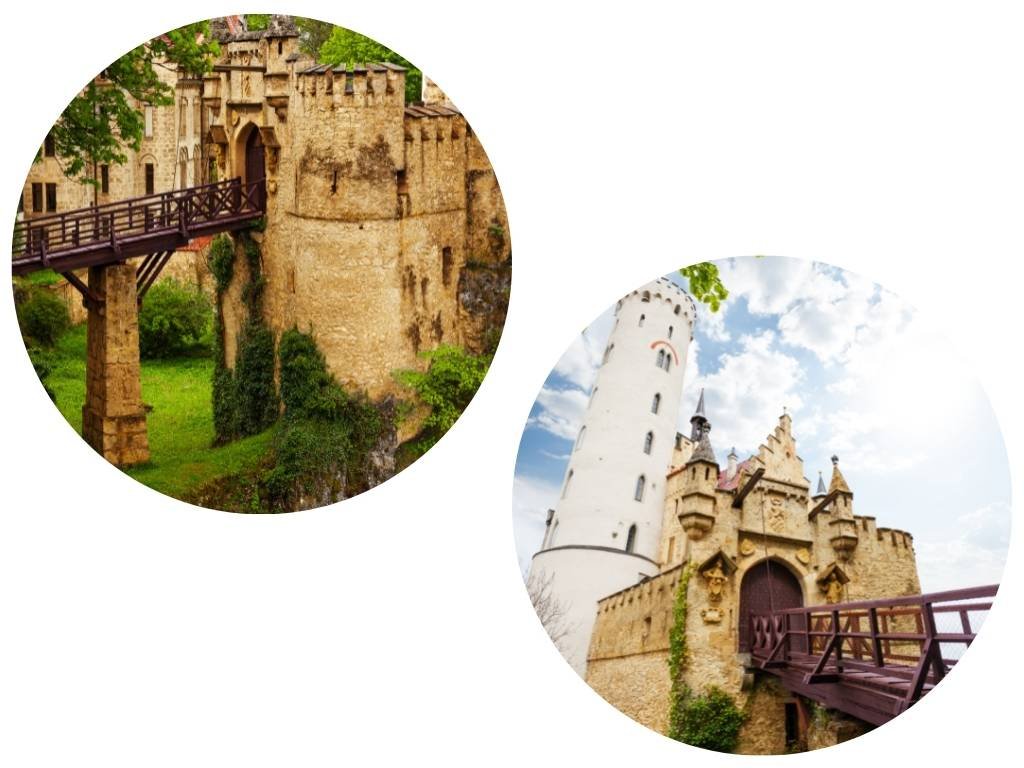 The Lichtenstein Castle in Germany
Lichtenstein Castle is absolutely magical, right? Seems like it's a place that gives a scene straight out of a movie.
Well, actually, two movies have used Lichtenstein Castle as their casting location already:
So, do not forget to bring your earphones and create your fantasy/Disney music playlist before you come here! Have them playing in your ears while you wander around the castle.
Spark up your wanderlust!
With the music playing and the sight of Lichtenstein Castle, you'll be transported immediately into the realm of your fantasy.
You know how it works, I believe. We've all listened to music during a commute before… Remember how you pictured yourself as the character of your own music video you made inside your head? That's just how we do it here. 🙂
Hi! Before you continue reading, I just want to tell you that Lichtenstein Castle belongs on my list of the most beautiful places in Germany. In the list, you'll discover more scenic, historical, and magical places in Southern Germany where the most unforgettable memories and memorable journeys are made. Don't forget to check it out! 🙂
Anyhow, let's now talk about what really is Lichtenstein Castle:
What is Lichtenstein Castle
Lichtenstein Castle is a picturesque 19th-century gothic revival castle perched on the cliff's edge overlooking Echaz valley. The castle is also known as "Wurttemberg's fairytale castle."
It is privately owned by the Dukes of Urach. However, it is not entirely closed to the public. The castle welcomes visitors through the tours they offer.
The Lichtenstein Castle isn't one lone structure. In the compound where it was built, we can find other buildings constructed in the 19th century:
A chapel
An ample garden
A romantic courtyard
Using this 360-view image, you can see the entirety of Lichtenstein Castle. Feel free to drag the image left, right, up, or down to be familiar with the castle:
You can click the arrows shown in the image to change the view from aerial to the castle's viewpoint.
The architecture of Lichtenstein Castle
The castle is built on the foundation walls of the historic German medieval knight's castle that stood centuries before it. However, the architecture and interiors were design-inspired by the novel written by Wilhelm Hauff, called Lichtenstein. Hence, its name.
Lichtenstein Castle possesses neo-Gothic architecture, and Romanticism is evident in the castle's style and furnishing. It has a medieval charm that captivates both the sight and emotions of the visitors.
The interiors are embellished with medieval-style paintings, and the ceiling and walls have royal pattern designs. All contribute to the total enthralling grandeur of the castle.
Lichtenstein Castle Very Brief History
The story about Lichtenstein Castle goes further back in history, as early as the 12th century.
Before its reconstruction in the 19th century, Lichtenstein Castle wasn't yet the structure that we can visit today. Instead, it was a fortress with one of the most impressive fortifications, especially during medieval times.
The fortress was also the ducal seat before it ceased to be in 1567. Since then, it was fallen into disrepair.
Time passed, and the years advanced to the 19th century. In 1802, King Frederick I of Württemberg acquired the deteriorating fortress and turned it into a hunting lodge.
By 1837, Duke Wilhelm von Urach, moved by the novel Lichtenstein written by Wilhelm Hauff, purchased the hunting lodge estate to create his own medieval castle.
The Duke's medieval knight's castle's construction, now Lichtenstein Castle, began in 1840 and was finished two years later.
Lichtenstein Castle was not spared from being damaged during World War 2. The repair took decades, but Lichtenstein Castle was brought back to complete restoration thanks to local non-profit organizations like the Wustenrot Foundation.
The current Lichtenstein Castle that we see now shows the final touches made in 2002.
The ruins of an older medieval castle are a few hundred meters away from the current Lichtenstein Castle. You may see its exact location from the previous link.
Are you now interested in visiting Lichtenstein Castle? Continue reading, and I'll tell you all you need to know before you visit the castle.
Where is Lichtenstein Castle?
We can find Lichtenstein Castle in Honau, municipality of Lichtenstein, district of Reutlingen, within the state of Baden-Württemberg, southwestern Germany.
The castle is situated 817 meters above sea level at the foot of Swabian Jura, sometimes called Swabian Alps. With that said, we can expect a picturesque castle and panoramic scenery from the site.
You may hear about another place called "Liechtenstein." It is a country that lies between Switzerland and Austria, and definitely, Lichtenstein Castle isn't there. Don't be confused, especially if it's your first time visiting Europe.
There is also another town in Germany named Lichtenstein, located in Saxony, Germany. Don't be confused, especially when buying transportation tickets.
Here is the Google Map location of Lichtenstein Castle in Lichtenstein, Germany:
Cities near Lichtenstein Castle
Lichtenstein Castle and surrounding attractions can be visited on a day trip from the nearby German cities. Here are the approximate travel times from each city to Lichtenstein by car and by train:
| | | |
| --- | --- | --- |
| | To Lichtenstein | |
| From | By Car | By Public Transportation |
| Stuttgart | 43m | 1h 20m (1 train, 1 bus) |
| Frankfurt | 2h 19m | 2h 44m (2 trains, 1 bus) |
| Wurzburg | 1h 56m | 3h 42m (2 trains, 1 bus) |
| Nuremberg | 2h 32m | 3h 57m (2 trains, 1 bus) |
| Munich | 2h 8m | 3h 24m (2 trains, 1 bus) |
| Konstanz | 1h 48m | 3h 8m (1 train, 2 buses) |
Cities near Lichtenstein, Germany
*The data above are gathered from Rome2Rio.com. Note that they are only estimates. Some routes may change depending on the different situations: health restrictions, traffic, and season.
Will you be coming from Munich or Nuremberg?? Check out the 10 Beautiful Places in Munich to See and 15 Reasons Why Nuremberg is Worth a Visit
How to go to Lichtenstein Castle in Germany
There are two ways we can get into Lichtenstein Castle: Public transportation and by car. Most tourists prefer using a car as it is more convenient and efficient.
By Public Transportation
If you are coming from other cities in Germany, the first step you need to do is to arrive at Stuttgart – the nearest town to Lichtenstein that is connected to Germany's InterCity Express lines. (See Stuttgart Hauptbahnhof in Google Maps)
From Stuttgart Hauptbahnhof, take the train ride to Reutlingen Hauptbahnhof via the trains below. A train leaves for Reutlingen at least 3 times within an hour. (See Reutlingen Hauptbahnhof in Google Maps)

IRE6 (InterRegion Express)
RB18 (Regionalbahn or Regional Train)
RE12 (Regional Express)

From Reutlingen Hauptbahnhof, transfer to Reutlingen Busbanhof. Get a bus heading to Honau in Lichtenstein. Here are the bus codes you need to look for:

260
260-F
260-N
606
606-F
606-N
635-N

Alight in Honau (see in Google Maps). The total travel time is 30 minutes.
From the Honau bus stop, the 40-minute hiking to Lichtenstein Castle starts. There are three hiking trails, but it's faster to reach the castle through Gallusstraße. The path is generally flat, but overall there are a 248 m upward elevation change throughout.
Read: Stuttgart Germany: 10 Reasons Why You Should Visit Stuttgart
Note:
Hauptbahnhof means Central Station in English.
Busbahnhof means Bus Station in English.
You can find and book train rides and buy tickets and passes for any mode of transportation in Germany from Bahn.com. You can go to their offers page to see bundles and discounts. Don't forget to get a round-trip ticket!
Here is a comprehensive guide on using public transport in Germany by german-way.com
By Car
You can avoid all the hassle of commuting and save time by renting a car. Check location and rates from booking.com. There are parking spaces just south and west of Lichtenstein Castle near Schloßschenke Lichtenstein restaurant and Altes Forsthaus.
Best time to visit Lichtenstein Castle
Regarding the weather, Lichtenstein Castle is best to visit from June through mid-September, when the temperature in Germany is the warmest.
However, keep in mind that June is the rainiest too.
Suppose you want to see the best sights of Lichtenstein Castle. In that case, I recommend you to visit during autumn when the surroundings are filled with fall foliage. It shall make your visit to Lichtenstein Castle even more awe-inspiring and memorable!
Lichtenstein Castle Tours
Lichtenstein Castle offers tours inside the castle, and it is the only way visitors can get inside the castle. It lasts for 30 minutes, spoken in German but you will be given English brochures.
Bummer, picture taking is not allowed inside Lichtenstein Castle. Anyhow, the tour includes a visit to the first and second floors of the castle. Here is a summary of the things you'll encounter during the time:
First Floor
Armory
Chapel
15th – 16th-century paintings, murals
Drinking room
Second Floor
Rooms painted with coats of arms
Rooms filled with medieval furniture
Knights hall – the highlight of the tour
The famous painting "Archer of Lichtenstein" in the staircase
Opening Hours
Lichtenstein Castle is open from March to December, excluding December 24 to 26. Opening times differ per month. See the table below:
| Day | March | April to October | November & December |
| --- | --- | --- | --- |
| Monday to Friday | 10 am – 4 pm | 9 am – 5:30 pm | 10 am – 4 pm |
| Saturday | 10 am – 4 pm | 9 am – 5:30 pm | 10 am – 4 pm |
| Sunday and Holiday | 10 am – 4 pm | 9 am – 5:30 pm | 10 am – 4 pm |
Lichtenstein Castle Opening Time
Please double-check the information on the official website of Lichtenstein Castle as there might be changes due to different factors such as a pandemic, weather, etc.
Admission
Below is the entrance fee for a castle tour:
Children: 5 EUR
Adults: 10 EUR
Reduced: 9 EUR
Here is the entrance fee for a courtyard visit:
Children: 2 €
Adults: 4 €
Reduced: 3 €
Things to do near Lichtenstein Castle
As you can see from the table of the cities near Lichtenstein, it takes an average of 2 hours by car and 3 hours by public transportation to reach Lichtenstein Castle.
That's only one way.
Coming and leaving the castle would consume your time half a day on the road.
You see, if you're on a budget or time-constrained, it would seem impractical to visit Lichtenstein Castle, especially if it's your only destination in Lichtenstein or Reutlingen.
Don't you agree?
Well, worry not! Because it is not absolutely separated from other attractions. Below you will discover the 5 highly rated destinations near Lichtenstein Castle you can go after.
Using this list of things to do near Lichtenstein Castle, you can maximize your day tour or even 2d1n stay in Lichtenstein or Reutlingen:
Hiking Honau
With a healthy, nature-oriented activity: Hiking, let's kick off the list of things to do near Lichtenstein Castle.
In Honau, the best hiking trails are located on the other side of the Echaz Valley opposite Lichtenstein Castle:
Traifelbergfelsen
Rötelstein
Locherstein
Here is the view that you can see after reaching the vantage point of each hiking trail:
From the Wilhelm-Hauff-Museum at the eastern portion of Honau town, you can start your hiking to these vantage points.
Within 20 to 30 minutes, you would be on the summit of each hiking trail. You can use this Google Map route as a reference. Elevation gain is around 200 meters along a kilometer-long hiking trail.
At the vantage point, you will see panoramic views of the Echaz Valley, together with the villages of Honau and Unterhausen. Lichtenstein Castle should be visible unless a thick fog covers the area.
Since the vantage points head west, these hiking spots are great for watching the sunset.
If you plan to come, don't forget to bring suitable footwear.
Schönbergturm Pfullingen
Another thing that you can do after visiting Lichtenstein Castle is to see Schonbergurm in Pfullingen. Basically, it is a twin tower with a connecting bridge at the top. The two towers of Schonbergurm serve as an accent and descent path to the bridge on top.
Like hiking in Honau, scenic views await here in Schonbergturm, especially on the top bridge.
The tower stands at the height of 26 meters on the meadows of Schonberg, which already has 793 meters in elevation. From the top bridge, you can see not just Pfullingen but also Unterhausen and Holzelfingen.
During clear weather, even the Lichtenstein castle is visible from Schonbergturm. Have a glimpse of the view from these twin towers from the 360-image below. Feel free to move the image around!
To come here, you take a bus to Unterhausen or Pfullingen from Honau. You can find hiking trails in both towns that lead to Schönbergturm Pfullingen. Hikes last for almost an hour.
However, the tower can also be reached by car. There are parking lots nearby.
Here is the location of Schönbergturm and the parking lots on Google Maps. You can use this as your reference when hiking or driving to the tower.
It is best to visit Schonbergturm during clear weather. If it is foggy, I suggest you skip this attraction. Nevertheless, the view is just fantastic!
Sightseeing Pfullingen
Since Pfullingen is definitely close to Lichtenstein Castle, this can also be your next destination after visiting the castle. You can find several charming buildings in this town as you stroll over the city for lunch or dinner.
Nebelhöhle
If you rented a car, then you got a must-visit destination to go after Lichtenstein Castle.
Nebelhöhle is a show cave listed as a UNESCO site in the Swabian Alps. It is just a few-minute drive from nearby towns Unterhausen, Honau, or Pfullingen.
You should come here because Nebelhöhle is considered one of southern Germany's oldest and most beautiful show caves. It contains impressive stalactites and objects that date back Pleistocene period.
Based on the comments I read in Google Maps, Nebelhohle can be hiked from nearby towns such as Lichtenstein. Still, it will undoubtedly take a while (approximately 1-hour hiking). Fair enough when you have plenty of time. Some came here using bicycles, however.
Public transportation routes to Nebelhohle are available:
From Honau (See preset route in Rome2Rio) – 1h 46m, 2 bus rides
From Pfullingen (See preset route in Rome2Rio) – 8m bus + 15-minute walk
Still, the best choice would be to rent a car.
Ruine Achalm
Last but not least is another scenic spot just in Reutlingen, called Ruine Achalm.
Ruine Achalm is the ruins of an 11th-century castle and a lookout tower on top of the hill Reutlingen and Pfullingen. It is the spot in Baden-Württemberg where visitors can have a 360-panorama of the towns from Reutlingen to Pfullingen to Eningen.
Check out this 360-view to get a glimpse of the scene from Ruine Achalm:
You can use the 360-view above to see the exact location of Ruine Achal.
Once you arrive at the spot, you can enter the tower and climb the steel staircase to see a beautiful view of the surrounding towns and the Swabian Alps.
It is one of the highest-rated attractions (4.8 out of 5 on Google Maps) in the region near Lichtenstein Castle. Hiking is the only way up, though. But, many are telling me the effort will be rewarded with stunning views!
According to the reviews posted by some travelers on Google Maps, the hike would be easy on the lower portions of the trail. However, after the first half of the path, the track becomes narrow and steep. Be careful if you'll visit Ruine Achalm.
There are benches and small tables on the top, you can bring some food for a picnic.
Map of Activities near Lichtenstein Castle
To help you plan your activities, I give you this map containing the coordinates of the places of each of the things to do near Lichtenstein Castle:
Is Lichtenstein Castle worth a visit?
Lichtenstein Castle is one of the most beautiful places in Germany. With its fairytale appearance and scenic views, it is definitely a place worth visiting! It may be far from major cities, but coming here would not be just for a single experience. There are nearby attractions that add to the value of visiting Lichtenstein Castle.
Save it on Pinterest.