7 Best Things To Do In Thun—Is Thun Worth Visiting?
One of the reasons why some of Switzerland's cities are utterly beautiful? Because they have fascinating historical landmarks and breathtaking views of the Alps. Thun is an excellent example, but is Thun worth visiting?
Thun is the town where scenic views of a lake with Bernese Oberland in the backdrop await you. By visiting Thun, you can discover the world's oldest panorama painting. You may find Thun worth visiting for its castles and Oberhofen Castle, which can be quickly reached with a leisurely cruise on Lake Thun.
Do you want to see these castles and the scenic views I'm talking about? Worry not because this blog post will let you know where they are, what they're about, and how you can visit them. So, let's go? Let's get started!
Affiliate Disclaimer: This post contains affiliate links. I recommend products and services to help you make a successful and memorable trip. I may receive a tiny commission if you purchase them at no additional cost. These will support me in maintaining, creating more articles, and fulfilling the mission of this blog.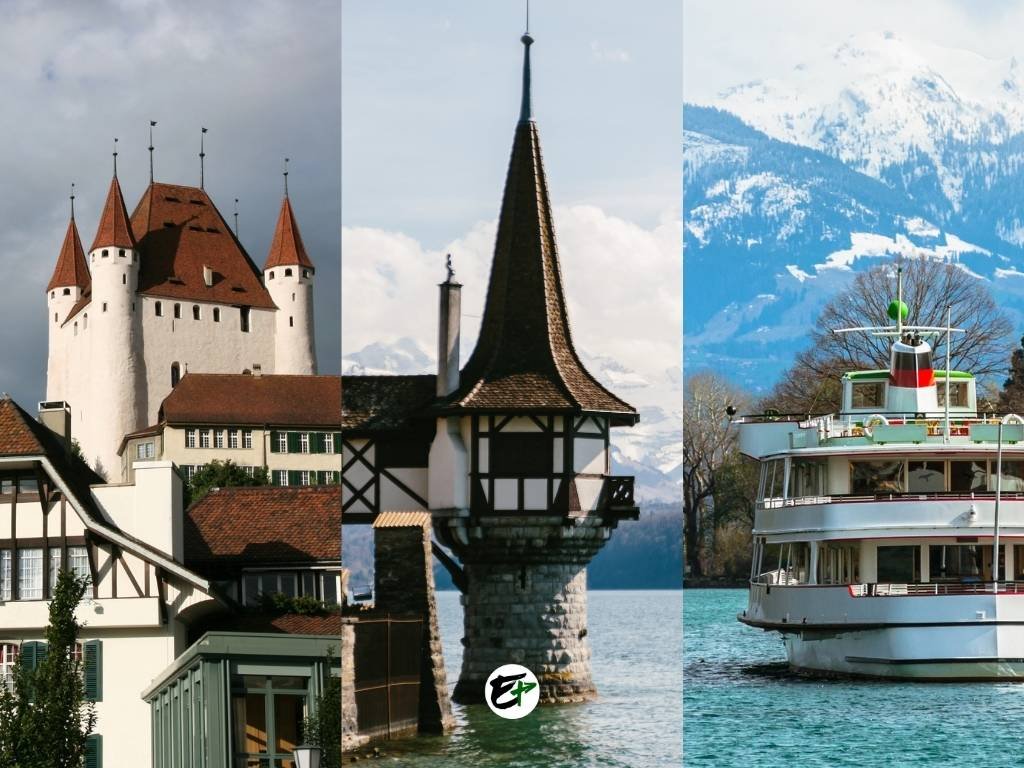 Use the table of contents to skip to topics.
Nothing shall feel more magical than a town with castles, lakes, and mountains! Are you like me, who search for places with lovely views, pieces of history, and old-world architecture to admire? If yes, Thun is the perfect place to be.
Thun is exciting to visit because there's not only one castle you can see when you visit Thun. Believe it or not, there are four!
Before we discuss the attractions in Thun, let me first introduce Thun to you. This information should help you visit Thun and discover some fascinating events that can make a trip to Thun fun!
Introduction to Thun Switzerland
Where is Thun in Switzerland? On the map, you can find Thun north of the Bernese Alps, 30 kilometers (19 miles) south of Bern. Thun sits at the point where the Aare River meets Lake Thun. Here's the map so you can clearly visualize it:
How To Go To Thun?
Let's say you're coming from abroad and want to visit Thun. In that case, You must fly first to Zurich. And from Zurich, take the train ride to Thun, which usually lasts 1.5 hours. It's a direct train ride, so there's no transfer hassle.
Bern is much closer to Thun than Zurich. However, the airport in Bern does not have as many flight connections as Zurich's airport. The train ride from Bern to Thun lasts only approximately 30 minutes. 
If you like visiting cities, you may want to stay in Zurich and Bern for a while before going to Thun. Here's why:
You might want to discover Switzerland's second largest city—Geneva. Here's the article: (10 Reasons Why You Should Visit Geneva)
As Thun sits on the shores of its lake, Lake Thun, visitors have access to cruise tours of the lake. Some cruise and boat rides stop at some of Lake Thun's attractions, giving you opportunities to have more beautiful experiences.
If you have a Swiss Travel Pass, you can have unlimited boat rides on Lake Thun.
Actually, the Swiss Travel Pass lets you have unlimited access/rides to any bus/train/boat in any part of Switzerland (Cable cars and special trains are discounted). It is best to have it if you are traveling in Switzerland for 3 or more days.
Learn more about the Swiss Travel Pass here and see where the Swiss Travel Pass applies here.
Discover how you can visit Switzerland in 3, 7, 10, or 14 days in the Swiss Alps sample itineraries.
As you will see later, Thun has interesting castles and landmarks. But if you're looking for adventure and more breathtaking views, I suggest you check other cities near the Swiss Alps (i.e., Montreux, Lucerne, Brig, and Sion) and the villages and small towns in the Swiss Alps. (The links open the articles in a new tab so you can read them later)
After I discuss the best things to do in Thun, we'll talk about:
When should you visit Thun?
Should you stay in Thun?
Where can you stay in Thun?
What to visit next in Thun?
Remember, you can use the table of contents to quickly navigate this article. 
Best Things To Do In Thun
Here are the places I think worth visiting while in Thun. 
I arranged the list according to where they are. I'll start at the destinations on the west of the Aare River. Then, to the heart of the town, east of the river. The last places I'll discuss are located on the northern shores of Lake Thun, a few-minute bus ride from the town center.
1. Thun Panorama (Wocher Panorama)
Let's begin the discovery of the places in Thun with an appetizer… A glimpse of the past, frozen in time. Visiting the Thun Panorama is a thing to do in Thun that you must not miss!
Where is Thun Panorama or Wocher Panorama?
In a small building in Schadau Park near the shores of Lake Thun, west of River Aare, you can find the first panorama in Switzerland and the panorama in the world.
Going here takes only 15 minutes of walking southeast of the Thun Train Station. You can also catch bus #1 from the train station and drop by Schloss Schadau station. The whole bus route takes 10 minutes. See this Google Map Route for your convenience.
What's Thun Panorama all about?
Thun Panorama (Wocher Panorama) was painted in 1814 by Marquard Wocher of Basel, inspired by the scenic view of Bernese Oberland. The painting is a 38-meter long (125 ft) and 7.5-meter (25 ft) tall artwork that depicts the image of the small town of Thun and the surrounding ice-capped peaks.
Here is the Google Maps 360 shot for a preview. Feel free to move the image around! 😀
Access to Thun Panorama
Thun Panorama is a masterpiece rich in details, showing what life was like in Thun 200 years ago. The hall where it is stored is open only from mid-May to late November, 11 a.m. to 5 p.m., Tuesday to Sunday.
The admission fee to the panorama is 9CHF (~10USD). Kids and teens under 16 years old are free to enter. You can also get a combo ticket with the Thun Kunstmuseum for 15 CHF (~17 USD).
2. Schadau Castle (Schloss Schadau)
Previously, I showed you the past from Thun Panorama. Now, let's go back to the present and explore the actual historic places shown in the artwork. The nearest place you can visit from Thun Panorama is Schadau Castle.
Schadau Castle has a virtual 360 tour. Take a look! I suggest that you see it through a PC to see more details.
Where is Schadau Castle?
The Schadau Castle is located in Schadau Park and east of Wocher Panorama. Just beside this castle, you can see the actual mouth of River Aare with waters streaming out to Lake Thun.
Going to Schaudau Castle takes a 15-minute walk southeast of Thun's Train Station. Alternatively, you can catch Bus #1 from the train station and drop by Thun, Scherzligen/Schadau station. It's faster by 5 minutes compared to walking. Use this Google Map Route for your convenience.
What's the History of Schadau Castle?
Not to dazzle you, but Schadau Castle is a Swiss Important National Monument, which costs more than CHF 20 million only for its recent renovations. That's a lot of money! Perhaps it's really worth seeing.
The first written document about Schadau Castle tells that this castle has a history that goes back to the mid-14th-century. That's older than the discovery of the Philippines! Impressive.
Though it was only a house back then, many improvements were made. It was only after the second world war it was placed under protection.
The image of the castle you can see now is the version after its last restoration in 1996, plus a few renovations in 2017. Now, the castle is sustainably used as a hotel and a restaurant.
Source: schloss-schadau.ch
What to do in and around Schadau Castle?
Even if you don't dine inside the castle, you can still enjoy its garden. Schadau Park or garden is a local recreation area designed in English style. You can take photographs or just walk by the shore of Lake Thun. The park is a beautiful spot to view the magnificent Eiger, Jungfrau, and Monch. 
The park also has trails with trees growing for more than 200 years. The park trails have interactive information boards to learn more about these trees. These boards also have a map to guide us on our tour of the English garden.
If I am rich, I'd probably taste the "timeless flavor" meals Schloss Schadau serves. There are wines, breakfast, lunch, and afternoon meals to taste! What's more interesting is that they offer a picnic meal in the garden.
The castle is also a hotel. You can stay for a night here if you desire. 
Access to Schadau Castle
The park is accessible anytime. The hotel and restaurant are only open from 08:30 a.m. to 11:00 p.m. (Monday to Saturday) from 08:30 a.m. to 10:00 p.m. (Sunday). Spontaneous visitors coming after 10 a.m. should call first to ensure the availability of the food/place.
You can ask them questions through email ( info@schloss-schadau.ch ) or calls ( +41 33 222 25 00 ). Here's Schloss Schadau's website to know more.
3. Townhall Square
From the western side of Thun, let's now move to the eastern side. It is where most of the exciting places in Thun can be found. It is also where the best things to do in Thun await us. One of those is the Townhall Square.
By the way, Thun has an island in the middle of River Aare. Then, on the southern part of the island, you can find an old bridge – a quick stop to take selfies and photographs.
Where is Thun's Townhall Square?
The Townhall square is only a 10-minute walk from Thun Train station north, along the northern riverbed of Aare. You can also hop on buses #1, 2, 3, 4, 6, 31, 32, and 42 to get to Thun's Townhall Square. Alight in Marktgasse Bus stop. You may use this Google Maps Route for instant geo-points and directions on the map.
What to do in Thun's Townhall Square?
Thun's Townhall Square is the free-est part of Thun. There, you can feel that we're living in the medieval age. The cobblestone streets and the preserved buildings will help us visualize the history learned from the textbooks.
Thun's Townhall Square is the best portion of the town to begin exploring the ancient parts of Thun. By visiting the square, you can immediately see some of the oldest structures in Thun like:
The town hall – was constructed in the 15th century 
Hotel Rathaus – the oldest brick house in Thun, built during the 14th century.
Burgerhaus Thun – a late-baroque style building built in the 18th century.
Platzschulhaus – another beautiful 18th-century structure. 
Hotel Krone and Hotel Metzgern – the two former guild houses.
Thun Castle is already visible from the town hall square… Look at the 360-view I share above. Isn't it lovely? Remove the modern vehicles and replace them with horses, and it's already a time machine to the 18th century!
4. Thun Castle
Castles decorate the city skyline way more graciously than today's skyscrapers. Though the 500-meter-plus-meter buildings look magnificent and give a country a spot on the international stage, they can't display cultural identity and wonder as castles do. Visiting Thun Castle is really a must-do thing in Thun.
Where is Thun Castle?
In the maps, Thun castle is located directly north of the Thun train station, northeast of Townhall Square. It is an 11-minute walk from the train station.
Though you may take the bus, bus stops aren't near the castle. The available bus routes will also involve a lot of walking before you reach Thun Castle.
The best way, I think, is to visit the square first. Thun Townhall Square is only a 5-minute walk away from Thun Castle.
Things to know about Thun Castle
The Thun Castle is a 12th-century administrative castle built in the direction of the Zahringen dukes. It is also a museum that houses historical artifacts, emphasizing the history of Thun.
Thun Castle has five floors, two additional areas, a cellar, and towers. They contain numerous items, from weapons, clothes, musical instruments, and pottery. Here are the things that you can find for each area of the castle:
Cellar – Artifacts from the 900 years of urban development of Thun.
1st floor – Treasures from the Thun Townhall.
2nd floor – A collection of things about the governors of Thun.
3rd floor – Middle ages ceremonial hall.
4th floor – Corn chamber and prison.
5th floor – Roof structure.
Towers – Best view of Thun, lake, and mountains.
Source: schlossthun.ch
Tip: 
You may skip the stairs up to the castle by using the elevator from the castle's parking area. 
There is a small coffee shop on the castle grounds if you need refreshments.
Access to Thun Castle
Thun castle has different opening hours for every season. It is open every day, 10 a.m. to 5 p.m., from April to October. From November to January, 1 p.m. to 4 p.m. only on Sundays. Lastly, the castle is open every day from February to March but only from 1 p.m. to 4 p.m.
Here is the entrance fee table to the castle:
Participant
Fee
Adults:
CHF 10 (Castle Museum)
CHF 5 (Special Exhibition)
CHF 15 (Kombi ticket)
Senior citizen, special needs, student/trainee:
CHF 8 (Castle Museum)
CHF 3 (Special Exhibition)
CHF 11 (Kombi ticket)
Children aged six to 16:
CHF 3
Panorama Card/guest card or group of 10 or more people:
CHF 8
With culture pass:
Adults: CHF 6, children aged six to 16: free of charge
Swiss Museum Pass, Raiffeisen Member Card, Swiss Travel Pass, and children aged under the age of six:
Free of charge
Family card (2 adults + 2 children):
CHF 20
For more information or if you have questions, you may send Thun Castle an email through info@schlossthun.ch or call them by this number ( +41 (0)33 223 20 01 )
5. Kunstmuseum Thun
Thun is also a place where the ancient and modern mix together. If you can find artifacts from the past in Thun Castle, then in Kunstmuseum Thun, modern exhibits are found. Here you can discover numerous contemporary artworks created by modern Swiss artists.
Visiting Kunstmuseum Thun after Thun Castle is like a jump in time. A perfect experience to make us recognize that the only constant thing in this world is perpetual change. It is another unmissable thing to do in Thun.
Where is Kunstmuseum Thun
Kunstmuseum Thun is located along the northern riverside of the Aare River, near the old bridge. However, the museum's entrance is on the other side of the building along Hofstettenstrasse street. It is a 7-minute walk from the Thun train station, passing the Thun island in the middle of the Aare River.
What is to see in Kunstmuseum Thun?
Kunstmuseum Thun emphasizes the works of regional artists creating Swiss pop art, landscapes, and graphic works. It has a plethora of artwork collections from municipal and private donations.
The museum does not place the artwork in a permanent exhibition. Though it houses thousands of artworks (around 7000), most are not all displayed in public. They are kept in a secret depot that can't be accessed by anyone.
Access to Kunstmuseum Thun
Kunstmuseum Thun is closed every Monday. From Tuesday to Sunday, it is open from 10 in the morning until 5 in the afternoon. However, Wednesdays are "special," the opening hours are extended for another two hours until 7 in the evening.
The admission fee to the museum for adults is 10 CHF, 8 CHF for students, and the kids under 16 are free to enter. Visitors with a Swiss Travel Pass can enter without fees.
6. Hunegg Castle
The ultimate destination in Thun lies at Lake Thun's lakeshore, a few minutes from Thun town center. But before going straight to it after exploring the town, let's make first a stopover at another castle along the way.
This stopover castle destination is called Hunegg Castle. And it is a castle that also has the Swiss Heritage Site of National Significance title. Visiting Hunegg castle is a thing to do in Thun.
What's Hunegg Castle all about?
Hunegg Castle was built during the mid-19th century for the Prussian Baron Albert Emil Otto von Parpart. Because it is young, it seems to have less historical significance than Thun Castle.
However, the superb interiors and the meticulous upkeeping made the castle a compelling place to visit. The visitors mostly say Hunegg Castle can bring you back to the 1900s. The rooms and the fixtures inside are so maintained that they appear like the owner just left yesterday.
For me, the best part of the Hunegg is the terrace. It is the spot in the castle with views of Lake Thun and the Bernese Alps. Yet, I haven't been inside the castle, so yeah, just watch this video I found (hahaha!):
Where is Hunegg Castle?
Hunegg Castle is located in Hilterfingen Municipality, a town southeast of Thun, approximately a 5 to 10-minute bus ride from Thun.
In going to Hunegg Castle, you need to get a bus ride and drop by Hilterfingen Post bus station:
From the Thun Train Station, Take Bus #21 or #25 
If you're from Townhall Square, proceed to Lauitor Bus station and take Bus #21 or #25
If you just came from Kunstmuseum Thun, Proceed to Thunerhof bus station and catch bus #21
If you want to visit Hunegg Castle from Oberhofen Castle, hop on bus #21 or #25 at Oberhofen Dorf bus station.
Hilterfingen Post bus station isn't directly at the side of Hunegg Castle. You have to walk for about 4 minutes northwestward along Schoren road to Hunegg Castle.
Alternatively, you can take a boat ride from Thun to Oberhofen Dorf. But it's gonna take you another bus ride to arrive at Hunegg Castle.
What to see in Hunegg Castle?
Here are the things that I found very interesting when I browsed the Hunegg Castle website for the "things" to see within the Hunegg Castle:
Original art nouveau interior – a home decor museum that showcases the preserved style in the 1900s. 
Swiss Gastronomy Museum – here, you can find items that portray the Swiss Gastronomy Culture, hotel industry, and other articles about their food and drink culture.
Hunegg Castle Terrace. See the boats cruising in Lake Thun and the stunning Bernese Alps in the background.
Hunegg Castle Park – Explore the beautifully landscaped castle grounds with different trees like multi-stemmed cypresses, exotic redwoods, and Lebanon Cedars. 
Access to Hunegg Castle
Hunegg Castle is usually open from mid-May to mid-October. From Tuesday to Saturday, the opening hours are 2 p.m. to 5 p.m.; 11 a.m. to 5 p.m. on Sundays.
The castle is closed on Mondays. But it is open during public holidays from 11 a.m. to 5 p.m. Hunegg Castle is free to access with a Swiss Travel Pass.
Below are the admission fee rates. You may check the thunerseeschloesser.ch site for more details.
CHF 10 / adult
CHF 8 / pensioners or students  
CHF 5 / per child (6 until 16 years old)
Free for entrance for kids until 6 years old. 
7. Oberhofen Castle
Oberhofen Castle is the ultimate destination from Thun and the best thing to do from Thun.
It is the castle that will make our medievalistic fantasy a reality. Oberhofen is really a place to visit from Thun. Like Hunegg Castle, Oberhofen Castle is recognized as a Swiss Heritage Site of National Significance – a place to be in Switzerland.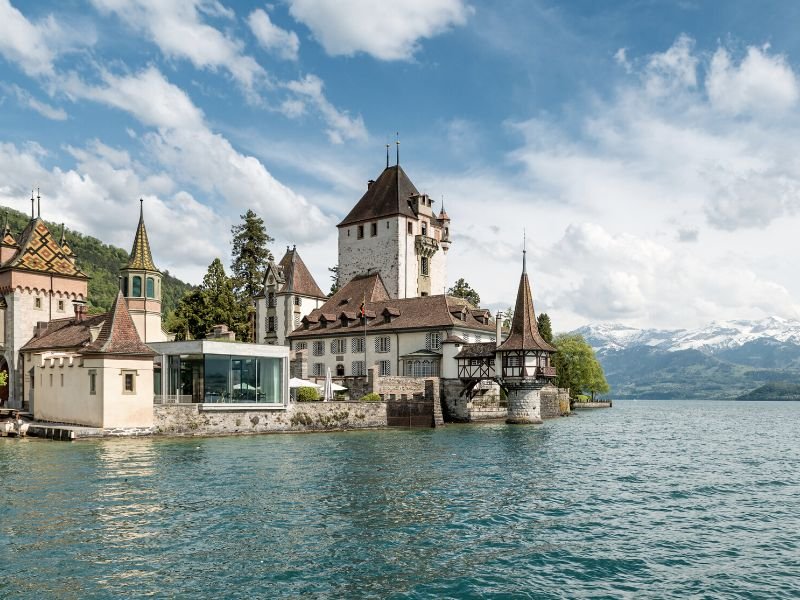 The view of the Oberhofen Castle, the lake, and the mountains in the background look perfect. It's a scene combining the elements of fantasy, history, and nature. It's the scenery you can't miss capturing in a photo.
Facts about Oberhofen Castle
Let's make Oberhofen Castle even "more interesting" with the mind-blowing facts about it:
Oberhofen Castle was built in the 113th century. The time that the castle was constructed was also the age when the Mongolian Empire was founded by Genghis Khan.
The castle's dungeon tower has 2 meters or 6.6 feet thick walls! A man with a typical height could even fit inside perpendicular to the thickness of the walls.
Outside of the castle structure is the 2.5-hectare (6.2 acres) garden. That's almost the size of three baseball fields! An ideal place to stroll around with the views of mountains and lakes.
Where is Oberhofen Castle?
Oberhofen Castle is a 2-minute walk to the Oberhofen Dorf bus stop. To come to the Oberhofen Dorf bus stop, you need to go to the following stations if you're coming from other tourist attractions:
Thun train station, take Bus #21 or #25 
Lauitor bus station from Townhall Square and take bus #21 or #25
Thunerhof bus station from Kunstmuseum Thun and catch bus #21
Hilterfingen Post bus station from Hunegg Castle and hop on bus #21 or #25
You can use Boat Day Pass (hop-on-hop-off) to visit the attractions in Lake Thun by boat, like Oberhofen Castle.
The Boat Day Pass also includes the destinations in Lake Brienz, the lake on the other side of Interlaken. Check out my article about Interlaken to learn more about the beautiful places in Lake Thun and Lake Brienz.
You do not need the Boat Day Pass if you already have a Swiss Travel Pass. 
What to see in Oberhofen Castle?
The Castle Museum. See the rooms where the noble families ate, lingered, and rested. Aristocratic families lived in the castle, so you can expect to see valuable furniture and spectacular interiors. 
The Castle Museum (Second floor) – Discover the bedrooms where the domestic servants of the aristocratic families stayed. The exhibition in this part of the castle shows the daily life of the servants. 
Chapel – discover the chapel of the Oberhofen Castle that was built in 1473. The interiors have murals professing the Christian faith of the castle's previous owners. 
Castle Park – come to one of the most impressive gardens in the Alpine region. It does not only have exotic plants and beautiful landscaping, but it also has a fantastic view of the lake and mountains. It has a covered walkway and a swiss cross flag plant to discover.
Oberhofen Dock – If you want to photograph Oberhofen Castle, this is the place to be! This spot lets you see the castle at an angle where the mountains are directly behind the lake tower.
Access to Oberhofen Castle
Oberhofen Castle's opening and closing hours are "quite" complicated, so I created a table for it. The admission fee is also included in the table below. Admission is free for Swiss Travel Pass holders.
Opening dates/hours:
Parts of Oberhofen Castle
Days
Opening
Closing
Restaurant
Tuesday – Sunday
10:00 a.m.
11:00 p.m.
Museum
9th May – 31st October
Tuesday – Sunday  
11:00 a.m.
5:00 p.m.
Lakeside Path
1st March to 3rd April
for 4th April onwards (opening and
closing time same as castle park)
9:00 a.m.
5:00 p.m.
Castle Park
4th April to 22nd May
23rd May to 31st July
1st August to 18th September
19th September to 23rd October
24th October to 19th December
9:00 a.m.
9:00 a.m.
9:00 a.m.
9:00 a.m.
9:00 a.m.
8:00 p.m.
9:00 p.m.
8:00 p.m.
7:00 p.m.
5:00 p.m.
Access to Oberhofen Castle
Entrance Fee:
| Participant | Fee (CHF) |
| --- | --- |
| Adults | 10 |
| AHV, IV, students and unemployed with ID, military | 8 |
| Children (6–16 years) | 2 |
| Groups of over 10 people | 8 |
| Bernese Oberland Regional Pass | 8 |
Entrance Fee to Oberhofen Castle
The schedule may change without prior notice. You can verify the information on Oberhofen Castle's website.
When should you visit Thun?
Thun may be a small city with only a few yet beautiful attractions. However, it becomes an exceptionally fascinating place to visit when its festivals occur!
If you ask me when you should visit and stay in Thun—it's during these events!
To witness how the locals behave, celebrate, and have fun is a more enjoyable way of learning about the culture of a nation. It's more fun than just exploring their city. Believe me, based on experience, such events can give you so much amusement.
These events occur mostly during summer, which is perfect for visiting Switzerland (June to September). Thus, these months are really the best time you make a trip to Thun.
Here are some of the events you can join/watch in Thun:
1. Summer Musical on the Lake – Thunerseespiele
When: July to August
Join and watch the musical Productions on the shores of Lake Thun. You will be seeing artists perform on an open-air stage at the lakeshore with a magnificent view of different mountains in the background, like Eiger, Monch, and Jungfrau. Check the specific dates or order a ticket from the Thunerseespiele website.
2. Thunfest
When: August
Join in jumping on the beat, singing, and partying with various artists from pop to blues to Irish folk to rock! You can find them in the Old town center of Balliz, Thun. You may check the exact dates from the Thunfest website.
 3. Chasteilet Justistal (Cheese dividing fest)
When: 3rd Sunday of September, 10 a.m.
Address: Spycherberg im Justistal, 3655 Sigriswil, Schweiz
It is a tradition when the farmers finally get the cheese from their cows, which happens in Justistal or Justis Valley. This tradition occurs just before or after the day of Prayer and Repentance.
4. Fulehung (Lazy Dog Festival)
When: Starts 2 days before the last Tuesday of September
It is a traditional celebration regarding the jester called Fulehung, captured during a battle. In modern times, he has the figure of "Ausschiesset" He has a "Soiblattere," mask and wood mallet, chasing the crowd and distributing sweets to kids.
See how fun it is to be at the festival with this video:
You may check the website of the Fulehung festival to see the exact dates. If you are interested in other events in Thun, you may check this list of every Swiss festival from swissvistas.com.
Should you stay in Thun?
You should stay in Thun if you want to visit attractions in both the Interlaken-Oberhasli administrative district and the Frutigen-Niedersimmental administrative district. Thun is the gateway to the towns/destinations in these districts; each has relatively the same distance from Thun.
For example, you can reach Kandersteg (the town near the most stunning Oeschinensee) from Thun for around 35 to 40 minutes (train ride). It is the same with Interlaken (the town which is near to the heaven on earth Lauterbrunnen valley).
Learn more about Interlaken (10 Best Reasons Why You Should Visit) and Kandersteg (10 Best Things To Do & How To Visit) from these articles I wrote.
See the map of the two districts mentioned here.
However, suppose your plan is to only have adventures and do sightseeing in the Jungfrau region. In that case, it would be better to make Interlaken your home base (and not Thun).
Here are the reasons why you should visit Interlaken. Also, here's an Interlaken Itinerary (1 to 7 days) to give you an idea of how you can explore the Jungfrau region with Interlaken as your home base. The itineraries involve going to Lauterbrunnen (Lauterbrunnen 10 Reasons Why You Should Visit Lauterbrunnen) and Grindelwald (10 Reasons Why You Should Visit Grindelwald).
Nevertheless, I recommend you to spend a night in Thun during its festivals that take place at night.
Where can you stay in Thun?
If you wish to stay in Thun, here is the link to the hotel deals in Thun.
The hotel browser has a map interface which is absolutely helpful in finding hotels convenient to you or best for you. Using the map, you'll see the hotels near the train station/bus station/attraction or hotels with the best views.
Where to go next after Thun?
As previously mentioned, Thun is the gateway to the attractions in the Bernese alps within the Interlaken-Oberhasli administrative district and the Frutigen-Niedersimmental administrative district. 
The natural attractions and scenery in this part of Switzerland are one of the best you can find in the world. Frankly, some of them, like Jungfraujoch and Piz Gloria, are bucket list destinations for a few reasons.
See how you can visit them from my Lauterbrunnen itinerary (1 to 3 days).
Although it is expensive to travel to Switzerland, it can feel regretful if you miss some parts of it during your trip.
If you plan to have a journey in Switzerland, make sure you also see Zermatt. It's where you can find the most famous peak in the world, the Matterhorn.
Zermatt isn't all about Matterhorn, though. Here are the views in Zermatt that make it worth visiting!
Aside from Zermatt, you might want to visit Gruyeres (10 Best Reasons Why You Should Visit Gruyeres). It's a preserved medieval city with a castle in which you can see a heaven-like view of the Swiss Prealps. Come to taste its famous cheese and have unlimited chocolates! 
Do you need more Switzerland inspiration or more ideas about where to go? If yes, I suggest you check the following articles:
Lastly, if you are looking for places similar to Thun in Europe, I can recommend:
Save it on Pinterest.