Southern Germany: The 10 Most Beautiful Places to Visit
To see wonders, be filled with awe, and make lasting memories – these are the things we profoundly aim for when we travel.
If these are your goals in visiting southern Germany, you got to stick with me on this post. Because here, I share the 10 most beautiful places in southern Germany that will absolutely satisfy your desire for a lived-life journey.
You can expect that these destinations in southern Germany will give you scenic, historical, and magical experiences worth your money and time. Ready your wanderlust to be transformed into "wonderlove" because you will just love exploring southern Germany!
Affiliate Disclaimer: This post contains affiliate links. I recommend products and services that I think can help you make a successful and memorable trip. I may receive a tiny commission if you purchase them with no additional cost to you. These will support me in maintaining, creating more articles, and fulfilling the mission of this blog.
Also, in this blog post, you will find:
Valuable information to help you discover which of these beautiful places in southern Germany fit your liking.  
The distance (and travel time) of the beautiful places in southern Germany from the major German cities in Bavaria, Baden-Württemberg. I added these to give you an idea of which city in Germany you can select as a home base or which city you visit before and after the beautiful places mentioned.
Based on each thorough research that I will link to each destination, I am confidently sure that these places in southern Germany are beautiful and worth a visit. I hope you can find this post really helpful in your travels to Germany.
Most Beautiful Places in Southern Germany
There are many reasons why you should visit southern Germany. First, it has a rich culture to fascinate you, from beer to religion to fairytales and even architecture! But above that, it's southern Germany's breathtaking scenery that will really compel you to come and visit. 
Southern Germany's hilly and mountainous landscape lets you feel tremendous awe. The rugged snowcapped mountains and magical hilltop castles are just two of the incredible things that await you here, especially in the Upper Bavaria region.
We should not forget to mention the picturesque fairytale towns in the Franconian region. Visiting them will not only turn your eyes open wide and make your camera full of pictures. These towns shall bless your taste buds with world-class wines as well. 
Overall, as I've mentioned initially, southern Germany is a scenic, historical, and magical place to be. And in these adjectives, our discussion of south Germany's most beautiful places will revolve into:
Do you like mountains, lakes, castles, and fairytale villages? Bavarian Alps has all of those. Check out my 3-day, 7-day, and 10-day itineraries for visiting the Bavarian Alps << click this to open a new tab and read later. I've listed 5 towns and 15 tourist attractions to see in that post.
So, without further ado, let's go now and learn about the 10 most beautiful places in Germany to visit!
Historical and Fairytale Places in Southern Germany
It's funny that one of my inspirations to visit these beautiful historical and fairytale places in southern Germany was a video game I played when I was younger. It's called Warcraft, and it's a strategy game where the fictional stories of kings and mythical creatures are played in a campaign.
These stories told in a medieval context made me so curious about life in the middle ages. They all left me wondering, from the castles to knights, even the timber-framed houses in the game. I even caught myself fantasizing about these things sometimes.
If you're like me, who grew up in a country just discovered in the 16th century, I'm sure that you'll wonder about these things too.
Well, the good news is that it is still possible to get some kind of medieval experience even today to realize these fantasies. That is, of course, to travel to Europe and visit the preserved medieval towns in the countries where these kings and knights' stories originated.
In all of Europe, southern Germany can be considered one of the best places you can visit to satisfy your desire for medieval encounters. This spot in the continent has preserved towns that will absolutely transport you to the past.
They have quaint timber-framed houses, intact medieval structures, and restored historical monuments. Here you can discover things that please the eyes and feed the mind. These places are called:
Bamberg
Würzburg
Rothenburg ob der Tauber
Black Forest
Destination #1: Bamberg
Let's begin with Bamberg, a beautiful place in Southern Germany known for its preserved medieval old town and historic smoked beers. It sits along the Regnitz River and is nestled between seven hills in northern Bavaria.
Because of geography, it is dubbed the "Rome of Germany" for having seven hills with churches on top and the "Venice of Germany" for having a river with romantic sights like Venice.
The main reasons why you should visit Bamberg?
Bamberg has a preserved old town where you can find centuries-old structures to give you a throwback experience from the middle ages. We can start on its massive cathedral with impressive works of art like The Tomb of Emperor Heinrich II and Empress Kunigunde. The famous statue of Bamberg Horseman, which pictures are all over Germany, is here too.
The sceneries in Bamberg are romantic, quaint, and scenic. What do you think of having a Venetian gondola river cruise with views of timber-framed houses and the iconic Old Town Hall? Or visit a hilltop abbey where you can relax by the gardens and see Bamberg's entire cityscape?
You get to taste an authentic smoked beer. One thing that makes Bamberg unique from the rest? It is its smoked beers. Folks in Bamberg have been brewing smoked beers for centuries using their traditional techniques. What do you think of drinking a beer enjoyed by locals for over a thousand years already? 
If you want to learn more about Bamberg, you got to check out my article about Bamberg (click here). In this article, I mentioned more reasons to visit Bamberg. I also answered what most people ask about it, like, "Is Bamberg worth a visit?"
Destination #2: Würzburg
West of Bamberg is Wurzburg, the "city of hundred churches" and the capital of Bavaria's Franconian Region. It is the home of different architectural marvels ranging from public buildings to churches, palaces, and fortresses. 
Wurzburg, known for wines, also has numerous artworks that artsy travelers will undoubtedly love to see. The size, numbers, and details of these artworks put Wurzburg above any towns in southern Germany mentioned in this post.
What makes Wurzburg a compelling place to visit?
The churches and chapels in Wurzburg are more than religious buildings. They can already be considered a museum of different masterpieces. Ultimately, these churches are fully designed with stunning rococo embellishments. When you see them, their details will make you drop your jaw. 
Wurzburg Residence Palace is an absolute must. It is the epitome of Rococo architectural excellence that will enchant your vision and mind. You'll wonder, how was this beauty even possible? Most importantly, the palace houses the largest fresco in the world created by Giambattista Tiepolo.
Wurzburg finest dry wines. As early as 1644, Wurzburg and its officials were strict already about the quality of wines produced in the city. Wines made from Mariensteiner, a variety of grapes crossing Riesling and Silvaner, is Wurzburg's specialty you must try.
In my post about Wurzburg (click here to read), you will learn in detail the 5 reasons why you should visit Wurzburg. Under each, you get to know the things to do to fulfill "the reasons" why you visit Wurzburg. 
Destination #3: Rothenburg ob der Tauber
In the middle south of Bamberg and Wurzburg lies Rothenburg ob der Tauber, the town where we can find the icon of Germany on the internet, which is the Plönlein. I will tell you why in my post about Rothenburg (click to read).
Rothenburg ob der Tauber is famous for its charming well preserved old town filled with lovely, pastel-colored half-timbered houses. Visitors going to Rothenburg could not put their cameras back into their bags and pockets because there are picturesque scenes to capture everywhere they look.
Why visit Rothenburg ob der Tauber?
Rothenburg ob der Tauber is one of the only three remaining towns in Germany with intact city walls. With the quaint houses and impressive-looking towers, the walls make Rothenburg ob der Tauber a destination not to be missed to add to your bucket list. This town has the complete set of medieval encounters to experience today.
The festivals in Rothenburg ob der Tauber is a must attend. Visiting this Rothenburg during the Imperial City Days Festival or Master Draught Festival transforms the town into a real-life medieval place that realizes each young self's fantasies. See people dressed in feudal clothes while they perform their tradition.
Like the Medieval Crime Museum and Historical Vault, the strangely amusing museums in Rothenburg ob der Tauber shall take you to the other side of your medieval fantasies. See the artifacts and things used by the authorities of the old to uphold justice and punish the criminals.
Be sure to click on the link I provided you earlier to learn more about Rothenburg ob der Tauber! You will find all the things you can do in the town, like visiting the towers, beautiful buildings, and more!
Destination #4: Black Forest
Most of the fairytales (Grimm brothers) that we know today originated in the Black Forest, located in southwesternmost Germany. It is a complete package destination known for making cuckoo clocks. By visiting the Black Forest, you'll see endless enchanting natural sceneries, discover a few cute fairytale towns, and have tons of fun activities. 
Being a region of mountains and hills, the Black Forest is also a delightful place for long slow drives. With verdant meadows and thick mystical forest everywhere, the views you'll see in your car will absolutely be scenic – so refreshing to see.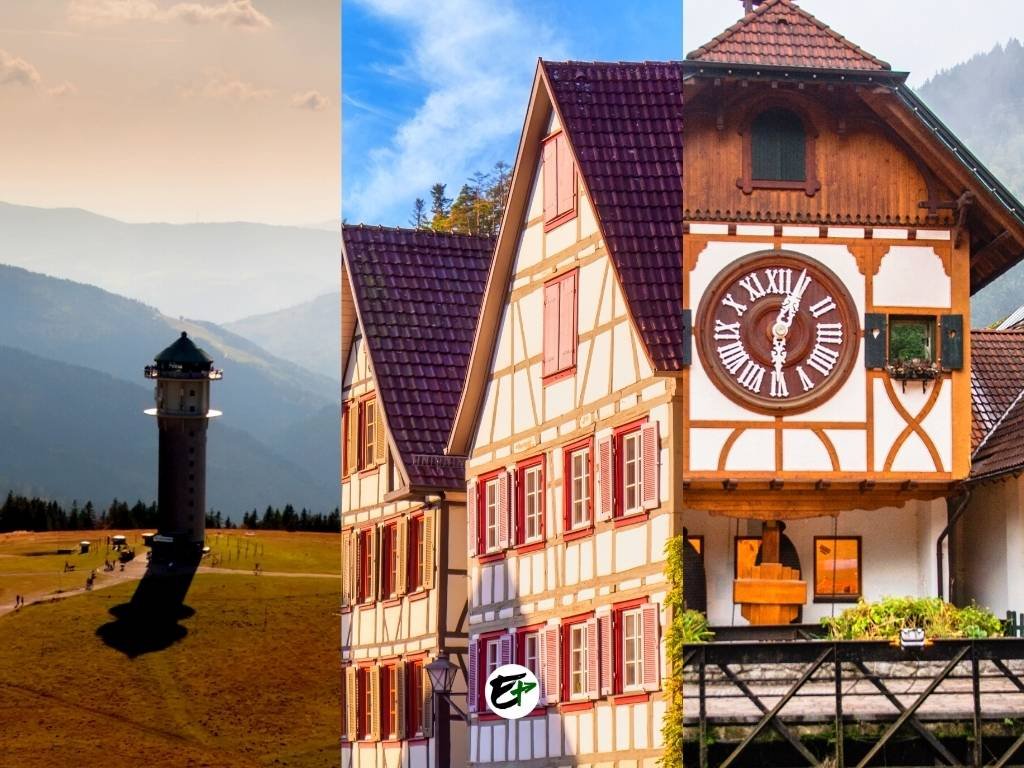 Is the Black Forest worth a visit? Here are the three reasons why you should visit:
The Black Forest has a variety of natural attractions. From mountains to lakes and even waterfalls – the Black Forest is just an excellent place to relax, cleanse your lungs from pollution, and get some peace within. The best thing for me? Here you can watch nature turn the mountains and hills into islands of a sea of clouds.
The Black Forest has several picturesque towns, and not only that! These towns in the black forest offer you wellness from their spas (Baden-Baden), a throwback to the past with their castles (Heidelberg), delicious meals from their Michelin-star restaurants (Baiersbronn), and so much more!
The Black Forest has some fun activities you might be looking for! In the Black Forest, you can climb a spiral lookout (Baumwipfelpfad Schwarzwald), join engaging workshops (Black Forest Open-air Museum), or scream at the top of your lungs in a European-Style amusement park (Europa Park). All will be fun!
There is a lot to discover about the Black Forest. In this article about the Black Forest (click to read), you will find all the things that make the Black Forest special! I also included tips for free bus rides, the location of Instagrammable spots, and so much more.
Scenic Alpine Towns in Southern Germany
If there is a place of heaven on earth, it's definitely the alps. It's just beautiful. The mountains in this region are awe-inspiring, and the lakes here are tranquil. There's nowhere on earth you can find peace of mind or feel great awe other than the alps and places alike.
Germany, particularly Upper Bavaria, is blessed to have such a landscape. These places not only show us captivating sights, but they also offer us worthwhile activities that some only experience once in a lifetime. And if you are lucky, you can get life-changing experiences from your journey in nature.
What's great about visiting southern Germany is that these priceless experiences are easily accessed from charming, culturally rich towns in Upper Bavaria. It's hitting two birds using one stone. For me, there is just no reason to skip these towns.
Oberammergau
Garmisch-Partenkirchen
Mittenwald
Berchtesgaden
We'll begin the discussion in the town farthest to the southern German border:
Destination #5: Oberammergau
Oberammergau is a small fairytale-alpine town in Southern Germany known to the world for its Passion Play, a legendary promise made by the villagers of Oberammergau to God. Though the mountains and meadows surrounding Oberammergau look blissful, the real value of visiting Oberammergau lies profoundly in the village's character.
Aside from passion play, another wonderful thing you can discover from Oberammergau is its centuries-old wood carving tradition. Together with the Passion Play and Lüftlmalerei everywhere decorating the town, the villagers' exquisite wood sculptures formulate the unique experience only found in Oberammergau.
Why visit Oberammergau?
Oberammergau's legendary Passion Play only occurs every 10 years. This once-in-a-lifetime experience is not to be missed! See more than a thousand villagers act and perform to fulfill their promise to God. Perhaps this will be the most unique experience you can have visiting southern Germany.
Learn the Oberammergau's woodcarving craft. Discover how the villagers of Oberammergau have perfected the art of woodcarving for over 500 years. You can visit the Pilatus House, a house with beautiful Lüftlmalerei in Oberammergau, to see how's the tradition going.
Oberammergau has the world's longest alpine coaster. Don't quickly judge that Oberammergau is boring, especially when it's not the year for its Passion Play. Here in Oberammergau, you can find a 2600-meter-long alpine coaster to give fun to your visit. Experience 73 alpine coaster turns, 9 jumps, and 7 waves as you slide down the mountain at 40kph speed!
I share a video of the world's longest alpine coaster in my article about Oberammergau (click here to read). The post will also explain in detail the 7 reasons why you will visit Oberammergau.
Destination #6: Garmisch-Partenkirchen
Just south of Oberammergau, we can find Garmisch-Partenkirchen (GaPa), your gateway to Zugspitze – Germany's highest peak. This merged town of Garmisch and Partenkirchen was the host of the 1936 winter Olympics which introduced GaPa to the world.
Nestled in a valley surrounded by the highest peaks in Germany, you can expect many adventurous things to do in Garmisch-Partenkirchen. It is also the region's largest town, so shopping and finding a suitable restaurant for you will be easier. Most importantly, Garmisch-Partenkirchen has many beautiful Lüftlmalerei houses and flower embellished chalets that make the stroll in town already a lovely thing to do. 
Why visit Garmisch-Partenkirchen? Here are the three main reasons:
Easy access to natural wonders. Visit spectacular mountain peaks, picturesque lakes, and a fantastic gorge all in one day. Garmisch-Partenkirchen's proximity and developed tourism infrastructure to these places make it an ultimate nature destination for family vacationers, nature lovers, retirees, and, most importantly, adventurers.
Charming town centers. You do not have to leave the town to get amazed. Just go to Garmisch-Partenkirchen Fruhlingstrasse (Fruhling street) or Ludwigstrasse (Ludwig Street). These streets are filled with cute flower chalets or colorful murals that tell stories about the town's culture and people. You'll love wandering down these lanes.
Nearby attractions and blissful spots. Garmisch-Partenkirchen is surrounded by spectacular places and lots of scenic spots. From the idyllic small village of Kirchdorf Wamberg to the gorgeous Linderhof Palace of King Ludwig II – you won't just be able to decide which is to visit immediately. 
In my blog post about Garmisch-Partenkirchen (click to read), I've indicated all the reasons and explained in detail why you would want to visit Garmisch-Partenkirchen. All the activities to do in GaPa is there as well. Be sure to check it!
Destination #7: Mittenwald
Moving southeast from Garmisch-Partenkirchen, we reach Mittenwald, a town dubbed the "Village of Thousand Violins" because of its violinmaking industry, known to all of Europe. Mittenwald gives access to the adventurers going to Karwendel mountains and wanting to try the famous Dammkar Ski Route. 
As a town in Upper Bavaria, you can expect to see Lüftlmalerei in the houses in Mittenwald too. But, as Mittenwald lies much closer to the mountains, you will see more mountain peaks peeking over the top of these lovely houses in town. According to some vloggers and tourists, this makes the stroll in Mittenwald's town better than GaPa.
What makes Mittenwald worth a visit? Here are three reasons:
Dammkar Ski Route and Karwendel Mountains. An exciting place for outdoor sports, especially skiing and hiking. Dammkar is an epic ski route with slopes that go on for 7 kilometers, 1400 meters down from Karwendel. Dammkar is Germany's longest ski route, also considered one of the five most spectacular slopes in the Alps.
The scenic Leutaschklamm Gorge. A short hike to the south of Mittenwald heads to a beautiful gorge where you can discover mythical stories as you go along and explore. It has meshed steel pathways to walk on and conquer your fear of heights! Overall, it will be three hours of a hike with jaw-dropping sights between the giant rocks.
Mittenwald Hummock Meadows. Do you want to see humpy, otherworldly-shaped fields of green and colorful flowers? You got to try the Bucketwiesen Alpine Meadow of Mittenwald! It's a scene that you'll never skip to post on your social media.
Find out where you can find the hummock meadows in Mittenwald in my post about Mittenwald (click here to read). You will also discover other fascinating things to do in this town from that article.
Destination #8: Berchtesgaden
In the easternmost and southernmost parts of Germany, we find Berchtesgaden, the gateway to Konigssee, the most beautiful lake in Germany, and Röthbach Waterfall, the highest waterfall in Germany. In Berchtesgaden, we also find the Eagle's Nest, a scenic and historical spot in the mountains used by the Nazis.
Though famous for its salt mines, Berchtesgaden is has become more of a paradise for all nature lovers and adventure seekers. You can expect to see some Lüftlmalerei in town. Still, with the number of spectacular spots you can visit nearby, I suggest skipping it and immediately proceeding to nature!
Why do you need to visit Berchtesgaden?
The mountains are breathtaking and gorgeous. Whether you're in the town, on a lake, or drinking beers in a mountain-top beer garden, expect to see spectacularly nature-shaped mountains to enthrall you entirely. See Watzmann Mountain from Kneifelspitze or Hintersee.
The lakes you can visit from Berchtesgaden have heavenly beauty. What do you think of getting a boat ride in Konigssee – one of the cleanest lakes in Germany? Watch its crystal clear water glitter in the sunlight! Oh, you must also not miss Obersee and the unreal scenes it creates when it reflects the image of the surrounding mountains nearby.
From Berchtesgaden, you can explore another world between the rocks and underneath the ice. Visit Wimbachklamm, a ravine where waters directly flow out of the rocks. OR hike to the mountains from Konigssee to see the spectacular Ice Chapel with really mind-bending ice formations created as it melts.
Discover the 10 scenic spots in Berchtesgaden from my post about Berchtesgaden (click here to view) and see the spectacular things that await you there. There are also guides in the article to help you reach these eye-opening wonders from Berchtesgaden.
Southern Germany's Magical Castles
I know that most people reading this blog post have already been to Universal Studios or Disneyland. — AND I'm sure that they did not miss the opportunity to see a castle built in the middle of the park during their visit.
How could I say so? That's because I've been in that situation too! It's funny to admit that I really ensured that I won't miss seeing the castle, and I would not skip taking a picture of myself with it.
I will not forget the tourists who took forever taking pictures of themselves in the best photo spot of the castle. They were already spending an eternity in the place, and I was already screaming in my head, "will you now spare others a chance?!" LOL.
Well, everything seemed good after giving myself a photo souvenir until I realized it wasn't a real castle after all.
The good thing about southern Germany is that there are real castles built here, and visiting them would not feel meaningless like the castles in the amusement parks. Indeed they are fun, but you know that it's made just for fun and to suck money out of your wallets.
Since Germany is made of states that were once different kingdoms, we can expect to see numerous castles built by various monarchs who ruled the land centuries ago. Two of the most beautiful castles in southern Germany you can visit are: 
Lichtenstein Castle
Neuschwanstein Castle
Destination #9: Lichtenstein Castle
Lichtenstein Castle is a 19th-century gothic revival castle perched on a rocky outcrop of the Swabian Alps, in Honau, Reutlingen, Baden-Württemberg. Currently, it is owned by the descendants of the duke of Urach.
Built on the edge of a cliff, Lichtenstein Castle attracts many tourists and photographers who want to witness its medieval beauty that gracefully complements the scenic landscape in the background. It has a compound you can explore composed of a chapel, ample garden, and a romantic courtyard.
Why visit Lichtenstein Castle?
It's breathtaking to see a castle built beside the cliff. It's an architectural and engineering marvel to see and think about, as well.
Lichtenstein Castle is a beautiful place to photograph, especially during autumn when the trees around it turn golden!
Lichtenstein Castle appears to be an excellent place for a very romantic date. With the castle and its scenic view, a guy who kneels to a girl in front of it could definitely make her say yes! (I don't make a promise!)
Learn how you can visit or when to visit this castle from my post about Lichtenstein Castle (click here to see). In the post, I included 5 things to do after visiting Lichtenstein Castle, so you don't only go there just for the castle. These activities should make your visit even more worthwhile and worth the money!
Destination #10: Neuschwanstein Castle
Last but not least of the 10 most beautiful places in southern Germany is the Neuschwanstein Castle, the castle rumored to be the inspiration for the Disneyland castles. Its magical image and scenic location perched on a hilltop in the Bavarian Alps in Hohenschwangau have attracted millions of people every year. Every day during the peak season, more or less 6000 people visit the palace.
Neuschwanstein Castle was built by King Ludwig II in the late 19th century aiming to create a home with an authentic style of the old German knights' castles. Though it remained unfinished, it still became an inspiration to people and a spectacle that sparks wanderlust in anyone who sees it.
Why visit Neuschwanstein Castle?
Neuschwanstein Castle has a fascinating history, especially regarding its maker, King Ludwig II. When you come, do not skip the tour where you will learn about the castle's story and behold the castle's rooms and architecture.
Magical Views of Neuschwanstein Castle. You will surely be awe-inspired, whatever angle you take to look at Neuschwanstein Castle. Either from the Marienbrucke, Hohenschwangau meadows, or the scenic trail above the castle, you will not get tired of taking photos of Neuschwanstein Castle.
Scenic Views from Neuschwanstein Castle. Coming to Hohenschwangau would not be just admiring Neuschwanstein Castle. Actually, when you go to Neuschwanstein, you also see the breathtaking views of the surrounding landscapes. The Tyrol mountains at the south to the plains of Bavaria to the north – all you will behold.
I created a comprehensive guide for visiting Neuschwanstein Castle. I share the scenic spots to view the castle and the nearby attractions and cities you can go to after. Check it all out in this article about Neuschwanstein Castle (click here to read).
Southern Germany's Most Beautiful Places on the Map
Here is the exact location of the 10 most beautiful places in Germany (See RED pins). You will also see the major cities in southern Germany where you can start your journey (pinned BLUE on the map).
Cities Nearest to Southern Germany's Most Beautiful Places
Whenever I am traveling or planning my trips, the second thing I look for after the main destination is accessibility, usually offered in the larger cities. Because from these cities, I can get tours, direct public transportation, guides, and so much more to the tourist attractions that I want to visit. For these 10 most beautiful places in Southern Germany, I found three cities closest to all of them:
Stuttgart (Know Stuttgart Germany: 10 Reasons Why You Should Visit Stuttgart)
Nuremberg (Discover Nuremberg Germany: 15 Reasons Why Nuremberg is Worth a Visit)
To help you decide which city is to visit first or make a home base in southern Germany, I made tables that tell the cities' distance to the beautiful destinations. This should help you plan, especially when you want to visit several destinations on your vacation in southern Germany.
You will learn how long it would take to reach a town/castle if you drive or use public transportation on the tables. The difficulty of using public transit is indicated by telling you how many bus or train rides you will have to reach the destination.
All the data you will see here are based on Rome2Rio.com – one of the best travel planners on the internet. However, please note that measurements such as how long it is to travel by car from point A to point B could be affected by traffic, weather, and other interruptions. (This should apply to public transportation as well). You should give time allowances or small adjustments for your actual trips.
IMPORTANT: Please remember that the "travel time using public transit" indicated on the tables is the shortest possible, including the time you'll wait during transfers. Most importantly, they are here only to give you an idea of how long it could take to reach a destination using public transit. It MIGHT be different during the various times of day as buses and trains don't always have matching schedules and departure times. When you're already making an itinerary, I recommend that you see the timetables from banh.com.
Travel Distance from Munich to Southern Germany's Most Beautiful Destinations
Here in this table, you will see the distance from Munich to the 10 most beautiful destinations in southern Germany.
From Munich to
Travel time
(private car)
Travel time
(public transit)
Commute difficulty
Bamberg
2 hrs
1 hr 49 mins
1 train ride
Wurzburg
2 hrs 28 mins
2 hrs 7 mins
1 train ride
Rothenburg od ber Tauber
2 hrs 11 mins
2 hrs 52 mins
2 train rides
Black Forest (Baden-Baden)
2 hrs 57 mins
3 hrs 41 mins
3 train rides
Oberammergau
1 hr 4 mins
1 hr 50 mins
2 train rides
Garmisch-Partenkirchen
1 hr 2 mins
1 hr 20 mins
1 bus/train ride
Mittenwald
1 hr 16 mins
1 hr 50 mins
1 bus/train ride
Berchtesgaden
1 hr 31 mins
2 hrs 54 mins
1 train ride
Lichtenstein Castle (Honau)
2 hrs 9 mins
3 hrs 15 mins
2 train rides and 1 bus ride
Neuschwanstein Castle (Hohenschwangau)
1 hr 36 mins
2 hrs 33 mins
1 train ride and 1 bus ride
Munich to Different Tourist Destinations in Southern Germany
Travel Distance From Stuttgart to Southern Germany's Most Beautiful Destinations
Here in this table, you will see the distance from Stuttgart to the 10 most beautiful destinations in southern Germany.
From Stuttgart to
Travel time
(private car)
Travel time
(public transit)
Commute difficulty
Bamberg
2 hrs 16 mins
2 hrs 50 mins
1 train ride
Wurzburg
1 hr 26 mins
2 hrs 12 mins
1 train ride
Rothenburg od ber Tauber
1 hr 27 mins
2 hrs 42 mins
1 train ride and 1 bus ride
Black Forest (Baden-Baden)
1 hr 13 mins
1 hr 15 mins
2 train rides
Oberammergau
2 hrs 38 mins
4 hrs
3 train rides
Garmisch-Partenkirchen
2 hrs 42 mins
3 hrs 32 mins
2 train rides
Mittenwald
2 hrs 58 mins
4 hrs 11 mins
2 train rides
Berchtesgaden
3 hrs 32 mins
5 hrs 12 mins
2 train rides
Lichtenstein Castle (Honau)
48 mins
1 hr 11 mins
1 train ride and 1 bus ride
Neuschwanstein Castle (Hohenschwangau)
2 hrs 4 mins
4 hrs 19 mins
3 train rides and 1 bus ride
Stuttgart to Different Tourist Destinations in Southern Germany
Travel Distance From Nuremberg to Southern Germany's Most Beautiful Destinations
Here in this table, you will see the distance from Nuremberg to the 10 most beautiful destinations in southern Germany.
From Nuremberg to
Travel time
(private car)
Travel time
(public transit)
Commute difficulty
Bamberg
42 mins
36 mins
1 train ride
Wurzburg
1 hr 9 mins
52 mins
1 train ride
Rothenburg od ber Tauber
1 hr 4 mins
1 hr 47 mins
1 train ride and 1 bus ride
Black Forest (Baden-Baden)
2 hrs 42 mins
4 hrs 16 mins
2 train rides and 1 bus ride
Oberammergau
2 hrs 30 mins
3 hrs 33 mins
2 train rides
Garmisch-Partenkirchen
2 hrs 27 mins
3 hrs
1 train ride
Mittenwald
2 hrs 41 mins
3 hrs 36 mins
1 train ride
Berchtesgaden
2 hrs 51 mins
4 hrs 27 mins
3 train rides
Lichtenstein Castle (Honau)
2 hrs 36 mins
3 hrs 32 mins
2 train rides and 1 bus ride
Neuschwanstein Castle (Hohenschwangau)
2 hrs 42 mins
4 hrs 24 mins
2 train rides and 1 bus ride
Nuremberg to Different Tourist Destinations in Southern Germany
Save it on Pinterest.