Is Colmar Worth Visiting? 10 Reasons Why You Must Visit Colmar
Colmar, the "capital of Alsatian wine," is a town 2.5 hours away from Paris by train. As you may have seen from the internet, Colmar's cityscape is one oh-so shutter-presser. It's a place straight out of a fairytale – we can all agree!
If you still don't have an idea of what Colmar looks like, don't worry. This post will show you a lot of places in Colmar. But, in summary, it's one of the most charming towns you'll find in France.
Especially its well-preserved old town? Its appearance alone can compel you to visit Colmar. But is Colmar really worth visiting? Is Colmar's picturesque old town worth your time and money? This post will let you know.
Affiliate Disclaimer: This post contains affiliate links. I recommend products and services that I think can help you make a successful and memorable trip. I may receive a tiny commission if you purchase them with no additional cost to you. These will support me in maintaining, creating more articles, and fulfilling the mission of this blog.
In this blog post, I will not only introduce you to the experiences/attractions in Colmar. But, I will also share my opinion on what makes them a reason to visit Colmar. This way, I can help you decide if Colmar is a place for you to see or not. 
We all have different preferences when it comes to travel. A lovely stroll in time-transporting picture-worthy streets may not be so-motivating for some. But, if you are into a meaningful trip, this post can explain why Colmar can be it.
But before we dive into the main topic, let's first learn some general facts about Colmar. These should make our discussion of the reasons to visit Colmar smoother. Let's go!
Where is Colmar in France? We can find Colmar in northeastern France, only a few kilometers away from the French-German-Swiss borders. Looking at the map, you'll see Colmar lying south of Strasbourg, west of Germany's Black Forest, and north of Basel (Switzerland).
In what region does Colmar belong? Colmar belongs to the French Grand Est region but also to a cultural region called Alsace – a region that was passed between France and Germany several times in the past. Those events infused mixed French and German culture to Alsace, which Colmar now manifests.
Can Colmar be a day trip from Paris? Of course! Although Colmar is ~500 kilometers away from Paris, the fastest train can get you to Colmar from Paris in 2.5 to 3 hours. In fact, Colmar is one of the best day trips you can have from Paris.
Where to go before/after visiting Colmar? Aside from Paris, you can try seeing Strasbourg, Alsace's capital city. Some of the best destinations in Switzerland and Germany can be reached within 3 hours from Colmar also. Bern, Interlaken, Lucerne, Zurich, the Black Forest, Stuttgart, and Lichtenstein Castle in Germany are examples.
Should I spend a night in Colmar? One day is sufficient to see the best attractions in Colmar. Or, it's enough for sightseeing, boat ride, museum visit, and more. But, I recommend that you stay for a night to see the colorful light effects in town. 
Let's now begin to uncover the reasons to visit Colmar with the question most of us are asking for:
Is Colmar Worth Visiting?
Without a doubt, Yes! Colmar is worth visiting. It has half-timbered houses, ancient churches, and insightful museums to give you a fantastic throwback experience of the medieval Alsace Region. Its charming preserved old town is perfect for romantic dates or solo wanderings.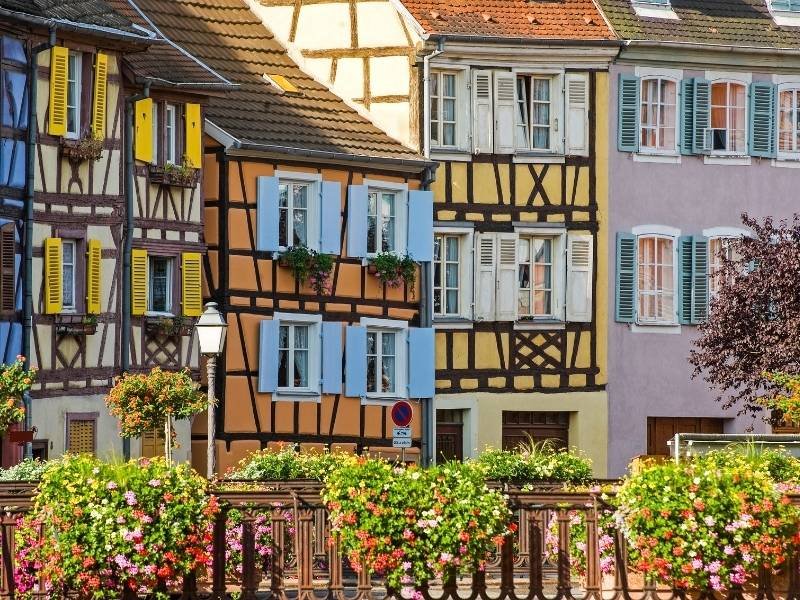 Even though Colmar is considered a city now, its "country vibe" still lingers along its streets. And when you walk in the old town, everywhere you look, it feels there's always something to take a picture of! It's not only the half-timbered houses, though. There are lovely fountains, courtyards, canals, and more.
Traveling shouldn't only be about taking pictures, right? As travelers, we want to get something valuable out of our trip. Either it's a memorable moment or a new discovery/learning. Well, Colmar has some to offer! The city has museums to let you discover their culture, romantic canals to give you a Venice-like experience, and more. 
Colmar can definitely be the best place for a stopover if you plan to travel to Europe or if you're from Paris going to Germany/Switzerland. Of course, this town is also one you can't miss when having a trip to the east of France.
We will discuss more details in the following sections:
10 Reasons To Visit Colmar, France
I am sure that the main attraction in Colmar is its old town (or Vieux Colmar). Charming and time-transporting, it's definitely the primary reason to visit Colmar. That is especially if you want to experience some kind of "escape." Like, escape from stressful work, bothersome and worrying things.
Surely you will forget those bad things that occupy your mind in Colmar. Because it will not be "just seeing a new place." Going to Colmar will feel like total escapism. Imaginatively, you can also bring yourself to a whole new point in time – thanks to the medieval fairytale flair!
However, it is only the start of many perks you can get from traveling to Colmar. Aside from being a romantic getaway destination and an escape, Colmar can be your source of creative inspiration. Did you know that Alsace, specifically Colmar, is an inspiration for creatives all over the world?
One person inspired by Colmar was in Japan. His name is Hayao Miyazaki, the co-founder of Studio Ghibli. The Traveling Castle, his film, clearly depicts the charming Alsatian architecture.
Those I mentioned are only a few of the perks you can find in Colmar – the reasons why you should visit! There are many more, and below you will find the summary:
Colmar's architectural heritage (See awe-inspiring and picture-perfect views in the city)
Colmar's Little Venice (Make some unforgettable moments)
Historical museums in Colmar (Tap into interesting Alsatian history, art, and culture)
Fun museums in Colmar (Let the whole family enjoy)
Light effects during the night in Colmar (Witness the spectacular medieval town turn futuristic)
Colmar's spectacular events and festivals (Experience the culture at its peak)
Wines and vineyards in Colmar (Discover what Alsace is known for)
Castles around Colmar (Complete your dream fantasy experience)
 Scenic Trails from Colmar (Behold some breathtaking views and fall in love with the countryside)
The Nautical Base Colmar (Relaxation after everything)
Lastly, Colmar is so beautiful that it was replicated in other parts of the world such as Malaysia. On the hills near Kuala Lumpur, you can find a copy of this charming town. The replica of Colmar has also a copy of a French castle which we will discuss later.
Are you looking for an off-the-beaten-path destination in France? A fairytale village? Or a romantic town? Maybe a scenic place? Check out my list of 10 beautiful towns in the South of France. Have a random pick: Gordes, Saint Cirq Lapopie, Saint Paul de Vence, Domme, Chamonix, Carcassonne, Aigues Mortes, Moustiers Sainte Marie, Eze.
Reason no. 1 Architectural Heritage
With so many quaint half-timbered structures, most manifest Renaissance style, it's not hard to say that Colmar does have a very remarkable architectural heritage. Needless to say, it's the first and foremost reason to visit Colmar. 
Vieux Colmar never fails to captivate its visitors, especially when they arrive on a clear, sunny day. The houses in Colmar, painted in pastel colors when hit by sunlight burst into spectacular hues. The scenes are so awe-inspiring to stimulate you to take pictures.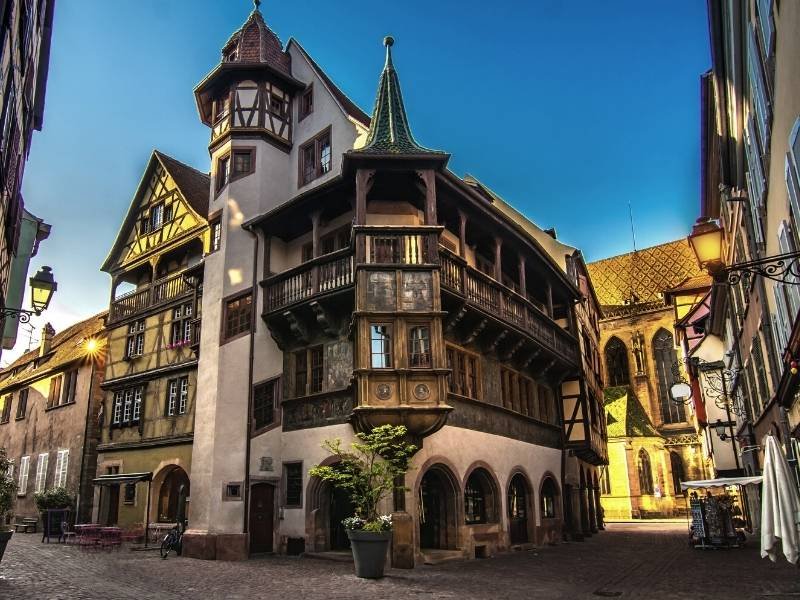 With so many quaint half-timbered structures, most manifest Renaissance style, it's not hard to say that Colmar has a remarkable architectural heritage. Needless to say, it's the first and foremost reason to visit Colmar. 
They aren't just the houses, though. The beautiful buildings in Colmar range from the simple homes of the fishermen to centuries-old churches. As you wander, you can also meet cute fountains and flower-embellished bridges – places you won't miss taking a selfie. 
Among the lovely buildings in Colmar, the three you'll love to see are the Pfister House, the House of Heads, and Koïfhus. You shouldn't miss seeing the kaleidoscopic houses of the fishermen on the banks of River La Lauch. Also, the big houses with white facades in the Tanneurs district.
If you heard that there's a charming corner house in Colmar, it has to be the Pfister House. It's a building from the Renaissance period with murals covering the walls of its upper floor. Pfister House is just a few steps away from Saint Martin's Church – it wouldn't take effort to find it.
House of Heads is another beautiful building in Colmar dating back to the Renaissance period. Its name came from the 106 grotesque masks that decorate its facade. You can play a little game of finding and counting all 106 heads when you stumble upon the front of this building. 
Last but the most impressive is Koïfhus. It is another Renaissance structure in Colmar distinguished by its enchanting tile roof – designed with patterns like the skin of a pineapple. Koïfhus lies only along Grand Rue, a few steps south of Église Saint-Matthieu.
Reason no. 2 Little Venice
Like most towns, rivers let the people and communities thrive. However, the river in Colmar serves more purposes now than it used to do back in the day. It's where the travelers can have one of their most memorable moments today in Colmar.
The name of the River in Colmar is La Lauch. But, it is more known as Little Venice for the resembling experiences it offers.
Indeed, Little Venice is your second reason to visit Colmar. That's for sure when you have something in mind to celebrate… or you want to make memories, you can celebrate after.
Of course, visiting Little Venice in Colmar does not require you to be with someone or have something to celebrate. Wandering alone in Colmar's Little Venice is alright. In fact, with the stunning view of the pastel-colored half-timbered houses, it can be the wholesome escape you're looking for!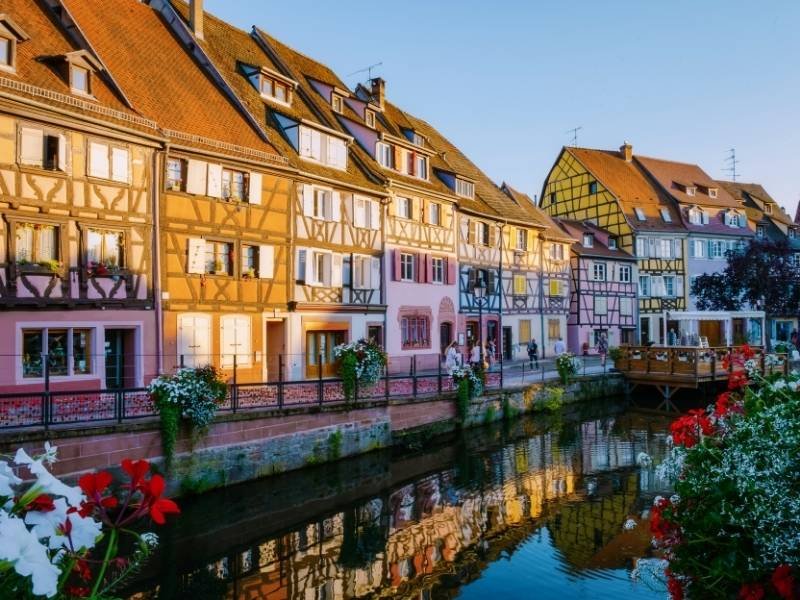 Photos of the Little Venice will fill your cameras during spring in Colmar. It's when flowers embellish the river railings and the cute half-timbered houses around. It is an idyllic scene to make you forget all your problems and worries back at home.
But if you ask me, a visit to Colmar and its Little Venice can be much more worth it if you have someone to spend time with. Isn't it so enjoyable to converse about all the beautiful things in life while appreciating the romantic scenes everywhere?
Do it while on a gondola or at the restaurants along the river. Yet, you do not have to pay or buy something to eat just to get these moments I'm referring to. There are plenty of spots in Little Venice to give you opportunities to make these things, and they'll let you have these gems for free.
Like Colmar, Strasbourg has a similar fairytale district called Petite France. But, this city (the capital of Alsace, Grand Est, and Europe) offers more. If you're coming from Paris, you should make a stop in Strasbourg before going to Colmar. Learn why from my article, 22 Reasons to Visit Strasbourg.
Reason no. 3 Historical Museums
Though Colmar isn't a big city like Paris and Lyon full of new things to see. It does not mean that there's nothing you can discover unique in Colmar. Most of them await you in the historical museums of the town.
There are three historical or cultural museums in Colmar that have fascinating exhibits. The first is the Unterlinden Museum, then the Bartholdi and Hansi Museums. (Tip: Get a Colmar Pass for an all-in-one pass for all the museums in town + boat ride & little green tourist train ride)
Like the French key cities, Colmar has old buildings redeveloped for a new purpose. If Paris has the Louvre, Colmar has Unterlinden. It's one of the historical museums in the town that can be enough to be a reason to visit Colmar. 
Unterlinden museum was once a Dominican convent dating back to the 13th century. Today, as I mentioned, it is now a museum. And it houses a collection of Upper Rhenish Renaissance and medieval art. 
The most notable artwork in the Unterlinden museum is the Isenheim Altarpiece. It is an early-16th century artwork created by the famous German Renaissance painter Matthias Grünewald. The artwork has a large painting of Jesus crucified on the cross.
Actually, the Isenheim Altarpiece depicts Jesus on the cross pitted with skin diseases. Jesus, in this image, tells the patients that He understands their afflictions –  emblematic of the purpose of the monastery to uplift and help people suffering from skin diseases.
The Unterlinden Museum has beautiful architectural features also, like its roof synonymous with Koïfhus. The cloister of the museum-monastery can be so-Instagrammable too, especially on a sunny day. The hard light enters the arches, making a dramatic effect along the pathway.
On the other hand, Bartholdi Museum is where we can find the collections of artwork of sculptor Auguste Bartholdi. He is the sculpture behind the Statue of Liberty, which is now seen and replicated in different countries. The museum was the former house of the artist, though.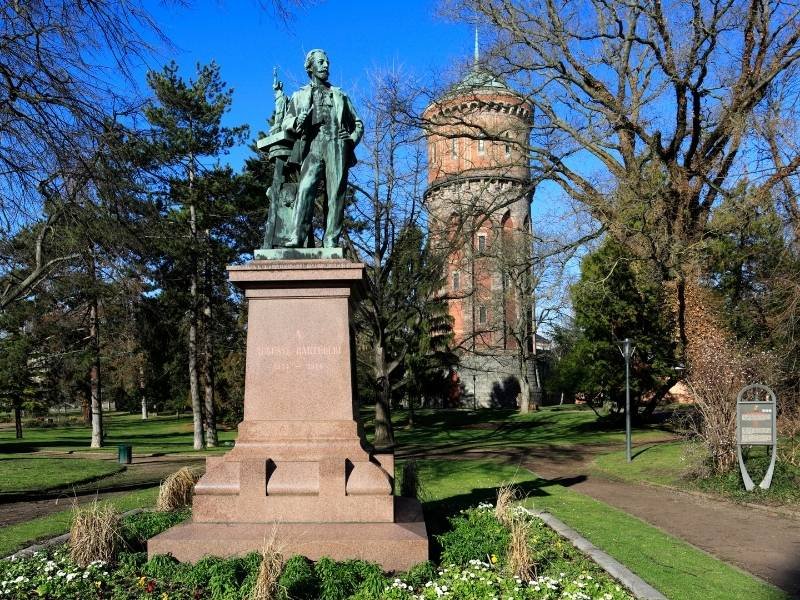 Last of the three museums (but not least) is the Hansi Museum – a museum dedicated to the French hero Jean-Jacques Waltz (known as Oncle Hansi). He is also an artist, and his artworks are in his museum. You can uncover a part of Alsatian Cultural heritage from his masterpieces.
Reason no. 4 Fun Museums
Trips to museums can be full of interesting things to discover. Sometimes, they feel like a dull moment in our travels. But, in Colmar, it can be so fun too! 
Fun museums can be a reason to visit Colmar, particularly if you travel with your family. And most importantly, if you already have kids. These museums should give you opportunities to bond with your family.
Among the museums in Colmar, I'm pretty sure it is the Toy Museum and Choco-Story Chocolate Museum, where you can have fun with your family. Based on their names, I know you already know what kind of experiences they offer.
If you want to give your kids an idea of how we played before the internet era, the Toy Museum is the place to go. Colmar's Toy Museum has a collection of toys dating back to the 19th century until recently. The museum has a games area where you can play games with your family – share amusement and laughter together!
Colmar's Toy Museum has three floors of toys to remind you of your childhood. It seems that all kinds of toys are here. Like the vintage teddy bears, miniature trains, Barbie dolls, robots, and even antique toys! Whether you're a millennial or a boomer, your kids will have something to hear from you about those good old days.
Learn more about Colmar's Toy Museum from their official website museejouet.com
If it's fascination and tummy satisfaction you want, then Colmar's Chocolate Factory (Schaal Chocolate factory) you must go to. During your visit, you'll discover how chocolates are made. Chocolatiers will guide you along, even in making your own chocolate! 
Here is the website of the Chocolate Museum in Colmar in case you want to learn more about the experiences they offer.
Reason no. 5 Light effects at night
Did you know? The best part of the week to visit Colmar is on Fridays and Saturdays. All throughout the year during these days, light shows take place in Colmar. The houses that you thought were beautiful during the day turn spectacular at night!
It will seem that the entire town is painted new with the lights turned on. This free-to-watch spectacle is definitely a reason why you should visit Colmar and stay for a night.
The light show is well architected, with computers and fiber optic cables controlling the light sources. Effects are synchronized and really amplify the beautiful experience of visiting Colmar.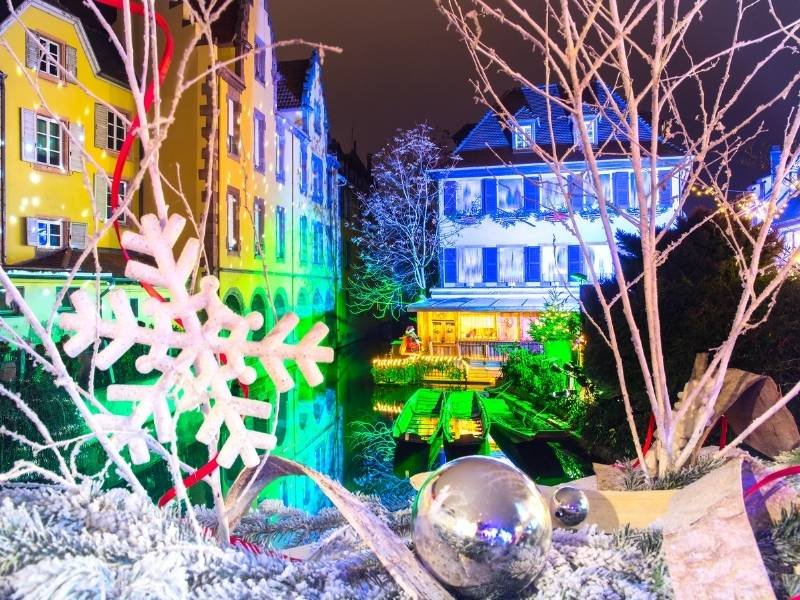 Some of the houses are painted with just static lights. But, others like the fountains, churches, and primary landmarks have dynamic light effects. Various images are projected on the facades of these buildings. And often, they tell little stories about the event taking place, for example.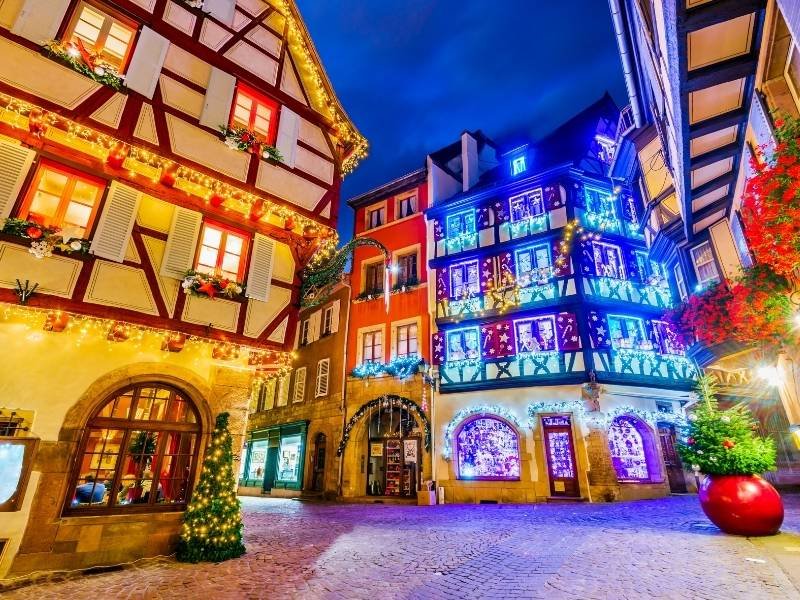 By the way, these illuminations of the buildings in Colmar also take place on the evenings of the town's major events. Two of these events are the Regional Alsace Wine Fair and Christmas Market.
Like Colmar, Reims has spectacular light show too! It happens on the facade of Reims' Notre Dame Basilica, where the French kings were crowned for centuries. Learn more about Reims from my post Reims France: The 10 Best Reasons Why Should Visit Reims
Reason no. 6 Spectacular events and festivals
Yep, you read it right from the heading. Major events and festivals are a reason why you should visit Colmar. It's the time when Colmar turns into full-blown fantasy land!
There are three seasons/events when Colmar becomes so compelling to visit. They are the Spring Festival (Fete Le Printemps), the Christmas market, and the Alsace Wine Fair. You can expect to see spectacular lighting effects all over Colmar during the nights of these events (as mentioned earlier).
Do you want to enter a world of fairy tales?
It's Colmar's Spring Festival is what you should aim to see. Flowers and decorations of all colors fill different parts of the town, especially Vieux Colmar. Clear up your camera's storage; you'll need a lot of space for the thousands of photos you'll take during this magical event!
Colmar's Spring Festival lets the visitors witness the easter tradition of the region. Aside from the heavily decorated houses, trees, railings, fountains, etc., you can find lively events and street exhibitions. 
Many local talents perform during Colmar's Spring Festival. The town will be so lively and fun! What's nice? The concerts are free for everyone to join.
There are also spring and easter markets filled with local merchandise. Of course, you would not miss the delicacies! Alsatian specialties like fine wines, charcuterie, cheese, and beers, await you there!
Learn more about the Spring Festival in Colmar from the event's official website.
Colmar gets magically beautiful during Christmas. Like most towns influenced by German culture, Colmar also has a Christmas Market. Without a doubt, it's the best part of the year to visit Colmar, similar to the spring season.
Usually, from the last week of November to December, Colmar glamors with glittering Christmas lights. This, with its stunning buildings and snow falling, Colmar must be the winter wonderland you're looking for.
To learn more details about the Christmas season in Colmar, you may check the event's official website.
What's the most special of the three events I mentioned? It has to be the Alsace Wine Fair. It's the reason to be in Colmar, especially if you want to witness a unique event in France. 
Alsace Wine Fair is Grand Est's special occasion. The local's best wines and unique products are exhibited during this event. When you go to Colmar during the Alsace Wine Fair, don't forget to come to the open-air theater "la Coquille." You can join the 10,000-ish people having fun with the beat; music performed by national and international artists.
Indeed, as the name of the fair suggests, Alsace Wine Fair is unmissable for wine enthusiasts. If you're one of them, you can have a chance to taste wines from 1,500 samples of the best Alsatian grape varieties. Learn more from the event's official website (in French).
Reason no. 7 Wines and vineyards
If Italy has Cinque Terre, Switzerland has Lavaux Region (Geneva – Montreux), Germany has Franconia (Bamberg, Rothenburg ob der Tauber, Nuremberg), then France has Alsace (Colmar).
One thing they have in common? They have good wines. And, yep, wines are a reason to visit Colmar!
Did you know that Colmar is the capital of Alsatian wine? And it is in the heart of the Alsatian Wine Route. If you want to explore the Alsatian Wine Route and drown your tastebuds with some of the best wines in France, Colmar is the best place to start.
According to the official website of Colmar tourism, the Alsatian wines are made from 7 special vines.
The Sylvaner – light, refreshing, fruity and subtle.
The Pinot Blanc – is soft and delicate, with a touch of freshness.
The  Riesling – dry, fine, with a subtle bouquet.
The Muscat d'Alsace – dry, with flavors of fresh grapes.
The Pinot Gris – is powerful and soft, with a complex bouquet.
The Gewurztraminer – full-bodied, robust, with a great aromatic richness.
The Pinot Noir – red or rosé, with a fruity taste reminiscent of cherry.
Wine lovers, have you tried all of them? Bless not only your eyes when you see the beautiful streets of Colmar. But, also your tastebuds craving for the wines served in Colmar!
I'm not an expert in wines, so I leave you this link to the tourism website of the Alsace region. It will tell you everything that you need to know about the wines made in Alsace.
Reason no. 8 Castles
Winegrowers and vast vineyards surround Colmar, being at the heart of the Alsatian Wine Route. However, did you know that aside from vineyards, Colmar has numerous medieval castles too? As Colmar is in Alsace, a region with shared German culture, it's not hard to understand why.
Alsace has more than 500 castles. No fewer than 10 are in Colmar's commune territory or at least very close to it. Some of these castles are now in ruins. But, the ones that still remain give visitors a whole level of escapism.
Frankly, with the charming half-timbered houses, cobblestone lanes, and country-vibe vineyards – plus the castles? I think Colmar is really worth visiting! A visit to this town is like a complete package trip back in time to the medieval Alsace.
Still, if you ask me, the castles alone are enough to be considered a reason to visit Colmar. Aside from their magical appearances, Alsace's geography makes them even more special.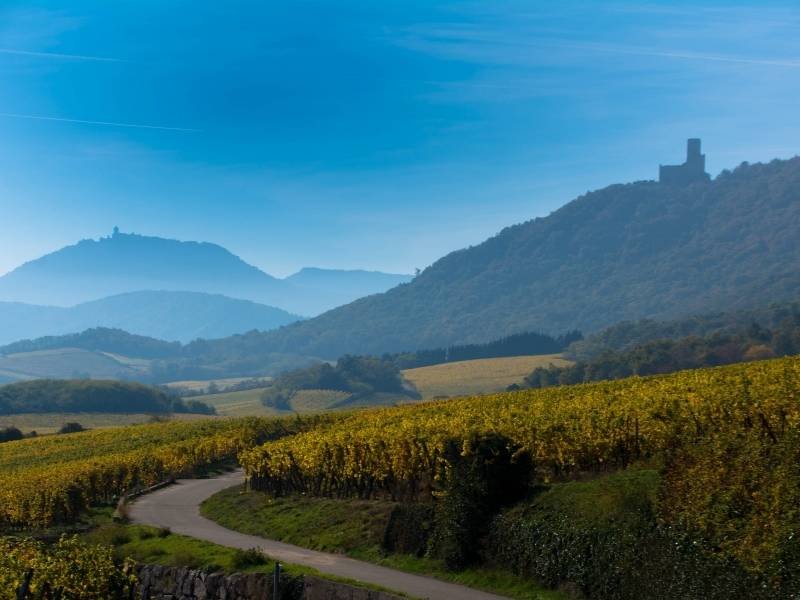 The castles in Alsace are either tucked in the forest or perched on top of the Vosges mountain range. They're surrounded by scenic views that add to the beautiful experience of visiting them. That is why I mentioned that castles in Colmar give a whole new level of escapism. 
If there are castles in or near Colmar you must visit, they have to be Château du Haut-Kœnigsbourg, Château de Saint-Ulrich, and Château du Hohlandsbourg. All of them are perched on a mountain top, but out of the three only Château du Haut-Kœnigsbourg remains intact.
Château du Hohlandsbourg is the closest to Colmar among the three castles. It dates back to the 13th century but was destroyed by the French at the end of the Thirty Years' War. 
You can still explore a large portion of Château du Hohlandsbourg, including the walls. There you can pretend like a guard watching over Colmar. There are parts where you can watch animations/entertainment to help you better picture the scenes in the castle way back 700 years ago.
Learn more about Château du Hohlandsbourg from its official website chateau-hohlandsbourg.com
Château de Saint-Ulrich is very similar to Château du Hohlandsbourg. It was also built during the 13th century and offers overlooking views. However, the real castle spectacle is Château du Haut-Kœnigsbourg which is only a 30 to 40 minutes drive north of Colmar. 
Nobody knows when Château du Haut-Kœnigsbourg was built. However, documents say that the castle has been existing since the mid-12th-century. Now, it serves as a historical monument and one of the best destinations in Grand Est.
Château du Haut-Kœnigsbourg seems like it's France's Neuschwanstein Castle to me. Its mountaintop location makes most of the resemblance, I think.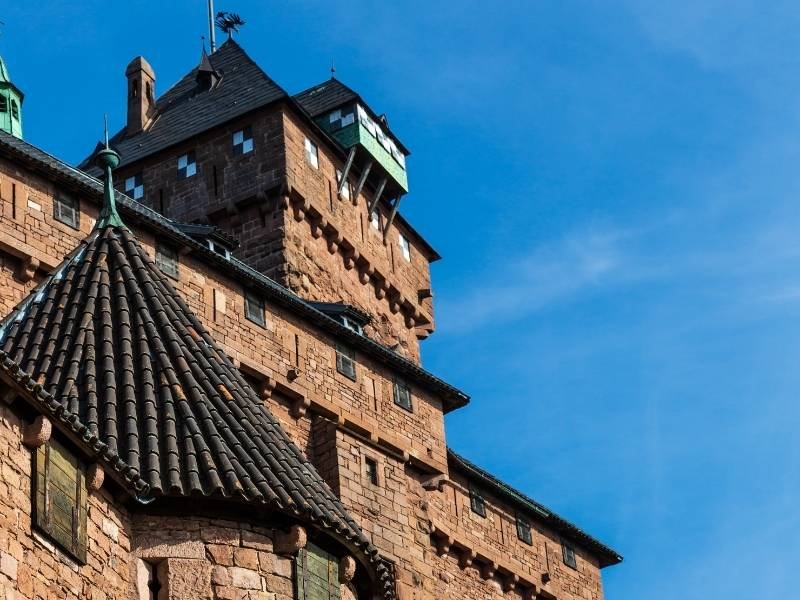 The thing is, Château du Haut-Kœnigsbourg, with its appearance and collections, is definitely the completing factor of a medieval-fairytale trip to Colmar. It's probably one of the most impressive mountain top castles in France.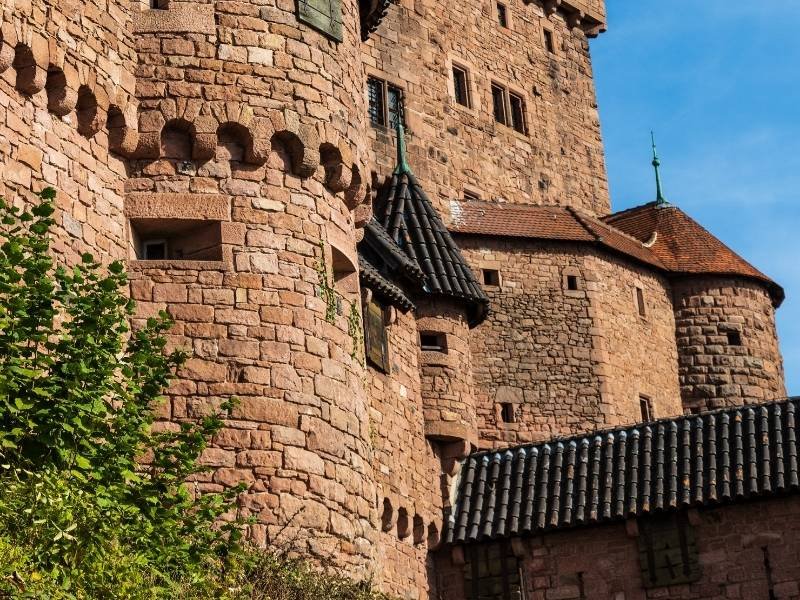 For me, the most fascinating discoveries awaiting you in Château du Haut-Kœnigsbourg are its lavish halls with monumental murals and its military facilities. The castle also has many viewpoints in its towers and ramparts, offering breathtaking views of the Alsace region.
You can learn more from Château du Haut-Kœnigsbourg's official website.
The northeastern France where we can find Colmar is indeed a real life fairytale. But you should check out South of France too – it's where country's most beautiful places to are jam-packed together! You can start with Avignon. Learn more from my article Avignon France: 10 Reasons Why Avignon Is Worth Visiting
Reason no. 9 Scenic Trails
As I am saying often in this post, Colmar is a perfect place to visit for escapism. Aside from Colmar's charming architecture, art, and history, the nature surrounding Colmar also helps you have that wholesome trip you're looking for!
It means that adventurers and nature lovers also have a reason to visit Colmar. Remember? The town is surrounded by mountains and scenic views.
Although it is not as spectacular as the Swiss Alps, Italian Dolomites, or the Bavarian Alps, these places surrounding Colmar don't give its visitors a nature's touch less than what's enough for most of us. 
Visitors wanting to see the nature around Colmar can either hike or use bicycles (traditional and electric) to explore. There are two cycling/hiking trails I know you can follow. The trail along the Colmar Canal and Lazarus Schwendi Trail. 
But if you want to explore other cycling/hiking trails, you may look at this PDF file from the official tourism website of Colmar.
Or this brochure:
I recommend the Colmar canal trail for several reasons. First, the sound of the flowing water in the canal should make the hike much more relaxing. It also passes several charming villages and hundred-year-old trees all the way to the German border.
Lazarus Schwendi Trail, however, is more recommended if you want to visit the Castles near Colmar. It stretches for two kilometers between Pflixbourg castle and Hohlandsbourg castle.
Reason no. 10 The Nautical Base
From the reasons I mentioned above, we can say that Colmar is definitely an all-in-one destination in France. But, did you know you can also find a beach in Colmar? It's another reason to visit Colmar.
Yes, Colmar has a beach. Believe it or not! It's called Base Nautique (Nautical Base), and it is located just north of the town. Although it is only a swimming lake with a beach, it's enough to give you relaxation or fun for your traveling family. 
The fun here is for all ages. You can play volleyball or soccer with your family/friends. Or rent a pedal and paddle boat and explore the lake. Nautical Base also has a gigantic floating aqua park with trampolines and diving boards. With all that, I bet you can already imagine massive fun!
Essentially, Nautical Base offers you opportunities to enjoy the sunshine before or after a fairytale trip in Colmar's old town. There's no other town to give you that mixed experience, though! 
You can learn more details about Nautical Base from the agglo-colmar website (in French, but you can translate it with your browser).
Helpful Links For a Perfect Visit To Colmar, France
Do you plan now to visit Colmar? Below are the activities, guides, and passes I recommend that you can use to make your trip to Colmar much more convenient and insightful.
Save it on Pinterest.