Is Avignon Worth Visiting? 10 Best Reasons To Visit Avignon
In the world of Christendom, the center of authority lies with the pope. And for the longest time in history, until now, the pope has always been in Rome, in the Vatican to be precise. But, did you know not all popes stayed in Rome? Seven consecutive popes resided in Avignon, France.
This is why if you're in France and looking for a very historical place to see, Avignon can be a good choice.
It's a town where you find a number of cultural heritage sites, and so in 1995, it became a UNESCO site. With its beautiful location in the sunny region of Provence-Alpes-Côte d'Azur, Avignon is a place you can really consider visiting.
But is Avignon really worth visiting? Well, in this post, you'll discover some reasons to visit Avignon for. These reasons are tourist attractions and valuable experiences you can find when you visit Avignon. So, let's go!
Affiliate Disclaimer: This post contains affiliate links. I recommend products and services that I think can help you make a successful and memorable trip. I may receive a tiny commission if you purchase them with no additional cost to you. These will support me in maintaining, creating more articles, and fulfilling the mission of this blog.
Also in this article, I share my opinion about the essence of visiting the attractions in Avignon or the values you can have from getting the experiences Avignon offers. I hope they can help you decide whether to visit Avignon or not.
You can also find helpful information when visiting the attraction in Avignon. This way, we can make your reading more productive. And if you decide to visit Avignon, you may use this article as your guide. (So, don't forget to bookmark or pin this post to Pinterest!)
Introduction to Avignon, France
Before we get to the main topic, let's first know some facts about Avignon from the questions most people ask about Avignon. They're the primary things you will consider if you can/will go to Avignon. Let's begin:
What is Avignon known for? Avignon is historically known as a town residence of the pope in the 14th century. Today it is famous for its historic center which has been considered a UNESCO heritage site since 1995. It includes the Papal Palace, Episcopal Ensemble, and Avignon Bridge. 
Where exactly is Avignon? Avignon sits beside the Rhone river within the Vaucluse department in the Provence-Alpes-Côte d'Azur région, Southeastern France. It is approximately 100 kilometers northwest of Marseille, only one hour away by a train ride. 
From the north, Avignon is roughly more than an hour of a train ride from Lyon, France's third-largest city. From Paris, you can get to Avignon within 2.5 hours using high-speed trains (TGV).
Discover: Reasons to visit Lyon, France (one of the largest preserved Renaissance towns in Europe) or 10 Unmissable places to see in Paris.
How do you get to Avignon, France? Traveling in France is very convenient and you can move across the country in less than half a day using high-speed trains. Avignon is linked to the high-speed rail network and should be very accessible wherever you're in France. Renting a car may not be so necessary.
When is the best time to visit Avignon? The best time to visit Avignon is in July when there's a lot of sunshine and the Festival d'Avignon is taking place. It's also the best time to explore the south of France, especially its charming medieval villages and turquoise coastlines.
Yet, of course, you should consider the number of tourists pouring into the region during this peak season.
Are there other beautiful destinations near Avignon? Avignon is located in the south of France, a place packed with beautiful medieval villages, romantic beaches, and stylish seaside holidays. If you visit Avignon, you will have a wide range of options for beautiful day trips.
Are you looking for an off-the-beaten-path destination in France? A fairytale village? Or a romantic town? Maybe a scenic place? Check out my list of 10 beautiful towns in the South of France. Have a random pick: Gordes, Saint Cirq Lapopie, Saint Paul de Vence, Domme, Chamonix, Carcassonne, Aigues Mortes, Moustiers Sainte Marie, Eze.
Is Avignon Worth Visiting
Let's now answer the question you're here for. Is Avignon worth visiting? In summary:
Yes, Avignon is worth visiting, but not for everybody. Avignon has a UNESCO site with impressive buildings, worth seeing if you're curious about history and love appreciating architectural marvels. It also has interesting museums, scenic spots, and a fantastic arts festival considered one of the "world's greatest."
Honestly, it is unfair to say whether Avignon is worth visiting or not with three sentences. So I listed the attractions and experiences I think Avignon offers the best. You can find them in the next section, and they'll tell if Avignon is really for you or not.
Reasons To Visit Avignon
Avignon is known for its historic medieval town. Yes, the UNESCO site is a reason to visit Avignon. Yet, it is not the only one enough that can make Avignon worth visiting. Here is the summary of my 10 reasons to visit Avignon:
Palais des Papes 
Remparts d'Avignon
Jardin des Doms
Pont d'Avignon
Churches in Avignon
Museums in Avignon
The Festival d'Avignon
National parks near Avignon
Charming villages near Avignon
Pont du Gard
By the way, Avignon has a UNESCO site filled with historical things you can discover. It will transport you to the time when the popes still reside in France. But, do you know what French town gives epic escapism? It's Colmar. Learn more about Colmar from my article: 10 Best Reasons Why You Should Visit Colmar
Let's go back to Avignon! Let's now discuss each reason above.
Reason #1 Palais des Papes
There's no other reason to visit Avignon that makes more sense than its historical heritage. For me, it's the primary essence of visiting Avignon. Coming here means you unravel the stories and scenes of the place once the center of western Christendom.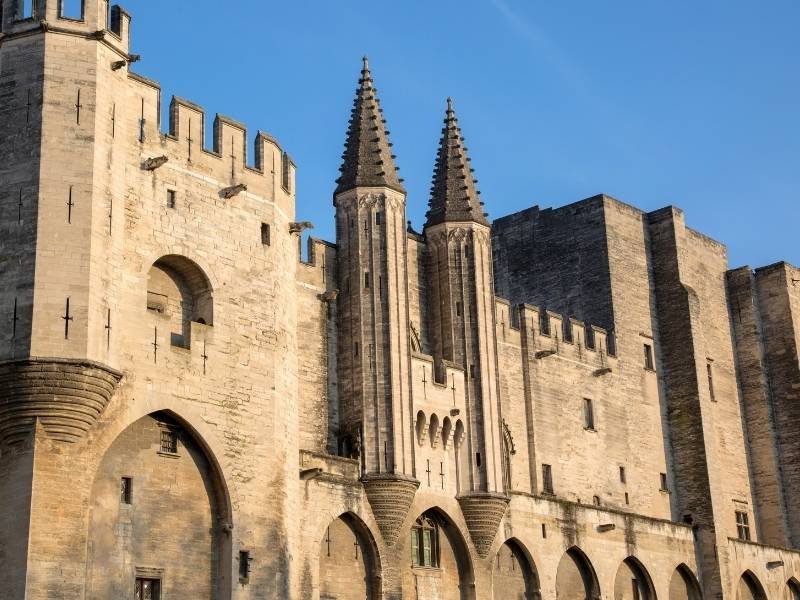 For sure, interesting bear witnesses to this significant part of French history await you in Avignon. And if there's one place where you can uncover the most valuable part of Avignon's history, it has to be the Palais des Papes (Palace of the Popes).
Whether we consider the history of Avignon or not, I think Palais des Papes is a reason to visit Avignon. It is a bucket list destination being the largest Gothic palace in Europe. In total, it covers 15,000 square meters or 160,000 square feet of floor space. 
Can you imagine how big it is?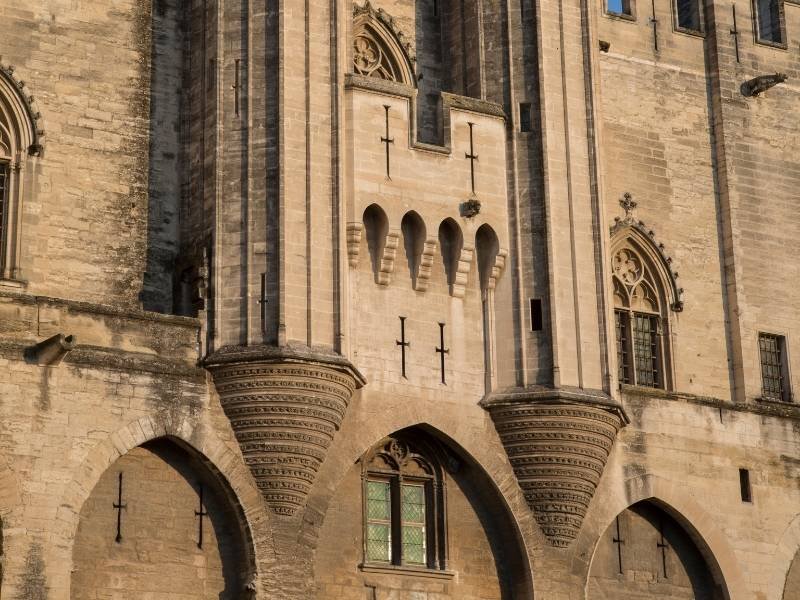 Palais des Papes is a fortress and a palace where the popes resided in Avignon at the start of the 14th century, 1309 to be exact. It was when Pope Clement V moved the Papal Curia to Avignon to escape the chaos happening in Rome.
Today, Palais des Papes is a major tourist attraction in southern France, drawing more than half-a-million visitors every year.
Over 25 rooms of Palais des Papes are open to visitors. They function as portals of your imagination to the days of Avignon Papacy. Visitors can roam around and discover details about the chapels, banquet rooms, private apartments, rooftop terraces, and more.
You will find some rooms of the palace empty. But you will be given a "Histopad," an augmented reality tablet to help your imagination picture how lavish those rooms were. Kids will love the treasure hunting game they can do with the Histopad.
Of all the rooms in Palais des Papes, the Stag Room, the pope's private chambers, and chapels are the few you can find most interesting. For me, it's because their medieval frescoes are a direct testament to the elegance that the palace once had. 
Some of these frescoes in Palais des Papes were painted by the Italian artist Matteo Giovanetti. They depict Christian saints, scenes from the bible, and the daily lives of the noblemen back in the day. The Stag room, in particular, frescoes show people hunting in the woods.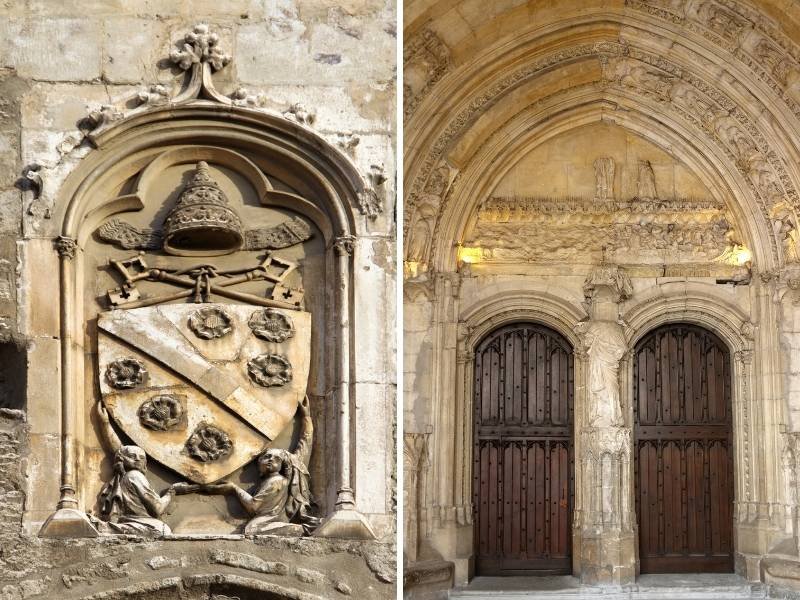 Do you want to visit Palais des Papes?
The last time I checked, Palais des Papes is open all year round. Its opening hours vary per month. But I'm sure you can tour the palace from 10:00 am until 5:00 pm (the usual last admission time). 
You can explore Palais des Papes by yourself with the help of Histopad at 12 EUR/adult. Joining a tour is an alternative and they offer it in different languages. Learn more about the guides and more package deals from the official website of Palais des Papes.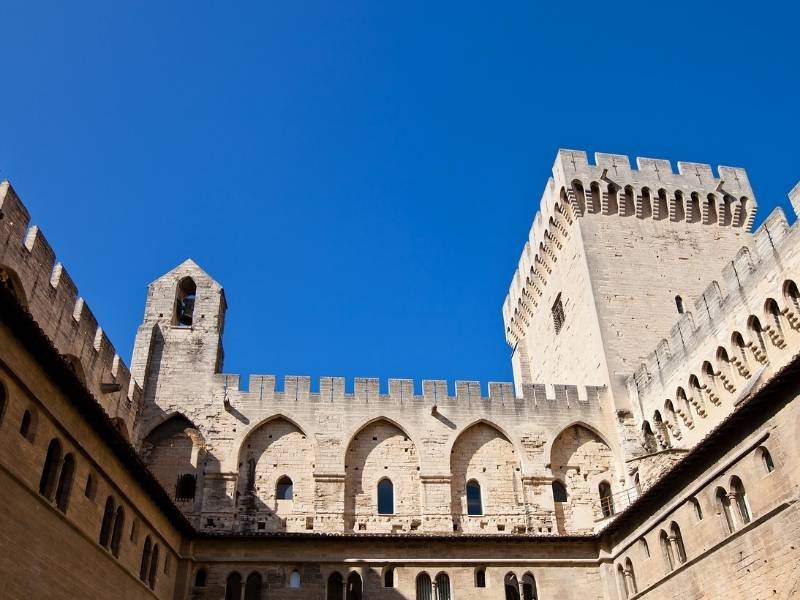 Palais des Papes is definitely one of the most historical places in France. Another is the Notre Dame Cathedral in Reims, where the kings of France were crowned… and it has EPIC architectural beauty. See it from my post Reims France: The 10 Best Reasons Why Should Visit Reims
Reason #2 Remparts d'Avignon
I am a fan of movies and series set in the middle ages. And often, in those shows I watch, it's on the medieval walls of a town/city where the most intense battles of swords and arrows take place. 
And, if there is another place/structure other than palaces/castles that can bring our imaginations centuries back into the past? It has to be the medieval walls. Avignon has restored, intact medieval walls and I think it's a reason to visit Avignon.
Can you imagine hundreds of archers standing by the ramparts and shooting arrows up to the sky all at the same time? Or, can you picture dragons breathing fire, clamping their feet to the turrets?
With Avignon preserved medieval walls, I'm sure you won't find it hard to paint these epic scenes in your imagination.
Besides, did you know? Avignon is one of the only few towns in France with intact medieval walls. Carcassonne, another town in the South of France and also famous for its medieval walls, is a better option, though.
Yet, it's Avignon which is more convenient/easier to visit.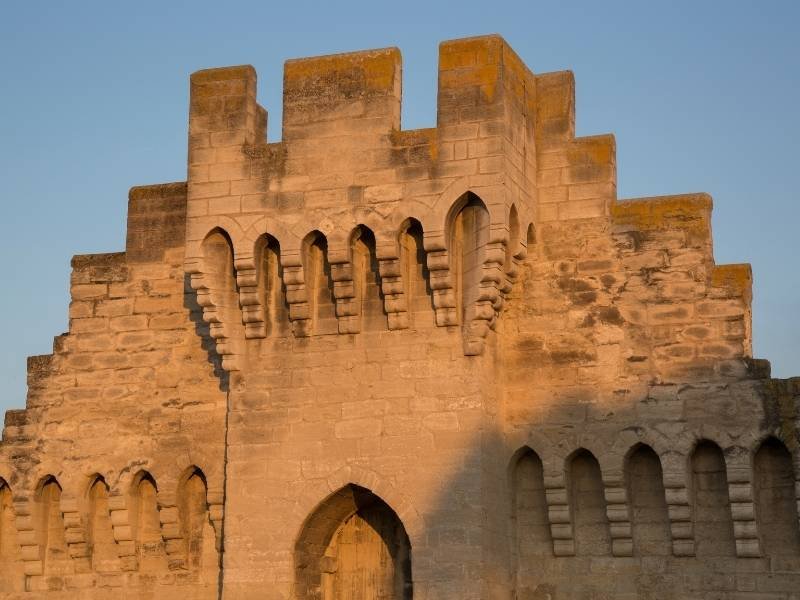 Avignon's medieval wall stretches more than 4 kilometers, approximately 1 kilometer longer than Carcassonne. It is as important as the Palais des Papes for the protection it gave to the popes and population of medieval Avignon.
Don't be fooled by what other photos of Avignon's medieval walls look like. Sometimes, the walls seem small. But actually, their height averages 8 meters or 26 feet. That's nearly five times the height of an average person.
Since the 13th century, the medieval walls have been shielding Avignon from the flood caused by the overflowing Rhone river. It also stopped invaders, heretics, and even plagues from entering the city in the past. 
The medieval wall of Avignon is the first thing you'll see after you emerge from the town's train station. You can follow the paved pathway beside the wall to see the entire structure and appreciate its architecture.
However, it is impossible to walk the entire loop on top of the ramparts of Avignon walls. As far as I know, only a small part of it is accessible to visitors. It starts with Pont d'Avignon and ends with Jardin des Doms (vice versa), the park north of Palais des Papes and Avignon Cathedral.
Did you know? If Avignon used the walls for protection, Strasbourg (another city in eastern France) used the river that surrounds its old town as a giant moat to keep their enemies out. Discover Strasbourg (the capital of Alsace, Grand Est, and Europe) and the beautiful reasons why you should visit Strasbourg.
Reason #3 Jardin des Doms
In any city, if there is a specific spot that I won't likely miss, it is the city's scenic spot. I mean, that place with an overlooking view of the whole town. For Avignon, it's the park called Jardin des Doms.
Seeing a city from above and seeing how small everything is from a perspective makes me realize many things. Like, how little we are in the world. How vast the world is. And how many countless places are there yet to explore. Such scenery sparks my wanderlust even more.
This is why Jardin des Doms, for me, is a reason to visit Avignon. But for everybody, Jardin des Doms is a beautiful place to unwind and rest after a day of exploring the city. It can be a reason why you'd consider visiting Avignon. Hear me out:
If you travel as a couple, you can find the park a romantic place to hang out for as long as you want. Aside from the view of the old town that gets so lovely during a sunset, Jardin des Doms has a pleasant café-buvette (coffee bar).
Have a seat there and talk about the beautiful encounters in Avignon.
The café-buvette in Jardin des Doms is surrounded by trees. It even has a pond frequented by swans and ducks. These, with the sound of the small fountain, can give you and your partner one simple yet pleasurable time together.
Then, if you're a city or a landscape photographer, Jardin des Doms can give you some photo opportunities. It has one of the best perspectives for taking photos of the Saint-Bénézet bridge, which is another famous landmark in Avignon.
From Jardin des Doms, you can see a pleasant panorama of the Rhone River, Palais des Papes, and almost all of the old town of Avignon. The view stretches up to the distant mountains and hills like Mont Ventoux, Luberon, Vaucluse plateau, and Alpilles.
Tour Philippe le Bel (tower) and Fort Saint André can be spotted from Jardin des Doms. They are Avignon's other fortifications located on the other side of the Rhone river. Visit them for more historical discoveries and climb up to their view decks for some breathtaking views.
The 30-meter high Rocher des Doms (rocky cliff), where Jardin des Domes was built, serves as a place for leisure now. But, actually, this place also has historical/archaeological importance. 
Centuries ago, it was discovered that Rocher des Doms has been inhabited since the neolithic age. The excavated anthropomorphic stele called "the oldest man in Avignon " bears witness to this archaeological discovery. The elevated location must have been a refuge for the early inhabitants of Avignon from the flooding caused by the Rhone river.
Can you imagine how many generations of humans have lived here?
Reason #4 Pont d'Avignon
Speaking of breathtaking views. What can perfectly depict the prominence of Avignon during the middle ages is the view of the old town from the Saint Benezet's Bridge. The bridge is also called Pont d'Avignon and absolutely, it's a reason to visit Avignon.
Pont d'Avignon is one of the most famous medieval bridges in France. It was made famous by the traditional French song " Sur le Pont d'Avignon" in the 15th century.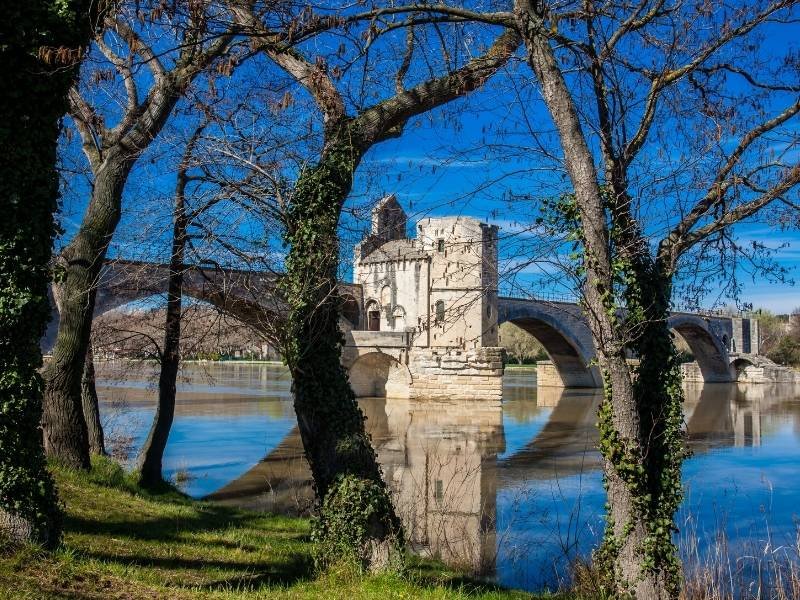 The first time I heard the song? When I was researching the bridge. Frankly, the song was a bit catchy. Perhaps, if you know the song and you're with your partner in Avignon, you can sing the song and sway with the tune as you stroll on the bridge. Just to have a little fun!
For more than five centuries, the song echoed through several generations. Today, it's the kids who mostly sing Sur le Pont d'Avignon in the schools. But, most probably, they're still clueless that the bridge they're singing about is 800+ years old already.
Yep, Pont d'Avignon dates back to the 12th century. It wasn't a stone bridge before, though. But, instead, it's made of wood. Renovations that started in 1234 upgraded it into a stone bridge with 22 stone arches. 
After Pont d'Avignon was damaged by the flooded Rhone several times, the people of Avignon abandoned the bridge because of the expensive cost of repairs. It used to link the city center to Tour Philippe le Bel on the other side of the Rhone river. But now, only 4 of its 22 stone arches remain. 
Saint Benezet's Bridge is a reason to visit Avignon because it is a very historical bridge. Believe it or not, it was the only way for the people to get to the Mediterranean sea from Lyon and other cities in central France.
And of course, it's very scenic too. For me, it's the best spot to admire the architecture of Avignon's city walls and the Palais des Papes.
You'll be exploring the bridge that was used not only by merchants and ordinary French citizens if you visit. Kings, popes, and crusades walked on Pont d'Avignon. Isn't it cool to be at the same place where these notable people have been?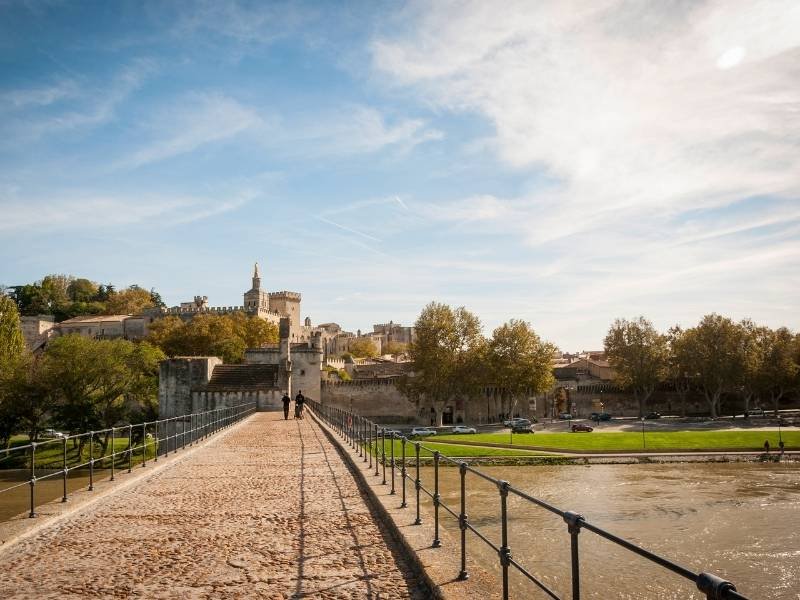 With the sound of the flowing Rhone river, you can also spend some time here relaxing while discovering the bridge's history. There are panel boards or audio guides to tell you great stories about Pont d'Avignon. And with the histopad, you can see a reconstructed Pont d'Avignon in augmented reality.
Saint Bénezet Bridge is open every day, but the opening hours vary per season. But the last time I checked, it should be accessible from 10:00 am until 5:30 pm (last admission to the bridge). Entry is 5 EUR/adult.
Check the official website of Pont d'Avignon for all the details, including the tours and package deals.
Reason #5 Churches in Avignon
Since Avignon was once the home of the popes, there's no doubt about the number of religious heritage sites you can find in the town. They come in different forms… But when we speak of architecture, these buildings/places can be a reason to visit Avignon. 
Avignon has several churches and chapels inside and outside of its historic center. Of course, not every one of these can show you spectacular beauty. But surely, you can find churches in Avignon that have parts that manifest art.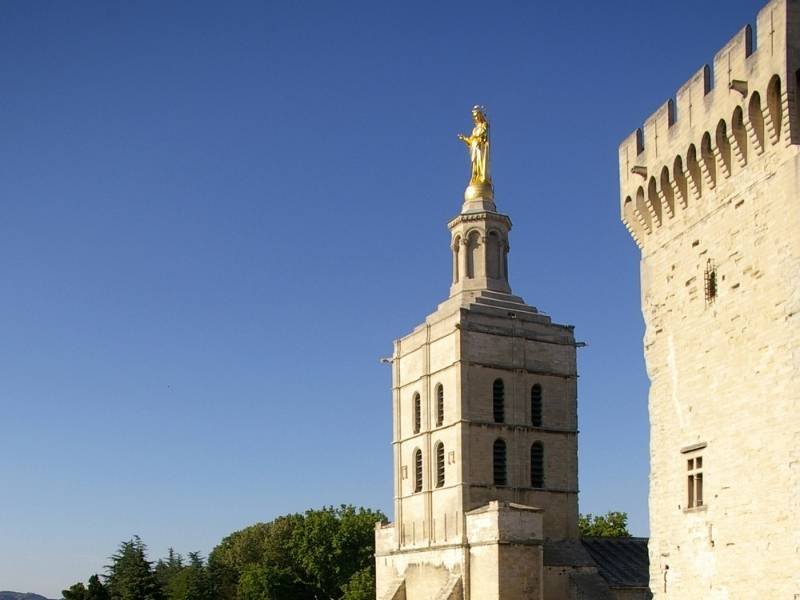 Like most beautiful cities in Europe, visiting Avignon can also feel like seeing an open-air museum because of these religious architectural heritage. Even the little chapels in town can explain why. 
We can mention the 16th-century Penitents Noirs Chapel as an example. Even though it's tiny, the chapel's Renaissance-style facade, adorned by relief sculptures, can surely capture anyone's "exploring" eyes. Another is the Chapel of the Penitents Gris which has architectural features from the 16th to 19th centuries. 
However, the churches in Avignon that can impress you are there two: The Basilica of Saint Peter and the Avignon Cathedral. This is definitely true, but I must say not to expect too much. That is most especially if you've been to other places in Europe already. 
Although they're beautiful churches, they aren't up to the standards of the famous churches in Vatican/Rome. Comparing the length of time in which Avignon and Rome are the centers of the Western Christian world, it's not hard to understand why the churches in Rome look stunning. 
Between Avignon Cathedral and the Basilica of Saint Peter, it's the latter that has an elaborate facade. The most notable part of its facade is the richly carved walnut doors dating back to the Renaissance period. Inside there are more woodworks and fresco decorations like the "worship of Shepherds" by Simon de Chalons.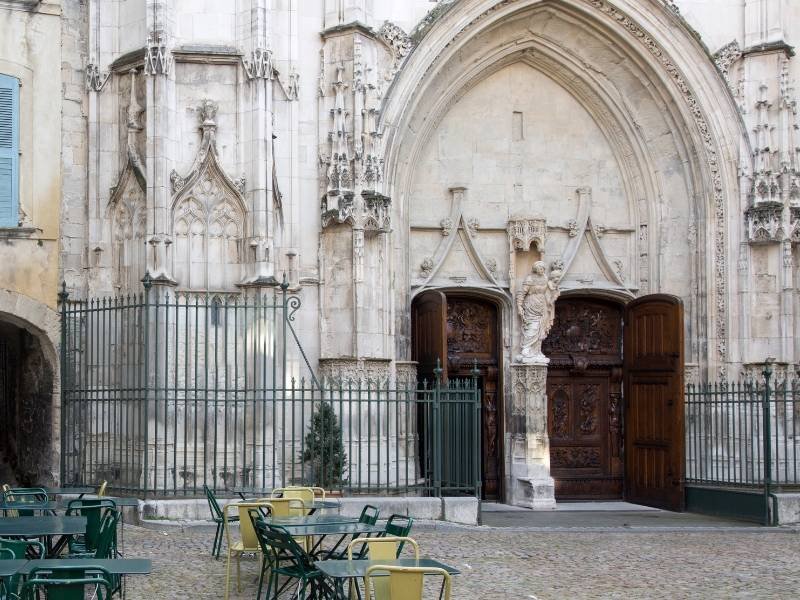 Avignon Cathedral does have a simpler facade but marvelous artworks await visitors inside. Most notably the chapel or mausoleum of Pope John XXII inside the cathedral has frescoes all over its ceilings and walls.
You can find Avignon Cathedral within the square of Palais des Papes. It stands on an elevated portion, overlooking the entire plaza. You can go there to see a panorama of the west side of the old town of Avignon.
Reason #6 Museums in Avignon
Are you the kind of traveler who is always curious about the art, culture, and history of the new place you're going to visit? Well, Avignon won't leave you empty-handed. 
Sure, there are Palais des Papes and Pont d'Avignon. But, it isn't only in them you can learn something new and discover interesting things in Avignon. The town has museums keeping unique collections, and they can be your reason to visit Avignon.
What's more encouraging to visit Avignon for these museums is that you can go museum-hopping for free! There are five museums in the town you visit without spending a dime, and they are:
You can click their names if you want to see exactly where these museums are in Avignon.
If you are currently in Palais des Papes, the closest museum you can see is the Petit Palais Museum. It is located to the west of Jardin des Doms and north of Place du Palais (Palais des Papes square). On foot, the Petit Palais museum is only approximately 1 minute away from Avignon Cathedral.
Petit Palais Museum is the museum you must visit if you're curious to find exceptional Provencal and Italian paintings from the 13th to 16th centuries. Here lies the items collected by the famous art collector Giampietro Campana. 1000+ artworks are here, including some Gothic and Romanesque sculptures from the region.
These museums are also architecturally marvelous, especially the adorned facade of the Baroque-style Lapidary Museum. Here, you can find fascinating sculptures of Greek, Roman, Gallo-roman, Etruscan and Paleochristian origin.
The sculptures here date back to ancient times, as early as the 4th century BC. You can feel the museum's time-transporting vibe as you gaze upon the statues of Athena, Two-headed Hermes, Marcus Domitius urn, and more. 
Another museum in Avignon you can visit is the Calvet Museum. It is the primary fine arts museum in town, and different works of art dating from the 15th to 20th centuries are kept here. The museum was a mansion constructed in the 18th century – visiting it is about seeing a wide range of artworks, from impressive sculptures to magnificent architecture.
Calvet Museum is the best place to discover local art. It has a section that honors the School of Avignon. In it, you can find a summary of Avignon's artistic creativity. You can appreciate masterpieces made in Avignon during the period of the Renaissance until the years of the French Revolution.
Petit Palais Museum, Calvet Museum, and Lapidary Museum are the three museums in Avignon I find some interest in. They are usually open all year round except for holidays (January 1, May 1, and December 25):
Petit Palais Museum – closed every Tuesday (official website: petit-palais.org)
Calvet Museum – closed every Monday (official website: musee-calvet.org)
Lapidary Museum – closed every Monday (official website: musee-lapidaire.org)
Reason #7 The Festival d'Avignon
Every year, Avignon transforms from a time-transporting historical heritage site to a fantastic giant theater. This event is called Festival d'Avignon and it is one of the world's greatest arts festivals. Festival d'Avignon is the oldest in France and another reason to visit Avignon.
Festival d'Avignon was founded by Jean Vilar in 1947. And what's so fascinating about Festival d'Avignon is the place where it all began. Nope, it's not in the city's modern squares and theaters, but in the heart of Avignon's historic center.
Guess where? In Palais des Papes. Throughout the decades, the festival spread out further into the rest of the city. During the previous years, even other exceptional historical sites in Avignon now also host film shows, exhibits, performances, and many more.
Festival d'Avignon occurs every July, lasting for three weeks. Performers and art lovers from different places and countries join together to celebrate, promote, and enjoy art. Thousands of people participate in the festival's 800 hours of artistic events.
On average, Festival d'Avignon offers ~450 events and 50 shows in 23 venues around the town. Yearly, event organizers make around 130,000 admissions. Some were offered for free. Yes, that's good news for budget travelers like me.
You can check the official website of Festival d'Avignon to learn more about the festival. This year's program of events is posted in it, also the participants – all that you need to know.
Reason #8 National Parks Near Avignon
South of France is considered to have one of France's most beautiful natural features. It has a lot, from romantic beaches to breathtaking cliffs, picturesque lavender fields, stunning gorges, caves, and rock formations… you mention it! 
Situated in the South of France, Avignon is a destination practically close to some of the country's best natural attractions. If you visit Avignon, you'll be no more than an hour away (by car) from the South of France's most picturesque/relaxing/spectacular places. 
Believe it or not, you can get into three natural regional parks within an hour from Avignon. They are Camargue, Alpilles, and Luberon Natural Regional Parks. Apparently, aside from history, Avignon's proximity to these natural attractions is also one of the reasons why you should visit Avignon. 
Not only natural spectacles await you around Avignon. Of course, nature includes wildlife and you can see a lot of them in Camargue Natural Regional Park. In this nature park, you can find a lot of white horses, flamingoes, and miniature black bulls – the animals that Camargue is famous for.
Camargue Natural Regional Park lies south of Avignon, the last area where the Rhone river flows before it reaches the Mediterranean sea. It's actually a marshland full of fresh water and vegetation, thus, wildlife flourishes here. There are pink salt lakes here too!
In the middle of Avignon and Camargue Natural Regional Park lies Alpilles Natural Regional Park. It is considered one of the smallest in France, but it's a place that combines the experiences of wildlife, nature, and history.
4,000 years of civilization shaped Alpilles Natural Regional Park. You can find archaeological sites and local rural heritage as you hike through its olive groves and orchards. The area has some rock climbing activities also, by the way.
The park has old farmhouses, windmills, ancient chapels, arches, and towers that await you. They'll most probably stimulate your imagination to picture life in the region during ancient times. Alpilles Natural Regional Park is a mountainous region and you can expect to see breathtaking views also.
Lastly, travelers who want photo souvenirs from the most Instagrammable places in the South of France can easily have them quickly from Avignon. To the west of Avignon lies Luberon Natural Regional Park – the home of Senanque Abbey, Village des Bories, and Grottes de Thouzon.
Reason #9 Charming villages Near Avignon
Aside from the beautiful natural attractions in the South of France, charming villages neighbors Avignon. They serve as a perfect day trip for everyone who loves to travel to the wanderlust-satisfying shutter-presser destinations.
The travel time from Avignon to these villages takes up to an hour to two driving a car. Two hours on the road seems long, but don't worry about it!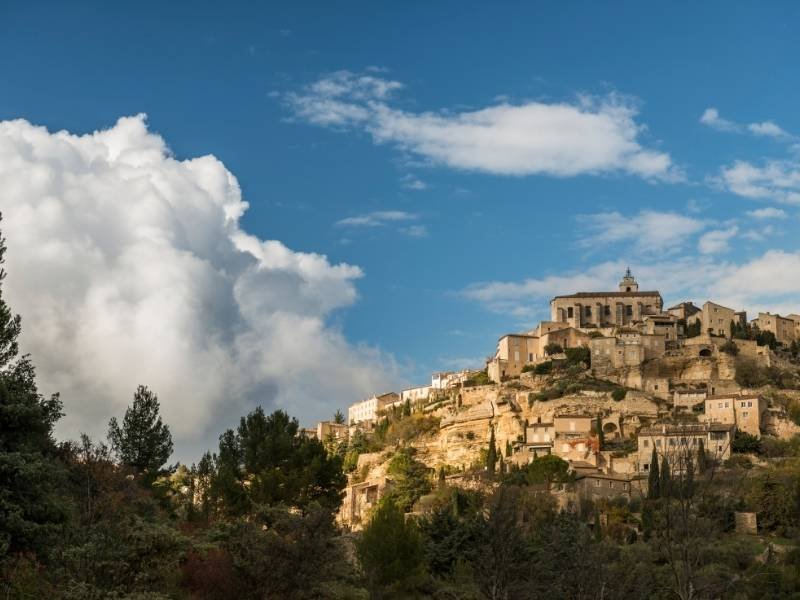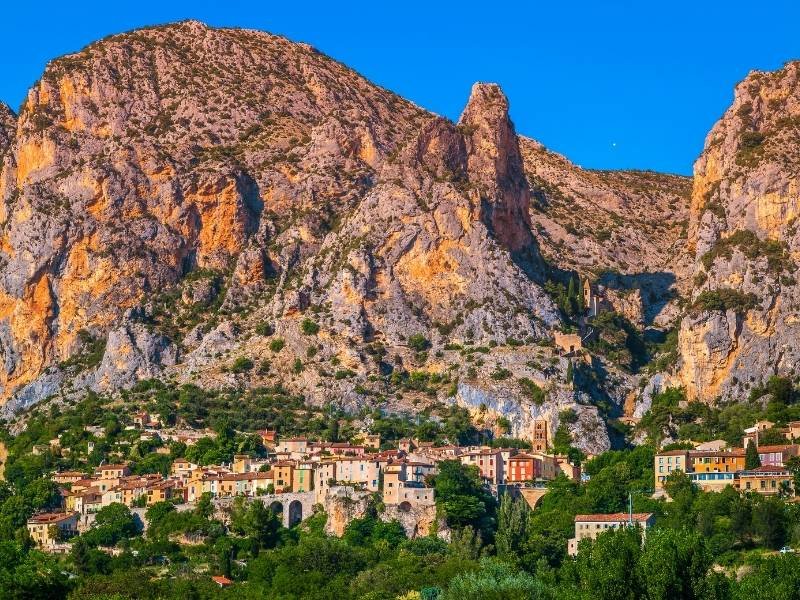 The parts of the road from Avignon to the charming towns in the south of France, especially in the Luberon area, are panoramic. With the breathtaking views, the fun should come along, even if you haven't arrived at the villages. Thus, if you love scenic drives and visiting quaint villages, you have another reason to visit Avignon.
I have a list of the most beautiful villages in the South of France. In the 10 villages listed in that post, the 3 closest to Avignon are the following: Aigues Mortes, Gordes, and Moustiers Sainte Marie.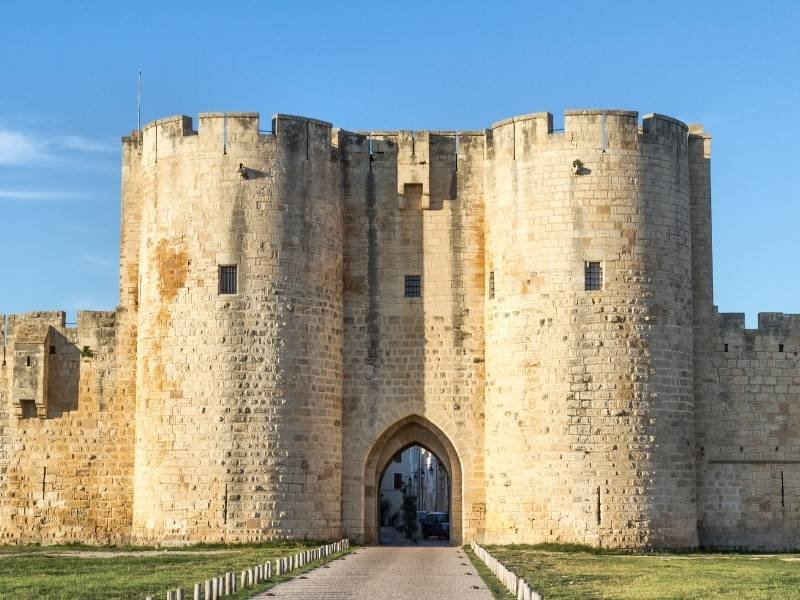 What's so great about these day trip villages from Avignon? Their location. I mean, aside from being in the south of France, these villages are situated in the natural parks we tackled earlier.
This is why these villages can be your day trips packed with multiple experiences. To furthermore explain, let's tackle the summary of Aigues Mortes, Gordes, and Moustiers Sainte Marie:
The first destination in the list of the best day trips from Avignon is another walled town called Aigues Mortes. This town is located in the Camargue region, and indeed, it is known for its well-preserved medieval walls. 
Unlike Avignon, you can complete a walk around Aigues Mortes on its ramparts. The stroll traverses the town's gates and towers that have exhibits about the town's history. From the ramparts, you can view the spectacular pink salt lakes near the town and the vast marshlands of Camargue.
Learn more about Aigues Mortes here.
If Aigues Mortes offers overlooking views of Camargue Regional Natural Park, it's the village of Gordes which then lets you see a sweeping view of Luberon Regional Natural Park. I'm sure you'll love the scenic roads just before you reach the main village of Gordes.
Anyway, Gordes is a preserved medieval village perched on a hilltop dating from the early 11th century. It offers visitors wanderlust satisfying views, everywhere you look.
Also, Gordes has quaint narrow lanes and delicious wines to satisfy both the eyes and the tongue. The restaurants and hotels offering these wines and built on the cliffside of the village of Gordes can be the romantic place you're looking for.
Among the villages in the South of France, Gordes is the charming village closest to the most Instagrammed abbey in the world called Senanque Abbey. The abbey's lavender field is one of the places in the South of France hardest not to photograph. The view is just pure magic!
Learn more about Gordes here.
If you're in Avignon and it's the lavender blooming season (mid-June to mid-August) you may want to go for a day trip to the charming village of Moustiers Sainte Marie instead. 
Moustiers Sainte Marie is located farther east than Gordes and it takes almost 2 hours of driving to reach the village from Avignon. Although it is far, the region that the road to Moustiers Sainte Marie passes through is idyllically covered with lavender. Frankly, it is perhaps one of the most magical scenes to see in the South of France.
The thing is, Moustiers Sainte Marie offers more stunning scenery than the lavender fields. This preserved village dating back to the 5th century sits by the foot of a limestone mountain. The quaintness of the houses plus the sheer spectacle of the mountain is an unmissable sight to behold.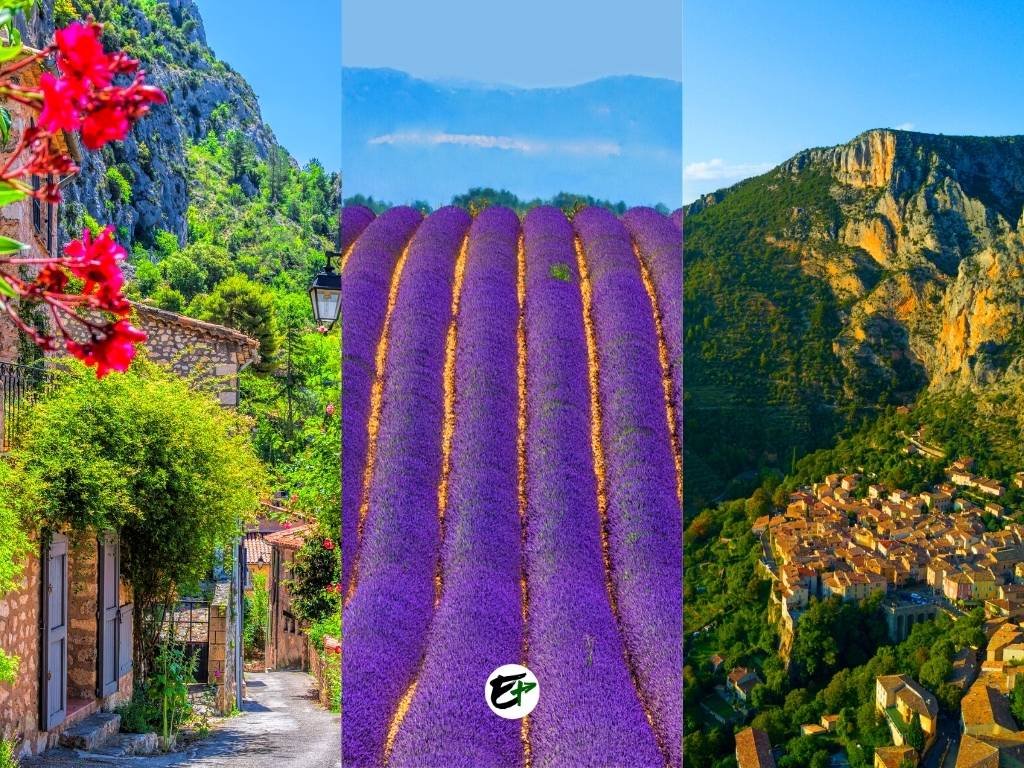 There is more to experience in this village, and I urge you to learn more about Moustiers Sainte Marie here.
Reason #10 Pont du Gard
Last, but "not the least reason to visit Avignon" is another bridge. If you have already decided to go to Avignon, this bridge is the attraction you can't miss. The name of this bridge is Pont du Gard and it is a UNESCO heritage site located 30 minutes away from Avignon by car.
Pont du Gard actually does not belong to Avignon but is a gem that travelers visit the South of France for (in general). But, since Pont du Gard is very near Avignon, it can be another beautiful day trip from Avignon. Hence, a reason to travel to Avignon also.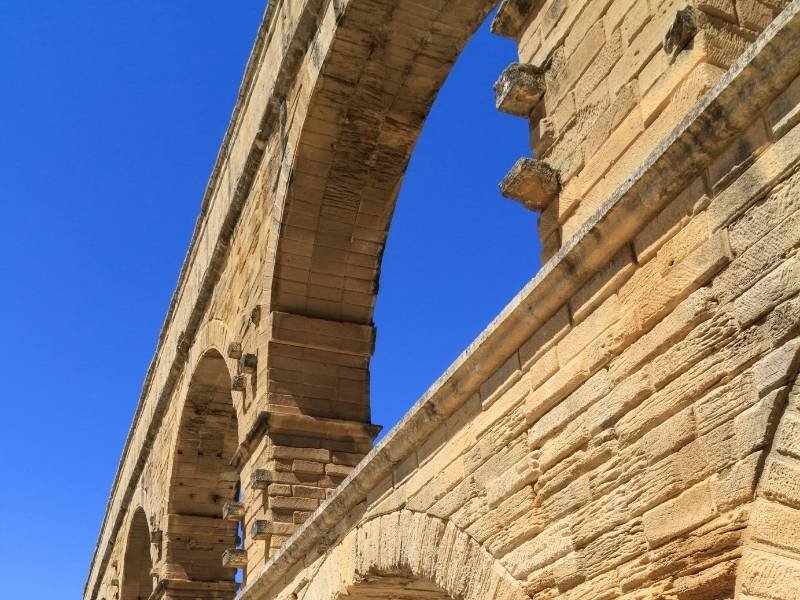 So, what makes Pont du Gard worth it?
Aside from being a UNESCO heritage site, Pont du Gard is the tallest of all Roman aqueduct bridges. It is also one of the most preserved of its kind, an architectural and engineering marvel of the Romans. Pont du Gard's impressive appearance has awe-inspired people for ages, not only ordinary people but also kings like King Charles IX from the 16th century.
Made with mostly shelly limestone and by early civil engineering techniques, it is somewhat unbelievable how Pont du Gard still stands today. It dates back to the first century and for almost two millennia, it served as a reminder of Roman ingenuity to everyone who sees it. 
In total, Pont du Gard measures a height of 48.8 m (160 ft) and has three tiers of arches with different lengths. The length of Pont du Gard is 275 m (902 ft), 242 m (794 ft), and 142 m (466 ft), from the highest to the lowest tier. Believe it or not, more than 50,000 tons of materials were used to build Pont du Gard.
What makes a trip to Pont du Gard cool? Visitors can both admire the aqueduct's exteriors and also enter and see what's inside! The aqueduct has its museum to give you insights into the history of Pont du Gard and other related stuff. 
Do you love nature? There are also hiking trails around Pont du Gard, offering splendid views of the Roman aqueduct. Finally, during summer, the area around Pont du Gard becomes a place for relaxation and leisure. Come and join for all-in-one enjoyment!
Pont du Gard is open from 9:00 am to 8:00 pm from January to March and 9:00 am to midnight from April to December. The entry fee is 6.50 EUR/adult and 12-15 EUR/adult for guided tours. You can learn all necessary visiting information from the official website of Pont du Gard.
Guides In Visiting Avignon
Here are the tours/guides I recommend to help you make your trip to Avignon more convenient and insightful:
Save it on Pinterest.