Is Gordes Worth Visiting? (8 Unmissable Things To Do)
The South of France is possibly the most beautiful region of the country. It's a region full of scenic sights, rich history, and dotted with charming villages. One of these villages is called Gordes—a gem in Provence perched on a hilltop.
Even Forbes believes that Gordes is a beautiful village. That's no wonder with Gordes' millennium-long history, fairytale alleys, and panoramic views. But is it really worth visiting?
In this blog post, I share my opinion if Gordes is worth visiting or not. However, before that, I will first tell you about the beautiful attractions and experiences I discovered in Gordes. This way, you can decide for yourself, too, if Gordes is a worthy destination or not.
We all have different likes and preferences when we travel, right?
By the end of this post, you should have an idea of what things can make a visit to Gordes worth a while. I added some visiting information to make your reading more productive throughout. (They should be helpful in case you decide to visit Gordes)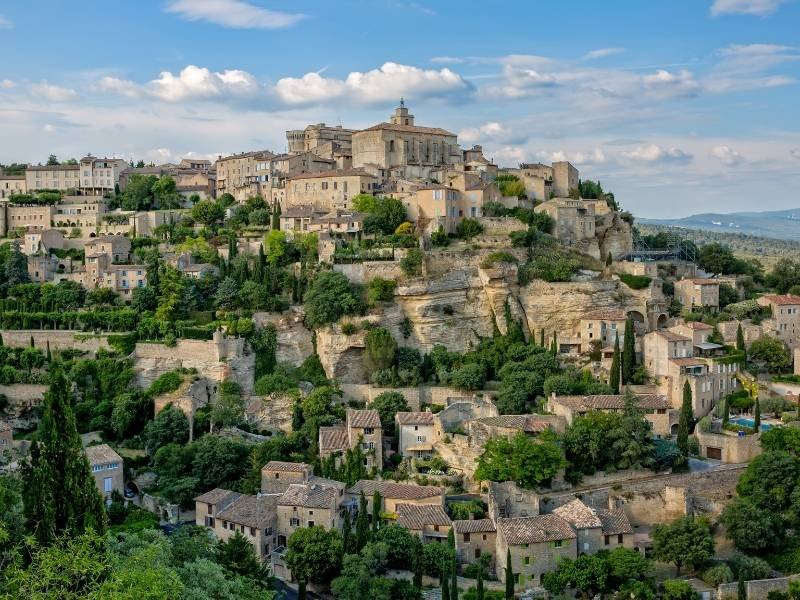 Before anything, let me introduce Gordes well to you…
So, where exactly is Gordes? Gordes is a village perched on a rocky promontory in the Vaucluse mountains in Provence. Situated on elevated ground, visitors of this village get a scenic overlook of the Coulon Valley below and Luberon afar.
Here is the exact location of the village on Google Maps:
Established in the 11th century, Gordes is nearly one thousand years old. The houses, villas, and arches in Gordes were preserved, and you can really expect a time-transporting trip when you visit Gordes.
I do not only like the medieval flair of Gordes but also the view from the village's vantage points. A stroll can be fun, especially if you love wandering and taking photographs.
One of the most lovely discoveries I learned about Gordes is its calades. Calades are basically the cobblestone version of the different villages in the south of France that are often decorative and useful to people navigating the place. 
Calades gives Gordes a more quaint look, which should satisfy all the wanderlust souls visiting the village. Not to mention some street performers often during summer. They make the ambiance full of enthusiasm and life.
Unmissable Things To Do in Gordes
Gordes is not a big destination but a small yet charming place instead. When you visit, you can even see all of Gordes in a day, to be frank! Gordes has close to nothing adventurous things to do, but wanderlust will be satisfied; photos will fill your cameras.
If you love discovering details and exploring off-the-beaten-path destinations, Gordes can be the place you're looking for! Of course, if you love feeding your eyes with quaintness too!
Here are the unmissable things to do in Gordes which are also the reason why you will visit Gordes:
Château de Gordes
Saint-Firmin church
Saint-Firmin Palace Caves
Gordes' Calades and Streets
Gordes' Viewpoint
Glass and Stained-Glass Museum
Village des Bories
Sénanque Abbey 
1. Château de Gordes
Let's kick off the list of the unmissable things to do in Gordes with Gordes Castle—the most historical structure in the village. As it was first mentioned in the 11th century, Gordes Castle should be almost as old as the village.
Château de Gordes or Gordes Castle is located in the heart of the village, south of the runabout. It's the part of the town that sends you back in time, particularly when you go closer and notice its arrow slits and machicolations. 
Do you remember the movies set in the medieval times you watched? Château de Gordes should help your imagination bring you to some similar scenes in the film.
Gordes Castle is one of the most preserved buildings in the village. Although it is not as impressive as the castles in other parts of Europe, a visit to this one should be special thanks to the exhibits inside.
The exhibits in the Gordes Castle are about modern artworks made by the local artists and some who have visited the village. There are masterpieces created by Jean Deyrolle, Marc Chagall, André Lhote, and Pol Mara.
Pieces of Renaissance works of architecture can also be found inside the Gordes Castle. The most notable is the fireplace, combining pilasters, entablature, frieze, gables, and niche designs. You may also find Gordes Castle's spiral stairs and large hall worth seeing.
The Opening Hours of Gordes Castle depend on the season. The last time I checked the Luberon-Provence website, the opening hours were:
Every summer (June 13 to November 13), Gordes Castle is open all week from 10:00 am until 6:00 pm with a 1:00 pm to 2:00 pm lunch break. The rest of the year, Gordes Castle is only accessible from Wednesday to Sunday, from 10:00 am until 5:00 pm (12:30 pm to 1:30 pm lunch break).
The entry fee is 2 EUR + 5 EUR if there are exhibits.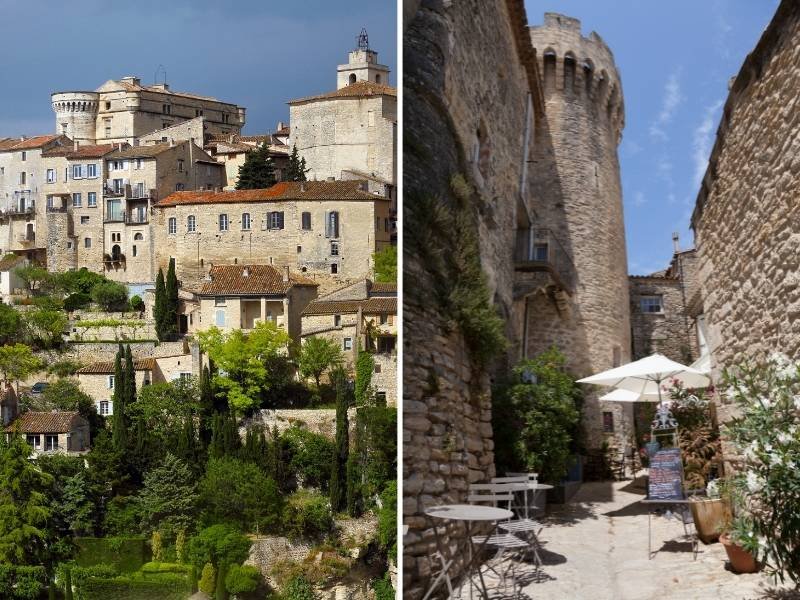 2. Saint-Firmin Church
Along the road, Rte de Cavaillon (D15), just before you reach Gordes, you will be greeted by the village by its charming appearance, perched on a hilltop. If you see a fortress-like structure on the very top, it's not yet the Gordes Castle but Saint Firmin church.
Saint Firmin Church is Gordes' 18th-century church, dedicated to their patron saint, Saint Firmin. Like Gordes Castle, the remarkable features of the structure await you inside. Like, beautiful murals and wood panelings.
The murals in Saint Firmin Church's walls and arches use Trompe-l'œil. This art technique creates an optical illusion to deceive the eyes into seeing a flat image in three dimensions.
Aside from the artworks to appreciate, the church is often tranquil, and you'll love to spend a few minutes inside for some peace and quiet. If you're Catholic and it's your first time visiting the church, don't forget to make a wish! 🙂
You may wonder, if Gordes is almost a millennium old now, why Saint Firmin Church is only around 300 years old? Well, back in the day, there was a small church standing where Saint Firmin Church now stands.
The old church was reconstructed to what Saint Firmin Church is now to accommodate more people inside. Documents say some 20 houses were demolished to give way to the 18th-century Saint Firmin church you can visit today.
Saint Firmin Church was restored to its beautiful state in 2017. You can witness its beauty by having only a 2-minute walk from the village center/runabout.
Saint-Firmin Church is an unmissable church to see in Gordes. However, you should not also miss visiting the church where the kings of France were crowned. You can find it in Reims.
3. Saint-Firmin Palace Caves
Only a few steps from Saint Firmin Church, the Cellars of the Palais Saint-Firmin await. It is an unmissable thing to do in Gordes (also a reason to visit) because it can be the unique discovery you're looking for.
By the way, if you are looking for a place with a lot of unique things to discover, I suggest Strasbourg. It's the capital of Grand Est in northeastern France.
In the Cellars of the Palais Saint-Firmin, also called Saint Firmin Palace Caves, you'll find the archaeological remains of the Gordes residents dating back to the middle ages. Because of this, we can say that fascinating discoveries lie above and beneath Gordes.
Actually, the tourism office calls Saint-Firmin Palace Caves a semi-troglodytic site–a cave/den where ancient people lived. Believe it or not, the early residents of Gordes stayed here; that's why Saint-Firmin Palace Caves is also considered a historical monument.
Visiting Saint Firmin Palace Caves is like tapping into the hidden history of Gordes. Oil mills, cisterns, bread ovens, and other objects will show you how the early residents of Gordes lived underground.
The underground labyrinth of rooms in Saint-Firmin Palace Caves will make you think about how crafty Gordes' early residents are. They must have learned some basics of civil engineering to build it.
Saint Firmin Palace Caves is already very near the vantage point of the vast Luberon regional nature park from Gordes. You can enjoy the panoramic scenery after visiting the mysterious underground world of Saint Firmin Palace Caves.
The last time I checked the Luberon-Provence website, the entry fee to Saint Firmin Palace Caves was 6 EUR/adult. It is accessible all week from April to November, 10:30 am to 6:00 pm, with a 1:00 pm to 2:30 pm lunch break.
Have a sample preview of what awaits you inside Saint Firmin Palace Caves:
4. Gordes Calades
Did you know? The best unmissable thing to do in Gordes is free. No admission fee. Also, you will not be required to buy something to be able to see it. 
It's the stroll in Gordes' charming "caladed-alleyways," and for me, they are another reason to visit Gordes.
The alleyways in Gordes should give you complete escapism. The houses made of stone bricks, walls covered with vines, streets decorated with Calades—all appear like scenes in the tales of Greek/Roman myths.
I have to mention the architecture of the houses! They are simple, of course. But, the brick and stone materials, their curvy black metals, and tile roofs will give you the feeling that you're wandering into a totally different dimension.
It's like you're exploring your own fairytale world! There's fun even on Gordes' streets—they can excite you as time-transporting scenes or scenic views can surprise you turn after turn. 
And if you explore Gordes slowly, it's not only the picturesque views you will find. There are quiet spots that feel so serene. They should give you some perfect moments to introspect. How about soul searching??
You should not miss visiting the southern tip of Gordes near Saint Firmin Church. It's where the best views await. If you ask me? The scenery and the calades can be enough to convince you that visiting Gordes is worth it!
5. Gordes Viewpoint
In Gordes, there are two vantage points you must visit. First is the spot in the village of Gordes, where you can view the rest of the Luberon Regional Nature Park. Another is at the viewpoint of Gordes, located along Route de Cavaillon.
If you're coming from Avignon, Cavaillon, or any towns south of Gordes, the viewpoint will be just along your way to Gordes. Here it is in Google Maps:
From the Gordes' viewpoint, you shall see the southwestern face of the village, which can look very beautiful in some parts of the day. If you're like me, who loves beholding breathtaking views, you got another reason to visit Gordes.
Also, if you love photography, visiting Gordes' viewpoint is the unmissable thing to do. You'll believe me when you are lucky to witness a Golden Hour moment from the village's vantage point.
Just before the sunset, Gordes will be painted with golden light from the sun. As the sun slips down to the horizon, the sunlight will move up, illuminating more red-ish hues to the facades and roofs of the houses in Gordes.
When the sun finally sets, Gordes will begin to glitter with street lights. Overall it's a spectacular moment you should see if you can. It's perfect for a timelapse shot!
If you are coming from Gordes' village center, it may take 15 minutes to reach the viewpoint by foot. However, if you have a private car, travel time only lasts for approximately 3 minutes. 
Remember that parking is limited and can quickly be filled with vehicles during the daytime. Sometimes, day trip buses come and occupy most of the area immediately. 
But, don't worry if you arrive and see the parking full. Often, people stay for a few minutes just to see the view and leave. You won't have to wait for hours to get your turn.
The best hour to visit Gordes' viewpoint is perhaps 30 minutes before sundown. The tourist buses and most travelers are gone by that time. Only a few photographers should be there.
6. Glass and Stained-Glass Museum (Musée du verre et du vitrail)
In the outskirts of Gordes, 4.5 kilometers from the village center, you can find the Glass and Stained-Glass Museum (Musée du Verre et du vitrail). It is a museum with a unique collection of objects depicting the story of the glass industry that started 7000 years ago.
Visiting the Glass and Stained-Glass Museum in Gordes is an unmissable thing, especially for history lovers wanting to discover something not-so-usual. You may find this a reason to visit Gordes for the art and cultural value the collections in the museum manifest.
A visit to the Musée du Verre et du vitrail will be educational and art appreciation. You can learn the history of glass-making, the techniques used (molding & blowing), and the culture embodied in them.
Some of the exhibits will show you the design preferences of the rich people in the Middle East or Europe back in the day. Some other collections will tell you how faith affected the stained glass design. 
Here is the exact location of Musée du Verre et du vitrail in Google Maps:
Musée du Verre et du vitrail is open Monday, Wednesday to Sunday from April to October. It is available from 10:00 am to 6:00 pm with a 12:00 pm to 2:00 pm lunch break. 
The entry fee to Musée du Verre et du vitrail is 5 EUR/adult. A guided tour (reserve by sending an email to interluberon@orange.fr) lasts for an hour. For more information, you can check the official website of Gordes.
7. Village des Bories
Fascinating discoveries in Gordes do not end in Saint-Firmin Palace Caves and Glass and the Stained-Glass Museum. To the hilly southwest of Gordes lies Village des Bories, an outdoor museum featuring ancient stone huts.
Village des Bories is an unmissable thing to see in Gordes as it's one of the bizarre human settlements in France. Also, if you like discovering unique architecture, the Village des Bories is why you will visit Gordes.
In a nutshell, Village des Bories is a temporary settlement in the 17th century literally made from stones stacked together. It is considered an ancestral art of building, a testament to the ingenuity of the early settlers.
The creation of Village des Bories all started when the population of the villagers exploded in the 17th-18th centuries. The rise in the headcount led to a massive increase in demand for food, forcing the villagers to find more ways to sustain themselves.
A solution to their problem was to plant more so they could harvest more. But there was a problem. The land they owned wasn't fertile—it was full of rocks and stones that impeded the growth of the crops.
So, the villagers decided to extract the stones from the ground. Resourceful, the villagers did not just leave the removed stones but used them to create their homes. The result is the spectacular stone-stacked houses, walls, and barns that are now considered historical monuments. 
You'll be amazed by how the settlers constructed Village des Bories. It must have taken them a lot of work and effort to learn, build, and balance the stones, so the houses don't collapse. 
It's really a head-scratcher how crafty the villagers are with the arches and doorways. 
Village des Bories is being preserved meticulously. Even the sheep pens, bread ovens, and alleys are still intact. Also, some houses have displays of things (vases, wooden chairs, pots) that the villagers used to utilize in their daily lives.
Do you want to visit the Village des Bories? The last time I checked its official website, the entry fee and the opening hours stated were:
Entry fee: 6 EUR/adult
Opening Hours (come 30 minutes before closing time)

October to March — 9:00 am to 5:30 pm
April to May, September — 9:00 am to 7:00 pm
June to August — 9:00 am to 8:00 pm
Please check the link for parking information, group rates, and other FAQs.
8. Sénanque Abbey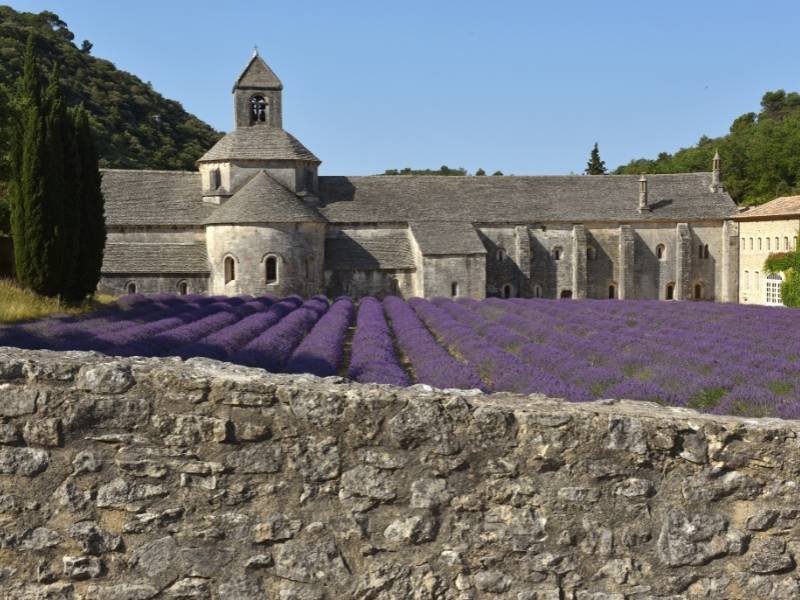 If it is the Lavender season (from mid-June to mid-August) in Gordes, it's Senanque Abbey you must not miss seeing. Senanque Abbey is one of the most picturesque places in Provence during the season. Thousands of online influencers can attest to that!
The lavender field in Senanque Abbey's yard is the primary tourist-attracting feature of the site. But, there's more to experience than being awe-inspired by its appearance.
Senanque Abbey has been the home of the Cistercian monks since the 12th century. It has quaint Romanesque Cistercian architecture, countryside vibe, and religious serenity that all together can give you one mind-calming trip.
Indeed, it's not only a destination of shutter-presser scenes but of introspection and contemplation as well. If you're looking for some kind of soul-searching destination, Senanque Abbey can be it.
When you visit, you will be allowed to see different parts of the abbey. Like, its church, the monks' cells, the chapter house, and the calefactory. Oh, not to mention its cloisters, which for me, are the next most picture-worthy spot in the abbey.
Senanque Abbey keeps its tranquility by limiting the number of visitors. Thus, it can only be visited through a guided tour in different time slots.
The last time I checked the official website of Senanque Abbey, they offer guided tours that last for an hour and take place every:
From Monday to Saturday (Morning): 10:00 am & 10:30 am
From Monday to Saturday (Afternoon): 1:00 pm to 5:00 pm (30 minutes interval)
Sunday (Afternoon): 1:30 pm to 5:00 pm (30 minutes interval)
Note that the tour guides only speak French. For non-French speakers, you will be given a HistoPad (available in 10 languages: English, German, Italian, Spanish, Dutch, Chinese, Japanese, Polish, and Portuguese) to get insights into Senanque Abbey.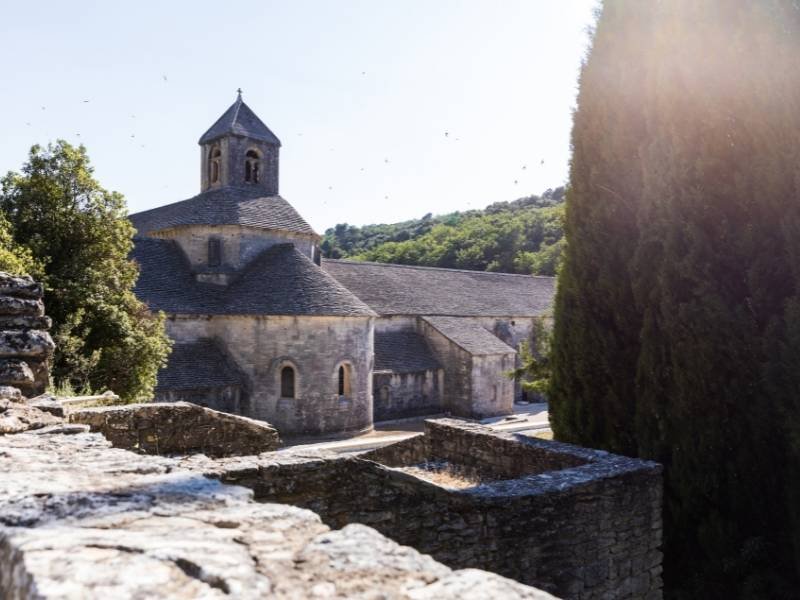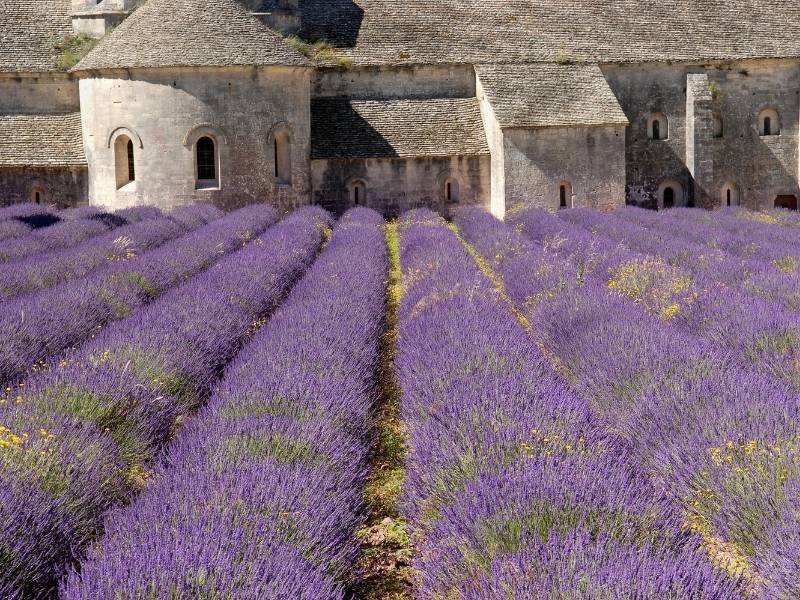 Is Gordes Worth Visiting?
The South of France is dotted with romantic places, historical sites, and breathtaking spots. Without a doubt, Gordes is one of them. But, if you ask me: is Gordes worth visiting?
My answer would be:
Yes, Gordes is absolutely worth visiting! It is a quaint hilltop village where you can find lovely calades and breathtaking views—perfect for satisfying wanderlust! Gordes also has unique and picturesque attractions, like Senanque Abbey, Saint Firmin Palace Caves, and Village des Bories, that can be worth your time and money.
However, Gordes isn't the only charming village in the South of France. Suppose you have limited time to visit the region. In that case, you may consider checking other places like what is shown in the image below (you can learn more about each village from their descriptions after the image).
Tips for Visiting Gordes
Looking at the location of Gordes in France, you'll find that it's not a practical day trip from France's major cities like Paris, Lyon, or Marseille.
If you decide to go to Gordes from the big French cities, you must go to Avignon first. It is the city that's linked to France's fast train network. And from Avignon, you can rent a car or ride a bus (see all options on rome2rio.com) to get to Gordes.
If you prefer renting a car service, you can get to Gordes from Avignon in less than an hour. That is the case when the traffic condition is ideal.
If it is the public transportation you prefer, it takes 2 bus rides to reach Gordes from Avignon. That will take you approximately 2 hours if you depart from Avignon during the "matching bus schedules."
So, for the question "should you stay in Gordes or just have a day tour?" my recommendation is:
Considering the number of attractions in Gordes, staying for a night in Gordes is unnecessary. However, you may need to stay in Avignon (or nearby cities) to quickly get to Gordes for a day trip. 
I recommend hiring a private vehicle for faster travel to Gordes and convenience in getting to the different attractions around the village. Here are the parking lots in Gordes in case you need them:
Lower parking lot – more spacious than the upper parking lot and has toilet rooms (Many visitors complain about the cleanliness of the toilet)
The upper parking lot is closer to the village center but smaller than the lower parking lot.
Both parking lots use ticket machines.
What cities are near Gordes?
Below is the table of the cities and the travel time between Gordes and each city:
The data from the table above are gathered from the Rome2Rio travel platform/application. The data above are only approximated. They may change depending on demand/traffic/weather. 
Here is the list of links and references for the table above. You may also use these links to double-check the data above or book your transport to Gordes.
Save it on Pinterest.