10 Beautiful Reasons Why You Should Visit Lake Garda Italy
Many people ask, is Lake Garda worth visiting?
Absolutely! Lake Garda is worth visiting! It is Italy's largest lake, and it has a plethora of fun experiences and tourist attractions. You can find picturesque lakeside towns, castles, and archaeological sites. Of course, there are also relaxing beaches, scenic hikes, and adventurous activities to try.
In this article, you'll find 10 reasons to visit Lake Garda, further explaining why Lake Garda is worth visiting. I will show you how beautiful Lake Garda is, why the tourist attractions in Lake Garda are worthwhile, and how you can have fun in Lake Garda. Let's get started!
To better understand why Lake Garda is worth visiting, we should know some basics about Lake Garda (and more practical information). Then, we'll proceed to the 10 reasons.
Here's what we'll discuss later (list summary of the 10 reasons to visit Lake Garda):
Beautiful and Accessible Location of Lake Garda
Charming Towns around Lake Garda
Lake Garda's Castles
Lake Garda's Archaeological Sites
Museums around Lake Garda
Beaches and Water Activities in Lake Garda
Scenic Hikes and Other Outdoor Sports in Lake Garda
Lake Garda's Local Delicacies and Dishes
Instagrammable Lake Garda
Theme Parks near Lake Garda
(remember you can use the table of contents to proceed to the 10 reasons immediately)
To begin, let's see where Lake Garda is.
Where is Lake Garda?
Lake Garda, 370 square kilometers vast, is Italy's largest lake. It is so big that three northern Italian provinces, Trentino (north), Verona (southeast), and Brescia (southwest), share borders with it. 
Lake Garda is so huge that if you sail from its southern end to its northern tip, you'll see the surrounding landscape change from flat to mountains. You can expect more breathtaking scenery and adventures from the towns in the central and northern parts of the lake.
This lake is very close to other tourist attractions in northern Italy (10 Reasons Why Must Visit ), which is why it is often included in trips of many travelers to the north of Italy. Example: Bolzano(10 Reasons To Visit Bolzano) , Trento (15 Worthy Things To Do in Trento), Cortina d'Ampezzo (10 Beautiful Places Around Cortina).
We'll discuss more later.
How can you visit Lake Garda?
Lake Garda has several towns around its shore. Its larger towns are linked to other major Italian cities with trains. Once you arrive at one of Lake Garda's towns, you can reach another town/village by riding the buses that ply around the lake. 
To learn more about how you can move around Lake Garda and spend time here, check out my Lake Garda itinerary from this post: Lake Garda Itinerary: How to Spend 1,2,3 Days in Lake Garda.
You can also quickly reach Lake Garda from other Italian cities by train:
Lake Como or Lake Garda?
Lake Garda isn't the only beautiful lake in northern Italy. Another is Lake Como, where the aristocrats in the medieval ages traveled and stayed to unwind. Today, it has become famous for the villas that the wealthy Italians built centuries ago.
You can compare Lake Garda and Lake Como with this article and my post about Lake Como (10 Unmissable Places To Visit In Lake Como).
Discover more beautiful places worth visiting in northern Italy from my posts:
Cinque Terre (10 Spots With The Best Views of Cinque Terre)
You might also want to visit Rome (10 Beautiful Landmarks To See In Rome).
Reason no. 1 Beautiful and Accessible Location of Lake Garda
The first reason to visit Lake Garda is simply the lake's geographical and strategic location. Look at the map, and you'll amazingly see Lake Garda literally in the middle of northern Italy. It makes Lake Garda very simple and quick to visit wherever you may be coming from.
We can make Milan (west of Lake Garda), Venice (east of Lake Garda), Bolzano (north of Lake Garda), and Bologna (south of Lake Garda) as examples. 
Getting to Desenzano del Garda from Milan takes approximately an hour by train. Travel time can take a little longer than the train ride by 30 minutes if you plan to drive.
If you're coming from Venice, the fastest train can bring you to Peschiera del Garda in 1 hour and 40 minutes. By driving, travel time is only 1 hour and 30 minutes.
On the other hand, Peschiera del Garda is only 1 hour and 10 minutes away from Bologna by train. If you plan to drive, you can expect to spend only 1 hour and 45 minutes on the road. 
Meanwhile, if you're coming from the Dolomites' city of Bolzano to Riva del Garda, travel could take at least 1 hour and 50 minutes using public transportation. Driving a car can bring you to Riva del Garda quicker, approximately 1 hour and 30 minutes.
Most importantly, Lake Garda is just a 20-minute train ride from Verona and a 30-minute public transportation journey from Verona Airport (Valerio Catullo Airport). If you're coming from abroad and want to visit Lake Garda immediately, just fly to Verona, and you'll be there in a snap!
Actually, Lake Garda is one of the best day trips from Verona – the home of Romeo and Juliet, the city of Romance. Check out the 12 Reasons You Should Visit Verona before or after seeing Lake Garda.
You see, Lake Garda is very close to Italy's best city destinations. With Lake Garda's proximity to these cities and the beautiful things about Lake Garda you will discover later in this post, it will not be hard to understand why some travelers include Lake Garda in their itineraries. 
But what really makes Lake Garda worth visiting is its position slightly tucked in between the mountains in the Italian Alps. The northern part of Lake Garda especially is so breathtaking.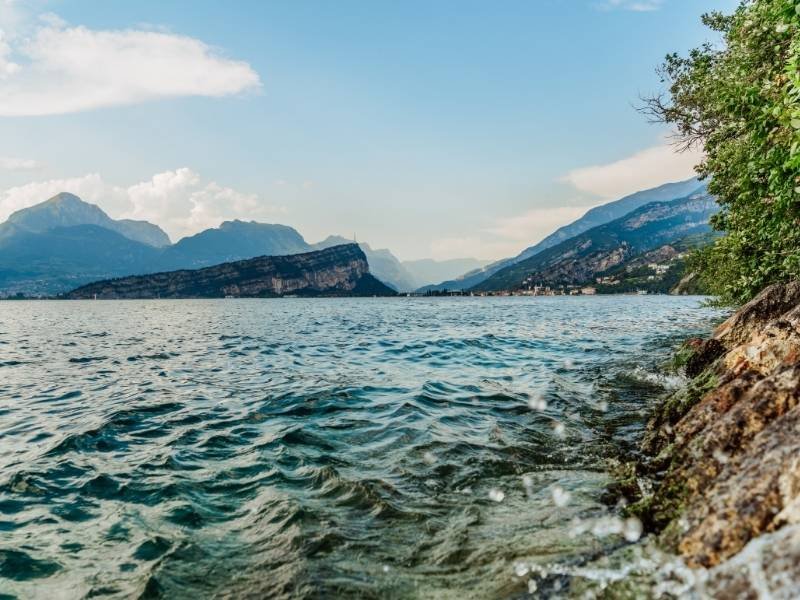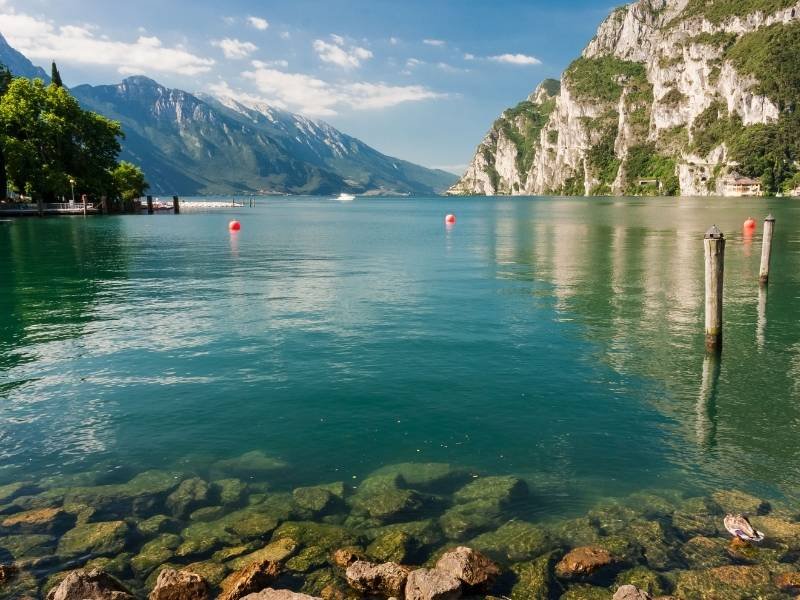 Towering mountains surround Lake Garda's northern portion. Honestly, Lake Garda's lakeshore view is enough to say it's paradise!
Reason no. 2 Charming Towns around Lake Garda
Previously, I mentioned three different towns around Lake Garda (Desenzano del Garda, Peschiera del Garda, and Riva del Garda), closest to the primary cities of northern Italy. These towns are the most accessible. Yet, they are just three of the several towns surrounding Lake Garda.
Situated by the lake, others with views of the alps, some of the towns in Lake Garda can be described as paradisiacal.
You won't quickly get bored walking along their streets with the houses looking quaint and charming! Definitely, they're a reason for you to be in Lake Garda.
Lake Garda has several old charming towns around it.
You can drive to visit them one by one, but you can ride the ferries, as well. However, it will be impossible to stop and explore every town in just one day.
There are five towns in Lake Garda you should not miss. Those would be Sirmione, Malcesine, Limone Sul Garda, Riva del Garda, and Arco – respectively located south, east, west, and northern shores of Lake Garda.
Sirmione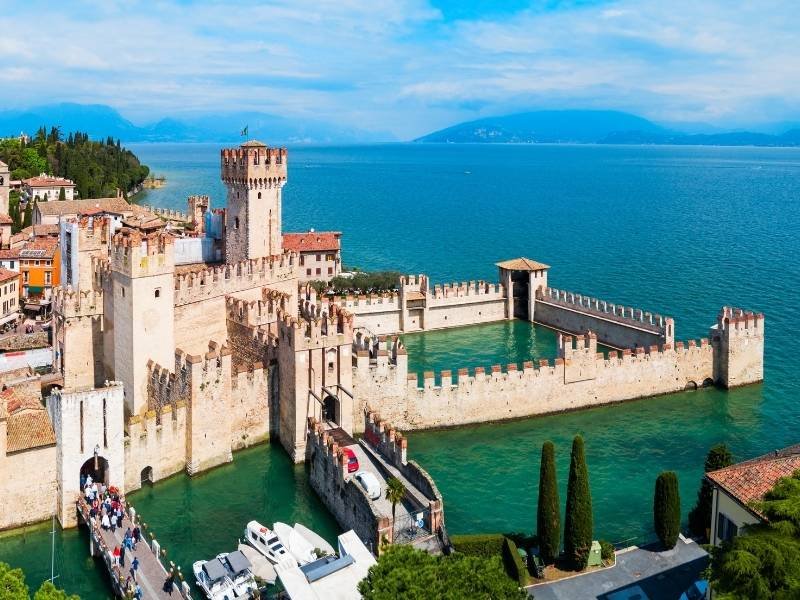 First on the list is Sirmione, the most popular destination on Lake Garda.
Perched on a peninsula that goes 4 kilometers into the lake, this small yet lovely town offers unparalleled scenery on Lake Garda's southern shores.
Though Sirmione is small, an entire day can already be spent in it. You can visit its 4 tourist attractions (2 churches, 1 castle, and 1 archaeological site), walk around to see beautiful views, and take a short boat ride that tours you around the peninsula.
Sirmione is the best day trip in Lake Garda from Verona, Venice, and Milan.
Sirmione is the best day drip, but the four remaining towns in Lake Garda I mentioned are the places you should see if it comes to the best views. Visiting those towns, located on the narrow and mountainous northern shores of Lake Garda, quenching your wanderlust thirst would be as easy as just observing the scenery.
Malcesine & Limone
The quaint medieval townscape and picturesque waterfronts of Malcesine and Limone are real fantasies.
Get the utmost pleasure from nature with the shops and cafes dotted in these towns. There's nothing much to do in Limone but explore and relax in the beautiful surroundings.
Malcesine has two main attractions.
One of which is the castle (Castle of Malcesine) beside the lake – you can climb its tower for more breathtaking views. Another is the viewpoint on top of Monte Baldo, which can be reached through a cable car offering stunning views as you climb to the top.
Riva del Garda & Arco
The last two towns, Riva del Garda and Arco, are located at the northernmost tip of Lake Garda.
They are similar to Malcesine and Limone – quaint, scenic, and absolutely Instagram-worthy! However, you should have more dining and shopping options in these towns. 
These two towns, Riva del Garda and Arco, are the best places to stay and play around with outdoor and watersports. Not only it's where you can find more adventure, but paragliding, windsurfing, and sailing should feel more exhilarating with the spectacular mountains around you.
Reason no. 3 Lake Garda's Castles
The towns we discussed previously have already given you a clue that Lake Garda has castles you can visit. Apparently, they are another reason why Lake Garda is worth going to. 
By visiting the castles or fortresses in Lake Garda, you transport yourself back into medieval times. Not only that! During your visit, you also bring yourself to one of the most panoramic sites in northern Italy. Most importantly, they are not only quality but also quantity.
There are approximately 10 to 12 castles and fortresses in Lake Garda. Most of them are situated south of the lake; 3 are on Lake Garda's northern side. 
However, if there are 3 castles in Lake Garda that you should see, those are Castello di Sirmione, Castello di Arco, and Castello Scaligero di Malcesine. Based on their names, we already know where we can find them.
Castello di Sirmione
The most famous castle of the three is Castello di Sirmione, a 14th-century lakeside fortification in Simione.
Castello di Sirmione's harbor is probably the most unique feature of this castle. This, plus the swallowtail merlons, should amuse and help you imagine life during medieval times.
Castello Scaligero di Malcesine
If you ask me what the most picturesque castle in Lake Garda is, my answer is definitely Castello Scaligero di Malcesine.
Perched on a hilly outcrop beside Lake Garda, Castello Scaligero di Malcesine is absolutely a shutter-presser place straight out of a fairytale. You must see it from the lake, though. 
Surrounded by preserved houses with medieval roof tiles, Castello Scaligero di Malcesine beheld from the elevated vantage points (e.g., Madonna dell'Accoglienza and Monte Baldo cable car) should be a breathtaking and time transporting experience.
You should also try climbing the castle's tower for an impressive view of the preserved town.
Castello Scaligero di Malcesine is the most picturesque, but if it's the breathtaking factor we consider, Castello di Arco wins the title. Castello di Arco is perched on a hill with a stiff cliff on one of its sides. The view from below and from the top should be stunning!
Castello di Arco
Castello di Arco is only the ruined among the three unmissable medieval castles in Lake Garda I mentioned. However, you can still visit its tower together and see some of the frescoes in its remaining intact walls.  
What's really compelling for me to visit Castello di Arco is the spectacular overlooking view that stretches from Lake Garda to the towns, vineyards, and the alps to the north.
It's a view you must really see, especially at golden hour.
Reason no. 4 Lake Garda's Archaeological Sites
Being one of the cradles of human civilization, Italy has a history stretching back more than 2 millennia. The castles in Lake Garda, which we discussed previously, are proof and time-transport visitors.
Archaeology sites in Lake Garda should set the throwback experience further.  
If archaeology interests you, you got another reason to visit Lake Garda. They will give you insight into the culture and daily lives of the early Italians. Marvel on the ancient corridors, walls, and floors elaborated with beautiful mosaics – it will be a truly remarkable experience.   
Imagine that you were just watching archaeological stuff on TV and the Internet before. But if you visit Lake Garda, you'll get a chance to see them in person and actually touch and feel them!
There are more than 15 archaeological sites in Lake Garda.
However, either one of the archaeological sites of Grotte di Catullo, Villa Romana di Desenzano del Garda, or Rocca di Manerba should be included in your itinerary when you visit Lake Garda. 
Archaeological Site of Grotte di Catullo
If you plan to be in Lake Garda only for a day, the archaeological site of Grotte di Catullo is the priority for three reasons. First, it's located in Sirmione. Then, it has beautiful views of the lake. Most importantly, it dates back as early as the 1st century BC. 
The beautiful arches, olive trees, and the structure of the archaeological site of Grotte di Catullo indicate that it was actually a beautiful thermal bath with a pleasant view of Lake Garda. These will help you imagine the extravagant life that the rich, early Italians enjoyed. 
Villa Romana di Desenzano del Garda
Not too far from Sirmione, another archaeological site now a museum awaits. It's called Villa Romana, and you can find it in the town of Desenzano del Garda. Tip: Bus LN026 connects Sirmione and Desenzano del Garda.
Villa Romana di Desenzano del Garda is another archaeological site, once a luxurious villa where wealthy Italians spent a relaxing time in Lake Garda. It was buried underground after a landslide in the 12th century until archaeologists unearthed the site in 1921. 
What's so interesting about Villa Romana?
The preserved 240 square meters of floor mosaics under the landslide. The floor mosaics depict so many things that early Italians live with during their time.
Examples are chariot racing, ancient spiritual symbols, hunting, and fishing activities.  
Rocca di Manerba
Last but not least of the three I mentioned is Rocca di Manerba, an archaeological site perched on a rocky promontory on the southwestern coast of Lake Garda.
It features the remains of a Roman Villa and ruins of a medieval hilltop fortification on one of its peaks.
Rocca di Manerba belongs to a UNESCO Heritage Site and an archaeological park, Parco Naturalistico-Archeologico di Manerba del Garda. The site features numerous archaeological features, from a sanctuary to burial chambers.
The ruined medieval hilltop fortification in Rocca di Manerba is one of the best options in the southern portion of Lake Garda to witness the lake's scenic beauty.
On top, the views stretch from northern Italian plains to the Italian Alps. 
Reason no. 5 Museums around Lake Garda
Bad weather may hamper the fun in Lake Garda, for being a natural attraction.
But, unpleasant weather should not entirely ruin your day because Lake Garda has museums you can take shelter and discover new things when it rains. Frankly, the museums in Lake Garda can be worth it even if the sky is clear and sunny. 
Museums can be found in several towns in Lake Garda.
In each museum you visit, you get insights into the history, culture, and traditions of the people residing around the lake. If you're the curious-learner type of traveler, you have another reason to visit Lake Garda!
Here are the four museums I recommend. The Museum of Fishing and Lake Traditions, Olive Oil Museum, Museum in the Castle of Torri del Benaco, and MAG Museo Alto Garda. (click to see their exact location in Google Maps)
One of the things that excite me when I travel? The local tradition.
Why? Because it's the most unique experience that you can find during your travels. Often, they give you a broader sense of understanding of the world and so on…
Museum of Fishing and Lake Traditions
Perhaps you should consider even a quick stop at the Museum of Fishing and Lake Traditions at Peschiera del Garda.
This museum has a permanent exhibition of things in the art of fishing in Lake Garda, ranging from commercial to recreational, caulking activities to hunting in the lake area. 
Though the heritage museum is small, it is jampacked with fascinating objects worth checking. You should not miss checking out the replica of the boats and quaint postcards displayed in the museum!
Local tradition is often influenced by local products and vice versa. Aside from fishing, making olive oil is another craft that the locals of Lake Garda are specialized in.
Olive Oil Museum
Do you want to learn more about "oleiculture" within Lake Garda and Italy?
Visit the Olive Oil Museum in Bardolino's Cisano district.
Here, you'll discover how olives are harvested and turned into olive oil – the production process that originated in the 18th century.
By the way, some of the castles and archaeological sites in Lake Garda have their own museums. For example, the archaeological site of Grotte di Catullo and Castello di Malcesine. Another we can add to the list is the Castle in Torri del Benaco. 
Castle in Torri del Benaco
The museum in the Castle of Torri del Benaco focuses on the artisan and industrial history of the town.
The castle has several halls exhibiting different subjects, ranging from fishing to making olive oil and local history. It also has an exhibition room about the cultivation of citrus fruits, which is also the northern Mediterranean's specialty.
The three museums I first mentioned are located in the southern towns of Lake Garda. If you'll ever be coming from Bolzano or Trento (north of Lake Garda), Museo Alto Garda is your best option. 
Museo Alto Garda
Museo Alto Garda has two locations: Inside Rocca of Riva del Garda and Palazzo dei Panni in Arco. It has three parts. Basically, all about the history of its surrounding areas.
You shall find artworks dating back to the middle ages until the 19th century, items of archaeology, and the local history of Riva del Garda and its river, Sacra. You can expect to discover new things from prehistory until the second world war.
Reason no. 6 Beaches and Water Activities in Lake Garda
Previously, we discussed the museums to catch your day in Lake Garda when your trip is bummed by unpleasant weather.
Now, let's focus on the bright side when the sky is clear; there's no chance of rain. If that's the case, then the beaches and the water activities are another reason to visit Lake Garda.
Whether it's sunbathing, having a picnic, swimming, or taking pictures for Instagram you like, Lake Garda won't let you down! It has numerous beaches along its shores, but here are the top 5 highly rated beaches in Lake Garda:
Spiaggia Cola – Limone Sul Garda
Spiaggia Pini – Riva del Garda
Spiaggia Sabbioni – Riva del Garda
Spiaggia Toscolano – Maderno
Jamaica beach – Sirmione
These beaches have more than 500 reviews, with more than a 4.5 stars out of 5 stars rating on Google Maps. Sirmione's Jamaica beach is the most popular among the five highly-rated beaches. 
Note that the beaches in Lake Garda mostly have pebbles, and very few have sand. Expect to see a lot of visitors during summer.
The beaches in Lake Garda may not have powdery white sand, but like what I've been saying, they have stunning views rather. That's the case, especially in Spiaggia Cola, Spiaggia Pini, and Spiaggia Sabbioni in the towns located north of the lake. 
Spiaggia Cola, Spiaggia Pini, and Spiaggia Sabbioni have parts grown with lawns and trees. You can also find benches under the trees. With the spectacular views of the lake and the surrounding mountains, hanging out and having a picnic on these beaches should be the most budget-friendly relaxing activity worthy of doing.
Level up your holiday to Lake Garda's beaches with the cafes and resorts just within proximity of the beach. Another way you can enjoy the beaches in Lake Garda is to try water activities like sailing, kite surfing, or even scuba diving! 
If it's just relaxing you want, I suggest you try cruising and boat tours in Lake Garda. Some of them have added perks like free wine tasting. Others let you witness a lovely sunset in lake Garda. Check these out:
Reason no. 7 Scenic Hikes and Other Outdoor Sports in Lake Garda
You will like Lake Garda whether you are a vacationer or an adventurer.
Unforgettable memories can't only be made from the romantic cruises and relaxing beaches of Lake Garda but also from the adrenaline-pumping mountain adventures around the lake. These activities to help you conquer your fears are another reason to visit Lake Garda.
The range of outdoor sports in Lake Garda starts from hiking to mountain biking, climbing, canyoning, and paragliding.
They're not for all of us, of course. But hiking, at least, is a must for everyone, particularly for those who have plenty of time to spend in northern Italy.
I encourage hiking because it offers us numerous benefits affecting our entire well-being.
Most importantly, the hiking trails around Lake Garda are just phenomenal. The views from the beaches are outmatched by the ones you will find on the hiking trails. 
Some parts of the hiking trails in Lake Garda pass through the dizzying cliff walks and iron ladders overlooking the lake. It seems intimidating at first, but the experience should be exhilarating when you're already doing it. 
People searching for peace and quiet, moments for introspection and self-reflection, should also find Lake Garda's hiking trails and vantage points superb destinations. The calm appearance of the lake below the spectacular mountains is an absolute travel gem I consider! 
In the Trentino part of Lake Garda alone, there are 70 signposted hiking routes you can choose from.
With the towering mountains seen from the beaches and towns in Lake Garda, you may think that hiking activities around require intermediate hiking skills. The thing is, some of them are just easy, and perhaps for everybody!
Do you want an easy hike on a scenic route overlooking Lake Garda?
Check out Busatte – Tempesta Trail, Ponale Trail, and Forts of Monte Brione Trail. These trails aren't demanding and are very accessible from the towns in the northern part of Lake Garda. 
Monte Brione Trail
The first hiking trail I'll introduce is the hiking trail in Monte Brione, the small mountain at the northern tip of Lake Garda.
The path creates a loop to and from Riva, starting at the harbor of San Nicolo. It traverses the peace trail on the ridge of Monte Brione, where beautiful vantage points are.
Hiking in Monte Brione includes a visit to three points of interest: The Fort of Garda, The Fort of Batteria di Mezzo, and the Natural Reserve of Monte Brione.
Overall, the hike covers 6.9 kilometers which you can finish in 3 to 4 hours, depending on your phasing.
Ponale Trail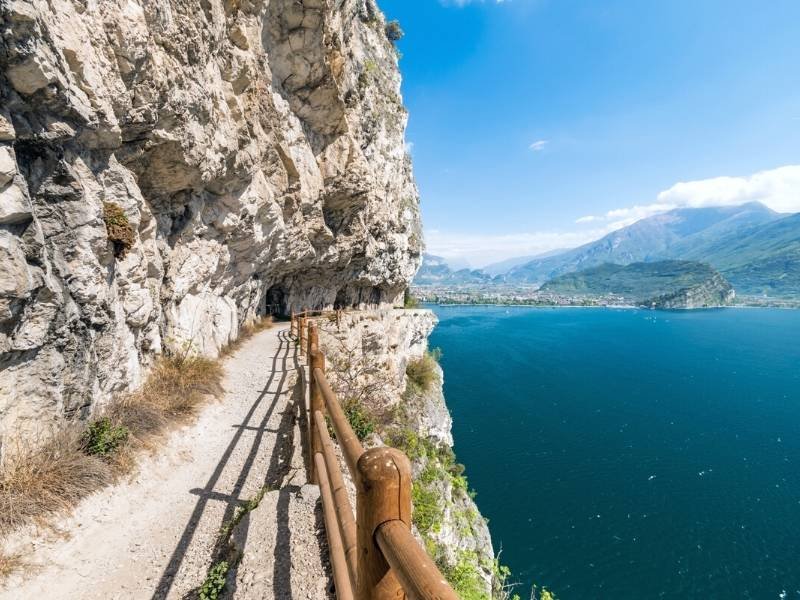 Ponale Trail is another hiking trail in Lake Garda that starts in Riva, aside from the Monte Brione trail.
It is the most popular hiking trail in Garda Trentino that traverses the breathtaking rocky and impervious mountain wall overlooking the northwest shores of the lake.
Ponale Trail ends in the small but scenic village of Pregasina, which is a beautiful vantage point for observing Riva and the east Italian Alps.
The route was fortified by Austrian forces who occupied the region in the early 1900s during the first world war. So, you will also find some military installations along the way.
Overall, Ponale Trail is a 6.2-kilometer hiking trail that you can finish within 3 to 5 hours, similar to hiking Monte Brione. 
Busatte – Tempesta Trail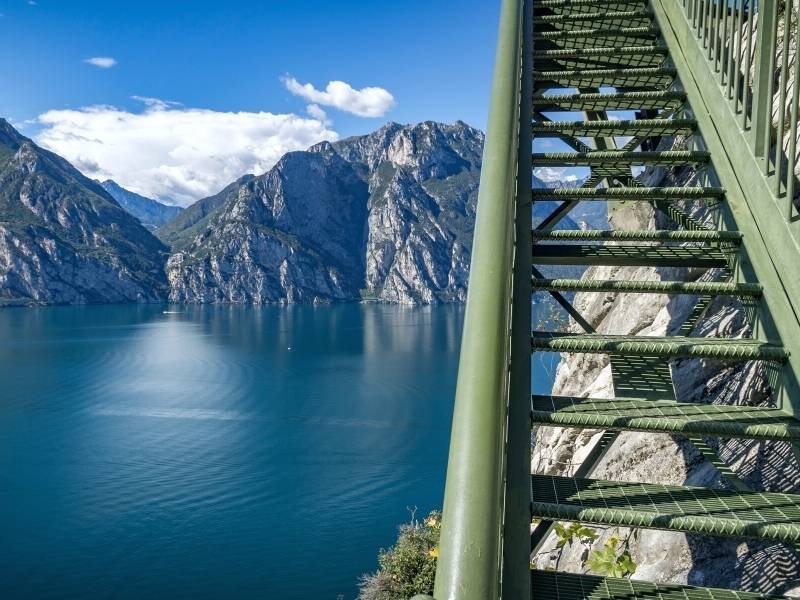 Opposite Ponale trail across Lake Garda is the unique and scenic hiking trail called Busatte – Tempesta Trail.
This hiking trail traverses the steep mountainside that features picture-worthy Instagrammable views, including the iron ladders overlooking Lake Garda. Its 400-step ladder will be demanding for newbies, yet it should be a unique experience!
Busatte – Tempesta Trail covers 8.1 kilometers distance from Busatte Park in Torbole, the town beside Riva, to Tempesta. You will need 3.5 to 4.5 hours to finish the hike.
Be sure to carefully check all the details, requirements, and announcements regarding the hiking trails mentioned above. You can learn more about them from the website of Garda Trentino.
Reason no. 8 Lake Garda's Local Delicacies and Dishes
Based on the previous discussions, cravings for new discoveries, wanderlust for breathtaking scenery, and desire for a worthwhile vacation are satisfied in visiting Lake Garda. But do you know what else you can get?
The mouth-watering, satisfying, fresh local dishes.   
Lake Garda's local dishes are another reason to visit Lake Garda and are worth every bite. With their ingredients grown from the nutrient-rich soil around Lake Garda, every chew, chomp, and munch you make of these local dishes should be a taste burst in your mouth.
Know that the plantations of Lake Garda's "special" products, olive (olive oil), citrus, and vineyards (wines), are fed with mineral-rich water from the Italian Alps. The ingredients of the food you'll be eating should be of the best quality.
Thus, you should not miss the dishes cooked with olive oil and citrus-flavored delicacies. Before choosing a restaurant, inquire first if they use Garda PDO oil. With this oil, made with Casaliva, a local olive variety, the food you'll eat should have an elegantly fruity taste factor.
Here's the list of food you should eat in Lake Garda according to the Great Italian Chef website:
Tortellini di Valeggio
Bigoli con le Sarde 
Luccio e polenta
Here's what they look like:
Reason no. 9 Instagrammable Lake Garda
Another reason to visit Lake Garda is, simply, it has a lot of beautiful places you can take photos of.
Whether an Instagrammer who inspires people to travel or an ordinary person who wants to share "positivity" pictures with your friends on social media – Lake Garda shall be a place you'll find worth visiting!
The first place you can take pictures of is the lake itself. However, to create a beautiful shot, you must consider time. The most magical scenery of the lake can be taken when the sun makes a low angle with the horizon. That's during the sunrise and the sunset.
During the sunrise, the water on the lake is often calm and still. Then, there are also times when the lake surface has thin fog. If you're lucky to catch these happen simultaneously, you shall be able to capture Lake Garda's mystical appearance.
I know that it's hard to wake up very early. So, another option is to take photos of the lake at sunset or afternoon, during the golden hour. If you want to photograph the lake at this hour, you should be at the eastern shores of Lake Garda, as the western part of the lake is often overshadowed by the mountains.
If you will photograph the lake, it's best to include the boats parked on the dock, the colorful houses, or even the swans swimming at the beach in the frame. Here are some of the photos from Lake Garda during the sunset/sunrise to inspire you: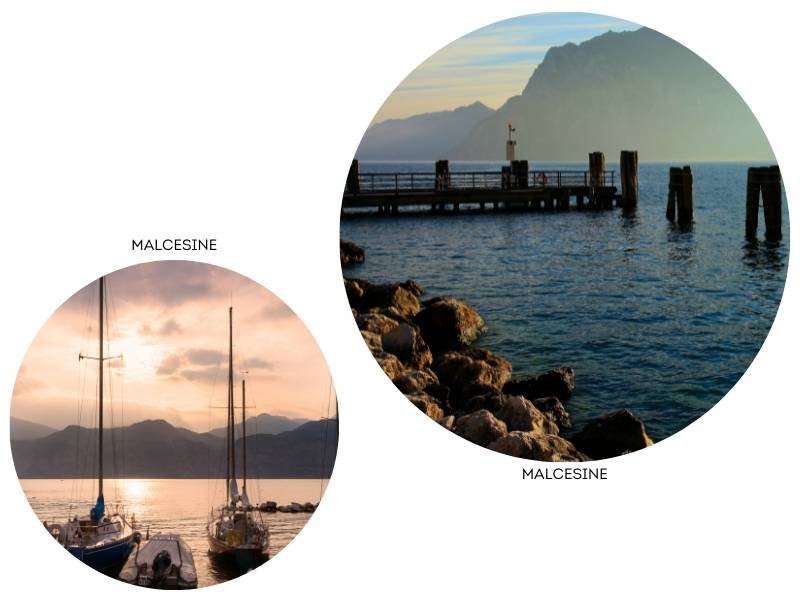 At midday, explore the towns of Lake Garda and take pictures of the beautiful houses, streets, and landmarks. However, it may be hard to get a clean shot without the photobombers if you come to some areas at peak hours.
If you want to capture clean photos of the picturesque places in Lake Garda during midday of the peak season, my suggestion is to go hiking and take most shots from the vantage points or hiking trails I mentioned previously.
Most of the crowd should be done sightseeing by late afternoon – and it's just the perfect time to go back to the towns and do a taking-pictures-spree. Anyhow, here's the list of Instagrammable places in Lake Garda you can choose from: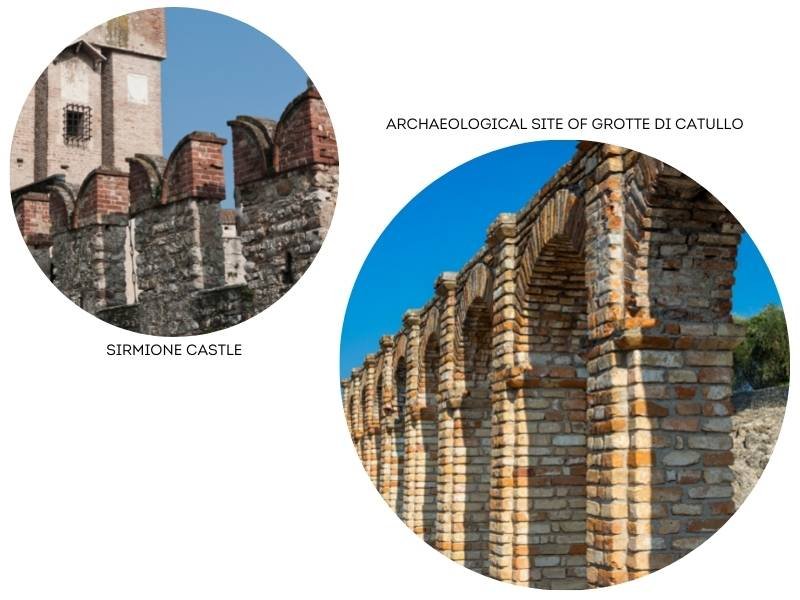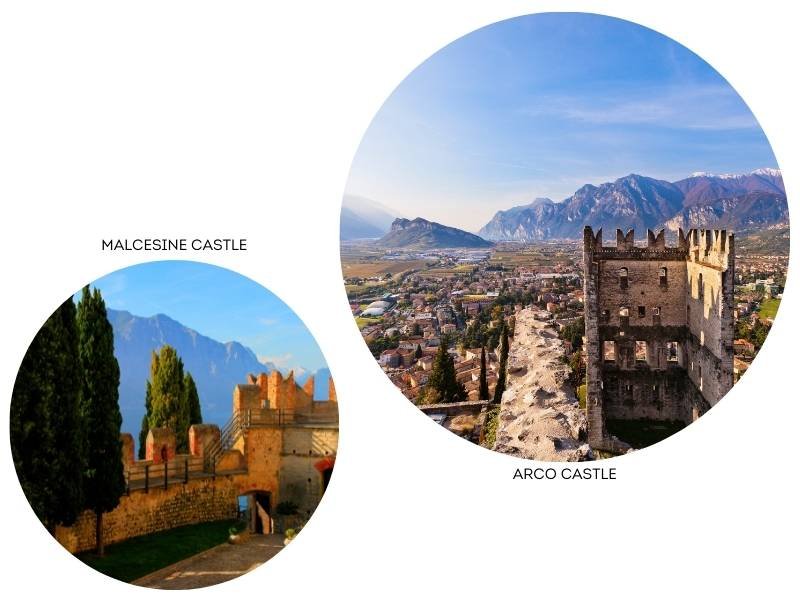 Do you want to visit Lake Garda? Read: Lake Garda Itinerary: How to Spend 1,2,3 Days in Lake Garda
Reason no. 10 Theme Parks near Lake Garda
If you are traveling with your kids, the theme park beside Lake Garda can be enough to be a reason to visit Lake Garda.
The theme park is called Gardaland Resort – and it's not just an ordinary theme park. In 2005, it was recognized by Forbes Magazine as the 5th of the 10 best amusement parks in the world!
Gardaland Resort covers 445,000 square meters of fantastic rides, hotels, entertainment show areas, and more! It even has a Legoland waterpark inside. Since its opening, the theme park has expanded more and more.
Now it's recognized as Europe's 8th most popular theme park.
This humongous park has 8 themed areas, with tens of many rides. 700+ meters-long roller coasters are here, and they vary from suspended looping coasters to steel sit-down coasters, wing coasters, dive coasters, and more.
Take a glimpse of what's inside the Gardaland from this video:
Save it on Pinterest.